The Best Gift for Police Officers - Unique and Thoughtful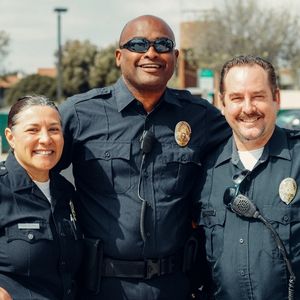 With the constant uproar against the police, it's easy for the good ones to lose faith and feel a little overshadowed by the actions of the few crooks. It doesn't hurt to remind the men and women in blue that we see them and appreciate their service and commitment. So what's the best gift for police officers?
The Absolute Best Gift for Police Officers
While a box of donuts might be cute, here's how you can go bigger and leave an impact. Isn't that the point of gift-giving anyway?
Never underestimate a cold beer after a long day! The best gift for police officers who might be cramped behind a desk might be to crack open a cold one. In addition, you can take this experience to a whole new level by introducing a pint glass that makes a statement.
This pint glass comes fitted with a real 0.50 BMG bullet made from copper and is worth the hype. It is a great conversation starter, and is bound to keep your friend feeling appreciated and grateful even when you're not around. Can you imagine the oohs and aahs this would draw at a barbeque with workmates? There is no denying that this is an unmatched gift. Besides, if you're feeling generous, you can throw in a 6-pack to jumpstart the party. 
Our police officers wake up every day committed to upholding the law and offering their service to citizens in need. Needless to say, they are a representation of patriotism and selfless service. The best gift for police officers might just be one that reflects this patriotism.
This Rocks Glass by Ben Shot is a winner as it allows police officers to show their support for gun rights in this country without having to draw theirs.
Firstly, this glass is handmade by American craftsmen and boldly showcases the American flag and an inscription of the 2nd Amendment. "A well-regulated Militia, being necessary to the security of a free State, the right of the people to keep and bear Arms, shall not be infringed."
The glass also showcases a bulletproof illusion spotting a real 0.308 bullet embedded into the side of the glass. What's more, this glass is a winner all around and a perfect way to enjoy a good bottle of whiskey. Don't worry! The bullet won't be a danger to anyone of course. We value your safety.
Gifting doesn't have to be controversial. This glass is identical to the above glass just without the American flag and 2nd Amendment inscription. It comes with a 0.308 bullet and is the perfect way to enjoy a good drink on the rocks.
As an officer of the law, your friend is not shy around a gun and is likely thankful to have it on them while on duty. A great gift for police officers might be a simple one. This glass allows your friend to enjoy a great brew with a unique twist, and they won't get into the modern debate on gun rights. Besides, drinking out of a glass with a bullet embedded in it doesn't necessarily scream "fear guns." Furthermore, we can promise you it's safe to have around a drinking crowd.
Every kitchen deserves a good knife. Moreover, having a good knife immediately elevates any cooking experience and will have you getting invited to enjoy good home-cooked meals for sure. This knife set is the perfect set for a police officer that also enjoys time in the kitchen.
After all, there's no reason our "tough" friends shouldn't go into softie mode to indulge in a few comfort meals. Our knife set comes with an 8" blade Chef Knife, a 6" blade utility knife, and a 3.5" blade paring knife. This set is sufficient to meet any kitchen's needs and will definitely be the star in the knife drawer. 
Besides their high-quality stainless steel finishes, these knives come with a wooden handle made from Black walnut wood. They have a sleek and top-tier look, which makes them one of the best gifts for police officers. The grip on this finish is also good to ensure no little accidents at dinner time.
This cutting board is the perfect addition to any kitchen. At the end of the day, a friend with a well-stocked knife cabinet will appreciate a cutting board to go with it. Not only is this cutting board great for food preparation all year round, it is also perfect for food presentation.
We make this 11x17 inch board from American black walnut wood. Before shipment we craft and polish each board for a clean and finished look. Our cutting boards are American-made and we're sure your friend would love to have these in the spirit of buying American to build America.
 Finding a gift that conveys a specific message can get a little intimidating and put us under some pressure. However, the gifting season doesn't have to leave you jittery. We hope our ideas help you remind your friend that their service is appreciated by the people around them. Happy gifting friends!
RELATED PRODUCTS YOU MIGHT LIKE
View our entire collection of dark wood walnut reversible boards - there are many shapes and sizes to choose from. Find the perfect board to show your appreciation for the best first responder you know!
We are on Amazon, see our storefront here. Use coupon code VBKBLOG10 for 10% off your entire purchase of any Virginia Boys Kitchens on Amazon. Apply the code at checkout.