Charcuterie Board for 2 - Our Search for the Most Romantic Stay-In Date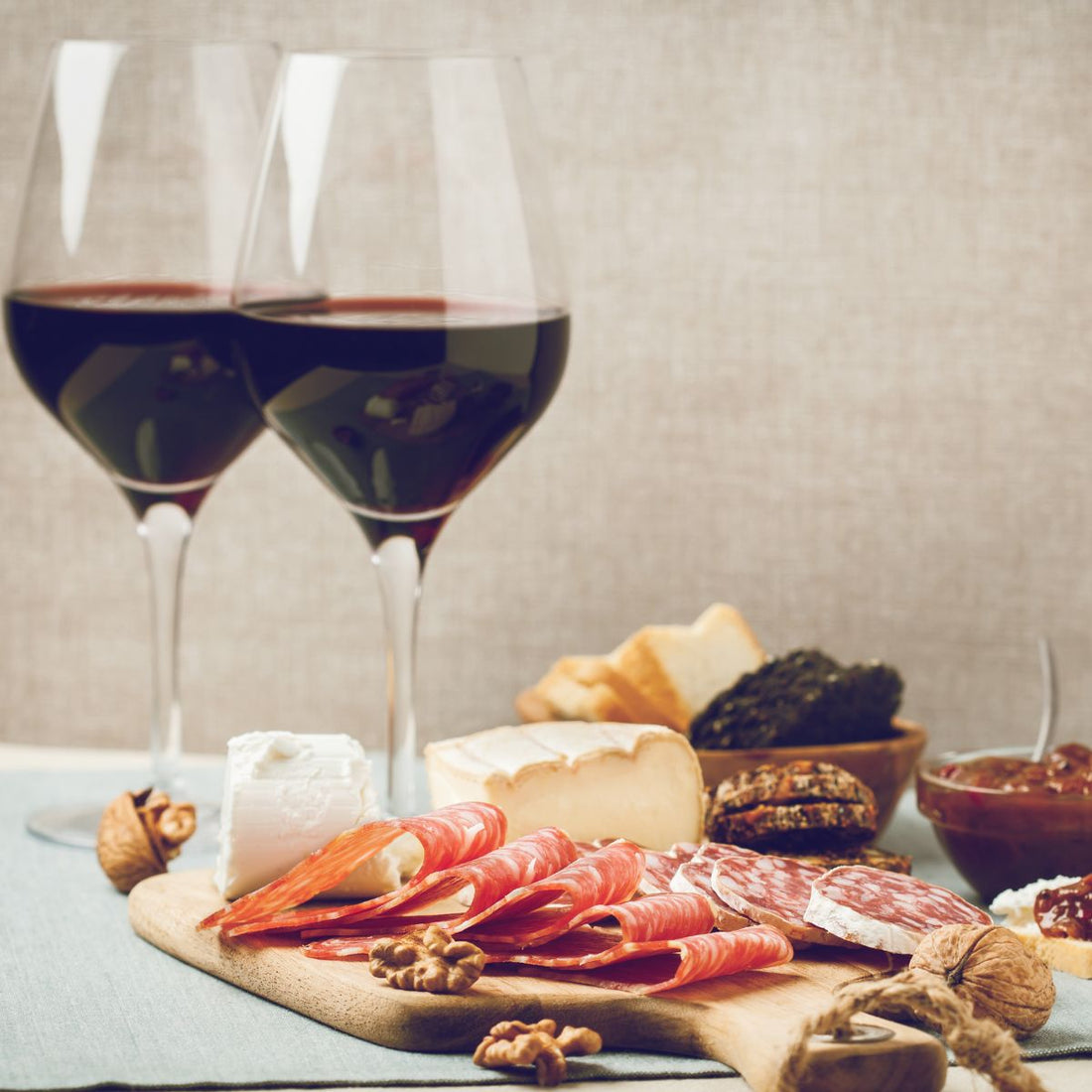 Charcuterie boards come in all shapes and sizes. While you may have seen large spreads that feed a small crowd, you don't need to make such huge charcuterie boards. You can easily make a fabulous charcuterie board for 2. These boards for 2 are perfect for date nights, whether at home or at a nearby park.
Today, we are going to be sharing our favorite charcuterie boards for 2. We know you will love making at least one of them for your next date night. 
Date Night: Charcuterie Board for 2
Firstly, this charcuterie board for date night includes a little bit of everything. Feel free to use your favorite lunch meat, vegetables, and fruits. Just don't forget to add the crackers, nuts, and chocolate. Those are what really makes this the perfect board for 2. 
Grab a couple glasses of wine to enjoy with this romantic cheese charcuterie board. This one is filled with delicious cheeses, as well as meat, crostini, and crackers. Add a few olives or some fruit and you will be full and happy by the end of your date. If you're looking for a board perfectly sized for just two people, consider our 8x17 walnut cutting board and charcuterie paddle.
You don't need a special occasion to make this cheese board for two. However, there is no better reason to whip one up than a romantic date with the person you love. Furthermore, the honey and jams really amp up the flavors of this board. Don't forget the sweets though. They will be the perfect ending. Only if you can save them for last though. 
Making a charcuterie board for 2 for a date night doesn't need to be complicated. You can easily throw a couple cheeses, crackers, nuts, meats, and grapes on a board and be done. Copy this one exactly, or create your own version. Either one will be a hit for this alone time. 
There's a little bit of everything on this Valentine's Day charcuterie board for 2. Our favorite thing on this board is the strawberries. Well, once they are paired with melted chocolate! 
You will have all the food groups when you make this charcuterie board. And the best part is it doesn't need to be Valentine's Day to make it. So, grab what you need and make it for your next romantic date night. In addition,consider folding your salami into the shape of a rose.
Pile on the meat, cheese, peaches, grapes, and strawberries to have the perfect board for 2 on your next date night. This one has all those things, as well as a few other charcuterie favorites you both will love. 
A few Mediterranean favorites have made their way onto this epic charcuterie board for your next date night. If you love eating Mediterranean cuisine, this will be the perfect board for your next date night. Add the essentials, then free to mix things up a little and add more of your Mediterranean favorites!
You don't need a ton of food to make a charcuterie board for 2. You can easily use food that you already have in the house. Or you can go to the store with a short list and come home without spending a fortune. 
That's the one thing we love about this board for 2. It uses items you probably already have in your house. So, build this board today and have an impromptu date night tonight! 
Take your date night to a whole new level by adding cooked filet mignon. If you are looking to increase the ambiance in the romance department, this is the charcuterie board for you. 
The rest of this board will be just as delicious as the filet. Feel free to add other foods if you think you will still be hungry. 
This charcuterie board has more than fruits and veggies. However, those are the main ingredients needed for this date night board for 2. Pile on all your favorites. Then add some meat, cheese, and nuts. 
Most of the foods on many charcuterie boards do not need to be cooked. But if you are looking for a definite no-cook charcuterie board for 2, this one's for you. This board is piled high with many charcuterie favorites. We're talking meat, cheese, nuts, olives, and fruit. Add a few personal favorites and it will be the board of your dreams. 
Final Thoughts
You can easily make any of these charcuterie boards for your next date night. Choose one that looks like it has all your favorite foods. Just make sure you have a bottle of wine to go with them, so you can really make the night super special. 
RELATED PRODUCTS YOU MIGHT LIKE
View our entire collection of dark wood walnut cheese boards - there are many shapes and sizes to choose from. Find your perfect board for your next charcuterie tray!
We are on Amazon, see our storefront here. Use coupon code VBKBLOG10 for 10% off your entire purchase of any Virginia Boys Kitchens on Amazon. Apply the code at checkout.