How to Display Cutting Boards on Kitchen Counter - Interior Design Tips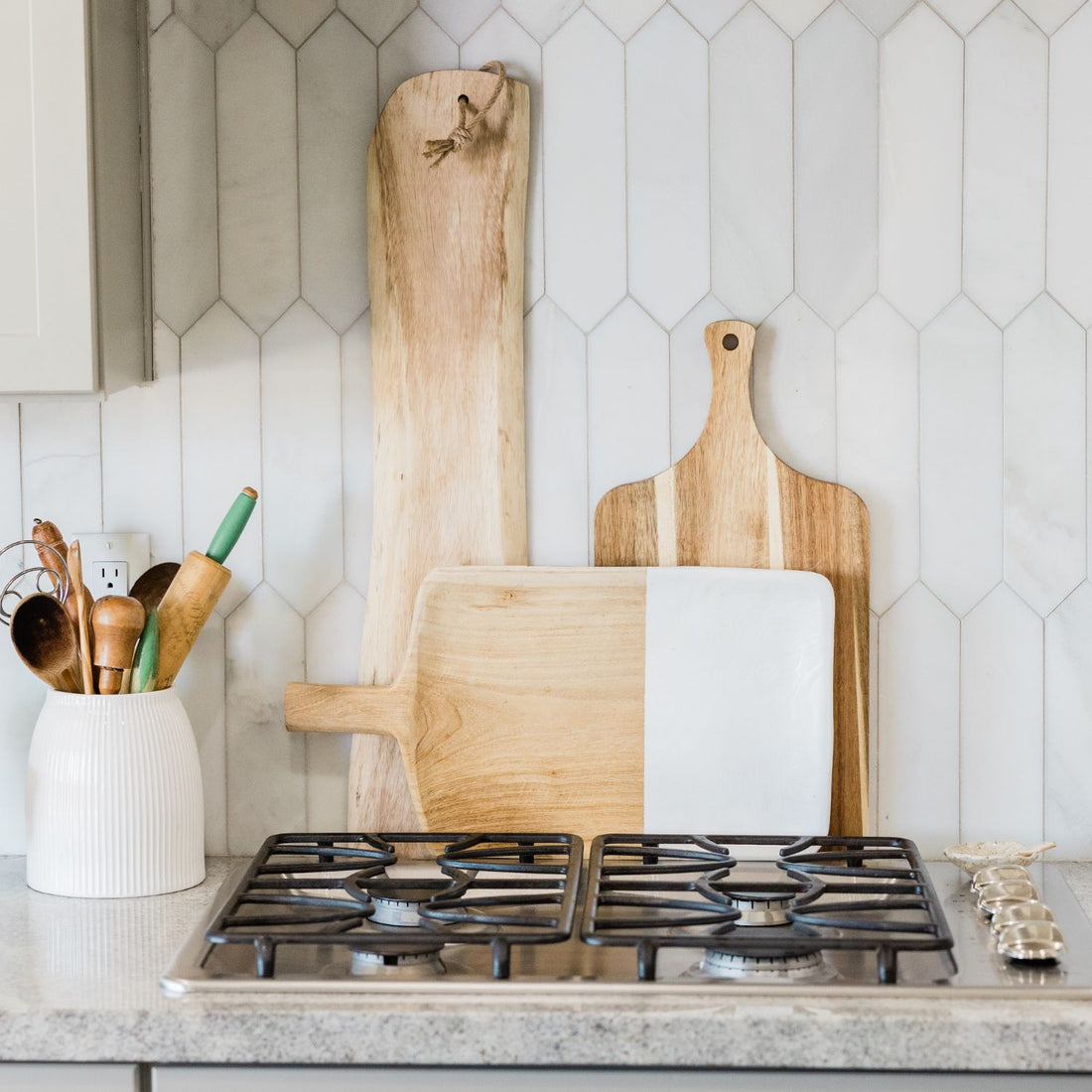 A cutting board can't go unnoticed in any modern kitchen. After all, most meal preparations begin with dicing, slicing, mincing, and chopping. It's no wonder home cooks are always searching for the best quality cutting boards and wondering how to display them on a kitchen counter. After putting in the research and finding the most beautiful board, I doubt you want to shove it in the back of the drawer.
So how can you display your cutting boards on the kitchen counter? Before we get into it, you need to ensure your board is looking spick and span for display.
Maintaining your Cutting Board for Display
Before learning how to put your cutting board on your kitchen counter, you must get them into great shape. At the end of the day, only good artwork gets to sit behind glass in a museum. Here's how to ensure your boards are always looking their best;
How to Prepare a Wooden Cutting Board for Display on Kitchen Counter
Wooden boards are all the rave because not only do they look good, but they are also much safer than their plastic counterparts as they do not breed bacteria. For this small luxury, they need a lot of work to maintain.
Step 1: How to Clean a Wooden Cutting Board
Scrape off any residue food that is stuck onto the surface of the board. To avoid this step entirely, you can rinse off your board after each use.
Use a mild soap to clean both sides of the board to avoid having your board dry unevenly. To keep your board at optimal condition, we recommend using a soap specifically crafted with your wooden cutting board in mind.
Dry with a clean towel until all the moisture is out
Allow it to air dry in a vertical position
If your board appears to have picked up a strong scent, pour kosher salt all over the board and scrub with lemon juice then rinse. When dealing with your wooden board, hand washing is the only acceptable cleaning technique. The steam and heat in a dishwasher will only increase moisture in the wood and ruin it. By default, don't leave your board submerged in water for a long time.

Now that the cleaning section is done, you probably want to jump right into learning how to display cutting boards on a kitchen counter. But you'd be skipping the best part!
Step 2: Oil your Board
For a beautiful display, don't skip oiling your board! Wood does get dry and the only way to maintain that sleek polished look is to always oil your wood.
After a good clean, you can rub oil all over the surface of your board generously. If you're unsure how, feel free to take a look at our step-by-step guide to seasoning wood cutting boards.
Be sure to use a high-quality food-grade oil made specifically for cutting boards. If you really want your board display to stand out, you can coat your cutting boards with wax before you display them on your kitchen counter.
If you plan to regularly store your cutting boards on your counter, it's best practice to invest in a natural-ingredient wood care kit. Using maintenance products made specifically for cutting boards will ensure that your chopped food is edible and your cutting board will last as long as possible.
How to Prepare a Plastic Board for Display
We're not sure who would want to display a plastic board, but to each their own, right? 
How to Clean a Plastic Cutting Board
Use hot water, soap, and a sponge to clean the board. You can put a plastic board in the dishwasher if you like.
Dry with a clean towel
Occasionally sanitize your board with a bleach bath.
To remove stains, soak in baking soda and vinegar
How to Display Cutting Boards on a Kitchen Counter
Here is a list of options for how to display cutting boards on kitchen counter.
On a Stand
There is no shortage of stands to display your boards however we always recommend a wooden stand to create a great contrast between your boards' tone and the stand. We love a cutting board stand because it allows you to display a few of your favorite pieces without drawing attention from your priced handmade boards.
Layered Cutting Board Display on the Kitchen Counter
Wanting to display your boards on the counter always means you have enough counter room to spare. If you have a beautiful backsplash to match, then you may just be on your way to a one-of-a-kind display piece. No two cutting boards are the same so you have no shortage of tones to work with when layering your cutting boards against each other.
Some boards, like our Medium End Grain Walnut Wood Board, contain multiple beautiful tones in the same board. This contrast makes for a lovely site and of course convenience when picking a board to use. Just remember to alternate the direction of the grain to maintain the wood and keep them looking great longer.
In a Decorative Basket
Baskets are always in style and the great thing is you can easily integrate them into your kitchen's design. We love a good basket and even more when it comes accompanied by incredible handmade boards. When storing your boards in a basket, make sure you line the bottom with a nonslip rubber mat or a kitchen towel to prevent them from slipping constantly and bumping against each other which may wear them out over time.
In a Vintage Magazine Rack
The vintage look is proving to be design gold and there's no better way to put to use that piece from the neighborhood yard sale. The vintage magazine holders are already a statement however with a few good boards and a pretty backsplash to lean on, it takes on an entirely new dimension.
Display Cutting Boards in a Crate
There's something about a wooden crate that never seems to go out of style. It ties together in any kitchen and is the perfect way to display your wonderful collection of cutting boards.
Final Thoughts
Displaying your cutting boards not only lets you showcase your boards but is also a design opportunity if you do it right. It can reel in the right attention to areas of your kitchen that were otherwise bare. We recommended these display ideas because they keep your boards in the upright position we love so much and keep them easy to access any time you need to do some little chopping. We hope we inspired your next DIY project!
RELATED PRODUCTS YOU MIGHT LIKE
View our entire collection of dark wood walnut reversible boards - there are many shapes and sizes to choose from. Find your perfect board for your next steak, bbq, stew, or smoked meat!
We are on Amazon, see our storefront here. Use coupon code VBKBLOG10 for 10% off your entire purchase of any Virginia Boys Kitchens on Amazon. Apply the code at checkout.