What is untrimmed brisket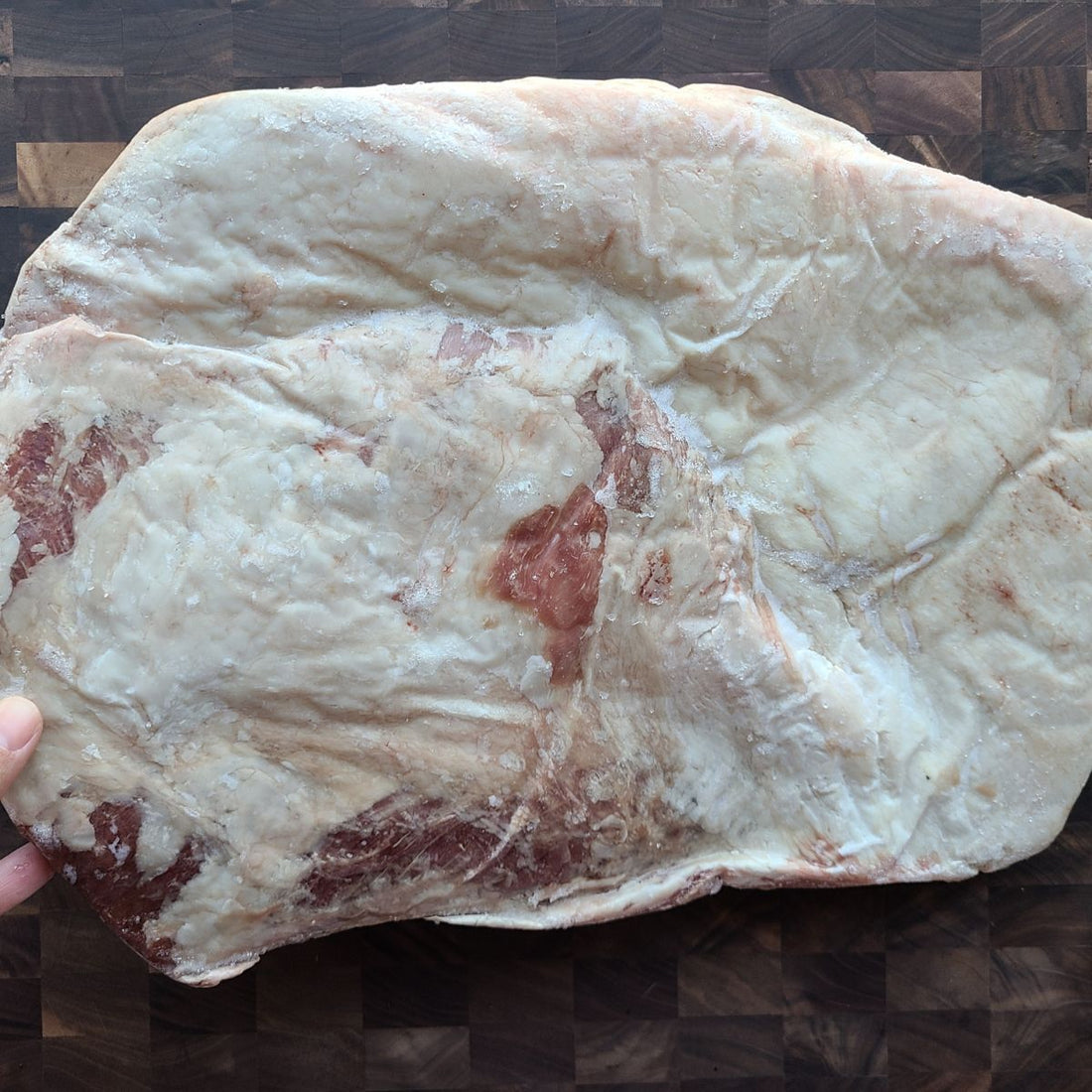 When you purchase a brisket from the store, or your local butcher, you will have the option to get it trimmed or untrimmed. Untrimmed briskets have a lot of fat. Trimmed briskets don't. Which option you want is completely up to you. However, your decision should be made after you determine how you are cooking the brisket you purchase. Today, we will be sharing what you need to know about untrimmed brisket. 
What is untrimmed brisket?
First, you must know that brisket is part of the lower chest region of a steer. This area of the steer gets a lot of exercise. Therefore, it is common for the briskets being removed from this area to be tough. It is also common for the briskets to contain a lot of fat. 
That fat is what is usually trimmed away for trimmed briskets. Some smoke masters like to keep this fat for burgers, or render it for cooking fat.
Brisket is also made up of a point and the flat. There is always more fat on the point of the brisket. There is a little more fat on the flat, as well as fat between the two. 
All the fat is left on the brisket when it is untrimmed. This means you usually have the harder, yellow fat included on the meat. So, even if you want an untrimmed brisket, you will still want to remove this section of fat, leaving behind only around 1/4 inch of fat so when cooked it holds the flavor well.
When to Determine to Use Trimmed or Untrimmed Brisket?
Fat is necessary for keeping brisket tender and juicy. If there is not enough fat on a brisket, it tends to get too dry during the cooking process. 
Yet, too much fat can cause issues too. Excess fat will need to be removed when you are carving your brisket. 
Removing the fat from an untrimmed brisket isn't difficult. Learn how to trim a brisket the right way. 
We recommend leaving approximately a ¼ inch of the creamy white fat on the brisket flat. The hard, yellow fat should be removed like we mentioned above. 
The Cost Difference Between Trimmed and Untrimmed Brisket
There is usually a cost difference between trimmed and untrimmed brisket. Trimmed briskets always cost a couple dollars more per pound. You may want to pay the price, just so you don't need to trim the brisket yourself. 
However, if you don't mind spending a few minutes of your time to get the exact amount of fat you want on your brisket, the untrimmed version is the way to go. For a step-by-step guide (with pictures) of how to trim a brisket, visit our blog article. 

Best Way to Cook Brisket
There are so many recipes out there for cooking briskets. The most common way is smoking it for 24-48 hours depending on the size of the brisket - they range from 3lbs to 15lbs! You can also slow cook it in the oven for 3-6 hours.
Typically if you buy a small 3lb piece from the butchery, there isn't enough fat on there to be of concern - most likely the butchery has already trimmed it away, or it's so thin that you can cook it anyway. It is more common to see briskets sold with the fat still on in large pieces of 8lbs or larger.
Final Words
Don't panic the next time you go to purchase a brisket and only see untrimmed briskets in the case. There isn't much difference between trimmed and untrimmed brisket. Simply a little fat that can easily be carved away for the recipe you are making.
 Related Articles You Might Like
Different Cow Cuts - The Ultimated Guide
Cooking Bacon in Stainless Steel Pans
How Long Do Smoked Meats Last?
Related Products You Might Like
Cooking a brisket sometime soon? They are VERY LARGE!!! You'll need a cutting board that is ready for the job, check out our 18x24x1 inch extra-large cutting board. It's100% made in USA using walnut trees grown in America (sustainably harvested). See our collection of walnut wood cutting boards here.
We are on Amazon, see our storefront here. Use coupon code VBKBLOG10 for 10% off your entire purchase of any Virginia Boys Kitchens on Amazon. Apply the code at checkout.