Best Cutting Board for Smoked Meat - Grill Master Tips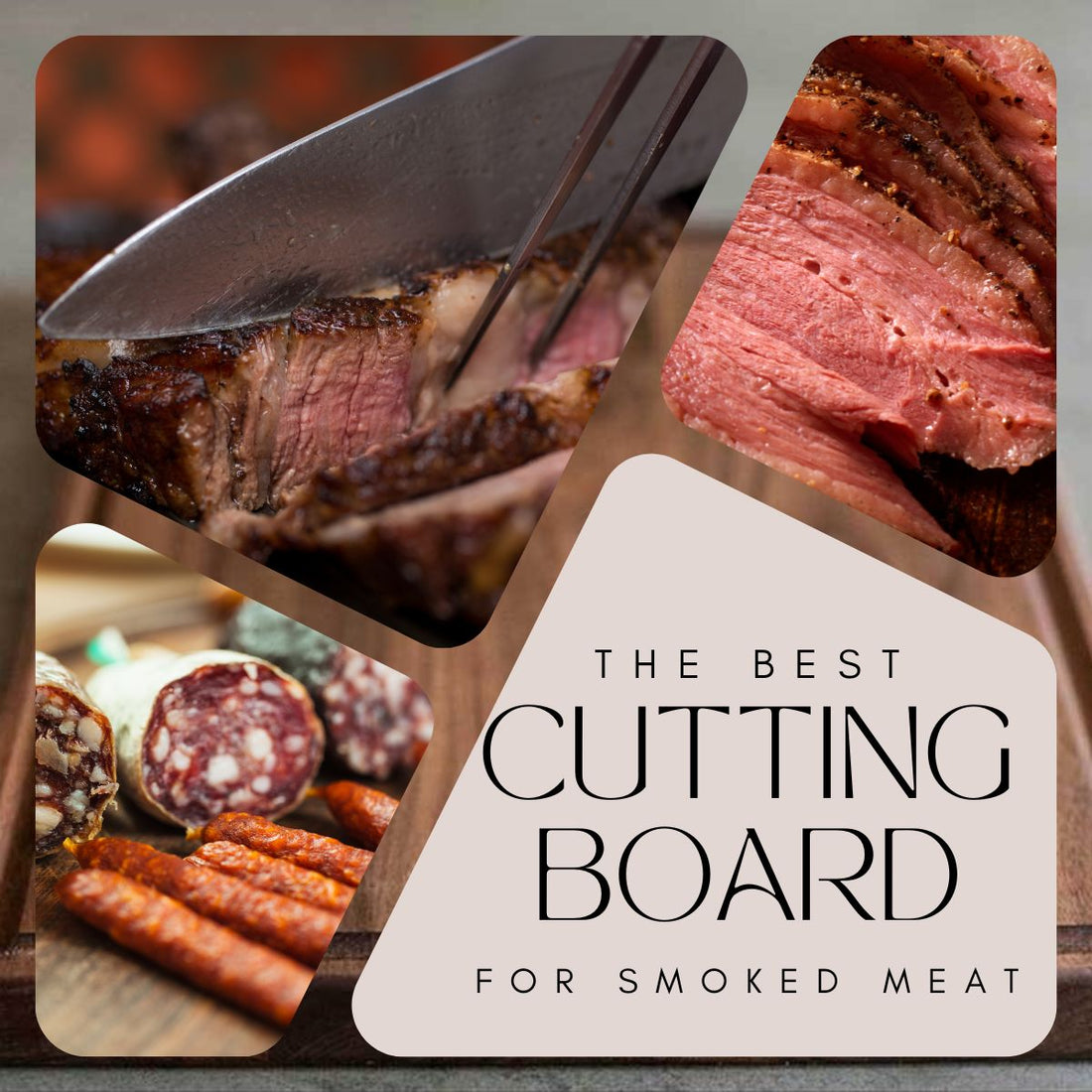 Choosing a cutting board for your kitchen can be tricky. You want one small enough to use everyday. You also want one that will fit large cuts of smoked meat on occasion. This is why we recommend having at least a couple of wooden cutting boards in your kitchen. Multiple wooden cutting boards will prevent cross-contamination.
Plus, you will always have the right size board for any kitchen task. Today, we will be discussing the best cutting board for smoked meat. 
Things to Consider when Choosing the Best Cutting Board for Smoked Meat
There are a few things you should always consider when choosing the best cutting board for smoked meat. 
Cutting Board Material
The cutting board material is extremely important. No matter what you are using it for. We obviously love wooden cutting boards. Especially those boards made from walnut. Read more about the must-have features of wooden cutting boards.
You must wash wooden cutting boards by hand. However, once you learn how to do it properly, it won't take that much time. These boards are also sturdier than their counterparts. 
Plastic cutting boards can also be good to use, especially if you are fond of throwing everything in the dishwasher. However, you can easily damage these boards, which means you will have to replace them more often.
Glass and ceramic cutting boards are other options, but they will shatter if you neglect to handle them carefully. They will also wreak havoc on your knives, causing them to get dull quickly. 
Size and Shape of the Cutting Board for Smoked Meat
Most people love rectangular cutting boards. They have more space to cut, chop, dice, and slice. Although if you prefer round boards, you aren't alone. We say to always use the shape of board that works best for you! 
As for size, it will depend on what you are using the cutting board for. Smoked meat can take up a lot of room. Therefore, we recommend that you use a larger cutting board. The smallest size we would use is 18 x 12 inches. We prefer an 18 x 24 inch board for most smoked meats. 
Knives
When choosing your cutting board, it is important to also consider the knives you are planning to use. Some knives will work better with certain cutting boards and not as well with others. 
Remember, really hard cutting boards like glass will make your knives dull, so choose a material that won't be hard on your knives but will still hold up to the juices within the smoked meat. 
Juice Groove
If you read our blog post about choosing the best cutting board for brisket, you know that a juice groove isn't a necessity. However, it is a wonderful bonus. Especially if you don't like cleaning up messes in the kitchen! 
We love deep juice grooves that catch everything during preparation and serving. Those grooves are also perfect for catching those trimmings you take off a brisket. 
Versatility
The versatility of a cutting board can be very important. Especially if you are short on space in your kitchen. The best boards can be used for food prep and serving. You may even want a board that you can leave on your countertop when not in use. 
Best Cutting Board for Smoked Meat
Now that you know what you should consider when purchasing a cutting board for smoked meat, you should be ready to buy one.
This 18 x 24 inch Walnut Wooden Cutting Board is the best cutting board for smoked meat. We've crafted it from smooth and sturdy walnut, a hardwood that is still gentle on knives. It is sturdy, easy to hold, and can be washed by hand quickly. 
The large size means this extra large wooden cutting board can tackle almost any kitchen task. Both sides can be used, offering versatility. One side has a very deep juice groove that holds up to 1oz of meat juice (that' a lot), which is perfect when slicing meat or removing bits for the trash. The other side is flat and can be used as a serving platter. 
This wooden cutting board is easy to hold, move, and can be left on the counter in between uses. 
Don't let the wrong cutting board ruin what could be an excellent smoked meat dinner! Choose the best cutting board for smoked meat and find the entire serving experience, and clean up, a breeze.
If you haven't owned multiple cutting boards before, now is the time to start stocking up. You won't be sorry when you always have the best cutting board for the job. Plus, your kitchen looks nicer when you have boards standing on this image below. Isn't it time you make your kitchen a show piece?
Our largest board, the 18x24x1 inch
We are on Amazon, see our storefront here. Use coupon code VBKBLOG10 for 10% off your entire purchase of any Virginia Boys Kitchens on Amazon. Apply the code at checkout.