5 Must-Have Features of a Good Quality Wood Cutting Board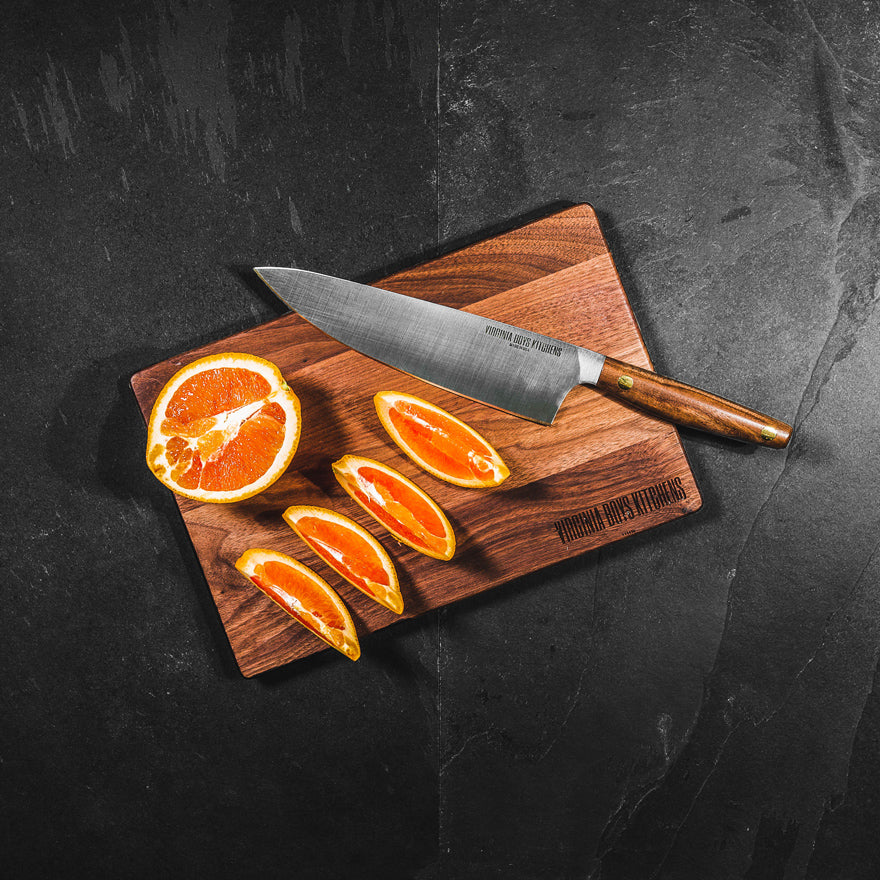 5 Must-Have Features of a Good Quality Wood Cutting Board
The history of wood cutting boards is the history of cooking itself. For as long as people have been cutting their food, they've needed a surface on which to cut it, and wood was perfect for the job.
Just as it was then, wood remains the most ideal surface for cutting. It's sturdy enough to provide a stable working surface and soft enough to not damage your knives.
As a result, wood cutting boards have become a staple in many kitchens.
So much so, in fact, that nowadays there's no shortage of options to choose from. Indeed, finding a good quality wood cutting board for a fair price is no easy task.
What species of wood makes the best cutting board?
What grain design will give you the best performance?
What hardness offers the best balance for board and knife?
These are some of the most important questions you should ask yourself when shopping for a wood cutting board. The answers to these questions will lead you to the must-have features for your cutting board:
1 - High-Quality Hardwood

Walnut Cutting Board
As mentioned, the best cutting boards are made from wood. But what you may not know is that not all woods make good cutting boards.
When choosing your cutting board, stick to hardwood because it's superior to softwood (and other materials) as they:
Are more durable and won't scratch or dent as easily
Won't prematurely dull or damage your knives 
Have the perfect amount of give, ideal for your blades
Are resistant to cuts and grooves where bacteria can thrive
But even among hardwoods, some are better suited to make cutting boards than others.
For instance, bamboo boards are popular for their durability and ease of maintenance. However, they are also very tough on your knives and will dull them much faster than other hardwoods.
The ideal hardwood board is sturdy enough to withstand years of use while being easy on your knives.
Here's a table showing our top picks for the hardwoods which meet these criteria.
Wood
Benefits
Maple

Scratch and impact-resistant
Excellent cutting surface

Teak

High scratch resistance
Very low level of shrinking

Walnut

Gentle on your knife-edges
High resistance to bacteria and moisture
Low level of shrinking
At Virginia Boys Kitchens we stick to walnut as our wood of choice not least because of its outstanding qualities, but because it has one special characteristic that makes it the best of the best: 
The walnut wood we use is 100 percent American sourced using the highest standards of sustainable forestry in partnership with Appalachian Hardwood.
Related: A Simple Guide to Choosing the Best Wooden Cutting Boards
2 - Non-Toxic Wood

Medium Walnut Board
Some species of wood can introduce toxins to your food when they come into contact with it during preparation.
Here's a brief table showing popular woods that, unfortunately, come with a risk of toxic reactions.
| | | |
| --- | --- | --- |
| Wood | Toxic Reaction | Area(s) Affected |
| Ash | Irritant | Hands, lungs |
| Pine | Irritant, runny nose, asthma | Hands, lungs |
| Oak | Irritant, sensitizer, asthma | Eyes, hands, lungs |
Instead of these woods, we recommend walnut—in fact, it's the only wood we use in our cutting boards at Virginia Boys Kitchens. In addition to being 100 percent toxin-free, walnut wood is antimicrobial, non-porous, and safe from harmful bacteria.
As a company, we have an honest ingredients policy. This means you'll never find any toxins, paraffins, or harmful chemicals in any of our products.
But what happens if you want custom boards?
Simply reach out to us at Virginia Boys Kitchens and we'll be more than happy to make your custom cutting boards at prices that'll blow you away! With custom orders, we also offer branding (for orders above 40 units), design services, and even free ground shipping.
3 - Ideal Porosity

Small 10.5 Inch Round Walnut Cheese Board
Typically, porosity is dictated by the woodgrain, which is the size, direction, and appearance of the wood fibers.
Pores are present in all hardwood trees and serve to transport water throughout the tree. They are defined in two ways:
Open-grained (sometimes coarse-grained) woods have large pores. When these woods are made into chopping boards, food materials seep into the large pores and get stuck in the wood.
This increases the risk of food contamination and makes the cutting board prone to warping.
Examples of open-grained woods include elm, oak, pine, and ash—avoid cutting boards made from any of these.
On the other hand, close grain woods have much smaller pores that give the wood a smoother surface. The smaller pores are also better suited to preventing liquids from seeping into the wood, making them ideal for use as cutting boards.
Examples of close-grained woods include walnut, maple, cherry, and birch.
Related: Clean Your Cutting Board the Right Way
4 - An End Grain Design
When it comes to wood cutting boards, there are three main designs:
Face grain boards
Edge grain boards
End grain boards
In our experience, the end grain board reigns supreme in terms of quality, aesthetics, and durability.
Let's take a quick look at each of the grain designs and you'll see why.
Face Grain Boards
These are the simplest and fastest wood cutting boards to make and thus the most economical.
However, because of the orientation of their wood grain, they suffer a fundamental flaw—they are more prone to warping and breaking.
Additionally, the grain orientation makes cuts and grooves on the board deeper and more visible.
Edge Grain Boards
These are typically made from strips of wood, cut lengthwise from a tree, and then laminated together. They are a step up in quality from face grain boards and with proper maintenance, can be great kitchen workhorses.
The edge grain design also changes the orientation of the grain fibers, increasing resistance to warping and cracking.
Overall, edge grain boards are an ideal middle-of-the-road option for wood cutting boards; they are also reasonably priced and durable.
End Grain Boards
End grain boards are the crème de la crème of wood cutting boards. They are made of wood blocks stood on their ends, fused together, and cut horizontally.
The cut end (end grain) is left exposed instead of the length of the wood grain, giving the resulting cutting board an aesthetically pleasing checkerboard design and making it easier on your knives.
Furthermore, end grain boards possess a self-healing quality. When cuts are made on the board, the wood separates and then closes back thanks to the grain orientations.
It's this feature that gives end grain cutting boards their famed durability.
"This cutting board is a work of art…it performs just like the VBK website described... it's gentle on blades and doesn't leave any marks."
— Nicholas O. | ★★★★★
Expert Tip: End grain boards are by design more absorbent than the other cutting boards. As such, they need a little more maintenance. Thankfully, with proper care using the right tools, your end grain board will easily last several lifetimes.
5 - A Perfect Janka Hardness Rating

Small Walnut Cheese Board
A wood's hardness is measured by pounds-force on the Janka Scale—which measures how much pressure it takes to push a metal ball into a piece of wood.
The higher the hardness rating of a wood, the more resistant it is to cuts and scratches from your knives.
This is what makes hardwoods most ideal for cutting boards. However, some woods are too hard and using such a wood in your cutting board can prematurely dull and damage your blades.
It's best to opt for woods with a Janka rating of between 900 and 1,500 lbf. 
Our top picks for hardwoods that make great cutting boards include:
Maple — Sugar maple, also known as hard maple, is one of the most popular choices for cutting boards. With a rating of 1,450 lbf, its closed grain is just the right amount of hard, and its light, neutral color makes it easy to incorporate into any kitchen aesthetic. 
Cherry — With its medium to dark color and a Janka rating of 950 lbf, cherry is another top choice for making cutting boards. It has a hard, closed grain which makes it tough enough to withstand strikes from your knife, but soft enough to not dull them prematurely.
Walnut — Our favorite choice for making cutting boards. With a Janka rating of 1,010 lbf, walnut falls squarely in the "just right" category of hardness that's perfect for both cutting board and knife maintenance.
Related: 4 Factors That Make Wood Carving Boards Amazing
Grab Yourself the Best Quality Wood Cutting Board
A high-quality wood cutting board is essential to any cook, and at Virginia Boys Kitchens we take that in all seriousness.
We pride ourselves in creating the best wood cutting boards using the highest quality, sustainable materials—after all, quality and sustainability are in our DNA. .
Our products are made with Appalachian Hardwood to ensure our wood is sourced using the highest standards of sustainable forestry. We pair these high-quality woods with domestic manufacturing here in the USA to deliver world-class products.
To grab yourself a high-quality Virginia Boys Kitchens wood cutting board, visit our product catalog today and enjoy the best deals.
Share on Instagram:
We are on Amazon, see our storefront here. Use coupon code VBKBLOG10 for 10% off your entire purchase of any Virginia Boys Kitchens on Amazon. Apply the code at checkout.