Super Sushi Made Simple: Best Cutting Board for Sushi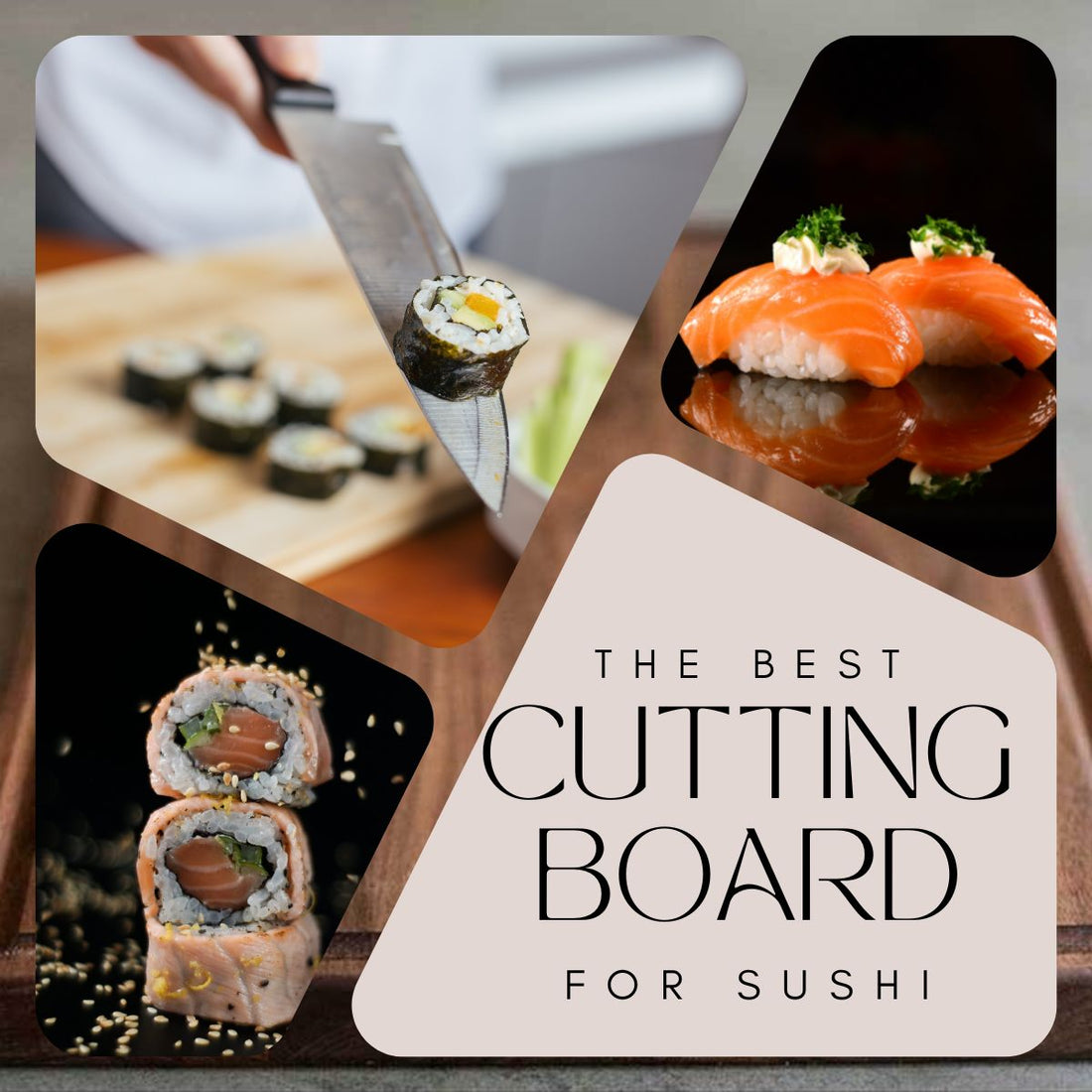 Quality cutting boards are a must in any kitchen. Having the best cutting boards ensures you can prepare foods: chop, slice, dice, and serve everything without an issue. We always recommend having multiple wooden cutting boards at your disposal so you can maximize your creativity and menu. Today we will be discussing the best cutting board for sushi. 
Choosing the Best Cutting Board for Sushi
There are a few things you will want to keep in mind when choosing the best cutting board for sushi. The very first thing you should keep in mind is the material. We recommend wooden cutting boards. They are durable, sanitary, and last forever. Read about the best wood for cutting boards in our other article.
When using a wooden cutting board for sushi, we always recommend walnut. This may be a hardwood, but it is softer than some hardwoods. Therefore, it is easier on your knives. There are a few other advantages of using a walnut cutting board too. 
Wooden cutting boards are also nonabsorbent. This means liquids won't soak in and allow bacteria to grow. The weight of the boards make them slip resistant. And their size makes it possible to complete any kitchen task. 
Knives and Cutting Boards
It is important to choose the best sushi knife when making your own sushi. Once you have the best knife, you will want to make sure you have a cutting board that will keep your knife in excellent shape. After all, the wrong cutting board will make your knives dull and unusable. 
A good chef knife, such as this 100% made-in-USA high carbon stainless steel chef knife is a great choice.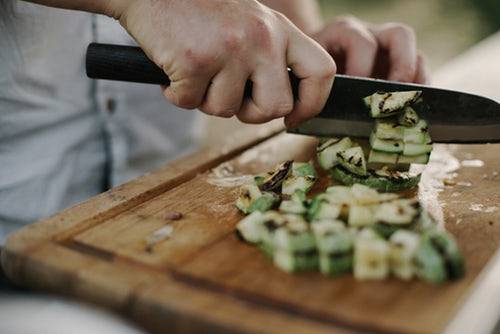 Best Cutting Board for Sushi
Since you now know that the best cutting board for sushi is going to be wooden, you can easily purchase one to use. We love this 11 x 17 inch Walnut Cutting Board. It is the perfect size for preparing sushi and serving it. 
The 17x11 inch cutting board fits a nori sheet of seaweed (full size or half size depending on what kind of sushi you're making) with plenty of room for a work surface. Once you're done using it as a work board, it doubles as a serving board!
There is a reason some restaurants serve food on wood boards - it makes for a spectacular display, and people love them!
Once you're done rolling your sushi, use a sharp chef knife and cut it directly on this wood board. Add some wasabi on a side, some pickled ginger, a little soy sauce in a small sauce bowl, and voila! You've got yourself the perfect sushi serving board.
Furthermore, this wooden board can be used for so much more than sushi! Let Greg tell you how much he loves this cutting board:
If you do not want to serve your sushi on such a large board, you don't need to.
You can choose to prepare your sushi on this board and then serve it on a smaller one. Use the 17x11 inch everyday board to do your prepping, then serve it on the smaller 8x12 inch board. It fits 3 maki rolls comfortably with plenty of room for a few nigiri pieces, and room for wasabi, ginger, and soy sauce bowl.
Other Tools for Making Sushi
Okay, so you know you need the best cutting board for sushi. You also know you need a good quality sushi knife. But do you know you need a couple other tools to make sushi at home? 
A rice cooker is a must for sushi. If you want perfectly cooked rice every time, use an electronic rice cooker. Yes, you can cook rice in a regular pot. But it might not turn out the same each time. 
A rolling mat is another must for making sushi at home. These mats make it simple to roll logs of sushi before cutting those logs up. 
Up your sushi game this year by purchasing the best cutting board for sushi. When you add it to your sushi collection, you may find yourself making sushi more often. And your friends and family will definitely not complain about that!


RELATED PRODUCTS YOU MIGHT LIKE:
Our largest board, the 18x24x1 inch, if you would like to make multiple rolls, or display lots of maki rolls on this cutting board. For a single roll with enough room to work with and serve, go for this medium 17x11 cutting board (it's also our most popular board.)
We are on Amazon, see our storefront here. Use coupon code VBKBLOG10 for 10% off your entire purchase of any Virginia Boys Kitchens on Amazon. Apply the code at checkout.