Slice Smarter: The Best Cutting Board for Pizza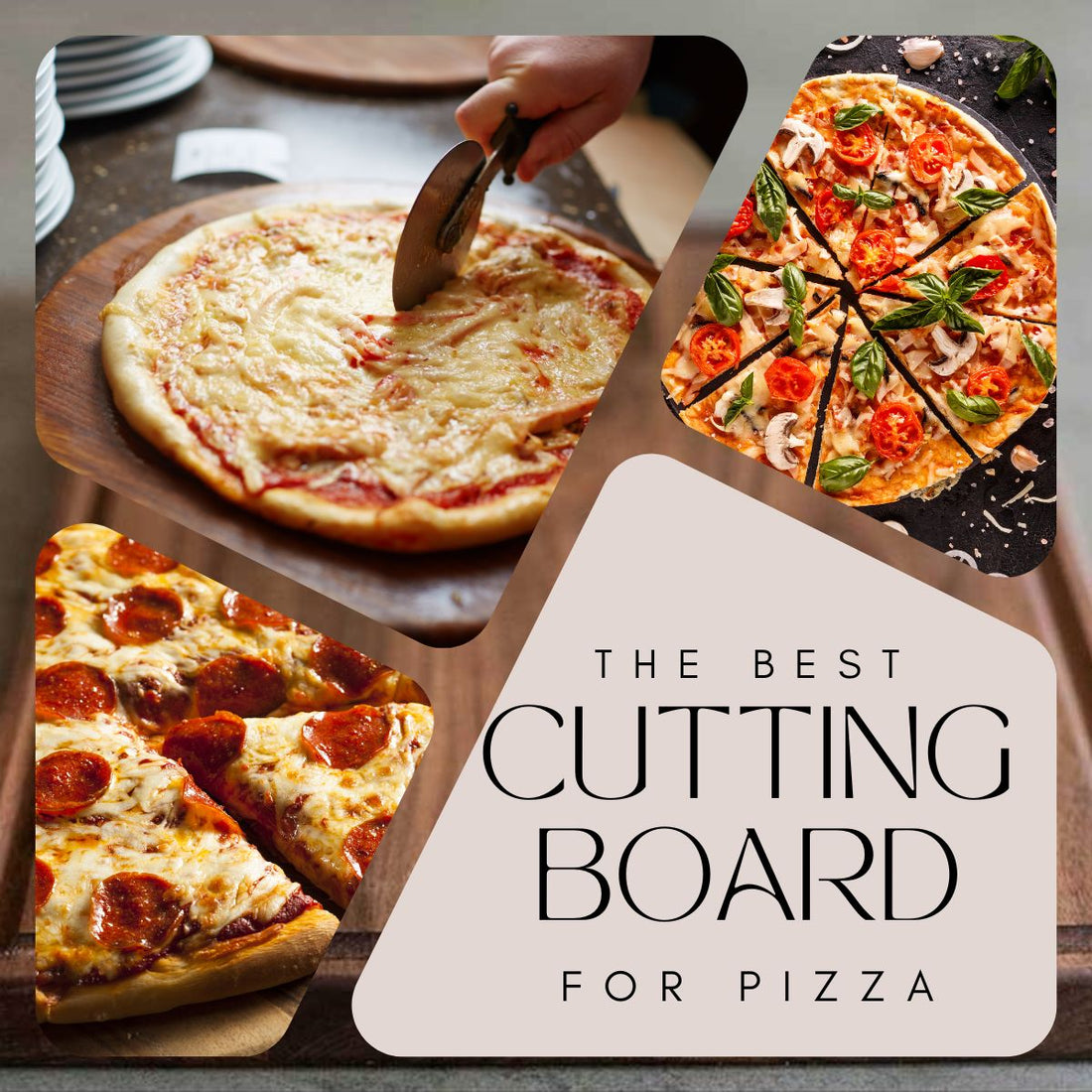 Making pizza at home can be fun! Whether you throw a frozen pizza in the oven or make one from scratch. However, once your pizza is fully cooked, the dilemma of how or where to cut it always comes up. What is the best cutting board for pizza?
Frozen pizzas usually come on a piece of cardboard which you may be tempted to cut on. Please don't do that! One slice through the cardboard can ruin your countertop! It is better to use a cutting board.
You could use just any old board, but you and your pizza deserve the best. Today, we are going to share what we've learned about the best cutting board for pizza. 
Size of Pizzas
Before we dive in, let's talk about pizza sizes. Now, every company's pizza is going to vary slightly in size. However, it is a good place to start talking about what cutting board to use for pizza, so we are going to share the sizes of Domino's pizzas. 
A small pizza at Domino's is 10 inches around. Their large pizza is 13.5 inches in diameter. That means you should have a cutting board that is at least that big for your pizza. If you're ready for a larger cutting board, read about more ways to use a large board.
Types of Cutting Boards
Plastic
You probably have a plastic cutting board in your kitchen. You probably use it to cut cheese, fruits, and vegetables. If your plastic cutting board is large enough to hold a pizza, you may be tempted to use it. 
You could use your cheap, flimsy plastic to cut your pizza on. However, you should keep in mind that plastic can get stained really easily from the sauce. Little nicks from the knives and pizza cutters can accumulate over time too. Those nicks are the perfect place for bacteria and pizza crumbs to collect. It can be difficult to remove these when washing the cutting board, so be careful!
Oh, and depending on the type of plastic, you may even cut through the board!
Silicone
Silicone cutting boards are growing in popularity because foods will not stick to them. The downside to using a silicone cutting board to slice your pizza is that the cutting board is very fragile. The silicone will break, chip, and even peel. 
Silicone can be cut through - a deep cut will pretty much ruin it and render it useless. When you use a pizza cutter to cut pizza (or a knife) you're applying pretty heavy pressure here, so we do not recommend this type of cutting board for cutting pizza.
Glass
Glass cutting boards are easy to keep clean. They can be washed in the dishwasher. They are resistant to stains and odors too. Sound too good to be true? There are a couple of major drawbacks.
The downside of glass cutting boards is they are hard on your knives. This means your knives, and pizza cutters, will get duller faster when you use a glass board. The second downside is that a glass board is quite fragile. Dropping it, or placing it the wrong way on the countertop, can result in it shattering.
 For this reason it does not tend to come in sizes large enough for pizzas. Glass cutting boards are so fragile they come in small, more manageable sizes only - probably nowhere big enough for your pizza.
Best Cutting Board for Pizza: Two Options
Okay, so we just covered many of the different types of cutting boards that you could use. Now, let's focus on the best cutting board for pizza. 
Option 1: Round Cutting Board
We have discovered that wooden cutting boards are best for cutting pizza. The wood won't make your pizza cutter dull. Plus, a wooden cutting board is often big enough to hold an entire pizza. 
Most wooden cutting boards are simple to clean if you follow the directions. And they won't break when dropped or set down the wrong way. 
We do have our favorite wooden cutting board for pizza. It is a 13.5 inch Round Walnut Wood Board. This board is large enough to hold a large pizza. It is made from sustainably grown walnut wood, which makes it practically indestructible. 
One side of this board is flat, while the other side has a drip groove. This means you can utilize this wooden cutting board for more than just cutting pizza in the kitchen! 
Option 2: Butcher Block Board
We also have a second favorite pizza cutting board. This 14 x 18 inch End Grain Walnut Butcher Block is perfect for those larger pizzas. We use this board when we don't want any of the ooey-gooey cheese and other toppings falling off our pizza when we cut it. 
The rectangular shape ensures every inch of the pizza is secure during the cutting process. This is another wooden cutting board that can be used for slicing, dicing, and chopping for any dish or occasion. 
Family pizza nights are lots of fun, but they are much better when you have the best cutting board for pizza in your kitchen. Try this simple homemade pizza recipe we found! Stop struggling to find a place to cut your pizza when it is ready. Purchase one of our favorite cutting boards for pizza and see how it can be a gamechanger for your pizza nights at home! 
RELATED PRODUCTS YOU MIGHT LIKE:
Our largest board, the 18x24x1 inch
The 13.5-inch round board 
We are on Amazon, see our storefront here. Use coupon code VBKBLOG10 for 10% off your entire purchase of any Virginia Boys Kitchens on Amazon. Apply the code at checkout.