Best Cutting Boards for Aspiring Chefs: A Reliable Buyers Guide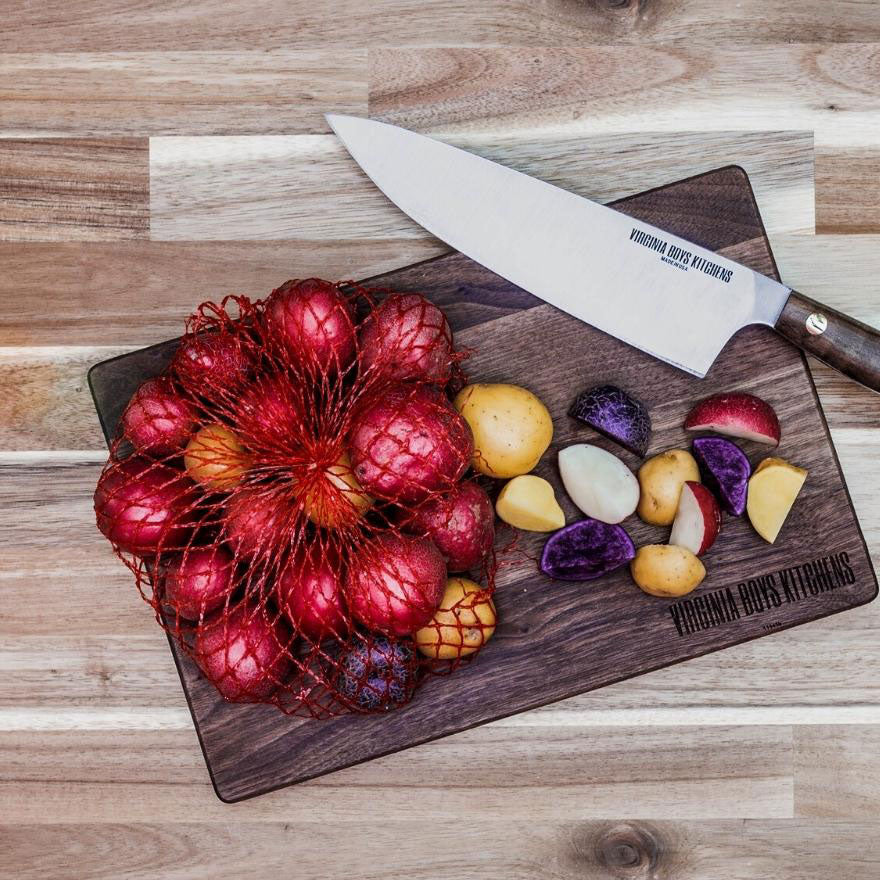 Best Cutting Boards for Aspiring Chefs: A Reliable Buyer's Guide
There's a world of cooking information out there that every aspiring chef must wade through, from useless to downright wasteful (ahem, glass and ceramic cutting boards).
We get that a cutting board is more than just a tool. Choosing a good cutting board can bring immeasurable enjoyment to your cooking and elevate the aesthetics of your kitchen and table.
As you build up your collection of essential kitchen tools, you'll ask yourself,
"How can I find the best cutting board as an aspiring chef?" 
"Which cutting board strikes a balance between value for money and quality?"
With this guide, we'll help you answer these questions:
What makes a good cutting board?
Which cutting boards are ideal for an aspiring chef?
Which features should you consider when buying a cutting board?
First, let's run through our top three cutting boards for aspiring chefs.
1 - Large 15x20 Inch Walnut Cutting Board Reversible With Juice Groove
We want to help you build your cutting board collection from the ground up. First, you need the centerpiece to which you'll give dedicated counter space. It'll be where you carve your larger meats and chop up everything for your mise en place.
The Large 15x20 Inch Walnut Cutting Board by Virginia Boys Kitchens is a perfect centerpiece for every budding chef because of its ideal walnut material, size, thickness, and functionality.

Large 15x20 Inch Walnut Cutting Board
Important Features of the 15x20 Inch Walnut Cutting Board
Antimicrobial properties: Walnut wood has a closed grain that doesn't allow bacteria-laden food juices to seep in. This creates a more hygienic prep surface.
Self-healing capability: Black walnut's ability to self-heal means that with regular maintenance, the board can take a beating in the kitchen and still serve you well for up to 10 years.
Reversibility: You can use both sides of the cutting board for preparation and serving, increasing convenience in your kitchen.
Knife-friendly: Walnut has a Janka rating of 1010, so it's soft enough to not damage your expensive chef knives, as opposed to boards made ‌of plastic or harder woods such as bamboo


Juice groove: If you've ever had your steak juices leak all over your counter, then you'll appreciate the deep juice groove.
How the 15x20 Inch Walnut Cutting Board Compares With the Small 8" X 12" Walnut Cutting Board
Size: The 15x20 Inch Walnut Board is almost double the size of a smaller 8x12 inch board. It's, therefore, ideal as a staple piece of equipment to handle the bulk of cooking tasks.


Thickness: The smaller board is ¾ inches thick. In contrast, the larger 15x20 Inch Walnut Board has a more stable 1 inch thickness. This makes it perfect for heavy-duty tasks, including carving large meat cuts.
As a foundational piece of kitchen equipment, the 15x20 Inch Walnut Cutting Board lends its large size to the stellar qualities of walnut wood, giving the best workstation functionality.
Click the link below to check the latest price and see what people are saying about this board.
2 - Small 8x12 Inch Walnut Board Reversible With Juice Groove
So, you've purchased your large centerpiece and workhorse. What about the quick prep tasks that require portability? Maybe you just need to slice a bit of onion or quickly mince some garlic.
Here's where the small 8x12 Inch Walnut Cutting Board comes in. At ¾ inch thickness, it's small enough for those quick prep tasks and can even double as a serving dish for a rustic burger meal.
Remember, it's not meant to replace your main workstation, but to add dynamic functionality and flexibility to your kitchen.

8x12 Inch Walnut Cutting Board
Important Features of the 8x12 Inch Walnut Cutting Board
Deep juice groove: Despite its small size, this board is ideal for slicing or resting smaller steaks. You can catch all the messy juices in the grooved edge and reduce both cross contamination and cleanup time.


Lightweight: Its ¾ inch thickness allows excellent portability for serving.


Antimicrobial: The closed grain walnut wood makes the board resistant to bacteria, stains, and moisture, making it a more hygienic food prep surface.


Knife-friendly: Walnut is the gentle knife whisperer, absorbing cutting force without damaging or blunting your blades.

8x12 Inch Walnut Cutting Board
How the 8x12 Inch Walnut Cutting Board Compares With the Large End Grain Board
Edge grain construction: Edge grain boards are much lighter compared to end grain boards. It's a godsend when you need to move the board while preparing food or serving.


Small size: A small, easily maneuverable cutting surface can make a stressful, task-heavy cooking session into a seamless one.
This small 8x12 Inch Walnut Cutting Board serves as the perfect complement to a larger cutting board—it also looks amazing stacked against larger boards for decor.
3 - Large 14x18 Inch End Grain Walnut Cutting Board
The Large 14x18 End Grain Walnut Cutting Board is a showstopper. You have a workhorse, a small versatile piece, and now a cutting board that is a beauty to make all your culinary aspirations come true.
Important Features of the Large End Grain Walnut Cutting Board
Thickness and weight: Weighing at 11 pounds and 1½ inches thick, this end grain board is a solid piece that won't easily warp. It's also more stable for cutting.


Antimicrobial properties: Walnut is a closed grain hardwood with medium-sized pores, which resist bacteria buildup, stains, and moisture accumulation, resulting in a more hygienic workspace.


Knife-friendly: Since end grain boards are a composite of smaller wood pieces, they have more bounce and are the gentlest on knives.
How the Large End Grain Board Compares To The Large 15x20 Inch Walnut Board
Unique checkerboard pattern: The one-of-a-kind patterns in end grain boards are truly unparalleled and level up any chef's kitchen and serving setup.


Superior knife-friendliness: Walnut wood is already as gentle as they come. The jointed end grain pieces have a lot more give than edge grain boards and are, therefore, kinder to your knives—and your wrists!
In a nutshell, the show-stopping, one-of-kind pattern of the end grain board sets it apart as the crowning jewel in your kitchen. The fact that end grain is kinder to your knives is a welcome bonus for aspiring chefs learning their way around the kitchen.
Click the link below to check the latest price and see other customer's experience with the end grain walnut cutting board.
Now that we've tackled the best cutting boards for budding chefs, let's look at pricing and other useful buying tips.
Price Range of Wooden Cutting Boards
The price range of wooden cutting boards depends on:
Wood type: Beech and maple are cheaper than teak, but walnut is the happy medium. 


Type of construction: Edge grain is cheaper than end grain, but end grain is more durable.


Size of board: Bigger boards cost more but allow you to prepare larger meals.
In the table below, we compare pricing of different walnut cutting boards:
| | | | |
| --- | --- | --- | --- |
| Product | Low Price | High Price | Average Price |
| 8x12 Edge Grain Walnut Cutting Board | $50 | $100 | $75 |
| 15x20 Edge Grain Walnut Cutting Board | $150 | $220 | $185 |
| 18x24 Edge Grain Walnut Cutting Board | $5 | $15 | $175 |
| 14x18 Inch End Grain Cutting Board | $130 | $250 | $190 |
Types of Kitchenware to Complement Your Walnut Board
For every aspiring chef, a well-stocked kitchen is the foundation on which good culinary skills are built. 
With that in mind, here are a few other kitchen essentials to support your perfect cutting board:
Left to right: Chef's knife, paring knife, utility knife by Virginia Boys Kitchens
What Others Said About Walnut Cutting Boards
We absolutely love our sustainable, American-made walnut boards. The fact we're able to fund reforestation with each purchase is a stellar bonus.
What can beat that?
Well, our customers are also gushing about the:
Quality of the workmanship
Versatility of the different board sizes
Joy of cooking using a superior product
Beauty of the boards as kitchen ornaments
Convenience of the large boards in cooking prep
Preference of wood cutting boards over other materials, such as plastic
"The wood working skills used are so wonderful. Living with plastic cutting boards isn't really that nice."
— Walter W., USA
"I ordered the small walnut board with a juice groove. My husband wanted something smaller for cutting and serving meat…he loves it."
— Catherine L., USA
"I ordered the extra large walnut cutting board… I am very pleased and will be ordering the smaller size to go with it."
— Devin D., USA
"I decided to get rid of all of my old ones and consolidate to one beautiful board and this one didn't disappoint."
— Julie F., USA
"My husband bought me the 18x24 board… I never knew how much of a difference a good cutting board would make… it makes cooking more enjoyable."
— Jennifer D., USA
"Easy to clean and perfect size for preparing all items of a meal before cooking. Super large… it lives on my kitchen island."
— BK
How Do I Choose a Cutting Board?
To get the best chopping board for your needs, consider the size, shape, wood type and aesthetics, and additional features that best suit your lifestyle and culinary abilities.
Size
An avid home chef or aspirant who prepares large quantities of food will need a large cutting board (12x18 in. or 15x20 in.). 
However, someone who doesn't cook frequently will do well with a medium-sized board (10x14 in.).
The extra small boards are a great supportive piece for minor tasks while the extra large boards are stationary or decorative.
Shape
Do you need a board that doubles as a serving tray? Then, square, circular, and paddle boards might be better suited for you.
That said, rectangular boards are the most versatile for cooking and presentation. If made well with luxurious wood such as walnut, they can carry your cooking from prep to serving.
Wood Type and Aesthetics
Different wood types determine how hard, durable, scratch-resistant, stain-resistant, antimicrobial, and expensive your board is. 
For example, maple is more antimicrobial but shows stains more readily, while walnut has the best balance of hardness, color, and bacterial resistance.
The wood also affects the aesthetics of the board and whether it'll blend seamlessly with the rest of your kitchen. Do you want the dark rustic feel of walnut or the light, Scandi aesthetic of maple?
On top of that, choosing between end grain and edge grain can hugely change the cost, aesthetics, knife-friendliness, and durability of your cutting board.
Additional Features
Look for additional features such as rubber feet that elevate the cutting board and prevent it from sliding. Likewise, you may also want handles or finger grips to make the larger boards easily portable. 
Other features include hanging holes and grooved edges to catch juices and keep a cleaner work surface.
Do Chefs Prefer Wooden Or Plastic Cutting Boards?
Michelin star chefs unanimously agree with knife makers that the best chopping boards are wooden—they're hard enough to support chopping without sustaining damage, but not too hard that they dull your knives.
Professional chefs are also exploring rubber, since it has better bounce than plastic and is easier to maintain than wood.
Plastic isn't worth using as it dulls knives and increasingly harbors bacteria with continued use.
Let's look at some food-safe wood types that get that chef's kiss:
Wood Type
Janka Hardness Scale
Pros
Cons
Walnut
1010

Softest hardwood and doesn't dull your blade
Medium pores that are more resistant to bacteria than teak
Shrinks less than maple or beech—less conditioning
Chocolate-brown color masks stains

Expensive. Between $20 and $200

Teak
1070

Best at resisting scratches and impact
Has the least shrinkage
Brown hue hides stains

Expensive, costing between $25 and $500
High silica content eventually dulls knife blades
Large pores make it more prone to bacteria and stains

Beech
1300

Small pores are more antimicrobial than walnut and teak
Cheapest, ranging from $15 to $100

Has the most shrinkage and needs more conditioning
Easily shows stains

Maple
1450

Most scratch and impact resistant
Superior at blocking bacteria because of small pores

Shrinks more than teak and walnut
Shows stains easily
Should I Buy a Cutting Board With Extra Features?
No. As an aspiring chef, you're better off spending your money on simple but well-made kitchen equipment that will give you years of service. Think of one or two well-crafted, high-quality wooden boards to complement a few high-quality, handmade knives.
Gimmicky boards, meanwhile, are a dime-a-dozen with flexible foldable options or extra container attachments—which seem fancy but often break down fast.
Finicky equipment in the kitchen tends to get in the way of the art of cooking, anyway.
Start Building Your Knockout Kitchen
As an aspiring chef, start with the best tools available to you.
When it comes to cutting boards, it's worth investing in high-quality hardwood that will serve you for years, treat your equally precious knives kindly, and add to the beauty of your kitchen and table.
If you're ready to level up your kitchen with gorgeous, sustainable, American-made walnut cutting boards, check out our board selection.
Share on Instagram:
We are on Amazon, see our storefront here. Use coupon code VBKBLOG10 for 10% off your entire purchase of any Virginia Boys Kitchens on Amazon. Apply the code at checkout.