Best Wood to Use for End Grain Cutting Boards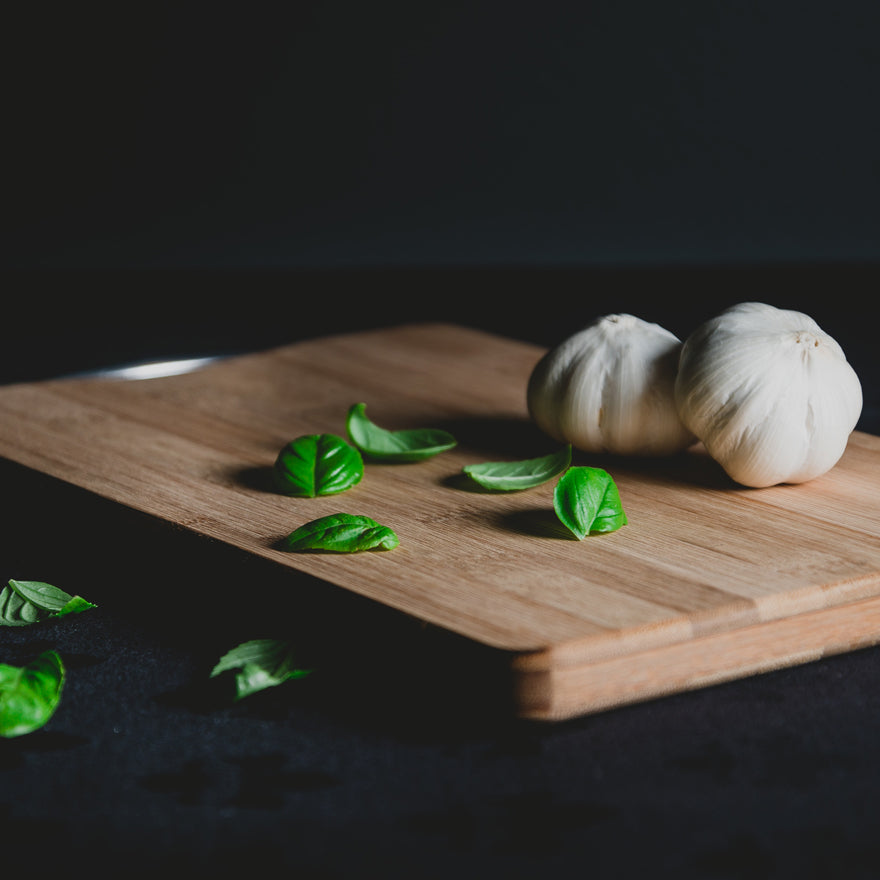 Best Wood to Use for End Grain Cutting Boards
Dicing up some fruits? Preparing some vegetables for dinner? Or perhaps you're carving your Thanksgiving turkey?
Whatever the occasion, a cutting board is an essential kitchen accessory you can't live without, due to its versatility. Choosing a board requires special attention.
Wood is the most popular material when it comes to chopping boards for a number of reasons.
It's more sanitary, durable, and resistant to cuts than plastic. Wood is also cheaper and requires less maintenance than marble and granite cutting boards.
However, wooden cutting boards vary in quality and durability, depending on how the wood for the board is cut. This is referred to as the wood grain of the board.
There are three types of cutting board wood grains:
Face grain
Edge grain
End grain
Face Grain vs Edge Grain vs End Grain: What's the Difference?
Face Grain
The face/flat grain is the upper or lower surface that shows when a piece of wood is laid flat on the ground. It's where you see the most grain and wood grain patterns for different types of wood. Face grain is also the softest surface of the wood.
A face grain cutting board is made by gluing together the edges of wooden boards such that the faces of the wood become the working surface of the board. They're also the cheapest in the market since face grain boards are cheap and easy to construct.
There are also many other benefits from face grain construction.
Benefits of Face Grain Cutting
Cutting boards are the most beautiful and striking: Since face grain shows the most grain, the wood's beautiful patterns are clearly visible. This construction therefore, makes the most striking chopping boards.
Great for countertops: Face grain is used by woodworkers to make countertops and tabletops due to its natural beauty and ease of smoothening.
Downside
Face grain cutting boards are the least durable: The face grain is soft and absorbs a lot of moisture. This absorption and release of water causes the cutting board to warp and crack.
They show knife marks: Face grain boards show knife cut marks faster than end and edge grain cutting boards since they're the softest.
Not suitable for heavy chopping: If you're looking for a chopping board for meat, a face grain board may not be for you. This is because they're soft and show knife marks easily.
See Also: Best wood for cutting boards
Edge Grain
An edge grain cutting board is made by fusing together small slabs of wood such that the side edges of the pieces form the surface of the cutting board. The faces of these wooden slabs are glued together so that the edges become the cutting surface.
In terms of quality and durability, edge grain boards lie right between face and end grain boards. They're stronger and less prone to warping than face grain boards. Similarly, they're less thicker than an end grain cutting board.
Benefits of Edge Grain
They're lighter than end grain boards: Edge grain boards are less thick and lighter than end grains due to their simple construction and design.
Affordable: If you're on a budget, an edge grain board would be a great place to start looking. They're noticeably less expensive than an end grain board due to their simple build. Generally, they sit in the sweet spot between price and performance.
More durable than face grain: Edge grain boards are hard and absorb less moisture than face grains. This means they're less susceptible to warping and cracking.
Recommended for all-round kitchen use: Due to their hard surfaces, edge grain cutting boards are versatile and can be used to prepare vegetables and chop meat. They also show cut and scratch marks less.
Downside
They're hard on your knives: Since the cutting surface is harder, edge grain boards make your knives blunt over time.
End Grain
The end grain is the side of the wood where the woodworker has cut. It tends to be the strongest side of the wood.

Source: foodal.com
An end grain chopping board is made by cutting up a slab of lumber into smaller blocks and gluing the blocks back together, such that the end grain of the blocks forms the board's working surface.
Being the strongest side, this arrangement produces the most solid and sturdy boards. This is why end grain is used to build butcher blocks.
Butcher blocks are slightly different from cutting boards as they're heavy duty and specifically designed for chopping up meat. They're tougher, more solid, and prevent cuts from showing.
A butcher block is also larger and thicker than a conventional wooden board.
When it comes to pricing, end grain boards - including butcher blocks - have a high price tag and are the most expensive type of boards.
Benefits of End Grain Cutting Boards
They're more durable: End grain boards are the most durable as they have the ability to hide knife marks. The fibrous, open wood cell structure of wood grain allows the board to spring back into shape after cuts and scratches - a property commonly referred to as 'self-healing'.


End grain boards also rarely split and break away since they're very thick.

Unique and striking appearance: Since these cutting boards are made by assembling several individual pieces of wood, the surfaces are beautiful and have unique patterns that ensure your board is literally, one of a kind.
They're used to make butcher blocks: End grain construction is used to make butcher blocks for cutting up, deboning and filleting of meat.
End grain boards provide more grip: It's more spongy and rougher in structure than edge grain or face grain. This increases the knife's grip when cutting food and prevents your knife from blunting.
They're sanitary: End grain boards experience shallow, superficial cuts and get back into shape when cut. This means small bits of food can't get stuck in deeply in the board's surface.
Downside
End grain boards are expensive: This is due to the high cost of labor required to construct each board. Since the pieces are assembled, construction is mostly by hand shooting the prices higher.
What's the Best Wood for an End Grain Cutting Board?
End grain cutting boards are made exclusively from hardwood trees. Specifically, closed grain hardwood trees which aren't too hard and produce edible nuts or fruits. Such trees include:
Hard Maple
Beech
Walnut
Teak
Type of Wood
Wood Qualities
Hard Maple or Sugar Maple

Considered ideal material
Neutral color fits into most kitchen themes
Resistant to bacteria

Walnut

Soft: Doesn't dull your knives
Bacteria and moisture resistant
Dark and hides stains

Beech

Solid and dense
Gets prettier with age

Teak

Highly resistant to scratches
Moisture resistant
Tough on the knife
Related: Three Major Differences Between High-Quality and Low-Quality Cutting Boards
Our Top 4 End Grain Cutting Boards Picks
Specifications:
Weight: 8 lbs.
Dimensions: 20 x 15 x 1.75 inches
Chessmaster wood pattern
Why we love it:
Extra large size for larger meats such as Thanksgiving turkeys
Great gift idea
Has two handles on the sides for easy holding
Here's what a customer had to say about it:

Kinlee | Customer Review
Specifications:
Weight: 4 lbs.
Dimensions: 17 x 11 x 0.75 inches
Size: Large
Why we love it:
Has a juice groove to catch flowing fruit juice
It's double sided
Gorgeous design
Here's what a user said about this board:

Anonymous | Customer Review
Specifications:
Weight: 4 lbs.
Dimensions: 8x 17 x 0.75 inches
Handle length: 4 inches
Why we love it:
Comes with a handle for easy carrying
Doubles as a serving paddle
Has a 120 day free trial period
Here's what one of customers thought about it:

Marcus C | Customer Review
See Also: Why Walnut Makes for the Best Cheese Boards, Handle Boards & More
Specifications:
Weight: 3 lbs.
Diameter: 13.5 inches, thickness: 0.75 inches
Why we love it:
Juice groove catches spilling juice from veggies and fruits
Double sided
Every purchase plants a tree
It's also quite handsome as this user noted:

Aaron S. | Customer Review
Invest Long Term with Our Wooden Boards
All our cutting boards are made from Walnut to guarantee high-quality, toxic-free products.
At Virginia Boys Kitchen, we pride ourselves in providing quality wooden boards at an affordable price.
In addition, we also have: serving trays, wood care products, paddles and knives - all under one roof. So if you're looking for a cutting board for yourself or a loved one, check out our huge collection and order with us today..
Related Article Links:
Clean Your Cutting Board the Right Way
Three Major Differences Between High-Quality and Low-Quality Cutting Boards
Why Walnut Makes for the Best Cheese Boards, Handle Boards & More

Featured Image from:Unsplash by Sébastien Marchand
We are on Amazon, see our storefront here. Use coupon code VBKBLOG10 for 10% off your entire purchase of any Virginia Boys Kitchens on Amazon. Apply the code at checkout.