The How and Why of Using Walnut Bread Boards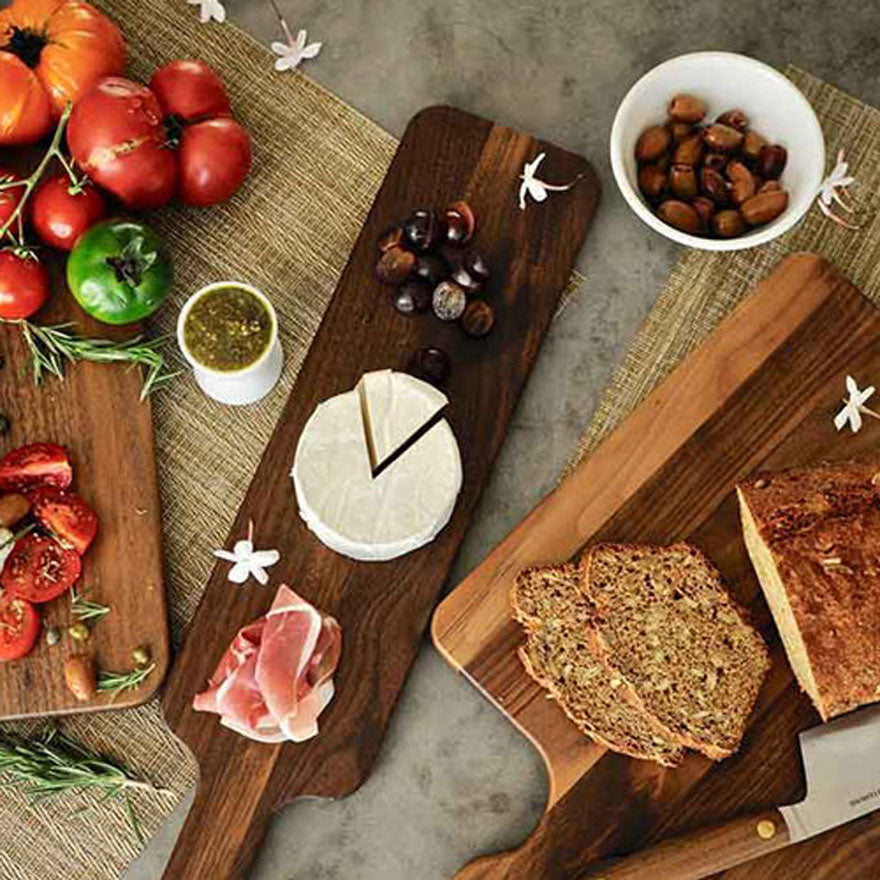 A breadboard is absolutely essential for every chef and home cook.
It's one of the most versatile kitchen tools and will elevate your cooking from preparation to presentation.
But any old breadboard won't cut it. To achieve the full effect, you need a wooden board. Better still, a walnut breadboard. 
Walnut breadboards are an excellent way to add some rustic charm to your kitchen. They combine a warm natural look with sturdy construction making them ideal for both home and restaurant use.
They also come with numerous benefits and use-cases that make them indispensable. 
But instead of telling you, how about we show you? 
Here's a quick guide on how and why to use walnut bread boards.
First, a look at 'the how's': 
Creative Ways to Use Your Walnut Bread Board
#1: Bread Board Serving Trays
This might seem obvious, but we often don't realize just how versatile bread boards are. They are the perfect tool to elevate your food service without going over the top. 
There are countless ways to create beautiful displays with your walnut breadboard. You can use them with your appetizers through to dessert.  
Simply swap out your standard platters with a bread board and instantly create an unforgettable setup. 
Alternatively, you can use a paddle bread board as a drink tray for an instant touch of class. Place your drinks on the cutting board with a bit of garnish, and your good to go!
Even better, wooden bread boards come in a wide selection of sizes and shapes. This makes it easy to find the exact ones you need to suit your specific needs.
| | | |
| --- | --- | --- |
| 4 x 20 Walnut Bread Paddle with Handle | 3pc Walnut Cheese and Bread Bundle | 10 x 16 Walnut Bread Board with Knob Handle |
#2: Breadboard Centerpieces
Walnut breadboards aren't only great for serving food and drinks. They also make excellent centerpieces. 
They exude elegance, which makes them easy to style and integrate into your home. 
For example, you can place a large board onto your counter or island with a few candles, a flower vase, or a fruit bowl.
Alternatively, you can stack them to create depth or an exciting backdrop in your kitchen.
#3: Dinnerware
Forget about the plain old white dinner plate. To impress your dinner guests, pull out your walnut cutting boards for a spectacular dining experience.
And you need not worry about having similar boards, or your dinner set not matching. Walnut bread boards will easily match with whatever dinnerware you pair them with. 
The wood grain provides a flexible palette that matches a wide range of materials. 
For instance, you can pair your boards with your favorite silverware and ceramics.  Depending on the meal, you can even use a cast-iron skillet for a more rustic look. 
The boards also allow you to be more creative in your layout. Mix and match your cutlery and tabletop accessories for an unforgettable setup.
#4: Decor
Walnut breadboards aren't just for food preparation and presentation. They also make beautiful decor pieces. (See also, Best Wood For Cutting Boards and why) 
If you live or work in an environment that revolves around food, you could easily incorporate them into your decor. 
The boards come in a variety of textures and colors making them easy to pair with your existing aesthetic. 
You can also customize them to suit your design language. Then there's no limit to what you can do:
Stack them, hang them on the walls, display them on the shelf or counter. You could even make a hanging wall sconce!
See Also: Three Major Differences Between High-Quality and Low-Quality Cutting Boards
The 'Whys' of Walnut Bread Boards
Now that we know how to use walnut breadboards let's consider why. Sure, walnut boards are amazing, but the same could be said about other boards. 
Let's take a closer look at what sets them apart from all the other options.
Here are our top pick for why walnut boards reign supreme:
#1: Customization

Mom's Cutting Board - 10 x 16 Walnut Cutting Board with Knob Handle
Typically, with other breadboard materials, you only have a limited number of design options. Often just a one-size-fits-all deal.
However, with walnut boards, you have a lot more flexibility. Here the world is your oyster, so you can be as particular as you'd like. 
You can specify everything from:
Whether or not you're interested in juice grooves or finger slots,
The type and size of your handles,
If or not to include holes for hanging,
The grain partner on the wood. 
You can also engrave your breadboards with whatever you wish to make them even more unique. A feature that also makes them the perfect gift item. 
#2: Reliability
Hardwood cutting boards are renowned for their durability. They are sturdy, provide a stable work surface, and can withstand heavy daily use. 
Granted, they may require a bit more care and attention. But this pays off because when given proper care, they will last for decades.  
They are also easy to repair or salvage. 
When marked or even deeply scratched, simply sand down the damaged parts, then treat the board with the appropriate mineral oil.
This is yet another reason why walnut breadboards make a sound financial investment. 
See Also: Mineral Oil vs. Coconut Oil For Wood Cutting Board
#3: Style

Three Major Differences Between High-Quality and Low-Quality Cutting Boards
Walnut breadboards are both functional and aesthetic. 
Depending on how you style the boards, they can create a more traditional look in your kitchen. You can also simply use them to add some rustic flair. 
And you never have to worry about the boards going out of style or having to replace them.
Walnut boards age reasonably well and retain their looks even after years of regular use.
See Also: Why Walnut Makes For the Best Cheese Boards, Handle Boards & More
#4: Food Safety
Hardwood boards such as walnuts don't easily contaminate or harbor harmful bacteria. This is what makes them safe for use in your kitchen. 
According to Dr. Ben Chapman, Food Safety Researcher at NC State:
"Hardwoods are fine-grained, and the capillary action of those grains pulls down fluid, trapping the bacteria – which are killed off as the board dries after cleaning."
Additionally, studies have found that hardwood boards can absorb and kill bacteria within 3—10 minutes of contamination.
However, the studies also showed that this capillary action didn't work on greasy contaminants. These remained on the board for hours, still posing a risk of cross-contamination. 
Thankfully, you can get rid of these and other harmful bacteria through a thorough wash with soapy water.
#5: Sustainability
Walnut bread boards are clearly a cut above the rest. They boast numerous benefits that blow the competition out of the water. 
However, all these benefits hinge on one critical consideration: 
The sustainability of your walnut boards. 
Thankfully at Virginia Boys Kitchen, we have you covered on this score as well. 
We believe in a world where there's such a thing as having nice things that give back. And that we owe it to mother earth to focus more on putting into it than taking from it. 
This is why we put sustainability at the core of EVERYTHING we do.
We work with Appalachian Hardwood to ensure the Walnut we harvest is held to the highest standards of sustainable forestry. Our wood is sourced from forests growing at least 2.4 times faster than the harvest and mortality rates and verified by AHMI. 
We also have a partnership with One Tree Planted that helps us plant a tree for every single order we complete. That way, with every purchase at Virginia Boys Kitchen Board, you give back to the planet. 
Visit our store to explore our selection of beautiful walnut boards and similar items and enjoy the best deals. 
Related Products You Might Like:
View our collection of 9+ dark wood walnut cheese boards - there are many shapes and sizes to choose from. Find your perfect board for your next charcuterie tray! 
See why walnut wood makes the best cutting board and cheese boards.
Related Articles You Might Like
How to Make a Meat Flower from Salami for your Charcuterie
Vegetarian Charcuterie Board Ideas
Butter Board - the New Charcuterie that is taking over TikTok
We are on Amazon, see our storefront here. Use coupon code VBKBLOG10 for 10% off your entire purchase of any Virginia Boys Kitchens on Amazon. Apply the code at checkout.