How Much Does a Tomahawk Steak Cost?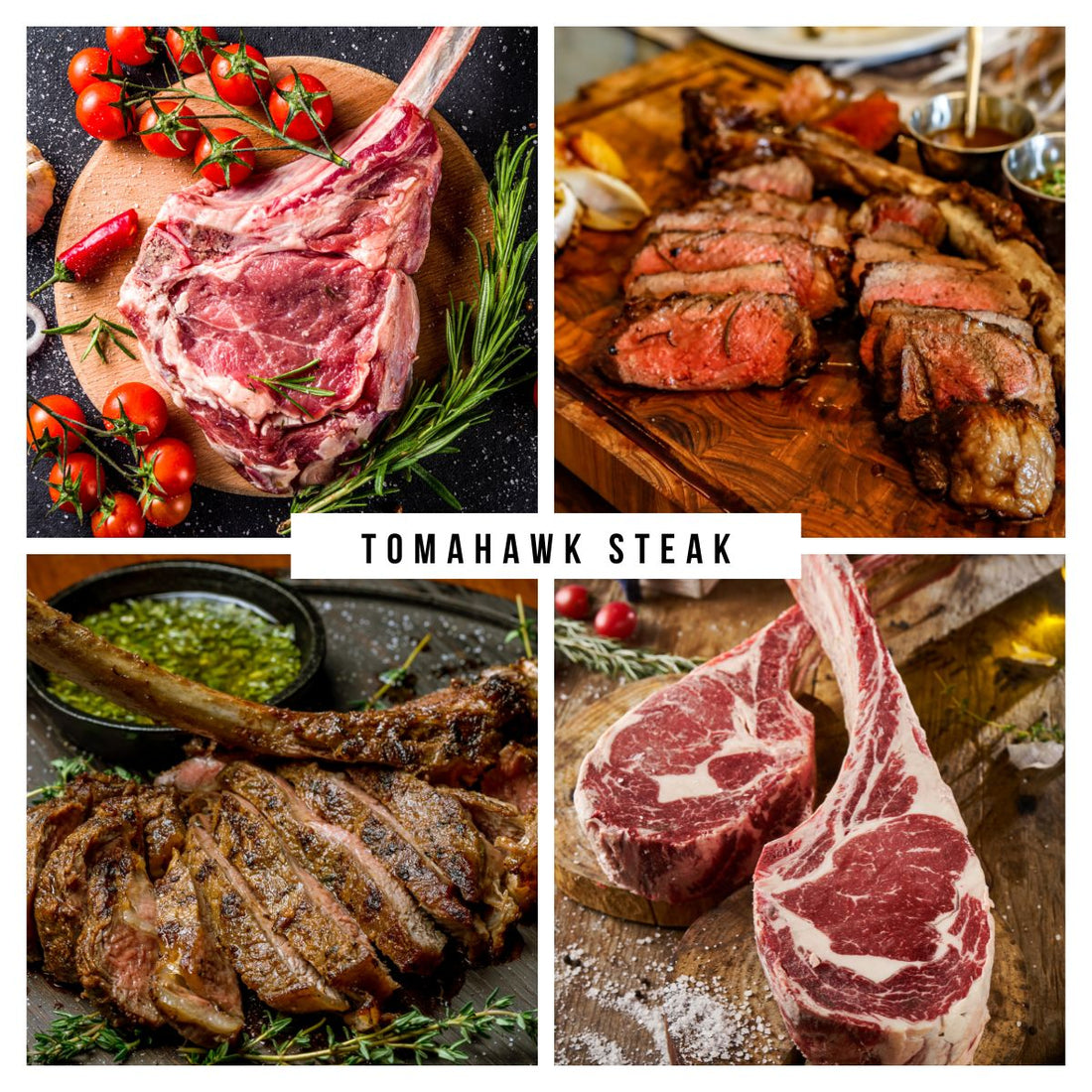 When you want to bite into a nice juicy steak, you have options. You can choose between a New York strip steak, porterhouse, ribeye, filet mignon, and many others. One of the best types is a tomahawk steak. Today, we will share what a tomahawk steak is. We will also discuss how much a tomahawk steak costs. 
How Much Does a Tomahawk Steak Cost to Purchase and Cook at Home? 
Just like regular steaks, we find that the price of tomahawk steaks varies wildly between $29 per pound, to $63 per pound. Here are some online prices we found:
Omaha Steaks - 2 - 36 oz tomahawk steaks for $200 (that's $44/lb)

Snake River Farms - 2.5 lbs tomahawk steak for $158 (that's $63/lb)

Porter Road - 2.5 - 3 lbs tomahawk steak for $88 (that's $29 - $33/lb)
How do those prices compare to other steak cuts? Keep in mind, that the steaks listed below are boneless whereas you're paying for the bone in the Tomahawk when you buy it by the pound. It makes for an incredible jaw-dropping presentation, but you're paying for this it! The bone can weigh between 6-8 ounces, like this one:
Flank is typically around $13 - $15/lb
Filet Mignon is typically around $30/lb
Ribeye is typically around $22/lb
You should also be able to purchase tomahawk steaks from your local butcher. The cost of a tomahawk steak price per pound varies between $35 to $70 per pound, depending on where you are in the States. For instance, a steak at a butchery in New York City probably cost more than if you were to buy one at a local butchery in Kansas.
How Much Does a Tomahawk Steak Cost at Steakhouses? 
Prices varies between $99 - $195 or more. Here's some restaurants online that we found where Tomahawk steak is listed on the menu:
RARE at Encore Casino in Boston, MA - 40 oz dry aged long bone tomahawk steak for $195

Morton's Steakhouse -  36 oz tomahawk steak for $129

Fleming's Restaurant - 35 oz USDA prime tomahawk steak for $99

Ruth's Chris Steakhouse - 40 oz USDA prime bone-in tomahawk ribeye steak - $142
By the way, if you're ordering one at a steakhouse, ask the server if the steak arrives already sliced, or whole and uncut. I would ask for it whole and cut it up yourself with a good steak knife. Besides, when was the last time you want your filet mignon served to you already sliced up?
What is Tomahawk Steak?
 Okay so now we know it costs a lot, but why does it cost so much? Where in the cow does it come from that would justify this costly but incredibly tasty piece of steak?
A tomahawk steak is always carved from the beef rib. This is the primal section where ribeyes are butchered. It is taken from primal ribs 6 through 12. The tomahawk steak is quite thick, which may be why it costs so much. Usually at least 2 inches thick. 
The extra long bone within this steak is left attached. Yet, that same bone is Frenched. That means the bone is cleaned of fat and meat. When butchers are finished with this process, the long bone looks like a handle. 
Tomahawk steaks are quite tender. They also have a rich, buttery flavor. 
We know you're still wondering how much a tomahawk steak costs. Spoiler alert: it's about to get pricey! If you have a hankering for more uncommon steak cuts and are cooking on a budget, read about the club steak.
How to Cook Tomahawk Steak
You can either roast a tomahawk steak after searing it or you can cook it over indirect heat on the grill. Below are instructions for both methods.
Sear and Slow Roast in the Oven
How much the tomahawk steak costs is only the beginning. More importantly, you'll want to be prepared to cook this expensive steak to perfection.
Start by patting the tomahawk steak dry. Then season both sides of the steak. The steak should sit at room temperature for 1 hour. It is important to wrap the exposed bone in foil prior to the cooking process. If you're not sure what kind of pan to use to sear your steak, read more here.
Preheat the oven to 250 degrees Fahrenheit. 

Heat 1 tablespoon of oil in a large skillet over medium heat. Once the oil is hot, place the steak in the skillet. Sear the steak on both sides. This will take between 2 and 3 minutes per side. 

Place the steak on a rack in a roasting pan. Roast the tomahawk steak for 45 to 55 minutes. 45 minutes will keep the steak rare. 50 minutes will create a medium rare steak, while 55 minutes creates a medium cooked steak. 

Allow the steak to rest for 10 to 15 minutes before serving. 
Indirect Grilling
The process for indirect grilling is the same as the oven method in the beginning. You will want to pat your steaks dry before seasoning them on both sides. You should also wrap the long bone in foil. 
Turn on the grill and let the inside temperature reach 225 degrees Fahrenheit. 

Place the steak as far from the direct heat as possible and close the lid. Cook the steak over indirect heat for approximately 45 minutes. The internal temperature should be 125 degrees Fahrenheit.
Note:

It is important to flip the steak every 10 minutes during this process. 

As soon as the steak is cooked through, you will want to turn the burners on high. Place the steak over direct heat at this point to sear both sides. It will take between 3 to 5 minutes per side. 

Let the steak rest for 10 to 15 minutes before serving. 
So how much does a tomahawk steak cost? As you can see, it can be quite pricey. However, this tender, juicy, flavorful steak will melt in your mouth from the very first bite. If you have never had tomahawk steak before, you simply must try it. Yes, you will pay a lot, but the experience will be well worth it. 
RELATED PRODUCTS YOU MIGHT LIKE
View our entire collection of dark wood walnut reversible boards - there are many shapes and sizes to choose from. Find your perfect board for your next steak, bbq, stew, or smoked meat!
We are on Amazon, see our storefront here. Use coupon code VBKBLOG10 for 10% off your entire purchase of any Virginia Boys Kitchens on Amazon. Apply the code at checkout.