What is Pork Flank Steak? Guide Plus Recipe Inside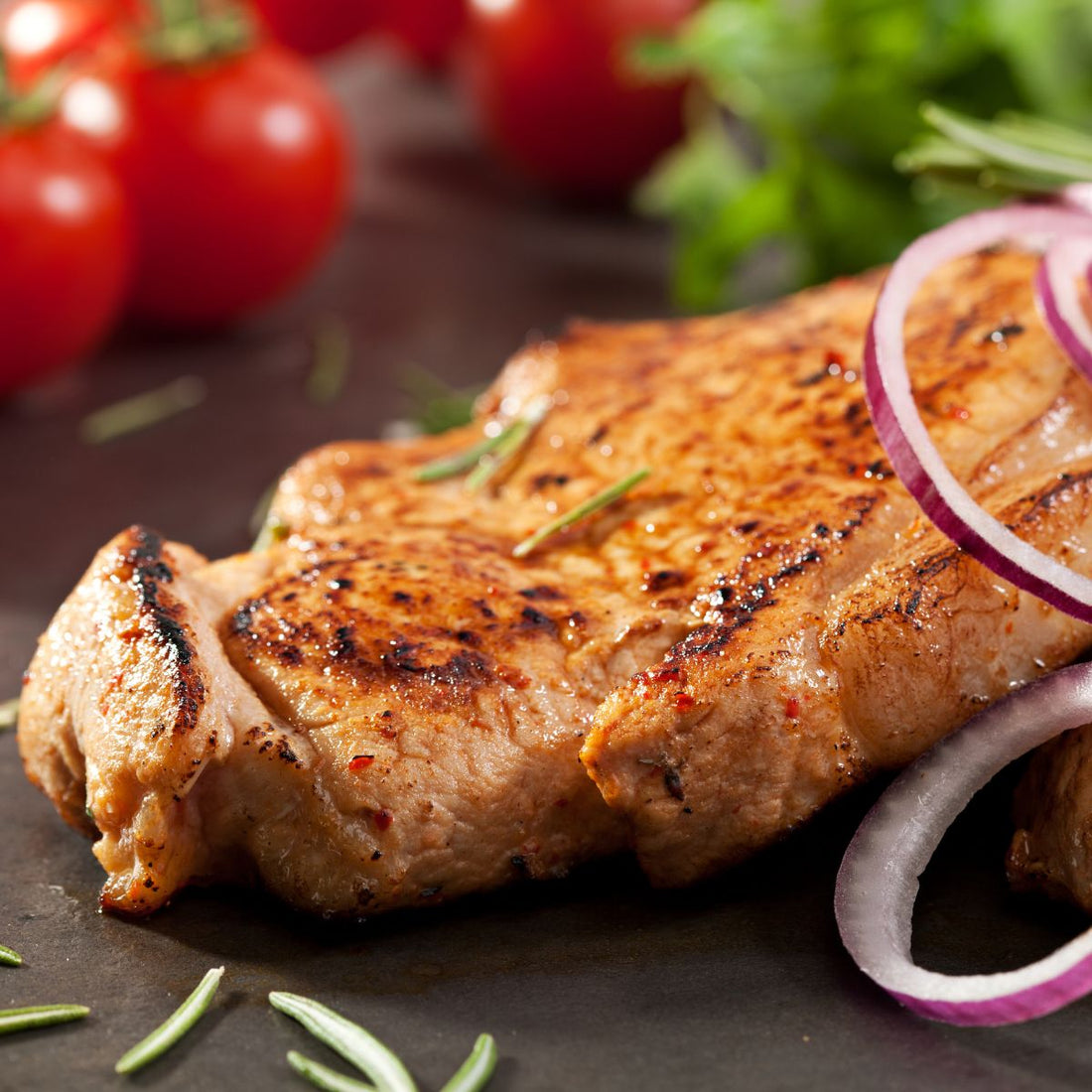 On those nights when you want to grill out, what is the first thing you think of? Burgers? Steak? Well, those are both excellent grilling options. However, if you want a cut of meat that is packed with flavor, you should pick up a couple of pork flank steaks because they are packed with flavor. Furthermore, these pork flanks are affordable and they cook quickly, which is what you want after a long day at work. 
What is Pork Flank Steak? 
Firstly, pork flank steaks are sometimes simply called pork steaks. As we mentioned above, this cut of pork has more flavor than your usual cut of beef steak. 
When you head to the store or your local butcher, you should prepare appropriately because the butcher may label this cut as pork blade steak, pork collar steak, or pork collar. 
No matter what it is called, this cut of meat is taken from the top shoulder and the neck of a pigs. These areas have lots of fat marbling, which creates a juicy and tender steak once cooked. 
Most of the time, butchers take the Boston butt cut from the same area of the pig. Then the pork flanks are cut from that Boston butt. Basically, a butcher cuts against the grain and creates thinly sliced steaks. For more information on pork cuts, you can read about pork cushion meat.
Pork flanks have been quite popular throughout the St. Louis region. However, the rest of the country is finally realizing how wonderfully these pork flanks cook and taste. 
How to Cut Them
If you are not able to find pork flank steaks at your grocery store or local butcher, you can cut your own. All you need to do is purchase a boneless Boston butt. Then take a really sharp knife and slice it against the grain. 
We recommend cutting the Boston butt into one inch thick steaks. 
How to Cook Them
You can easily pan-sear or grill a pork flank steak. You don't need to do anything to the meat prior to searing or grilling it. But it does taste even better when you choose to tenderize the meat or marinate it for a few hours. Equally delicious, you may even decide to do a steak rub: we recommend Gustus Vitae Hickory Smoked Pork Rub for the best sweet and savory pork flavor!
It only takes a few minutes on each side for the steaks to be cooked through thoroughly. Then let them rest for three minutes before checking the internal temperature. 
The internal temperature of your pork flanks should be 145 degrees Fahrenheit. 
Our Favorite Pork Flank Steak Recipe
We have tried so many pork flank steak recipes over the years. And yet, we have managed to find a favorite that we turn to again and again. So, we thought we would share it here with you today. 
Barbecued Pork Flank Steak
Ingredients:
3 lbs of pork flank steaks

32 oz of light beer - divided

3 Tbsp brown sugar

2 Tbsp smoked paprika

1 Tbsp onion powder

1 Tbsp garlic powder

½ tsp salt

⅛ tsp pepper

8 oz barbecue sauce

8 oz apple juice
Directions:
Place the pork flank steaks in a bag or covered container. Pour 24 ounces of the light beer over the steaks and marinate for at least one hour. You can marinate the steaks overnight if you want to. 

 

Turn your grill on to low heat. 

 

Pat the steaks dry with paper towels. 

 

Take a small bowl and add the brown sugar, smoked paprika, onion powder, garlic powder, salt, and pepper. Mix well. 

 

Take the spice rub and press it into the pork flank steaks. Press firmly, so both sides are completely coated. 

 

Grill for 12 minutes on each side. Baste with the last 8 ounces of light beer as necessary. 

 

Brush one side with barbecue sauce and grill for 5 more minutes. Flip over, add barbecue sauce to that side and grill for 5 more minutes. 

 

Serve with additional barbecue sauce. 
This recipe serves 6 people. 
Final Thoughts
Now that you know what pork flank steak is, head out and see if you can buy some. If you can't, grab that sharp knife and cut your own steaks from a Boston butt. Then pan-sear them, or grill them, and enjoy your first of many delicious pork flank meals.
RELATED PRODUCTS YOU MIGHT LIKE
View our entire collection of dark wood wood boards - there are many shapes and sizes to choose from. Find your perfect board for your next pork flank steak or BBQ cookout!
We are on Amazon, see our storefront here. Use coupon code VBKBLOG10 for 10% off your entire purchase of any Virginia Boys Kitchens on Amazon. Apply the code at checkout.