How to Cut Cheese for Charcuterie Board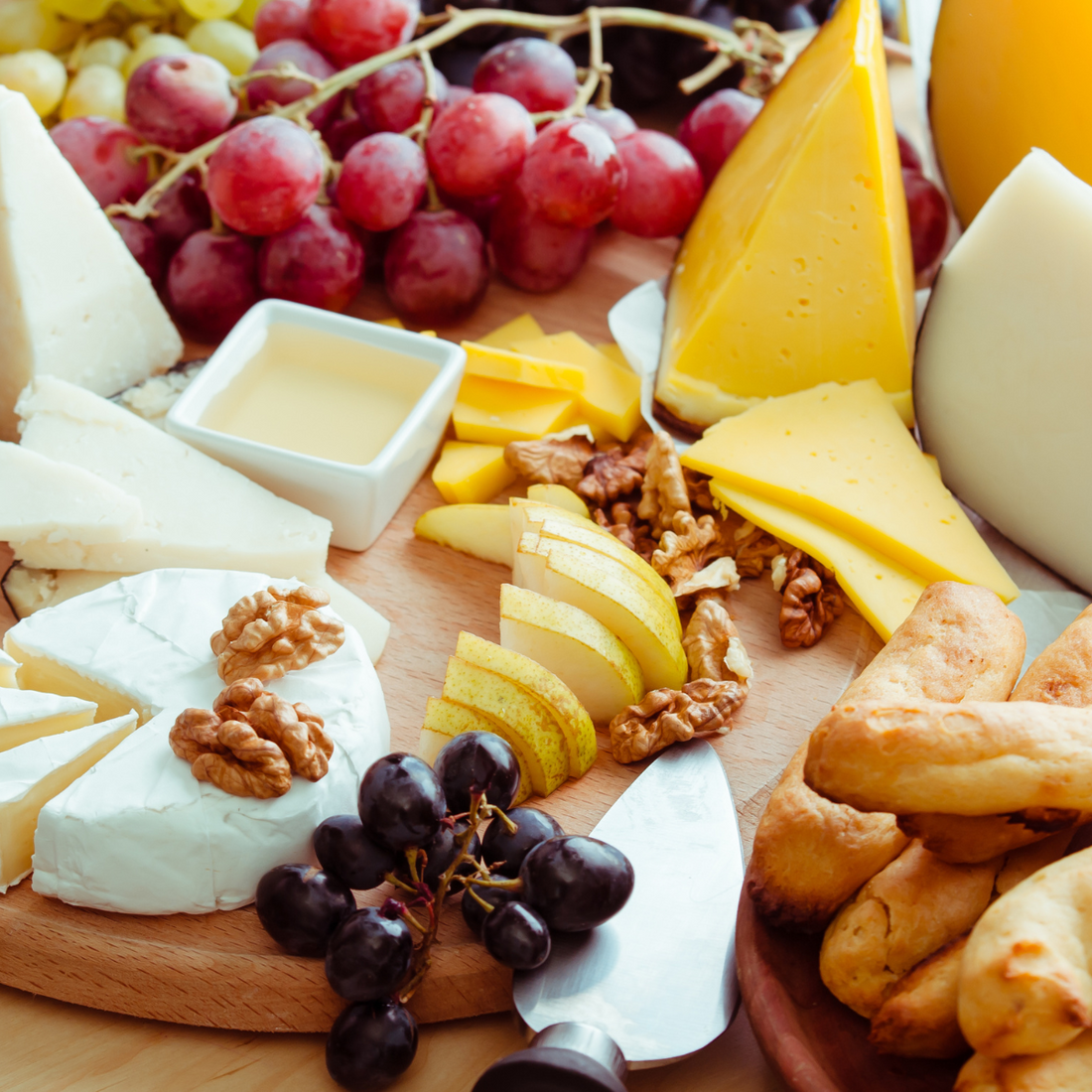 A Charcuterie board should assemble a range of textures and taste like cured meat, cheese, nuts, and crackers. Everything needs to be arranged perfectly, and it should look elegant for your party guests. Cheese is an essential part of charcuterie.
This article will tell you how to cut cheese to look more edible, elegant, and appealing. We will not only discuss different cheeses like blue cheese, soft cheeses, or blocks of cheese but also recommend some good sharp knives.
There is no such thing as cheese board knowledge. It's your aesthetics, knowing your food, and presentation. But before we get into cutting cheese, let's look a some of the best cheese for charcuterie.
Best Cheese for Charcuterie Board
All cheese varieties can be selected for cheese boards. You can set both hard cheese and soft cheese if you know how to present it. Typically the best charcuterie board would have a few selections from some of these categories, choose 1 or 2 from each category for your next cheese board.
Hard Cheese
A chunk of parmesan, aged cheddar, Gouda, and Asiago goes very well on charcuterie
Firm cheese
Gruyère, Manchego, Colby, aged cheddar
Softer Cheeses - Spreadable
Burrata - a mozzarella with an inside shell that is heavy creme filled mozzarella that helps make it spreadable. This is our #1 pick in our best cheese for charcuterie article.
Marscarpone - more like creme than a cheese, this is what's used in tiramisu! 
Semi Soft Cheese
Blue Cheese, Dunbarton blue, marbled bluejack), Chabichou, Crottin
Soft Cheese
Feta, Brie, Ricotta, Cream Cheese, Camembert, Chevre, Roquefort, and Gorgonzola
Tips 
Using the correct knives is essential to cut the cheese appealingly.
Also, keeping the cheese at room temperature while serving it as it tastes best is important. You can keep the block of cheese in the fridge before cutting if you use semi-firm cheese or slices of cheese.
Related Article: Choosing Best Cheese for Charcuterie (Burrata is our #1 pick, see why)
How to Cut the Cheese
Before cutting the cheese pieces, you must plan your charcuterie board in advance. You should know how you want to present things and how to pair them with other delicacies like fresh fruits, meat, or crackers.
The height and width of other items on the entire board also matter as you want to cut cubes and wedges of cheese or o fill the spaces so that it looks nice and enhances the beauty of the board overall
How to cut Long Shaped Cheese
Now they may come as a larger block of soft or semi-soft cheese. You can cut the bigger blocks into the uniform size of rounds, and A thin blade cheese knife is suitable for cutting those rectangular blocks.
You can make some cube-shaped bite-sized pieces. as well that are bite size. A thread can be used to cut very soft or semi soft cheese like -Blue cheese. Creamy cheeses can be filled in crunchy cups, or you can save them as a block to spread them on different things.
Cutting Hard Cheese
Hard cheeses usually come in blocks and are easier to cut than crumbly cheese. You can make bite-size pieces or cut them into slices. Also, you can cut them into blocks, rounds, or triangle shapes. The bite-size cheese can be folded into different types of meat as well. Or you can place them on crackers or fresh fruit.
Cutting thin, even slices is another great way for hard blocks of cheese. Slices of cheese can be paired with meat or green olives.The thin slices can also be folded nicely in a fan shape, or you can place them as a deck of cards for guests to help themselves.
Even rustic chunks of aged cheese look appealing.
Cutting Softer Cheese
Softer cheeses are difficult to handle. If they are spreadable, you can fill them into different things like breadsticks, crackers, fruits, or charcuterie meats. You can cut the top rind and let the guest revel in this luxury. A log of goat cheese can be served like that.
Small wheels of cheese are easy to cut. Simply use a sharp knife and pretend you are cutting a birthday cake. Equal size wedges from the center, and each bite has a lush, creamy center and full flavor of delicious cheese.
Pyramid Shaped Cheese
These are difficult to cut in uniform shapes, but not when you cut them into even quarters from the top down; then, each quarter size can be placed on a cutting board, and you can further cut them into slices as long or short as you require
Cutting Wedges
Larger wheels like triple cream cheese or cream Brie,Grand Cru or Gouda Cheese can be cut into wedges, Lay the wedge flat on the cutting board. 
Make sure you cut the entire wedge from top to bottom, so each piece has a bloomy rind and a creamy texture from the inside to complete the taste. The thin slices can be placed on board so you can dip them into mustard or jams. Use a sharp knife to cut even size triangles from these wedges.
Cheese Balls
From cheese like fresh mozzarella, you can make cute little balls. You can buy it fresh from any cheese shop, and cheese eaters know that fresh mozzarella is slightly sweet and goes well with fruits and cured meat. Balls of mozzarella are essential for any cheese platter.
Pro tip: try a burrata cheese ball (see this video on what it looks like - you'll love it!)
Right Tools for Cutting Cheese
You need the right tools for clean edible masterpieces. one knife may not be suitable for cutting any cheese as they differ in shape, texture, and firmness.
Knowing which knife to use for cheese and properly using them can help you create a perfect charcuterie board.
Pronged Cheese Knife
It's best for many types of cheese, especially soft cheese like brie. You can even cut thin slices with the help of larger blocks
Soft Cheese Knife
A soft cheese knife has holes in it. The holes prevent cheese from sticking to the knife surface
Cheese Spreader
Like a butter knife or butter spreader, a cheese spreader is essential on your charcuterie board for spreadable cheese. You can use a shallow bowl of bread, cured meat, or crackers to serve with spreadable cheese on board. It spreads the cheese on fruits, crackers, or nuts.
Classic Slicer
The cheese plane of the classic Slicer is used to cut thin slices from semi-firm and firm varieties. You can slice from the larger blocks. 
Chisel Knife
The tiny paddle-shaped knife is used for crumbly cheese.
Cleaver
Cleaver is generally referred to as cheddar cleaver, but you can use it to slice any semi-firm to firm cheese.
Chef Knife
A multipurpose knife that does it all - cut all types of cheeses, and it doubles as a meat knife for cooking as well. Sometimes we get carried away with so many different types of cool looking knives. Maybe all we need is just the perfect one! (check out our wood handle chef knife here)
Cheese Wire
A simple wire or floss can be used for very soft and fresh cheeses that you can't dare to touch with your knife. Cheese wire has a thickness like piano wire. It should be food-grade quality.
Tips to Serve Cheese on Charcuterie Board
Here are a few tips to make your eye-catching cheese board
Make a list of charcuterie options. You can include plenty of fruits. Strawberries, clusters of grapes, and --- look great on different categories of cheese,
With softer cheese, you can make some spreads like garlic herb cheese spread to serve with fruits and crackers.
Not only the cuts and folding of cheese and meat is important, but an overall assembly of items on board is very important. You first see from the eyes, so it has to be visually appealing.
Try to use different flavors and varieties on the board. Make the taste complex with a blend of savory. Us different types of cheese with different textures like soft, semi-soft, firm, and hard
Add cured meat to the sides or in between. The perfectly folded patterns of these meat slices pair very well with cheese and enhance the flavor. They are a must-have at any cocktail party.
Add savory items like nuts, fresh olives, pickles, roasted peppers, or spicy mustards along with cashew nuts, pine nuts, and roasted almonds; add sweetness from dried fruits, chocolates, jam, and chutneys or small glass honey containers.
Bread and crackers are essential for any charcuterie board. Use breadsticks; they look great and provide the crunch and flavor you need with cheese. (related article: best crackers for charcuterie)
Spread some chopped herbs like fresh basil, dill, or chives, to garnish with cheese or drizzle a dash of olive oil on the top. The blend of white and green especially looks great. You don't need to drizzle a pinch here and there to create a beautiful contrast of color.
Final Words
Cutting cheese and decorating a cheese board is no rocket science. Anyone with knowledge of cheese varieties, tastes, and textures and an aesthetic sense can easily create masterpieces. Whether it's a girl's night out, a cocktail party, a birthday brunch, or a wine tasting ritual, A charcuterie board looks amazing and a perfect way to serve guests delicacies.
The cheese selection is important. Make sure you choose different textures. Fun cheese knives should be there to help your guest self-serve themselves. You don't need to have a too-expensive cheese board. Pick any cheese that comes within the budget. Pair it with meat delicacies, fruits, crackers, and nuts. There are always some low-cost cheese options.
YOU MAY ALSO LIKE
 How to Fold Meat for charcuterie Board
how to fold Prosciutto for charcuterie board
View our entire collection of dark wood walnut cheese boards - there are many shapes and sizes to choose from. Find your perfect board for your next charcuterie tray!
We are on Amazon, see our storefront here. Use coupon code VBKBLOG10 for 10% off your entire purchase of any Virginia Boys Kitchens on Amazon. Apply the code at checkout.