Knife Sharpener vs Whetstone: Which One is Better?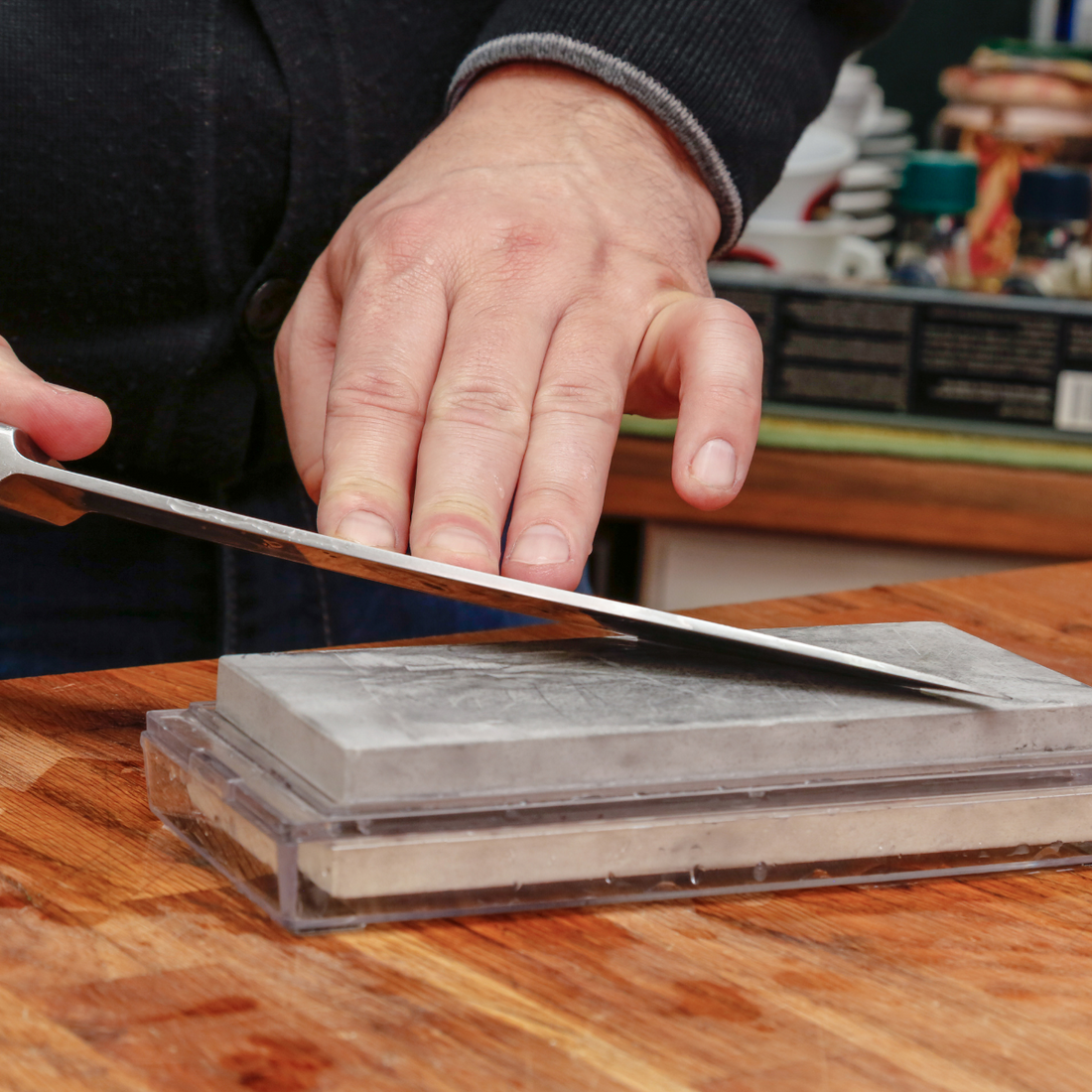 A knife sharpener is an essential kitchen tool to keep all your knives sharp and ready. There is nothing worse than having a dull knife in the kitchen. Not only is it a nuisance, but dull knives also are not safe to use and may cause accidents. To keep the blades of all knives sharp, you need a knife sharpener. 
Knives have been an essential part of man's gear as food is one of our primary needs, and you need a knife to cut everything. That makes knife sharpeners a must-have in kitchens. Long before the electric knife sharpeners were invented, there was the traditional method of sharpening the blade with stone. Now the modern Whetstone is more sophisticated and effective, but as technology replaced the old ways, so the electric sharpeners are available to replace the manual ones.
If you want a complete comparison between Knife sharpener and Whetstone, then keep reading this article. We will discuss which knife sharpener is best and how to sharpen the Knife.
Why is It Important to Have a Sharpener with You?
Even the best of your Knife will get dull with time and need sharpening. Perfect cuts of veggies and meat require a perfect knife blade. Sometimes chef use the steel sharpeners or a whetstones right before cutting the thin slices of meat
Taking professional help to sharpen the dull Knife is ok, but it's a waste of time and money. Keeping a knife sharpener with you keeps your tools in good working condition.
Sharpener VS Whetstone
Sharpeners seem more sophisticated and easy to work with, but the truth is that whetstones give a more perfect result. Still nothing replaces the fine edge and sharp blade created by a whetstone. Yes it require some technique and practice but if you are a pro you know all the difference.
There are multiple knife sharpeners in the market, but professional chefs regard traditional whetstones as best for this purpose. The reason is that every time you sharpen the knife, you are removing the metal from the blade. Whetstones protect the expensive knife blade. With other sharpening methods, you can remove too much metal that can damage expensive knives.
Pull Through Sharpeners
These are manual sharpeners. They are commonly found in households because they are easy to use, small in size, and give a good edge within seconds. However, they do not give much control over the sharpening and may shed more metal. Pull-through sharpeners are both manual and electric.
How to use a Pull Through Sharpener
You pull the knife through the sharpener. The sharpener has two preset metal slots, and you are supposed to pull the Knife through them. This gives a good sharpening blade in an instant.
What is an Electric Knife Sharpener?
An electric sharpener is like manual sharpeners but you don't need to  pull through the knife yourself. It works automatically and give instant results without any effort at all. It is like pull through knife sharpener but only more fast and easy to use. 
With an electric sharpener all you have to do is to put the knife inside the slots and the rest is easy. Before we guide you on using the electric knife sharpeners, here are a few things to note.
Electric sharpeners remove a large part of the blade's metallic edge. You are less in control, and if you use a too-expensive knife like a Japanese knife, you sure don't want to damage your expensive Knife.
Here is how to sharpen the Knife using this sharpener.
Ensure the knife blade is clean and dry for sharpening on Whetstone or electric sharpeners. 
Plug the electric sharpener into the socket and insert the Knife's edge into the sharpener. 
This may take less time and effort, and you can sharpen even small knives easily.
Pros of Electric Sharpener
Easy to Use
Time-saving method
Need not much practice
easy to store
Disadvantages 
Shed more metal and are not great for too-expensive knives
No control over the sharpening process.
What is Whetstone?
A whetstone, also called knife sharpening stone, is a traditional way to sharpen blades, but it is still the best way. It requires a little technique. A solid stone is used to sharpen the edge of serrated knives.
Types of Whetstone
Different kinds of whetstones are available in the market. To know which one is effective for your knives here we have discussed the important ones.
Oil Stone
Oil stone is a traditional stone with the sharp edge of a blade. The stone is made of Ozark Novaculite. It's a natural stone found in Arkansas. Though they need some conditioning as they are soaked in mineral oil. Aluminum oxide oil stones are also good for sharpening blades as they have a high coarse surface and grit level.
Water stones
Water stones are available in silicon carbide or aluminum oxide. They are synthetic stones and use water as lubricants. They give high-quality builds. They have fine blades and polished edges.
Diamond Stones
Diamond stones are the best choice for sharpening stones. These are industrial-grade alloys and diamonds producing strong and durable diamonds. They have a flat surface, meaning they have a refined blade.
Whetstone Grit Levels
Grit level is the stone's surface and whether it has varying levels of grits for the sharpening process.
Coarse Stone
Coarse stone has a grit level of less than 1000. They have a rough surface and require more expertise and technique. These stones are good if you have cracks or chips on the blade and want to remove that. They can not only sharpen the dull blade, but if the cutting edge is bent or has scratches, you can also straighten it.
Medium Grit
Medium Grit has Grit ranging from 1000-3000. They remove less material and are preferred by knife makers.
Fine Grit
These have a smooth surface and are perfect for the dull blade. They have 4000-8000 grits and remove very less metal while honing steel.
How to Sharpen Knife With Whetstone?
You need a Whetstone for this purpose. Make sure you buy good quality. It takes some finesse and technique, but by far, it is the best method used by professionals.
Sharpening dull blades on Whetstone is a skill, and if you don't know how to do it, you can easily destroy your knife edge.
A few considerations before you start the sharpening sessions.
First of all, make sure your whetstone is fixed on something. It is not moving. You can put the whetstone on a thick wet towel to make sure it is not moving when you are
Secondly, make sure to lubricate it with water. If you are using a rough or medium grit surface, it is important to soak your stone in water for 10-15 minutes before sharpening your kitchen knives.
Sharpening Process
Hold the Knife securely in your hand so that you have three fingers on its spine and your thumb on its flat surface.
Place the tip of the knife on the whetstone and place three fingers on the edge of the knife to make sure the tip is touching the whetstone surface.
Press the Knife's edge and push the tip along on the sharpener applying pressure with your finger on the edge.
Return to the starting point and turn over the other side of the tip. Push it over the sharpener using pressure the same way.
For Japanese Knives
Push it on the whetstone until you see the cutting edge sharp and even and burr on the reverse side.
It is critical to keep a consistent angle while sharpening. You may have to push it over the surface a few times if your blades are in good condition.
Clean the sharp knife with a kitchen towel and clean the Whetstone before storing it.
Pros of Whetstone
Deliver the clean edge.
Does not ruin expensive knives.
Restore chips and cracks on a bend.
Give more control over the sharpening process.
Disadvantages
You need practice and technique
Have to care about the angle, Grit, and too many things.
Separate stones for different types of knives..
Some grit stones can be expensive.
Use of Steel Sharpener
Steel sharpeners are considered a manual way of sharpening the knife. They are easy to use, but unlike popular belief, these are not for sharpening but are used to straighten or align the edges o knives.
With extensive use, even an expensive knife blade can bend or get scratched. Even a tiny microscopic bend can cause the blade to lose its efficiency. So to make sure our kitchen knives remain sharp, keep stealing them from time to time.
Hold the steel sharpener in your hand securely. Most knives are sharpened at 20 degrees. Keep the sharpener to 90 degrees and pass the knife over the sharpener at 20 degree angle. Pass it through the steel sharpener and reverse the side until your knife is sharp. It is important to pass the Knife with the correct sharpening angle as otherwise, the sharp edge will dig into the steel and may bend it more.
Pros of Steel Sharpener
Good for honing western-style Knife.
Excellent for maintaining the sharp edge.
Requires less effort and technique.
Disadvantage
Not suitable for Japanese Knives.
Final Words
Even the expensive and most sharp Knives need sharpening and honing from time to time. A knife sharpening tool in your kitchen allows you to keep all knives ready to use. Different types of sharpeners, like manual steel sharpeners, pull-throughs, or whetstones, are available in the market.
Whetstone is by far the best sharpening tool. it is not very easy to understand the technique but it is worth practicing. You need to choose the medium grit stone as too abrasive surfaces can further damage the expensive knives. Too smooth a surface will not be very easy to work on and may require more expertise.
 Related Articles
KNIVES AND CUTTING BOARDS: HOW TO PICK THE PERFECT PAIR
What Makes a Quality Chef Knife
We are on Amazon, see our storefront here. Use coupon code VBKBLOG10 for 10% off your entire purchase of any Virginia Boys Kitchens on Amazon. Apply the code at checkout.