Knives and Cutting Boards: How to Pick the Perfect Pair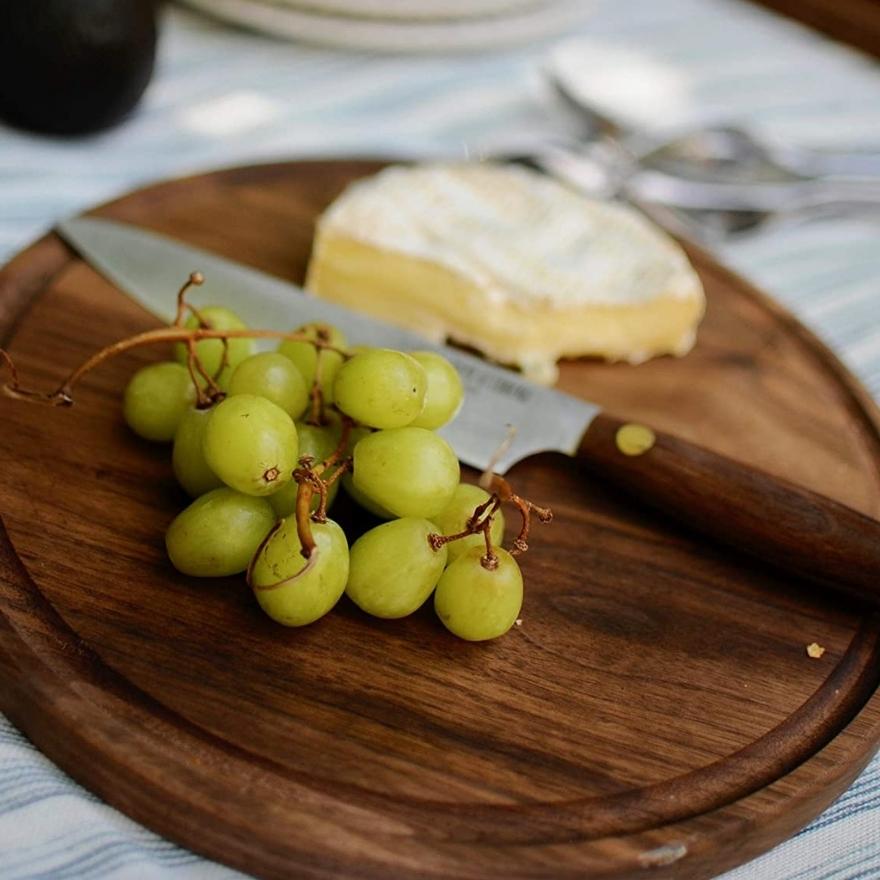 Knives and Cutting Boards: How to Pick the Perfect Pair
An elegant set of knives is a source of prestige in every kitchen. However, not much thought is given to its companion—the cutting board.
But does the quality of the cutting board really matter?
Turns out it does. A quality cutting board not only impacts the performance and durability of the knife but also makes cooking easier and more pleasant.
The dilemma is how to pick the perfect pairing because if they don't work well together, cooking isn't as fun, and there's a higher risk of accidents and food contamination.
At Virginia Boys Kitchens, we design wooden kitchenware from locally sourced materials. Therefore, we know a thing or two about knives and the best cutting boards to pair them with.
In this guide, we'll look at:
knife and cutting board before you purchase
How to maintain your wooden kitchenware so it lasts a lifetime
Costs and samples of perfect knives and cutting boards to pair
We'll also compare cutting boards and explain how affect the knife's performance and durability.
Step 1 - Ensure Both the Knife Handle and Cutting Board Are Made From Walnut
Today, most people opt for wood mainly due to aesthetics and durability.
In particular, a knife made out of walnut is easy to grip and lasts for a lifetime when well taken care of.
Similarly, cutting boards made out of walnut:
Won't react to the chemicals and acids in your food
Are safe from germs, helping to prevent food contamination
Are elegant pieces of art in your kitchen
Did you know? Walnut is classified among the most durable types of hardwood, such as cedar, chestnut, and black locust.
Even under wet conditions prone to decay, walnut can withstand a moist environment and remain attractive. This means that your cutting board and knife blade will never swell or rot when exposed to moisture and juices from food.

Walnut knife and cutting board
If you're environmentally conscious, pairing Virginia Boys Kitchens walnut cutting boards and knife products is the best option. We deeply care for the environment, and all our wood products are sustainably sourced.
The cutting boards are also antimicrobial, which minimizes the transfer of contamination and prevents infections.
Because you're passionate about kitchenware that lasts a lifetime while still looking elegant and attractive, you get to protect the environment while using safe and non-toxic materials.
Step 2 - Only Opt for High-End Knives and Boards
Whether you're buying a knife and kitchen board for your kitchen or as a gift for a loved one, pick high-end instead of cheap.
They say cheap is expensive for a reason. A product will seem cheaper upfront but will cost more in the long run. It's therefore much wiser to spend more money on something that will serve you longer.
For instance, a cheap plastic cutting board will only look attractive when new. After a while, it'll show scratches and knife marks and won't be as appealing.
On the other hand, as a wood cutting board gets older, it oxidizes and takes on a lighter, richer color. In short, wooden cutting boards get better with age.
Even in terms of functionality, wooden cutting boards will still be as good as new years later.
It's the same for knives. A solid wooden handle will last for decades and still look good and function properly.
This means you get to enjoy the aesthetic, durability, and effectiveness all at once.

High-end knives and cutting boards
Kitchenware made from American walnut offers high-level functionality and is safe to be handled with all kinds of food.
A high-end knife and cutting board can serve you for a lifetime, and you won't need to keep replacing them if you take good care of them. This gives you value for your money while you use top-notch kitchenware.
Step 3 - Evaluate the Performance of Cutting Board When Paired With Knife
For a knife and cutting board to perform effectively and serve you well, they must work well together.
A knife must be sharp when you receive it. A high-performance knife will remain sharp if you use it on the right cutting board.
A good knife is made of stainless steel because of the following reasons:
Able to resist rusting and corrosion
Will retain sharpness for a long time even with daily use
Very easy to sharpen because of its soft composition
Extremely strong and hard to break
Remember: the handle of the knife must stick firmly in hand.
Walnut makes knife handles easy and comfortable to grip because they're sturdy and hold up well.

High-performance knife and cutting board
A quality cutting board shouldn't dull a knife either. It must be made of soft material and should be strong enough so it's not easily destroyed.
Walnut end grain cutting boards help preserve knives because the blade goes between the wood fibers instead of straight into the wood. It can also spring back into shape and hide knife marks due to its self-healing properties.
Knives and cutting boards from Virginia Boys Kitchens are high-performance and made of walnut and stainless steel.
"Gorgeous and functional! We love our new cutting board. It's beautiful and arrived on time as promised."
— Paulette S
Step 4 - Easy to Maintain
Whether you're fond of salads or barbeque, your knife and cutting board must be easy to maintain.
It must be easy to clean and dry after use, and storage conditions must not be too complicated to keep its aesthetics.
The beauty of walnut is that it's very easy to maintain. It's easy to clean, and in case of damage, it can be sanded down and back to good as new.
If well taken care of, walnut kitchenware will last you a lifetime.

Well-maintained knife and cutting board
Cutting boards and knives are also exposed to a lot of bacteria when cutting different foods. When cleaning them, you must handle them properly to prevent food contamination and clean them the right way.
A few minutes of care for your cutting board and knife is enough to keep them safe for food and last you a lifetime.
In the next section, we talk about wood cleaning products and how you can use them to keep your knife and board in good condition.
Wood Care Products
Knife handles and cutting boards need finishing wax and natural oils to enhance their natural beauty and keep them conditioned over time.
Our range of oils and wax leaves an amazing orange scent on the kitchenware while maintaining the beautiful aesthetics of walnut wood.
The products are food safe and are all locally made here in the USA.
We also have a cutting board spray that disinfects and conditions wooden cutting boards.

Shiny conditioned cutting board
Expert Tip: For longer-lasting protection, always incorporate wax even when using a spray or polish.
Comparison of Different Materials for Cutting Boards
There are many materials used to make cutting boards. The most commonly used are:
In the table below, we compare the three and how their material impacts their durability, knife friendliness, and maintenance.
Material
Wood
Glass
Marble
Durability

Can withstand heavy daily use
Can last for years with proper maintenance and attention

If you take care not to drop it, it can last long

Marble reacts negatively to certain food chemicals

Knife friendliness

Is gentle on your blades and can withstand them without damage or dulling them

Glass is harder than steel and has the potential to damage your blades

Cannot withstand sharp knives and will get cuts

Maintenance

Only needs cleaning and mineral oils to remain as good as new
Can be sanded down in case of a big scratch or dent

Very easy to clean but holds on to bacteria, especially with raw meat
Once broken cannot be repaired

Very unhygienic because it traps some of the germs from food
Get Your Perfect Pair
Finding the perfect cutting board and knife to serve your needs in the kitchen is not just a necessity—it's also an opportunity to make a statement with your taste and standards.
At Virginia Boys Kitchens, we design knives, cutting boards, and serving trays for all your needs. We also deal with wood care products to help keep your wooden kitchenware as good as new.
We can also customize walnut cutting boards, serving trays, and knives to your specific preference for branding or gifting.
Frequently Asked Questions
What kind of cutting board is best for vegetables?
For chopping all kinds of vegetables, a cutting board made of hardwood such as American walnut is best because:
It holds no bacteria from any juices flowing from the veggies
It's easy to clean and maintain
It protects the knife blade from damage
How do you determine the knife friendliness of a cutting board?
If a cutting board develops chips and cracks from the knife or makes the blade blunt, it's not considered to be knife friendly.

A friendly board protects your blades and keeps them good as new even after daily use.
How much should a knife and cutting board cost?
A high-quality and elegant knife can cost anything from $30 to $200. For a board, it can be anything from $50 to $200.
If you're more interested in maintaining rather than replacing your kitchenware, check out our prices for boards and .
Share on Instagram:
YOU MAY ALSO LIKE
How to Sharpen a Serrated Knife
Best Wood For Cutting Boards (and what not to use)
Best Wood For End Grain Boards
View our collection of Made in USA knives - get the perfect knife for your kitchen. Made with walnut wood handles.
We are on Amazon, see our storefront here. Use coupon code VBKBLOG10 for 10% off your entire purchase of any Virginia Boys Kitchens on Amazon. Apply the code at checkout.