4 Unusual Uses for Paddle Cutting Boards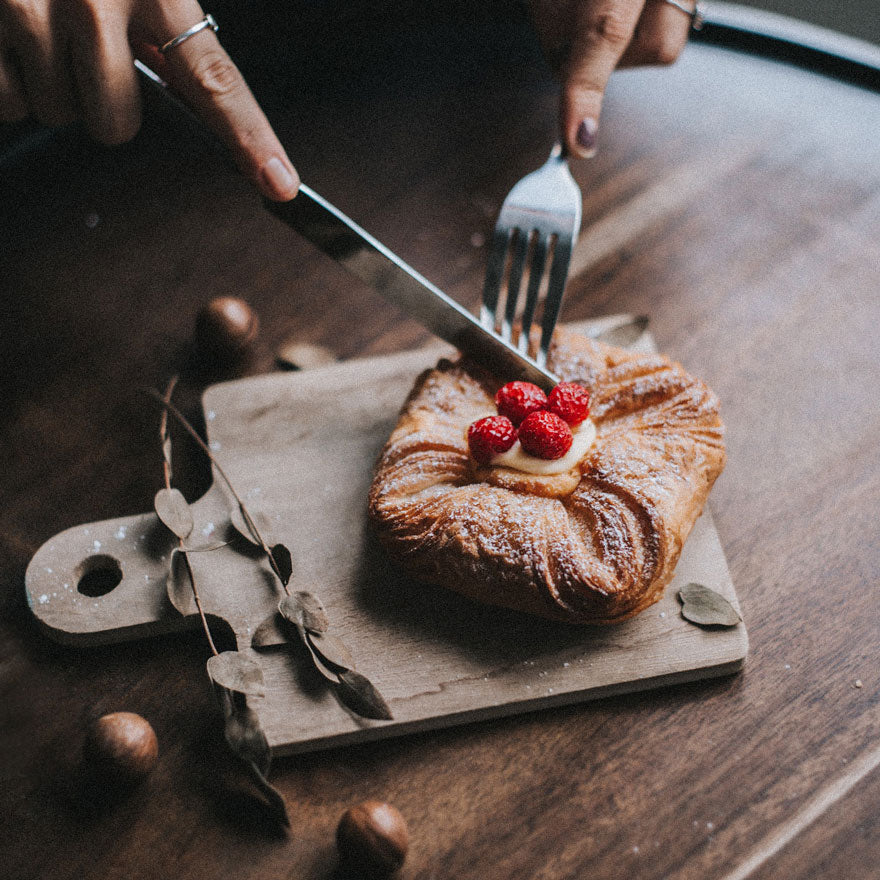 4 Unusual Uses for Paddle Cutting Boards
Paddle cutting boards are pretty boring, right?
Utilitarian, unremarkable, and easily thrown out, a wooden chopping block is rarely seen as anything more than just that — a slab upon which to, well, cut things.
But what if we told you your old wooden paddle cutting board is more versatile than you give it credit for?
At Virginia Boys Kitchens, our mission is to give back more than we take while providing our customers with the most beautiful, responsibly sourced kitchenware that's crafted to last a lifetime.
Before banishing your old cutting board to the trash heap, check out these quirky alternatives and utilitarian solutions to keeping your paddle cutting board out of the landfills and bringing out its true potential.
Alternative Uses For Your Wood Paddle Cutting Board — Reduce, Reuse, Upcycle
Perfect for upcycling and reusing, our wooden paddle cutting boards are adaptable and capable of wearing many hats.
So, whether you're looking for classic kitchen-themed décor items made from reclaimed and repurposed quality wood or decorative bases that are easy to hang, read on for a number of eco-conscious and creative ideas for your cutting board.
Serving Trays and Cheeseboards
Having guests over for afternoon tea? Or perhaps an evening of fine wine and cheese with the ladies?
Our walnut cutting boards double as a stylish, rustic alternative to your average serving tray.
Prepare a visual feast for your loved ones with our selection of walnut cutting boards and charcuterie paddles, equipped with a sturdy handle for easy carrying.
Flex your culinary and artistic skills with an alluring selection of finger foods, appetizers, and elegant cheeses for an evening with friends and family.
See Also: Why Walnut Makes for the Best Cheese Boards, Handle Boards & More
Easel and iPad Stand
For the artistic soul who loves a good statement piece.
Our expertly crafted paddle cutting boards are distinguished by their smooth, even surfaces made of 100% responsibly sourced walnut wood, perfect for the artist's needs.
Whether you work with paper, canvas, pixels, or otherwise, our wooden chopping blocks are an easy, portable solution to your functional creative needs.
Whether you're painting in the park, sketching in your backyard, or creating magic with a drawing tablet, switch out that cumbersome easel or stand for a sturdy paddle cutting board from our catalog, and flex your artistry, as well as your minimalist, eco-conscious outlook.
Photo Backdrop
Whoever said being a photographer was expensive?
Getting the right picture can be tiresome work. From lighting to angling and from the Rule of Thirds to the ever-so-important location, the perfect image takes work.
But what if we told you the secret to your photography needs was hiding in your kitchen cabinet?
Our professionally crafted, smooth-finished wood paddle pieces offer a quick DIY solution to your every visual need:

Source: Pixabay
Whether you're an influencer looking for the right shot to boost your follower count, or a professional photographer looking to highlight your client's products, nothing screams classy like a good, wooden finish.
So, say goodbye to location scouting and expensive rentals, and look to your kitchenware for a gram-worthy image that lasts as long as our cutting boards do!
Décor and Wall Hangings
Looking to spruce things up in your kitchen or add a refined, rustic flair to your home?
Our premium quality wood paddle products are an attractive installation in any room and can be repurposed and personalized to meet your décor needs.
Let your creative flag fly and decorate an entire section or area with rustic cutting board wall art designs, choosing from several alternative methods to display your boards.
Whether you're in the market for a cutesy wood paddle kitchen sign, a piece of refined artistry, or a personalized message engraved in a long-lasting, attractive format for your family and friends, we have just the thing for you.
See Also: Four Factors That Make Wood Cutting Boards Amazing
Contact our team, or read on to learn more about our custom gifting services, and give your kitchen or home the creative decorative touch it deserves.
Customized Kitchenware Designed to Impress
Are you looking for the perfect gift for your favorite home chef?
Or perhaps you're in the market for customized, branded gifts for your employees, clients, and partners?
Do better than traditional swag that quickly gets thrown away!
Promote your brand in a memorable way with elegant walnut wooden gifts that
people are impressed by, and use every day! Every cutting board is designed to wow your clients, as well as your near and dear ones.
See Also: A Simple Guide to Choosing the Best Wooden Cutting Boards
Show your clients that you not only care about them but also about the environment.
We've partnered with 100+ realtors, agencies, unique restaurants, wineries, luxury hotels, interior designers, and corporate businesses to offer custom Virginia Boys Kitchens products.
The services we provide include:
Custom Branding
Design Services
Free Ground Shipping
Custom Branding
Starting with minimum orders of 20 units or more, all products can be custom branded however you'd like with our laser engraver. Upload your logo or text, and we'll handle the rest! Typical turnaround time: 2 weeks for printing, 4-6 weeks for custom sizes.
Here's how it works:
Select the product you'd like from our standard item catalog and send us your logo
We provide you with a digital mockup of your custom engraved product
You approve, and we ship within 4 weeks!
Design Services
Our design team is available to help you at no additional cost. We believe in providing you with the best quality walnut kitchenware products at reasonable prices, designed to leave a lasting impression. The more you buy, the more you save!
Free Ground Shipping
No matter the size of your order, ground shipping is always on the house. We can ship to you in bulk for free or drop-ship directly to your customers.
So, what are you waiting for? Contact us today to find out how we can make your gifting dreams a reality!
Responsible Solutions to Your Dream Kitchen
At Virginia Boys Kitchens, we believe in giving back more than we take.
Our mission is to make treating yourself to finer things and caring for the environment not mutually exclusive, but positively reinforcing.

We Create More Forest Than We Use
We pride ourselves on being kind to the earth by weaving integrity into every step of our production process, which includes:
Responsible Sourcing Practices: We only source locally and sustainably produced wood from forests growing at least 2.4x faster than the harvest and mortality rate, which is verified sustainable by AHMI.
Honest Ingredients: Our products are free of paraffins, toxins, and harmful chemicals. Only 100% food-safe ingredients from start to finish.
End-To-End Sustainability: Our packaging is made in the US from 100% recycled, 95% post-consumer materials, and all printing is done with vegetable-based inks.
And that's not all.

10 x 16 Walnut Cutting Board with Knob Handle
With every purchase of our premium quality, responsibly sourced walnut products, we plant a tree. Planting a tree while gaining a statement piece for your kitchen? What better way to give back to our dear mother earth?
Just because we're setting out to leave our home better than we found it doesn't mean we can't make beautiful things in the process!
So, what are you waiting for? Head over to our website and do right by the planet and by your kitchen today!
Related Article Links: 
Why Walnut Makes for the Best Cheese Boards, Handle Boards & More 
Four Factors That Make Wood Cutting Boards Amazing
A Simple Guide to Choosing the Best Wooden Cutting Boards

Featured Image from: Pixabay by HoaLuu
We are on Amazon, see our storefront here. Use coupon code VBKBLOG10 for 10% off your entire purchase of any Virginia Boys Kitchens on Amazon. Apply the code at checkout.