An Effortless Guide to Season a Cutting Board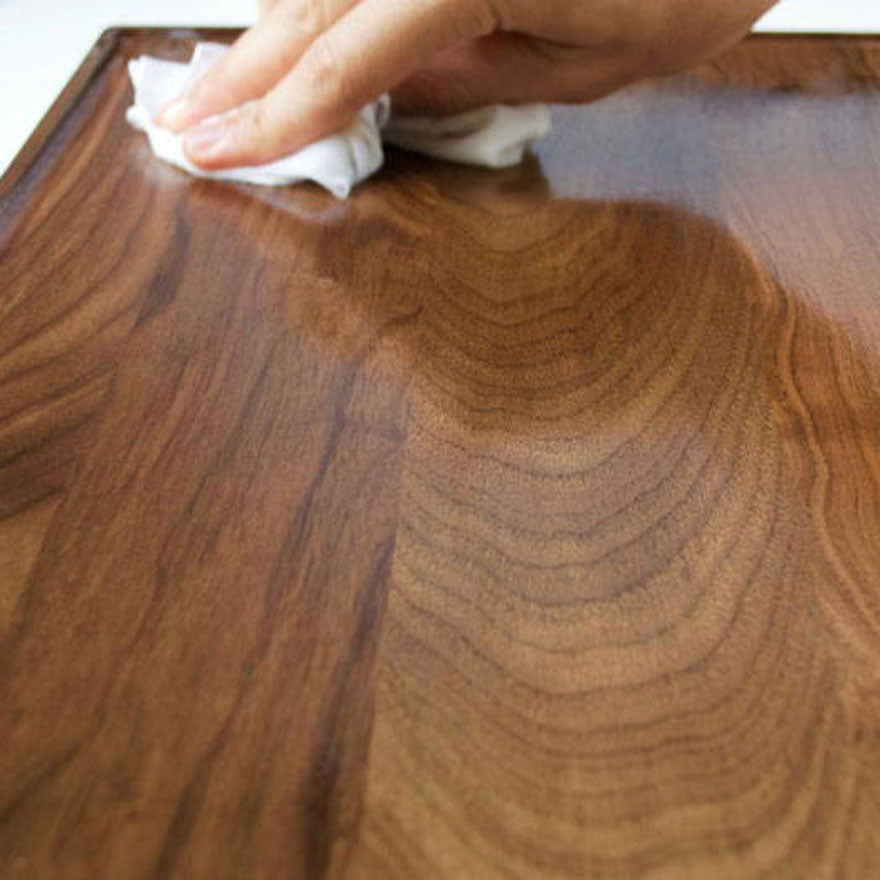 An Effortless Guide to Season a Cutting Board
Wood cutting boards are an essential kitchen tool. In fact, top chefs like Gordon Ramsay recommend using wood over other cutting boards. But like all other wood surfaces, they do need proper care to keep them functioning at their best.
One of the best ways to care for your board is by seasoning the cutting board. Thankfully, the seasoning process is quite simple. Let's walk through the process of seasoning. 
What Is Seasoning?
See butcher block oil on Amazon 
When your cutting board is dry, it's more prone to dents, scratches, and cracks when you use a knife. That's bad because scratches on your cutting board can trap bacteria.
Oil helps to smoothen the surface so your knife won't cause any deep scratches.
The oil also acts as a barrier to stop liquids from filtering into the wood grains. Excess moisture not only increases the risk of the board warping but can also introduce bacteria.
Bottom line: seasoning the cutting board with oil makes it safer to use. 
How to Season a Wooden Cutting Board
Step 1: Clean Your Cutting Board
Your cutting board will need a deep cleaning before you season. To do this, thoroughly hand scrub the board with soap and water.
Be careful not to use a dishwasher, or else the board may warp or crack.
Once you're done scrubbing, wash it with one part vinegar and one part water to get rid of smells. You can also scrub it with lemon.
Then leave it overnight to dry. Ensure you hang it to dry and that all the surfaces are exposed equally to the air so the cutting board can dry evenly.
Step 2: Apply Oil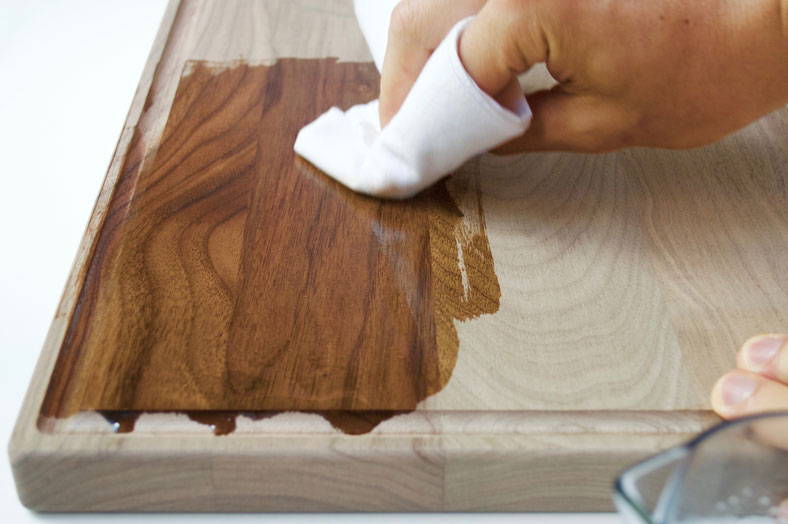 Seasoning Your Wood Cutting Board: 4 Steps to Have it Last You Years
Apply a layer of mineral oil to the cutting board. Use a dry, soft cloth to rub and spread the oil evenly on the cutting board, on both surfaces. Make sure to rub the oil onto the sides of the board as well.
For best results, apply the oil section by section and rub it in with a soft cloth. You can either move your hands in a circular motion or follow the direction of the grain. 
How Much Oil Should I Use?
Use as much oil as necessary to give the board a shiny finish. If most of the oil is absorbed as soon as it hits a spot on the cutting board, simply keep adding more oil.
When the board is fully saturated, the oil will stop seeping into the wood and form a layer on top; then, you'll know you're done.
Which Oil Should I Use?
Use high-quality food-grade mineral oil. It's important to note that you should never use any type of food or cooking oil. Cooking oils like olive or peanut oils are very high in unsaturated fats.
They will quickly go bad and become rancid. The result will be a very smelly cutting board which might ruin your culinary delights.
Check out this excellent quality all-natural mineral oil from Virginia Boys Kitchen (on Amazon). It also has a blend of essential oils to give your cutting board an enticing scent.
Related: Mineral Oil Vs. Coconut Oil To Season Wood Cutting Boards  
See: Cutting Board Oil on Amazon
Step 3: Let the Oil Dry 
Leave the cutting board hanging for at least eight hours or overnight to allow it to completely dry.
Leaving it for that long gives the oil time to seep into the wood grains.
Then wipe off any excess oil with a clean, dry cloth or paper towel.
And that's it; your board is seasoned and ready for use. If you're oiling the board for the first time, repeat the process at least two to three times to allow the oil to soak right through.
Watch this video to walk you through the entire process.
Double up Your Cutting Board's Protection
You can add an extra layer of protection to your seasoned board by waxing it after you're done oiling.
Waxing gives your board a smoother exterior surface that allows water to roll off faster, thus preventing moisture from destroying the wood.
Also, an extra layer of wax helps make cleaning easier and seals off all the cracks and crevices to keep bacteria out, making the board more sanitary.
Just like oiling, waxing is a very simple process. Here's how to wax your cutting board:
Use a soft cloth to rub the wax over the surface of the oiled cutting board section by section in a circular motion. 
Use a paper towel or soft dry cloth to buff the board for two to three minutes.
That's all you need to do to give your cutting board extra protection and keep it looking as good as new.
Use a high-quality wax made from beeswax and natural saturated oil. Remember, anything you put on your board will get into your food, so avoid waxes made from paraffin-based oils, which may have some long-run toxic effects on the body.
Virginia Boys Kitchen has just the wax (on Amazon) for you. It's made from coconut oil and beeswax.

All Natural Coconut Oil and Beeswax Wood (on Amazon)
Deborah tried it, and here's what she had to say:
"I ordered the Coconut & Bee's Wax protective balm for my new cutting board. I Have applied several coats, usually after each use, and my cutting board continues to look like new! Great product and I highly recommend it." Deborah P, United States
How Often Should I Season the Cutting Board?
When you get a new cutting board, it's recommended that you season it at least three times before the first use.
After the first seasoning, you'll have to use your discretion to tell when it's time to give the board another coat. Here are some tell-tale signs of an oil-thirsty board.
If the board has dry-looking patches 
Absorbs water faster than usual when you're washing it 
If your cutting board has dark stains
When it starts giving off a funky smell
You can season your cutting board monthly, depending on how often you use it. If it needs a new coat between seasonings, go ahead and oil it – you can never oil a cutting board too much. 
Enjoy Your Wooden Cutting Board
A wood cutting board is a great investment. Wood is strong. It won't chip or crack easily when it falls. Plus, it's heavy and sturdy; it won't move when you're cutting.
Wooden cutting boards are also tough enough to withstand the knife's sharp edge, which means fewer grooves to trap germs.
Most importantly, studies have shown that most bacteria will start dying when placed on a wood cutting board, making it safer and more sanitary.
However, as great as a wooden cutting board is, it will only hold up if it's made of high-quality wood like maple or walnut.
Don't miss out on a great cutting board. Check out a wide selection of best-in-class walnut cutting boards (on Amazon)
A properly maintained wooden cutting board is more than just a food prep accessory. It can give your kitchen a chic, sophisticated look when you display it in the kitchen. 

10x16 Walnut Cutting board with knob handle (on Amazon)
Wooden cutting boards also work great as charcuterie boards to serve up your delicious meals in style. 

10 x 16 Walnut Cutting Board with Knob Handle (on Amazon)
Get yours today from Virginia Boys Kitchen. Don't forget to purchase your oil and wax combo kit (on Amazon) to keep your cutting board looking and functioning perfectly for many years to come.
FYI – Virginia Boys Kitchen will plant a tree for every purchase you make!
Featured links:
We are on Amazon, see our storefront here. Use coupon code VBKBLOG10 for 10% off your entire purchase of any Virginia Boys Kitchens on Amazon. Apply the code at checkout.