Thick Wood Cutting Boards DIY: The Dos and the Don'ts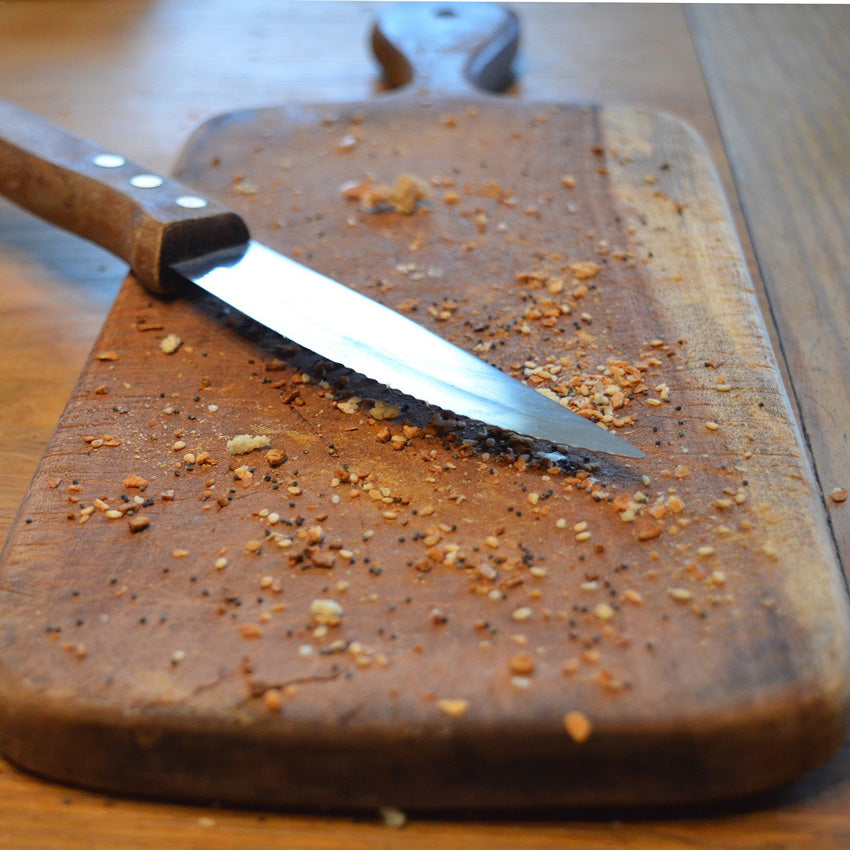 Thick Wood Cutting Boards DIY: The Dos and the Don'ts
After the knife, the next item we always reach for is the cutting board. Whether you're dicing up some fruit for dessert or chopping up raw meat, you'll need a cutting board.
Wood is considered the best material for cutting boards since it's easy on knives, self-healing, and versatile. It's used to make durable, thick wooden cutting boards for the home and professional kitchens to heavy-duty chopping/butcher blocks.
But that's not it—they can also be used as a serving platter since wooden cutting boards can withstand very hot and cold foods.
However, the most unique quality of wood compared to rubber, plastic, or marble boards is that you can make your own wooden cutting board at home due to the easy accessibility and affordability of wood.
The only question is: Should you make your own cutting board or buy a premade board? 
Making a DIY Cutting Board 
To make a cutting board, you'll require closed grain hardwood such as walnut, maple, cherry, or teak.
You can either buy wood or save some coins by reusing wood from old furniture. Here are other items you need.
| | |
| --- | --- |
| Tools | Materials |
| Table saw | Mineral oil |
| Miter saw | Wood glue (Non-toxic, water-resistant) |
| Thickness planer | Glue brush |
| Clamps | |
| Sander | |
With the tools and materials ready, here's how to build your own board.
The Dos
Do cut and shape the wood: Using the miter saw, cut and shape the slabs of lumber into similar-sized strips of wood. Note that you can use different types of hardwoods for a nicer-looking board.
Do smoothen and align the wood strips: On a flat surface, arrange the strips of wood side by side to ensure they all have the same length and thickness. Use a table saw to align the length and the planer for thickness. A thickness of between 0.75 and 1 inch is recommended for a thick edge grain or end grain cutting board.
Do fuse the wooden strips: Lay the uniform wooden strips on a clamp. Flip them over one by one as you apply the non-toxic wood glue on one of the planed faces and stick onto the next strip on the clamp. Use a glue bottle or glue brush for this.
Do tighten the clamps: With the wooden strips glued up side by side, tighten the clamps so that the pieces are pressed onto each other. Adjust wooden strips that get misaligned to keep the board flat and even.


Additionally, have a cloth to wipe off glue as it spills on the wood. It's easier than scrubbing blobs of dried glue later.

Do one final shaping: Take your board off the clamps and run it through a planer to smoothen the surfaces. Also, trim the edges using the table saw to make them cleaner and smoother.


At this point, you can also carve out a juice groove or add feet and handles to your board. However, you may need more specialized tools for this.

Do oil the board: Pour a puddle of mineral oil on your board and spread across the surface as you add more oil. Wipe off excess oil and let your new cutting board sit for 5 minutes. Repeat this process until your board looks nice, glossy, and saturated. 


Ensure you oil the cutting board whenever it gets dry or dull.
The Don'ts
Don't use open grain hardwoods: Open-grained woods such as oak and ash are a poor choice since their pores soak up fluids. This creates a breeding ground for harmful bacteria. Furthermore, open grain woods aren't self-healing, and cuts are more visible and permanent.
Don't use face grain for cutting boards: In a piece of lumber, the face is the widest side when the wood is laid flat on the ground. The face grain is the softest and most beautiful side since it's the surface with the most wood grain. However, face grain cutting boards show cut marks easily and are less durable.
Don't use regular wood glue: Regular wood glue is toxic and cannot be used for kitchenware and utensils such as cutting boards. Ensure the glue used in construction is non-toxic and water-resistant for all your kitchen needs.
Don't forget maintenance: After using your board for a few months, oiling is required to keep it looking fresh and prevent cracking. The best oils for this are: beeswax and fractionated coconut oil since they're non-toxic and non-porous.
Thick Wood DIY vs. Premade Cutting Boards: Why Premade Boards Are Better
They're Cheaper
Premade boards are a lot cheaper than making your own board.
Making your cutting board requires specialized tools for woodworking such as miter saws, table saws, and thickness planers. There are items such as pieces of hardwood lumber, wood glue, waxing oil, and more required for the project.
This costs anywhere from a few hundred bucks to thousands of dollars.
Meanwhile, a premade cutting board costs as little as $50.
More Environmentally Friendly
Cutting board manufacturers and companies source wood sustainably and recycle more than DIY boards.
For instance, all our wood cutting boards are sourced from forests growing at least 2.4 times faster than harvest. Additionally, we ensure that a percentage from each sale goes towards purchasing and planting a tree.
Woodworking companies can reuse and recycle materials such as sawdust and wood chippings, minimizing waste and saving wood.
They're More Durable
Due to the use of advanced tools and highly skilled personnel, premade cutting boards are more solid and sturdy in build. They also come with their own woodcare oils for easy care and maintenance at home.
This means that premade boards last longer, and some even serve as family heirlooms, being passed down from one generation to the next.
Butcher Blocks Are Premade
A butcher block is a large, thick heavy-duty cutting board for chopping and deboning meats.
Butcher blocks are premade since they're made by fusing together several blocks of end-grain cut wood for durability. This process is done by hand and requires specialized skills.  It's almost impossible to build a butcher block without the skill set.
Our 4 Top Wooden Cutting Boards
Specifications:
Weight: 12 lbs.
Dimensions: 20 x 15 x 1.75 inches
Brickmaster wood pattern
Why we love it:
Extra large size for carving very large meats
Thick to be used a true chopping block
Beautiful design  
Has two handles on the sides for easy holding
Here's what a user said about this board.

Robert H. | Customer Review
Specifications:
Weight: 10 lbs.
Dimensions: 24 x 18 x 1 inches
Chessmaster wood pattern
Why we love it:
Double-sided
Ideal gift for holidays, birthdays, and anniversaries
Has a juice groove to catch runaway liquids from fruits, veggies, and meat
Here's what a customer had to say about it:

Devin D. | Customer Review
Specifications:
Weight: 2 lbs.
Diameter: 10.5 inches
Thickness: 0.75 inches
Size: Small
Why we love it:
Doubles as a serving platter for cheese and other appetizers
Has a groove to catch runaway liquids 
Gorgeous looking
Here's what a customer had to say about it:

Anonymous | Customer Review
Specifications:
Weight: 4 lbs.
Dimensions: 8 x 17 x 0.75 inches
Size: Large
Why we love it:
Has a 4-inch long handle for easy carrying
Great gift idea
Can be used as a cutting board or serving tray
Here's what a customer had to say about it:

Marcus C. | Customer Review
Your One-Stop Shop for Wooden Boards and Other Kitchenware
In need of a cutting board?
At Virginia Boys Kitchen, we provide high-quality, eco-friendly, toxic-free cutting boards at an affordable price. We also have serving trays, wood care products, knives, and gift hampers for your loved ones.
Visit us today for all your cutting board needs.

Featured Image from: Pixabay by StockSnap
We are on Amazon, see our storefront here. Use coupon code VBKBLOG10 for 10% off your entire purchase of any Virginia Boys Kitchens on Amazon. Apply the code at checkout.