4 Factors That Make Wood Carving Boards Amazing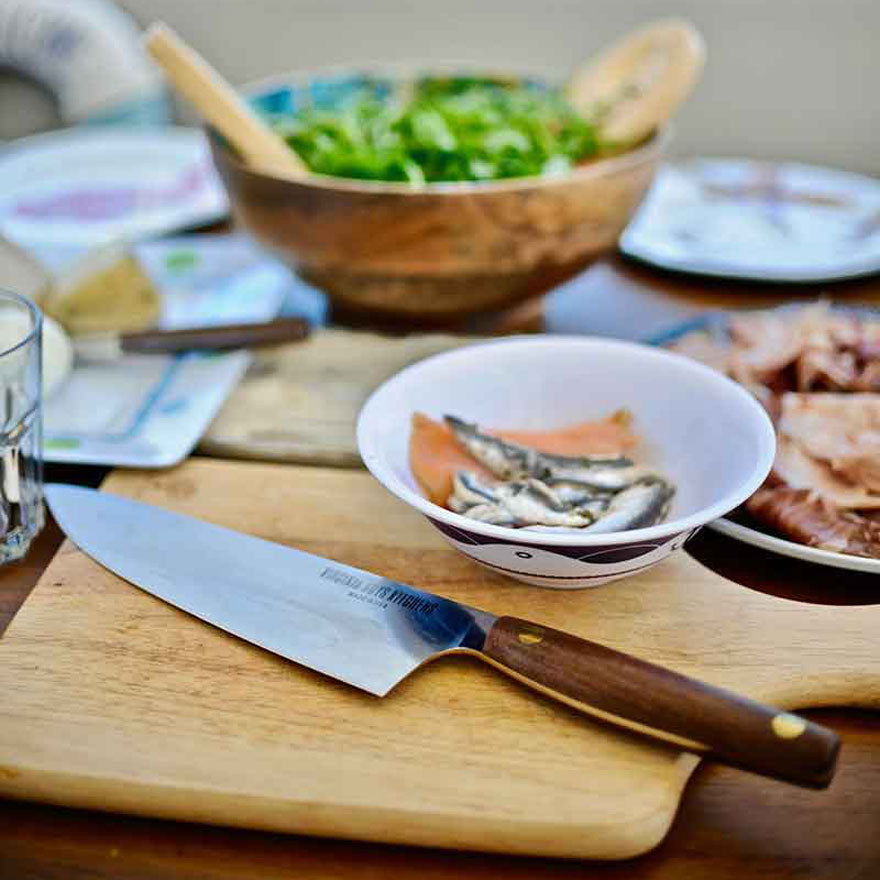 4 Factors That Make Wood Carving Boards Amazing
The humble chopping board is one of the kitchen utensils that get the most consistent use. Whether you're making a simple, midweek dinner or a scrumptious meal for a special occasion, you'll no doubt rely on your chopping board for your culinary creations to come to life. 
So, you want to invest in a carving board that stands up to the task? Wooden cutting boards make a fine primary work surface for any kitchen—especially when they're the responsibly sourced, honestly crafted, and well-designed type from Virginia Boys Kitchens.
We could go on for days about what makes our boards perfect for your kitchen, but we've narrowed it down to these four exceptional qualities —some  of which might surprise you. 
Gentle on Knives

8" Chefs Knife and 17x11 Walnut Cutting Board
An adequately honed blade makes meal prep easier, gives cleaner cuts, and is safe to use. On the other hand, a dull knife can be the most dangerous tool in your kitchen as it requires much more force to get the job done.
Hardwood cutting boards, such as those made with bamboo, are notorious for causing knives' edges to roll and blades to become dull. There's one exception to this—walnut cutting boards. They are hard enough to be durable but soft enough not to cause damage to your knife.
The straight end grain on walnut cutting boards is suitable for your knives because it gives more consistent pressure along the blade's edge when slicing and chopping. So, if you want your knives to last longer, go for walnut. 
See Also: Why Walnut Makes for the Best Cheese Boards, Handle Boards & More
Sanitary
It is true that anything that touches your food, including chopping boards, can be a source of contamination and illness. However, it's not true that wooden boards pose a greater food safety risk than those made with other materials.
Some people avoid wooden boards because they fear that wood is:
Porous and can absorb liquids
Hard to clean
Hard to maintain
These misconceptions are far from the truth and might be holding you back from enjoying the use of a sturdy, handsome walnut carving board. 
Wood Barely Absorbs Liquid, But When It Does, It Kills Off Bacteria
A study by UC Davis researcher Dean Cliver proves that wood is safer than plastic because surface cuts don't go deep. However, not all wood offers the same degree of safety.
Hardwoods, like walnut, are fine-grained and don't easily form grooves after repeated cutting. On the other hand, cypress and other softwoods that are large-grained easily form grooves where bacteria can thrive.
Although walnut boards may be porous enough to absorb liquid, the capillary action of the grains trap bacteria which are killed off when the board dries after cleaning.
Walnut doesn't just trap bacteria; it does so fast—within three to 10 minutes of the surface being contaminated. 
Wood Is Easier to Clean
According to one study published in the Journal of Food Protection, plastic boards are harder to clean than wooden ones, especially with deep cuts.
Although wooden cutting boards are not dishwasher safe, they are easy to clean. It is sufficient to wash your board with standard dish soap and hot water. However, you might want to take it a step further to ensure your board is thoroughly sanitized.
The good news is, you don't need to invest in fancy products to clean and sanitize your wooden chopping board. You can use household items such as:
Vinegar — to clean, disinfect, and get rid of odors 
Lemons — remove strong smells leftover after cutting onions, garlic, raw meat, or fish
Salt — to remove gunk and stubborn stains after cleaning with water and soap
Baking soda — to dissolve grease and dirt
If you don't have the time for DIY cleaning agents, the Virginia Boys Kitchen Clean collection is what you need. It's an assortment of cleaning agents from Virginia Boys Kitchen that are natural, safe, and gentle on your wooden chopping board.

Complete Care Kit for Wood Cutting Board
The Virginia Boys Kitchen Clean collection consists of four all-natural products:
Handmade chef's soap
Chef's spray
Wood seasoning oil
Wood finishing wax
Our all-natural handmade chef's soap is made for frequent hand washers and is also safe for walnut chopping boards. With gentle ingredients such as organic oils, herbs, and coffee grounds—it's the perfect cleaning agent for all wooden carving boards.
The all-natural chef's spray doubles up as a cleaning and disinfecting agent for all surfaces, including cutting boards and kitchen counters. It's non-toxic and highly effective, thanks to a combination of colloidal silver and essential oils.
We have an all-natural wood seasoning oil that's perfect for rejuvenating your carving board after washing. It makes the board waterproof, easier to wash, and prevents it from warping. It contains coconut oil that penetrates deep into the wood fibers to moisturize and prevent cracks.
Our all-natural wood finishing wax is made of coconut oil and beeswax and scented with the freshest herbs. After washing, season your carving board with oil, then add a few dabs of wax as a secondary defense. Wax offers an extra layer of protection against repeated washing and rinsing. 
Maintenance Is a Breeze—But Only With the Right Products 

Clean Your Cutting Board the Right Way
When you've cleaned your cutting board with your choice of cleaning agent, you need to do more to keep the surface in good condition. Applying wood and food-safe oil is the only way to do so. Some of the best oil choices are:
Coconut oil
Beeswax
Tung oil
Walnut oil
Steer clear of organic oils with high-fat content—the fats in these oils can spoil, turn rancid, and leave your carving board with a bad smell. The right oil occupies the spaces in the wood fibers, making your board waterproof. Plus, it maintains a smooth appearance and hides the appearance of surface cuts. 
Related: Mineral Oil Vs. Coconut Oil to Season Wood Cutting Boards
Sturdy
Walnut carving boards are generally thick and not just for aesthetic purposes. The thickness makes them heavy and prevents slipping when you chop hard ingredients. The last thing you need while wielding a butcher's knife is your board slipping off the kitchen top.
A wooden board is also more resilient; knife slices barely leave any scratches. When marks and scratches occur, they can be easily removed with oil and wax—leaving your carving board as good as new. 
See Also: Differences Between High-Quality and Low-Quality Cutting Boards
Aesthetically Pleasing
A rich, dark color. A fine, relatively straight grain. The perfect rustic look and feel for any kitchen. There's no denying that walnut carving boards are a pleasure to look at. They fit effortlessly in a modern or old-fashioned kitchen.
Plus, with Virginia Boys Kitchen's excellent craftsmanship and custom designs, you're assured a handsome board that's perfect for gifting or simply adding to your kitchen collection.
Give and Take With Virginia Boys Kitchens
Let's talk about the eco guilt that comes with using a wooden carving board. Deforestation is a real and worrisome threat that we at Virginia Boys Kitchen acknowledge. But, rather than let our love for fine wooden boards get in the way of environmental sustainability, we're creating more forest than we use.
We only source wood from forests that grow faster than the harvest rate. More importantly, a fraction of every purchase you make on our website goes towards planting trees. We invite you to learn more about our sustainable materials and processes.
Looking to buy a fine chopping board that gives back? Head over to our product catalog to find a selection of wooden boards—we promise you'll be spoilt for choice. 
Related Article Links:
Differences Between High-Quality and Low-Quality Cutting Boards
Why Walnut Makes for the Best Cheese Boards, Handle Boards & More 
Mineral Oil Vs. Coconut Oil to Season Wood Cutting Boards
We are on Amazon, see our storefront here. Use coupon code VBKBLOG10 for 10% off your entire purchase of any Virginia Boys Kitchens on Amazon. Apply the code at checkout.