25 Quick and Easy Sides for Ribs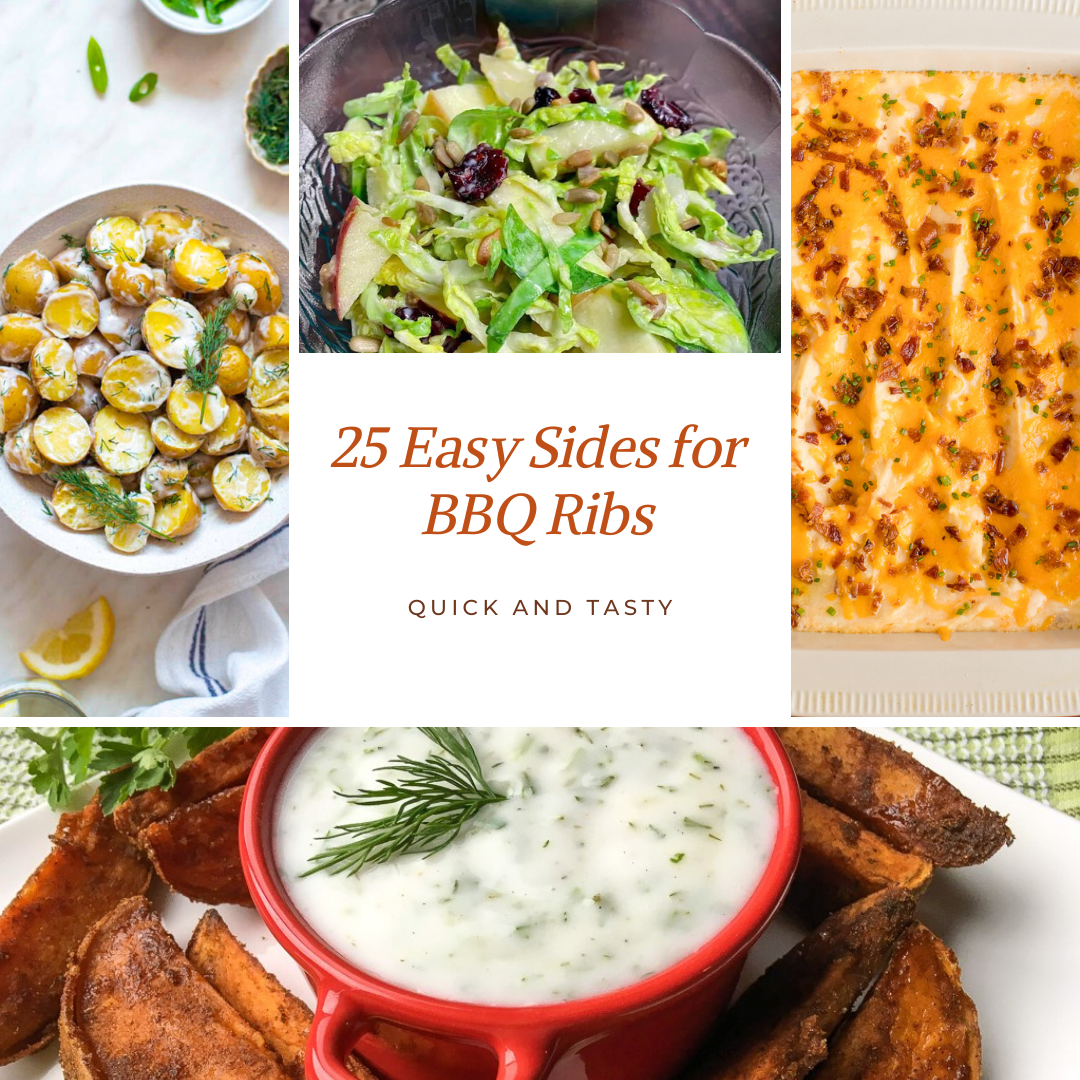 We all know that spareribs are smoky, sweet, and ooey-gooey. That's why they are often on the menu for dinner, especially during the summer months. But what to serve with all that deliciousness? Well, I have found 25 of the best side dishes to serve with those yummy ribs you are making. Let's dive in and seen which one may top your list for your next sparerib meal.

Photo: Rosemary and Maple
The crispiness of the outside of the sweet potato holds onto the blended herbed yogurt dip to ensure you get the best of both worlds. This recipe is simple, quick, and adds so much more to your meal than regular French fries.
Photo: Simply Stacie
Mashed potatoes have nothing when compared to the flavors and creaminess of this potato casserole dish. The cheese and bacon add flavor. But it is the tanginess of the sour cream that will make this dish taste even better with your ribs.
Photo: Sun Glow Kitchen
Potato salads always pair well with barbecue dishes. However, this potato salad with dill will take your meal to the next level. The creaminess of this cold salad will taste amazing after a bite of ribs. Sprinkle the salad with fresh dill right before serving for an additional pop of flavor.
Photo: Life Love Liz
The cold, sweet flavors of the honeydew melon and crisp cucumbers will be refreshing to eat alongside a few ribs. The honey in this recipe adds a little extra sweetness, while the red onions add a kick of flavor. You definitely will be headed back for seconds of this side dish.
Photo: Fed By Sab
Non-brussels sprout fans will have a change of heart once they dive into this side dish with their ribs. The earthy flavor of the brussels sprout pairs well with pears, craisins, and apples. Add the creamy dressing to the mix and you have a side dish you will make many times in the future.
Photo: Feasting Not Fasting
The best sparerib recipes come from the South, where cornbread is a staple with every meal. Add a southern touch to your next meal by preparing this healthy cornbread recipe. A touch of honey will make the cornbread moist. One bite and you may have difficulty picking up your ribs to eat anytime soon.
Photo: All Recipes
This kimchi salad pairs well with any type of Korean-style ribs. However, you can absolutely eat it with barbecue spareribs if you want! The best part of this recipe is this kimchi isn't fermented. So, you can whip it up in no time at all for those impromptu get-togethers. This salad is on the spicy side, so be prepared when you take your first bite.
Photo: All Recipes
You can't go wrong when you choose to serve ribs with a side of classic macaroni salad. This recipe takes this side dish up a level though. The jalapeño and poblano peppers add a little heat, while the sugar, carrots, and red bell pepper add a little sweetness. The result is the perfect blend, along with a slight crunch in every bite.
Photo: All Recipes
Fried green tomatoes are another southern side dish that pairs well with any type of ribs. The outside of the tomatoes is nice and crispy, while the insides are tender. You will definitely want to make the Cajun ranch dipping sauce included in this recipe. It's what makes this side dish one of your better side dish options.
Photo: All Recipes
If you are searching for a no-cook side dish to go with your ribs, this is the recipe for you! The creamy dressing soaks into the corn, yet it is still crunchy. Whipping up this recipe will take no time at all, but it is still packed with a sweet and tart flavor.
Photo: All Recipes
Collard greens are a classic southern dish that normally don't pair well with ribs. However, this spin on collard greens will have you heading back for another serving! The ingredients create a smoky, sweet, and vinegary flavor. You can even add red pepper flakes to spice things up a little more.
Photo: Dinner At The Zoo
There is nothing wrong with serving mac and cheese with a huge pile of ribs. Especially when you use this easy-to-make recipe. Simply toss all the ingredients into a baking dish and bake. Before you know it, the two types of cheeses will be all melted and you will have the perfect side dish to serve with your ribs.
Photo: The Chunky Chef
Instead of buying a can of baked beans to serve with your ribs at your next cookout, try these easy baked beans. The brown sugar adds a little sweetness, but it is the bacon that really makes these beans taste amazing. Crumble a little extra bacon on top for the best results.
Photo: Gypsy Plate
Pasta salads are simple to make and loved by everyone. So, what makes this rainbow pasta salad one of the best? The answer is the feta cheese you crumble over the top right before serving. Don't worry, the rest of the ingredients are just as delicious. Make this side dish today and dive in to see why it should be on your menu more often than not.
Photo: Gypsy Plate
Squash is plentiful during the summer months, which is why this is such a popular side dish for ribs. The sweet squash pairs well with the cheesy sauce and the buttery cracker topping. Serve it piping hot and watch people go back for seconds and thirds.
Photo: Jo Cooks
This Mediterranean orzo salad is similar to pasta salads. However, this recipe adds a unique twist that will have it on regular rotation at your cookouts. Once the orzo is cooked, it is tossed with a ton of ingredients that have Mediterranean flavors. Think kalamata olives, chickpeas, and feta cheese. The result is a crunchy salad filled with veggies and herb flavoring.
Photo: Damn Delicious
Corn on the cob goes well with ribs, but who wants boring corn on the cob when you can have roasted Mexican street corn! The corn can be baked or grilled, which is perfect for all those rib recipes you want to try. The garlicky-lime cream sauce takes this corn on the cob recipe over the top with flavor.
Photo: The Kitchn
The baby red potatoes in this recipe add color to this flavorful side dish. Those potatoes are tossed with flavorful fresh herbs and a warm bacon dressing. The bacon adds crispiness to this potato salad, while the vinegar adds a touch of tartness to this dish that can be served warm or cold.
Photo: The Kitchn
There may be times when you want beans with your ribs, but you don't want the usual baked beans side dish. This black-eyed pea salad is the perfect solution! The peas are mixed with cucumbers, tomatoes, and onion before being tossed in a hot sauce vinaigrette. The result is a not-too-spicy side dish that will please even the pickiest eaters.
Photo: Sun Glow Kitchen
This sweet potato beet salad can add a sweet flavor to your meal, which is perfect for certain types of ribs. This is a colorful salad packed with texture and flavor. The walnuts add crunch, while the caramelized onions add a creaminess you wouldn't expect. Once topped with the honey balsamic dressing, you won't be able to resist digging in before the ribs are even ready to eat.
Photo: Christina S Cucina
Coleslaw is normally mellow, but that is what makes this spicy coleslaw recipe stand out from all the rest. A little green Tabasco sauce adds the flavor you have been craving in between bites of ribs.
Photo: The Kitchen and Alatte
The homemade ranch dressing used in this side dish really amps up what would normally be considered a classis pasta salad. Cucumbers, scallions, peppers, tomatoes, and carrots are the usual veggies used in this salad, but you can switch things up a little by using whatever you have in the house.
Photo: Food (.) Com
If you are cooking your ribs on the grill, add some grilled vegetables to the grate. The smoky grilled vegetables pair well with the green curry marinade in the recipe.
Photo: Just A Taste
Corn fritters don't take hours to make when you use this simple recipe. This is the perfect option for those times you don't want to turn on the oven to make cornbread to go with your ribs. You still get the sweet taste of corn, as well as the option to use the fritters to soak up all that barbecue sauce on your plate.
Photo: Insanely Good Recipes
Ambrosia salad is basically a sweet fruit salad with a few extra tasty ingredients thrown in. The marshmallows, coconut, and whipped topping will ensure everyone gets their fruit servings for the day.
These are the 25 best sides for ribs. Each one will add extra flavor to your meal, but I guarantee you won't be able to choose just one to serve the next time you decide to have ribs.
We are on Amazon, see our storefront here. Use coupon code VBKBLOG10 for 10% off your entire purchase of any Virginia Boys Kitchens on Amazon. Apply the code at checkout.