35 Easy Healthy Ground Chicken Recipes - Keto, Paleo, Few Ingredients, etc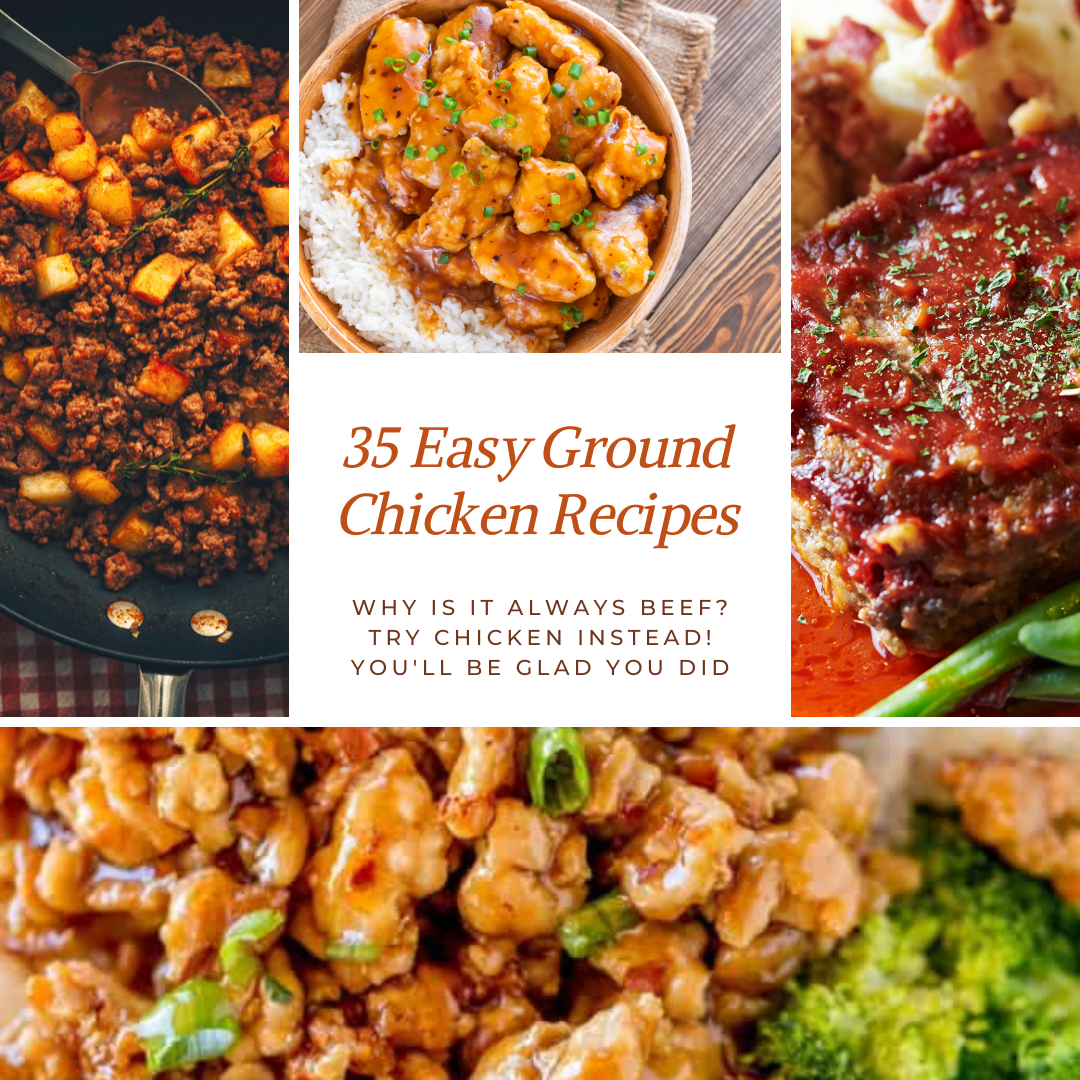 Are you tired of using ground beef in all your main dishes? Well, ground chicken is a healthy alternative that adds lots of flavor to any meal you are serving. If you haven't tried to use ground chicken yet, you are in for a real treat. Especially once you make at least one of these delicious ground chicken recipes I am about to share.
Heads up! These recipes can be elevated with fresh vegetables and chopped herbs. If you're not afraid of the occasional slicing and dicing, be sure you're using the best cutting board for the job.
Photo: Momma Cuisine
There are so many versions of picadillo around the world. So, why not try another version made with ground chicken! You can easily use any veggies you have on hand instead of sticking to the recipe. Just don't leave out the Tabasco sauce. It really adds the right amount of spice to this dish.
Photo: Cook Pad
The ricotta cheese mixed with parmesan takes this shepherd's pie to the next level. The right combination of spices mixed with the ground chicken will ensure you will never make this dish with ground beef ever again. 
Photo: Kinda Healthy Recipes
This ground chicken takes 20 minutes to make, which is perfect for those nights you need dinner on the table PRONTO! Add in the high protein content and low carbs and you have a dish everyone in the family can eat. I recommend thinking out of the box with leftovers too. Wrap this yumminess into lettuce wraps or make a veggie stir fry to make it taste like new.
Photo: Culinary Hill
This is another quick and easy ground chicken dish to make for those busy nights. The apple cider vinegar and brown sugar kick the taco seasoning up a notch. You'll want to eat this taco meat right from the pan. But do me a favor, add it to a taco shell or a wrap with your favorite toppings. I guarantee you won't be disappointed.
Photo: Feel Good Foodie
These ground chicken burgers are anything but bland and dry. The spices and breadcrumbs ensure these burgers won't fall apart during the cooking process as well. Top them with your favorite burger toppings and be prepared to eat more than one.
If you're chopping tomatoes or onions on your cutting board to prepare this meal, don't skip out on properly seasoning your cutting board! Tomatoes and onions can easily damage a board and spread bacteria.
Photo: Nutmeg Nanny
It's Tex-Mex flavor to the max when you mix together spices, peppers, onions, and sour cream with the pasta and chicken in this recipe. It will be love at first bite, especially since you will only have one pot to wash when you're done eating.
Photo: Carries Experimental Kitchen
This is another one-pot wonder that will have you falling in love with ground chicken. Simply throw the few simple ingredients into the skillet according to the recipe and let it cook until it is ready. All the vegetables add tons of flavor. Just don't skimp on the parmesan at the end.
Photo: Dinner Then Dessert
You won't want to order takeout again once you have mastered this 15-minute ground Thai peanut chicken. Serve it with cooked rice or noodle salad for a complete meal that won't take forever to get on the table. Oh, and this dish is gluten free too!
Photo: Mantitlement
If you dislike making chicken parmesan, you may be ready to skip over this recipe. Please don't, because this is one of the easiest versions you can make. And it tastes just like chicken parm! Simply brown the ground chicken with spices, onions, and garlic before adding marinara sauce and cheese. Talk about simple and delicious when paired with pasta!
Photo: Chef Jar
Most meatballs need to be made just right to be juicy at the end. Well, these ground chicken meatballs will satisfy even the pickiest meatball eater! The creamy sauce these meatballs are cooked in add flavor. Toss them over some mashed potatoes and then add a little sauce to really add a little extra to your meal.
Photo: Lady And The Blog
There are only six ingredients in this ground chicken recipe and the result is a tasty meatloaf you will want to make more often. Mix the ingredients together, top with cheese, bake, and bite into a delicious meal in no time at all. Serve with your favorite meatloaf sides for the best results.
Photo: Mantitlement
This is another ground chicken recipe that can be on the table in less than 20 minutes! Toss the sweet and spicy sesame chicken onto a bed of rice or use it in a wrap. The possibilities are endless with this incredible dish.
Photo: Dinner Then Dessert
This is a one-pan dish that will have you putting dinner on the table in no time at all. The chicken has a crispy texture. Once you add the orange sauce, you will think you are dining at your favorite restaurant. Place this over a bed of rice and save room for seconds.
Photo: Dinner Then Dessert
You get the crispy chicken with this dish without all the work of frying it up. Lots of veggies make this a healthy meal. It won't taste too healthy though with all the spicy, salty, and sweet flavors you add. Serve this with rice or chow mein for a filling meal.
Photo: Simply Delicious
Chicken cottage pie is a new twist on the old favorite, shepherd's pie. The topping combines sweet potatoes, cauliflower, and potatoes for a melt in your mouth bite every time. Serve this dish with roasted vegetables, a side salad, or a crusty loaf of bread.
Photo: The Wholesome Dish
Instead of ground beef, ground chicken is cooked up with onions and peppers in this dish before being coated with a tangy barbecue sauce. This twist on an old favorite is full of flavor. Switch up the types of barbecue sauce you use to see which one you love the most with this recipe.
Photo: Damn Delicious
Italian wedding soup has always been a hearty dish for those colder days. Well, this version uses chicken meatballs instead of ground beef. The flavor will still be the same, so you won't notice the healthier difference. Make sure you have a loaf of crusty bread handy to soak up all the brothy goodness.
As you prepare the carrots for this recipe (or any recipe), make sure to season your cutting board with fractionated coconut oil instead of food-grade mineral oil. Learn more about why fractionated coconut oil is better for your food and your cutting board.
Photo: The Little Pine
Casseroles are one of the easiest dinners you can make, because you throw everything into a pan and forget about it while it is cooking. The sauce and cream cheese in this casserole dish will melt in your mouth. And the kids might not even notice they are eating veggies amongst all that creamy gooeyness.
Photo: Well Plated
This is a stick to your ribs kind of dish, but a healthier and lighter version. The Greek yogurt is smoother than the sour cream and packed with protein. Lots of spices add extra flavor to this dish you can make in no time at all.
Photo: My Spicy Kitchen
No need to make your own dough to put these baked chicken empanadas on the table for a meal. Simply use canned crescent dough or pie crust for an easy prep. Once the filling is ready, stuff those babies, cook them, and sink your teeth into them. It is recommended you make extras, because these won't last long.
Photo: Damn Delicious
Grabbing a burrito bowl from the fridge is an excellent option when you need lunches on the go. Simply add everything to a bowl, put a lid on it, and dive into a delicious meal every time. Just don't forget to add a few toppings.
Photo: The Salty Marshmallow
Cooking up this one dish wonder is simple thanks to the help of ramen noodles. You know those noodles quite well, I'm sure. You probably lived off them in college! No worries though, because this recipe kicks them up a notch. This is one leftover dish you will be happy to eat from the fridge.
Photo: I Wash You Dry
Most egg rolls are made with pork, but that's what makes these chicken egg rolls special. Fry up a bunch of these chicken egg rolls to serve with a Thai sweet chili sauce. They make an excellent appetizer and an even better meal.
Photo: Once Upon A Chef
This healthy chili dish is packed with veggies and protein. It is hearty and will warm you up on a cold day. This is the perfect dish to feed a crowd. Simply double or triple the recipe to make sure you have enough.
Photo: Sparkles Of Yum
Everyone needs different recipes to use up all that squash growing in the garden. Either that, or the squash fairy will need to go around dropping off squash wherever she can find a spot. I recommend making this recipe instead of inundating your neighbors! Once the squash is roasted, you will find yourself biting into a delicious meal packed with flavor.
Photo: Taste And See
Love wings, but craving a burger? Dive into this buffalo chicken burger with blue cheese sauce! You can serve this on a bun, in a lettuce wrap, or as part of a salad. The options are endless, and the taste is amazing.
Photo: Well Plated
Sweet bell peppers taste so much better when they are packed with ground chicken and other ingredients. You can cook a bunch of these in one pan and freeze a few for future meals. Although, they taste so good, they might not make it into the freezer.
Photo: Best Recipe Box
No one can seem to resist the spiciness of sriracha, which is what makes this dish an all-time favorite. The lettuce cups keep it healthy. The sriracha adds flavor. And the vegetables add an extra crisp. Lunch, dinner, snack, it doesn't matter for this dish.
Photo: Fit Foodie Finds
Take your nacho game up a level or two with these delicious baked chicken nachos. They can be ready in under a half hour, which is perfect on game days. Toppings are plentiful with this recipe, but feel free to use your personal favorites instead.
Photo: Culinary Ginger
This is a quick and easy soup to make for those colder days of the year. The dumplings filled with ground chicken are flavorful enough to melt in your mouth. I recommend making the dumplings in advance, so you can really get this soup ready in no time at all.
Photo: Savory Spin
The rich coconut milk in this dish is what adds the creamy flavor to a dish that is already packed with other flavors. The different layers of this dish will all mix together in your mouth, making your taste buds dance with happiness.
Photo: Fit Foodie Finds
Quesadillas are quick and easy to make. This recipe takes a classic dish and adds a new twist with ground chicken. Try a few different toppings to determine which ones go perfectly with this new favorite dish of yours!
Photo: Yummy Addiction
Cabbage rolls will always melt in your mouth, even if they are only made with ground chicken instead of other meat. Add the other ingredients and wait patiently for these to cook. They are definitely worth the wait, and possibly burning your tongue if you bite into one too soon.
Photo: The Wholesome Dish
Yes, another squash recipe that you will love since it is packed with yummy chicken parm. You won't be able to resist this dish, so make sure you make enough to either freeze or eat the next day for lunch.
Photo: Simply Stacie
Baked potatoes are normally a good side dish with any meal. But you can turn your baked potatoes into an actual main course when you make this chicken taco version. The taco flavors add a kick to what can be a bland potato if you didn't put anything on it.
These are the best 35 recipes to make using ground chicken. Try making one tonight and then add a new one to your weekly recipes until you have tried them all!
Love Cooking?
Try one of our walnut wood cutting boards - you don't know what you're missing out on, until you have a wood cutting board in your life. Click here to read our article on plastic vs. wood cutting boards, or click here to see our collection of different shapes and sizes of cutting boards.
We are on Amazon, see our storefront here. Use coupon code VBKBLOG10 for 10% off your entire purchase of any Virginia Boys Kitchens on Amazon. Apply the code at checkout.