30 Easy Ground Beef Recipes With Few Ingredients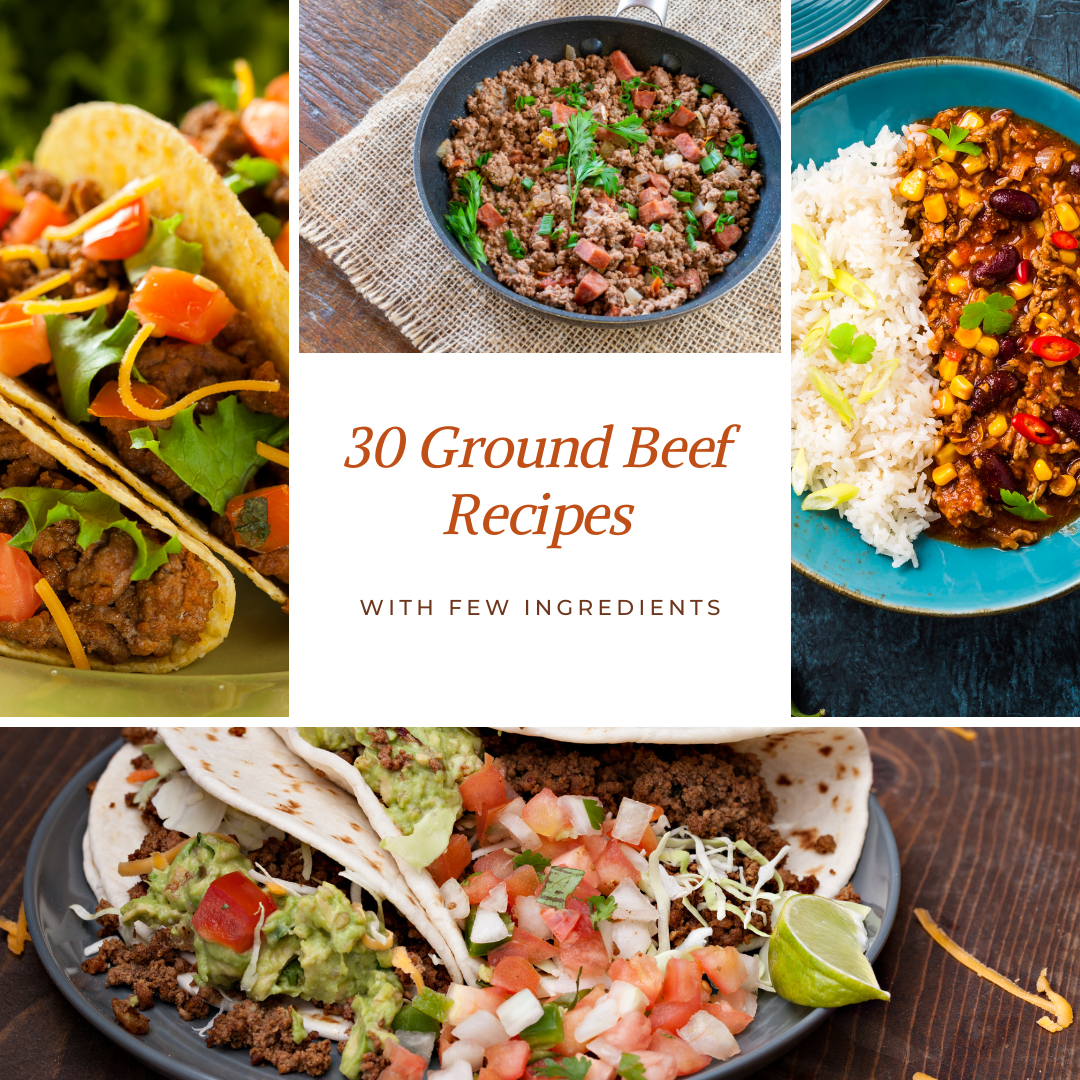 Ground beef is such a versatile meat staple. You can easily make filling meals using it with only a few other ingredients. If you want a few quick and easy meals to make that use ground beef, you have come to the right place! Today, we are focusing on easy ground beef recipes that only require a few ingredients. Oh, and spices don't really count when you are adding up the number of ingredients. Those are a whole other topic when it comes to cooking and using what you have.
Photo: Top Teen Recipes
A delicious casserole that cooks everything in one dish is exactly what we all need for the approaching fall season. This casserole combines mashed potatoes with the ground beef to make a filling meal everyone will love.
Photo: Top Teen Recipes
Using stuffing mix instead of breadcrumbs is what really cuts down on the ingredient list for this meatloaf. And yet, the result is a meatloaf packed full of flavor. If your family loves meatloaf, we recommend doubling this recipe. If you don't, you might not have enough for leftovers!
Photo: Yummly
Imagine a Mexican meal you can make with only a few ingredients. Now imagine getting that meal on the table in no time at all. You can have it all, including a dish packed with flavor, when you make this enchilada casserole.
Photo: Yummly
Making this ground beef recipe will allow you to eat one of the best slices of pizza ever! This is a pizza-night for the history books, because the pizzas will be ready in no time at all. And it is enough to feed a crowd without breaking the bank!
Photo: The Slow Roasted Italian
If you don't want the whole enchilada, you can have the next best thing with this dip! This is one of the cheesiest recipes in the world. Plus, it is filled with Mexican flavors. Dip tortilla chips or veggies into this dish and know you won't be hungry anytime soon.
Photo: The Slow Roasted Italian
You don't need a million ingredients to make a hearty sloppy joe. And yet, you don't need to crack open a can either. This recipe kicks things up a notch flavor-wise. And it can be ready in less than 15 minutes.
Photo: The Slow Roasted Italian
Sweet and sour meatballs are the perfect appetizer or meal. Serve these on their own or with your favorite pasta. Just make sure you make extra sauce, because you are going to want to dip everything else you are eating into it.
Photo: This is Not Diet Food
No one said you had to eat your sloppy joes on a hamburger bun. Make this Frito pie version for a twist on this classic dish your entire family will love. This is also an excellent option for all those potlucks you know you will be attending in the future.
Photo: Spend with Pennies
Regular pasta shells are not going to be on your rotating menus once you start serving these taco stuffed shells. The Mexican seasonings add a kick to what was once a staple dish in households around the world.
Photo: Insanely Good Recipes
Tasty burgers are always a possibility when you add a little onion soup to the mix. Serve this burger with all your favorite toppings. Make a couple extras too. They work well as leftovers or to add to a casserole another night.
Photo: Six Sisters Stuff
This ground beef and rice dish is affordable and can be on the table in only 20 minutes. If you don't have any rice, you can always serve the meat over a bed of quinoa. And if you want to, you can even add a few vegetables to make this dish a complete meal.
Photo: Skinny Taste
Tons of spices will make this ingredient list appear long, but we promise, it isn't. And since these cabbage rolls are unstuffed, they won't take hours to prepare. Simply throw everything together in a pot, cook, and serve. Dinner can be on the table in no time at all with this delicious recipe.
Photo: Insanely Good Recipes
Have you ever wanted to start dinner and then walk away and forget about it until it is ready? Well, you can do just that when you decide to make this recipe. Simply dump it all into a pie plate, put it in the oven, and wait for the timer to go off. Serve with a salad or roasted vegetables for an easy meal.
Photo: The Big Mans World
These stuffed peppers are keto friendly and healthy. You can have these stuffed peppers on the table in less than a half hour. We recommend making a double batch, so there is enough for everyone to have seconds. Or to stash in the freezer for a future meal.
Photo: Moms Who Think
A hearty bowl of chili is exactly what the doctor ordered for the upcoming fall season. You can make this chili for a weeknight dinner or a Sunday football game. The cornbread adds a little sweetness to this chili, which will be a welcome surprise to those eating it.
Photo: Moms Who Think
Nachos are not known for being a meal. But when you make this recipe, you get all the food groups in the dish. So, dive in and call this nacho dish dinner, snack, or whatever meal is next for the day. Oh, and make a double batch if you have friends coming over. You'll need it!
Photo: Moms Who Think
Lasagna normally gets a bad rap, due to all the ingredients and layering. However, this lasagna recipe is quick and easy to make. The Mexican flavors add a kick to this traditional dish. Serve it with a loaf of garlic bread and a salad to ensure no one will be hungry later.
Photo: Moms Who Think
There is no need to buy a box mix when you can make this beefy pasta casserole from scratch in less time. This crowd-pleaser is exactly what you will need for Sunday dinners, weekend gatherings, or those rushed weeknight meals.
Photo: Moms Who Think
Cheesy dinners are the one thing all kids love. If you have cheese-lovers in your family, we recommend making this baked ziti recipe. Despite the mushrooms, it will be gone in no time at all. Plus, it is so simple to make. You can even prepare it in advance and heat it up prior to serving.
Photo: Wholesome Yum
You will need a few ingredients to make the salad for this recipe and another few ingredients for the dressing. You could use your favorite bottled dressing, but then you would miss out on the Big Mac flavors from this homemade version. This is the perfect option for those days when you are craving a cheeseburger, but know you need to eat a salad instead.
Photo: Cd Kitchen
Leftover rice is what makes this dish quick and easy to make. If you want to use up all those leftovers in your refrigerator, simply toss what you can into a pan to make this recipe. The Asian ingredients create a unique flavor for this favorite dish.
Photo: The Anthony Kitchen
Beef empanadas are simple to make when you use store-bought dough. Make a few extras, because these empanadas will disappear off the plate before they have even had the chance to cool off. We recommend serving them with all sorts of dipping sauces to enhance the flavors.
Photo: Mom on Timeout
Ground beef, vegetables, and tater tots all make up this delicious one-pot casserole. Place everything in a dish, bake in the oven, and watch it be devoured. Easy to make. Easy to serve. Easy to clean up.
Photo: Insanely Good Recipes
Hey, Elvis made peanut butter and bologna sandwiches, so why can't you make a peanut butter burger?! Once you take a bite of this burger, you will not longer be able to eat a regular burger ever again. It's creamy, nutty, and simply sweet. Top with your favorite toppings on a bun and enjoy with a few fries.
Photo: Spend with Pennies
You can use as many, or as few, ingredients as you wish when you make these ground beef burritos. Simply have everyone make their own or serve them up already made and ready to eat. Choice is yours!
Photo: Spend with Pennies
Grab some already made meatballs from the freezer if you have them to make this recipe even easier to make. Simply pile the meatballs, sauce, and cheese into a sub roll and enjoy. Toast them in the oven to make the cheese melt if you have the time.
Photo: Yummly
These mushrooms can be served as an appetizer, or you can choose to make it an entrée by serving them with potatoes and a vegetable. The choice is yours. However, we recommend making extras. We have never seen people stop at just a few. They simply devour these.
Photo: Yummly
One of the easiest ways to use up all that zucchini from the garden is to make these zucchini boards stuffed with ground beef. They can be ready in about 30 minutes, which is perfect for those busy weeknights.
Photo: Moms Who Think
This casserole dish has numerous ingredients that when combined create a meal packed with flavor. This dish is easy to prepare. You won't spend hours in the kitchen making it. And yet, it will taste as if you did.
Photo: The Slow Roasted Italian
It only takes five ingredients to make this delicious chili recipe. You won't be skipping putting chili on the menu once you have taken a bite of this chili. It is packed with flavors. Plus, it is easy enough to make on those nights filled with other obligations. You can even make it in advance and let everyone serve themselves when they are ready to eat.
These are 30 easy ground beef recipes that don't use tons of ingredients. Most of what you need can be found in your pantry, refrigerator, and freezer. So, make a list of what you will be trying this week, head to the store to purchase what you need, and eat well every day.
We are on Amazon, see our storefront here. Use coupon code VBKBLOG10 for 10% off your entire purchase of any Virginia Boys Kitchens on Amazon. Apply the code at checkout.