35 Gourmet Hot Dog Topping Recipes - Savoury and Delicious!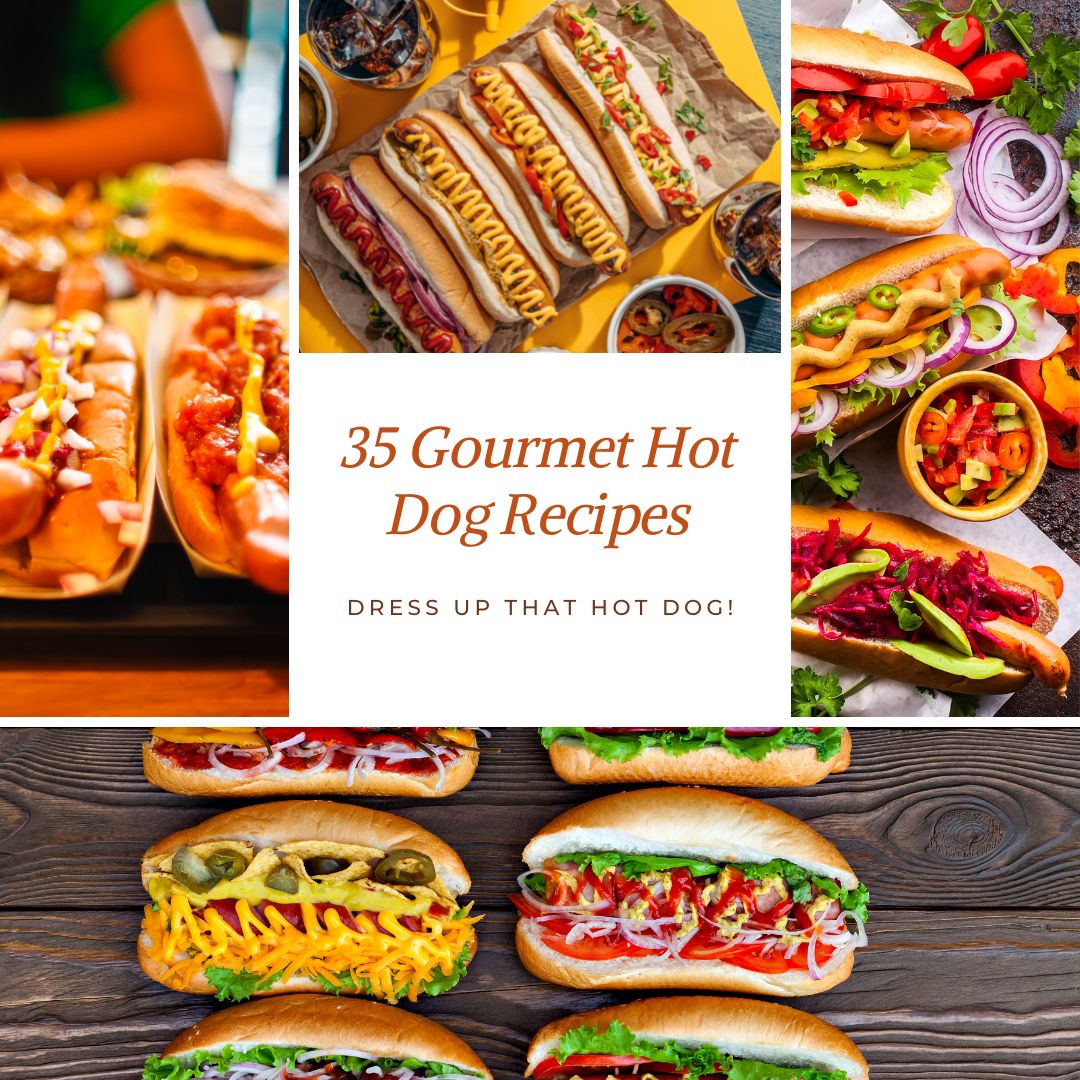 Hot dogs are a staple of summer, yet they can be eaten at any time of the year. If you are planning a party, or simply want an easy dinner that appears gourmet, we have you covered. Hot dogs are simple to make. You can easily jazz them up by adding toppings that will make any hot dog appear gourmet. Today, we are sharing our favorite hot dog recipes. We hope you like them as much as we do.
Photo: Bottom Left of The Mitten
A few states seem to have their own version of the best hot dog. It's kind of like pizza. It's kind of funny though, because this hot dog is famous in many places, just not the state of Michigan! The infamous Michigan sauce that tops this hot dog is made from tomatoes, vinegar, brown sugar, and spices. Make a little extra sauce for these hot dogs, because it is best to pile it on.
Photo: My Colombian Recipes
We have seen our share of hot dogs with ketchup and mustard. However, we haven't seen too many hot dogs topped with coleslaw and pineapple. The sweetness from these two ingredients surprisingly pairs well with the crushed chips and regular toppings like ketchup and mustard. Trust us when we say you really need to give this one a try!
Photo: The Six Figure Dish
The Brazilian hot dog is piled high! So much so that it may be difficult to actually get a full bite in your mouth. Don't be alarmed when you see the peas, corn, and shoestring potatoes in the recipe. It all goes together perfectly to create the best tasting hot dog.
Photo: Culinary Ginger
The Mexican twist on these hot dogs will have you wondering how often you can put them on the menu for taco night! The cilantro, avocado cream, and salsa add just the right amount of flavors to ensure these hot dogs really do belong in a Mexican night menu rotation.
Photo: Sugar Dish Me
These hot dogs are topped with a tasty beef chili, as well as onions and coleslaw. They are always a hit when served at BBQs. Don't think they are too fancy for ordinary weeknight dinners though. They are quick to prepare, which means you can have a full meal on the table in no time at all.
Photo: Food Folks And Fun
What could taste better than a delicious hot dog wrapped with crispy bacon? In our opinion, nothing unless you also top that hot dog with caramelized onions! You can make these hot dogs in the oven or on the grill. This is good news, especially if it starts to rain right before you start to cook. Make sure you start those onions early enough, so they are ready when the hot dogs are piping hot.
Photo: Damn Delicious
Banh mi is normally served in sandwich form. However, there are no rules that state you cannot transform this Vietnamese sandwich into a hot dog version! Pack on those pickled veggies, chilies, and sweet and spicy sauce. Then take a bite and savor all those flavors. 
Photo: A Spicy Perspective
If you love hot dogs and nachos, you are in for a treat! Pile all your favorite nacho toppings on top of your hot dog and then try to fit everything into your mouth. And yes, this recipe shares what ingredients to use. But we feel if you have a favorite nacho topping that isn't listed, throw it in with all the rest. You won't be disappointed!
Photo: Girl Gone Gourmet
We all know onions go perfectly on hot dogs, but have you ever had a hot dog topped with caramelized onions? How about those and melted gruyere cheese? Add the super simple sauce from this recipe and you have one tasty hot dog. We recommend making a few extras, because these will disappear fast.
Photo: Frugal Mom Eh
We don't think there's a rule about eating hot dogs for breakfast. And you really can't say no to this one since it is topped with hash browns, bacon, eggs, and cheese. Heck, it's basically a breakfast sandwich in a hot dog bun! Who wouldn't want to eat this at any time of the day.
Photo: Bottom Left of The Mitten
You won't be able to resist the pretty colors when you make these hot dogs. The red from the BBQ sauce, green from the onions, and either white or orange from the cheese will perk you right up. Maybe make these on a rainy day when you need something bright in your life. Or just whenever you want something yummy to eat.
Photo: 4sonrus
Sometimes all you need is a little of this and a little of that to make a really good hot dog. This Cuban hot dog is topped with a couple unique ingredients like sliced ham and melted Swiss cheese. All those flavors really come together though and create one of the best tasting hot dogs out there.
Photo: The Endless Meal
This is another hot dog that has pineapple on it. We know you will love the Hawaiian twist on this recipe. It says the cayenne pepper is optional, but we recommend putting even the smallest amount on. It takes the flavors to a whole new level. Especially if you add in a couple extra jalapeños.
Photo: Lets Dish Recipes
This southwest inspired hot dog will have you ready to pack your bags and head to New Mexico. Or even Arizona. Chipotle peppers are used to add a little smoky spice. Don't forget to spice up your sour cream too, because that just adds an extra kick. One bite and you will be hooked on these hot dogs. 
Photo: The Penny Wise Mama
One of the best places to get hot dogs in this country is New York City. They sell them on almost every street corner there. This New York hot dog is both salty and sour. All the ingredients pack a punch to make it flavorful in a lip puckering kind of way. Add a little extra sauerkraut to really get the full effect when eating this hot dog.
Photo: The Salty Marshmallow
When you are craving chili or maybe a few Fritos, what are you supposed to do? Well, we suggest making a few of these Frito pie chili hot dogs! You get all the foods you are craving, some crunch, and a full meal all at once. This is one of the easy weeknight dinners that will be a winner with your family. 
Photo: Taste And See
Everyone loves grabbing a Philly cheesesteak, especially when they are visiting Philadelphia. However, why not make a hot dog version of the cheesesteak? Add a few sauteed onions and peppers, as well as melted cheese, to the top of a hot dog and there's your new Philly cheesesteak.
Photo: Dinners Dishes And Desserts
You really can't go wrong when you top a hot dog with barbecued pulled pork. Add a little coleslaw on top of that and you really have a winner! There are so many variations of barbecue sauce out there. Try a couple different types and see which one is your favorite when paired with a hot dog.
Photo:  Taste And See
A new twist on Asian fusion is the Korean slaw hot dog. The topping for this hot dog includes spicy kimchi and sweet and tangy Asian slaw. Add in some barbecue sauce and you really have a topping that pairs well with hot dogs. If you're craving Asian cuisine today, make one of these hot dogs right away. 
Photo: Taste And Tell Blog
Yes, the best place to eat a Coney Island hot dog is Coney Island. But if you can't make it to Coney Island when you are craving one, then making your own should be at the top of your list. All the spices make the beef sauce flavorful. Make a little extra, because you may find yourself eating it by the spoonful.
Photo: The Baker Mama
Two classic meals include hot dogs and grilled cheese. We don't think we ever would have thought about combining these two into one dish. It looks like it is possible though. And grilled cheese hot dogs look delish! Sink your teeth into one of these the next time you are feeling a little under the weather. You should perk up in no time at all.
Photo: How Sweet Eats
You may have had a loaded baked potato before. Have you had a loaded hot dog though? This version is covered completely with garlic mushrooms, caramelized onions, crispy bacon, and cheddar cheese. Every bite will be ooey-gooey and packed full of flavor.
Photo: Noble Pig
Hot sauce is the star of this hot dog. A little is used to spice up the mayo. The rest is spread right on top of the hot dog. Add a little celery and blue cheese and you may need to convince yourself you are not eating chicken wings.
Photo: Recipe Zazz
This hot dog is topped with plain cabbage. That is a quite unique topping for a hot dog. Especially with the other toppings in the recipe. We recommend adding lots of toppings to this hot dog, because then it can be "all-dressed". That is how the locals in Montreal like them!
Photo: Chilean Food And Garden
Hot dogs in Chile are twice the size of the hot dogs here in the US. So, while Chileans may not be able to finish their hot dogs in one sitting, you should be just fine. This hot dog has authentic Chilean toppings that include aji pepper and green sauce. There is a little spice when you take your first bite.
Photo: Simply Recipes
You will want to be hungry when you make the New Jersey Italian hot dog. The fried potatoes themselves could be considered a full meal. Don't skimp on the deli mustard either. It adds just the right amount of zing to an already winning hot dog!
Photo: The Spruce Eats
Chef Michael Symon knows how to cook, and he has put quite the spin on Cleveland's favorite hot dog. There are a few different variations of this version of the polish boy. Traditional versions are topped with French fries, coleslaw, and barbecue sauce.
Photo: I BHG
Macaroni and cheese is the ultimate comfort dish. If you happen to have any leftover in the fridge, heat it up and make one of these mac and cheese dogs. And if you don't, well, whip up a batch of your favorite. This is one hot dog you won't want to miss out on trying.
Photo: Cooking Channel Tv
Hot dog carts throughout DC sell this hot dog, which locally is known as the half-smoke. You can add all types of toppings to the top of this hot dog to make it the best one you have ever eaten.
Photo: Oh So Delicioso
Puka dog happens to be the signature hot dog of Hawaii. If you can keep yourself from laughing at the name, you may find yourself enjoying every delicious bite. Shredded coconut is the base of the relish. It adds a little sweetness you might not expect when you bite into a hot dog.
Photo: Melanie Makes
The beer cheese fondue is what really adds that little extra to this version of a hot dog. You can add any toppings you want, but don't skimp on the cheese, chili, or the sour cream. The pico de gallo is also a nice touch and helps cool down the jalapeños.
Photo: The Food In My Beard
One of the most unique hot dogs we discovered is this Idaho potato dog. Instead of placing the hot dog in a bun, it is placed in a baked potato. The hot dog is then topped with bacon bits, chives, and sour cream. Oh, and don't forget to add a little shredded cheese on top of it all. The result is going to be the best baked potato you have ever had.
Photo: Show Me The Yummy
The one ingredient you probably thought you would never see on a hot dog was cream cheese. Well, it is one of the big ingredients in the Seattle hot dog! And let us tell you… The cream cheese works. It adds a creaminess you wouldn't expect when chowing down on a hot dog.
Photo: Nestle Professional
Traditional slaw hot dogs are topped with slaw, chili sauce, and onions. Nothing else is allowed to be placed on top of one of these hot dogs. Don't worry! These toppings are tasty enough to make this one of the must-try hot dogs this year.
Photo: The Savage Wiener
There are a couple states where reindeer hot dogs are popular. Alaska is one of them. And no, these hot dogs are not made from actual reindeer meat. Once you have piled your hot dog on the bun, you must top it with cream cheese, Coca-Cola deglazed onions, and mustard. Those three things are what turns a hot dog into a reindeer hot dog.
These are 35 of the best hot dog recipes we discovered. Give a few of them a try today and see which one is your absolute favorite.
We are on Amazon, see our storefront here. Use coupon code VBKBLOG10 for 10% off your entire purchase of any Virginia Boys Kitchens on Amazon. Apply the code at checkout.