Best Brisket Knife: Tips from the Pit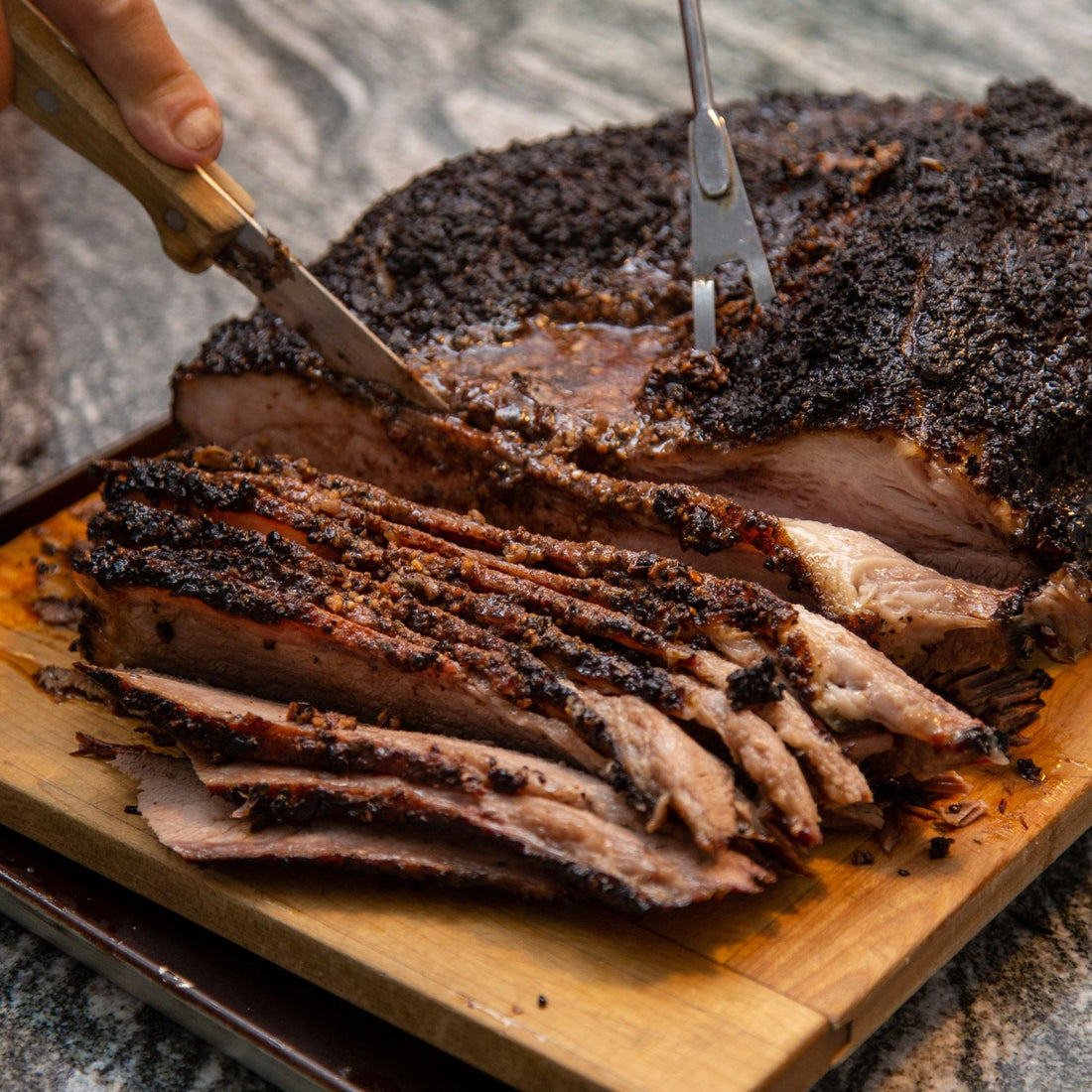 The journey to a great brisket starts long before you turn the smoker on. After all, you can't just grab the meat from the shelf and toss it onto the grill. At least, not if you want a great meal! The best brisket knife can make this journey one you enjoy and help you avoid a kitchen nightmare. Fortunately, we have a list of knives to help you breeze through brisket preparation and ace the slicing of a beautifully cooked brisket.
Trimming Your Brisket
Trimming is a vital step in getting your brisket ready. Moreover, breezing through this step calls for a good knife. As we go through the ins and outs, we may as well address the following age-old questions:
What is trimming?
Trimming brisket means removing the dense fat layer on the surface of the brisket. Through this process you will shape your cut by removing edges that would usually burn in the smoker. Here is how to go about it
How do you Trim Brisket?
Start with a cold brisket. Warm brisket makes for leathery fat that is difficult to cut.
Using the best, sharp brisket knife you have, start trimming the softer fat and work towards the tougher sections. Trim as close to the meat as possible. You are free to leave about ¼ inch of fat on the brisket if you like.
Remove the fat edges.
Round the edges to shape your brisket
Turn the meat and repeat the process on the underside.

Despite the debate around whether or not to trim your brisket, we always suggest a decent trim to allow your seasoning blend to absorb into the meat. Additionally, if your guests won't eat it anyway, the extra fat only serves to increase the cooking time of your brisket.
What Should you do With Brisket Trimmings?
Don't throw them out! Just because you trim the meat off doesn't make it waste. You can always use it for burgers or for making beef tallow. To help, we've compiled a list of 5 different things you can do with brisket fat. We even have a guide for how to make beef tallow from brisket fat!
Our Guide to the Best Brisket Knife
Now that we've addressed trimming, let's help you find a few good knives that will make your preparation easy! Plus, we'll throw in an extra for when you want to slice your smoked brisket like a pro.

The Chef's knife is the ultimate food preparation staple. It's an easy pick when it comes to preparing your brisket. This knife is the best brisket knife because it lives up to its name; a good chef's knife makes food preparation at home as convenient as what you see on your favorite cook show.
This Chef's Knife is the perfect companion for trimming, dicing, and mincing any ingredients and herbs you would like to add to your seasoning mix. Furthermore, the knife comes with high carbon stainless steel to make sure rust has no place in your knife drawer. Finally, wooden handles will give you the grip of a master. Our knives are also pre-sharpened with a tapered edge to ensure you are in control while working on the chopping board.
This is an upgrade to the Chef's knife as you get three knives to take you the extra mile. As much as we love the Chef's knife, we have to admit that it doesn't get into the detail work. It helps to have two other knives to turn to.
Getting into the crevices of your meat will get you as close to a perfect trim as you possibly can be.
Along with the chef's knife, you get a utility knife and paring knife that you can reach for to take the bulk off your hands and get the perfect trim. These knives have classic polished wooden finishes and are the perfect addition to any brisket party.
As a meat enthusiast, you have every reason to own a carving set of your own. In case you're in the market for one, you're right on track for barbeque season. Try to find a knife that is long enough, about 12 to 14 inches, to slice through your brisket in one go. You may also want to do a lot of maintenance work to ensure your knife stays in an optimal position; uneven slicing will cost you that juicy goodness! There are people who swear by a serrated carving knife. However, you can always pick what is more accessible and comfortable for you. The end goal is to have your brisket looking just as good as it tastes.
Final Thoughts
Making brisket is one hell of a process, and we want to make sure you can look at your handiwork and do the happy dance inside. We hope these knives will help you get the picture-perfect prep and serve you've been dying to try all winter. Good luck.
RELATED PRODUCTS YOU MIGHT LIKE
Made in USA knife. View the entire collection of knives.
You May Also Like...
View our entire collection of dark wood walnut reversible boards - there are many shapes and sizes to choose from. Find your perfect board for your next steak, bbq, stew, or smoked meat!
We are on Amazon, see our storefront here. Use coupon code VBKBLOG10 for 10% off your entire purchase of any Virginia Boys Kitchens on Amazon. Apply the code at checkout.