Large Cutting Board: 7 Unconventional Uses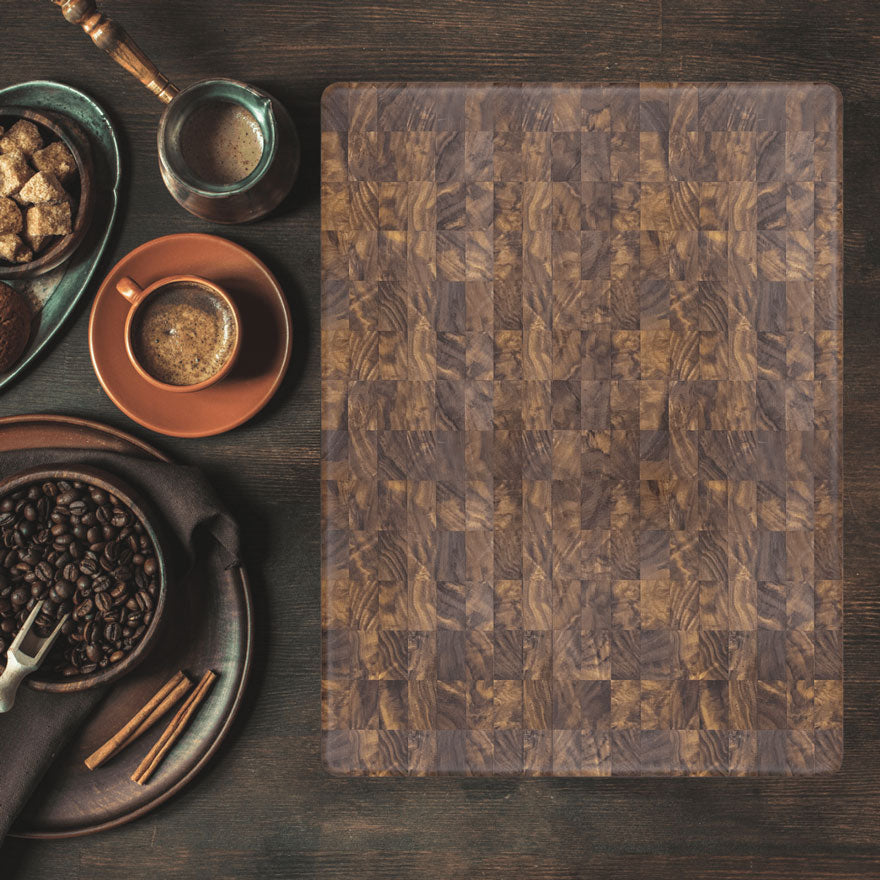 Large Cutting Board: 7 Unconventional Uses
What would we do without a good ol' handy cutting board in the kitchen? Very little.
This major kitchen accessory is a must-have in any type of kitchen all over the world.
But the true beauty of a cutting board is that it can be used for different tasks, some quite unconventional.

20 x 15 Large Walnut Cutting Board with Juice Groove
Aside from cutting meat, carving chicken, and food prep, these handy blocks of wood can do a lot more than they're set out to do.
You can creatively use them as interior decor pieces, clipboards, cheese boards, and even painting easels.
Virginia Boys cutting boards are quite an investment. Our gorgeous walnut cutting boards are an enviable addition to any kitchen.
Below are simple ways to turn these cutting boards into handy items without damaging them. 
Centerpiece Tray
Our large cutting board can work as a centerpiece tray for your table in place of a metal or plastic tray.
Sturdy and aesthetically pleasing, this 13.5 Inch Round Wood Cheese Board serves the same purpose as the tray would — to hold your lovely decor pieces and ground your coffee table or ottoman.

13.5 Inch Round Walnut Cheese Board with Groove
The large board will hold components like tea lights, candelabra, reed diffusers, and more. These arrangements are a lovely way to style your table and store items that get lost easily, like house keys.
Our cutting board can also work as a regular decorative tray that is not necessarily the centerpiece on a table.
Charcuterie Board
Our large wood cutting boards double up as charcuterie boards to place your gourmet snacks. Line up the finest cheeses, cured meats and fruits on our 10x16 Inch Walnut Cutting Board with a Knob Handle. 

10 x 16 Walnut Cutting Board with Knob Handle
The sturdy block of wood is a broad enough surface to hold all your tasty goodies on a picnic with that special person or with your family and friends.
The best part is that you can cut up your tasty treats right on the board before arranging them artistically.
Pack our large walnut boards with you as you frolic around under the sun all summer.
See Also: Why Walnut Makes for the Best Cheese Boards, Handle Boards & More
A Base for Little Potted Plants
Do you have a bevy of beautiful little succulents on a shelf or surface?
Put them together on our 20x13 Inch End Grain Large Walnut Cutting Board with Chessmaster Pattern. Doing this brings them all together and makes a mini garden right on the board. The board even has inbuilt handles, making it easy to carry around.

20 x 15 Extra Large End Grain Walnut Wood Cutting Board
You can put these plants on your kitchen counter or a large windowsill in the attic.
The best thing about succulents is that if they don't have a drainage plate below them, they needn't be watered down to the bottom.
This will keep your board dry most of the time and your plants happy and healthy.
Our large cutting board will be the backbone upon which your plant pots sit.
Trivet for Hot Dishes
If you have some piping hot food right out of the oven, you can place it on our 20x15 Inch Large Walnut Cutting Board with Juice Groove. 

20 x 15 Large Walnut Cutting Board with Juice Groove
Instead of a dishcloth or the usual dish holder, let the cutting board hold your hot dishes. 
A wood cutting board can make for an excellent placeholder for hot plates in your kitchen. This prevents the hot dishes from burning your countertop or table.
Wood doesn't conduct heat energy, which makes our wooden blocks adept at holding sizzling hot dishes.
The board's integrity is maintained as well.
See Also: Three Major Differences Between High-Quality and Low-Quality Cutting Boards
Painting Easel
If you want to unleash your inner Picasso and have no easel, that shouldn't stop you from painting.
Our Extra Large End Grain Walnut Cutting Board doubles as an easel. This board measures 20x18 inches, which will fit any A3, A4, or A5 paper. The board is a work of art and has a distinct brick wood pattern.

20 x 15 Extra Large End Grain Walnut Wood Cutting Board
Lay your painting paper or blank canvas onto the board with some masking tape, and voila, you are ready to paint away.
Kitchen Gallery Wall
A gallery wall is an ingenious way to spice up your kitchen. Instead of using paintings, you can hang one or more beautiful cutting boards on your wall. The boards can be of different shapes, sizes, and styles.
Our large cutting boards can feature on your gallery wall. Grab this 4x20 Inch Walnut Cutting Board and Bread Paddle with Handle to create the gallery effect on your walls.

4 x 20 Walnut Cutting Board and Bread Paddle with Handle
If you don't want to hang it, you can use it on the countertops as decor pieces as well. You are free to use them for cutting, and you can put them right back when you're done. 
Clipboards
If you love writing recipes and shopping lists you can make a handy clipboard using a large cutting board.
Instead of sticking hundreds of your recipes on the door of your refrigerator, you can neatly hold them on a clipboard made from a cutting board.
To do this, you should use our 18 x 24 Inch Extra Large Walnut Chopping Board With Juice Drip Groove. Ensure that the board is clean and dry before you begin.

24 x 18 Extra Large Walnut Cutting Board with Juice Groove
Other items you need include some handy super glue and some clipboard clips.ou can get these from old clipboards or purchase some in handicraft stores.
Stick the clip to the dry board with strong super glue, and give the glue time to set. Voila! You can write your to-do lists on an ample surface.
And with those uses, you can put a unique twist on our large cutting boards in your pantry.
Quick Summary of Each Unconventional Use + the Ideal Board to Use
Below is a review of the boards listed above and their corresponding unconventional uses.
Wooden Cutting Boards Are the Best Kind of Cutting Boards
Chopping boards don't have to be just for carving and cutting up food in your kitchen, but also for the quirky, creative and unconventional ways listed above.
You should consider wood over any other material like polypropylene for a cutting board. Wood lasts longer and can be used for more compared to plastic cutting boards.
Most of our boards are end grain boards. These boards are of superior quality in comparison to edge grain boards. End grain boards are:
Durable and last longer because they are thick compared to edge grain boards.
Cut along a tree's growth rings. This way, the boards are resistant to knife nicks because the wood springs back up. 
A rustic delight to the eye, as most times you can see the tree growth rings.
The best material for your knives, as they keep them sharper (runs perpendicular as opposed to parallel to the cutting surface).
Our large cutting boards are made in the USA, where we pay special attention to every facet of our production. Our boards are durable, made sustainably, and are of incredible quality—they can last a lifetime.
Related: Best Wood to Use for End Grain Cutting Boards
Below is a review of one of our boards.

Darrell R. Customer Review
Timely delivery, great packaging, and a good quality board are assured when you purchase from us.
Our boards are an excellent gift to yourself and your kitchen, and also to your loved ones. We have a customized client gifting program so that you can get our high-quality cutting boards custom made on wholesale order and as corporate gifts.
Choose Virginia Boys Kitchens today, for cutting boards that are more than just a block of wood. Our boards can be anything that you want them to be. 
Related Article Links:
Why Walnut Makes for the Best Cheese Boards, Handle Boards & More
Three Major Differences Between High-Quality and Low-Quality Cutting Boards
Best Wood to Use for End Grain Cutting Boards
We are on Amazon, see our storefront here. Use coupon code VBKBLOG10 for 10% off your entire purchase of any Virginia Boys Kitchens on Amazon. Apply the code at checkout.