5 Best Gifts for Meat Smoker: Gifts They'll Savor!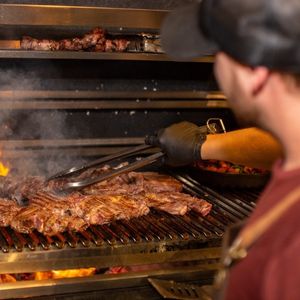 Meat smoking is perhaps one of the oldest methods of food preparation and preservation. Even so, it's come a long way since the ancient days. The best gifts for your meat smoker friend will bring innovation to their delicious, time-honored tradition. They can appreciate you while enjoying a perfectly browned, smoked, and woody-flavored piece of meat.
The 5 Best Gifts for a Meat Smoker
So what's the perfect gift to get your meat smoker friend? You'll need to let them know that you appreciate that you get to enjoy their handiwork from time to time. Trust me, you don't have to buy a smoker! Moreover, you won't have to leave the country to lose the debtors on your trail! Here is our list of (affordable) and useful gifts for the meat smoker in your life.
Why an extra large board, you ask? Wouldn't a regular board get the job done just fine? Well, most smoked meat cuts are huge. A great gift for a meat smoker would fill their need for something more than your standard-sized board. After all, you don't want to spend 12-13 hours smoking a meal only to pull out a few pieces of rib cuts. This 24" by 18" board is the perfect gift for anyone that likes to get their hands a little dirty on the grill.
It is large enough for resting and slicing smoked meat. Furthermore, your friend can use it to present the meat to guests. This board also comes equipped with a juice groove that ensures you keep all of your meat's natural juices to ensure that flavor that has been simmering for half a day is not lost on the table.
Every home cook can appreciate a high-quality knife set! No one could appreciate this gift more than meat smoker who spends hours working with meat. When working with meat, your friend needs a set that is versatile enough for preparation, trimming, and herb chopping. No one knife can handle getting into small corners as well as slicing through a huge block of meat. Therefore, a knife set is the best thing that can hit a meat smoker's kitchen.
This knife set is bound to receive praise years after you can remember gifting it. Indeed, it comes with an 8 '' blade Chef Knife, a 6" blade utility knife, and a 3.5" blade that makes prepping and presenting meats easier. Moreover, these knives have a sleek and appealing walnut finish that ties together the presentation of well-put-together smoked meat.
Of course, spending the big bucks on a quality board only makes sense if your chef can clean it. Using the wrong cleaning products may take away from the effectiveness of your gift. In any case, if you're feeling a little generous this season, you can pair our complete board care kit with your extra-large walnut board.
Our kit comes with a gentle board soap that we've made with natural oils. The oils protect your wood during cleaning. We also provide a seasoning oil to keep the board seasoned and looking its best and wax for protection.
This gift set could help keep a meat smoker's board at its prime for years to come. Plus, your meat smoker friend will know that you're helping them enjoy their hobbies. If you're worried about the components of our products, you can rest assured that they are all natural and perfect for serving up a smoked meat cut.
Washing down a well-done cut of meat with a glass of cold beer is pure bliss. You can help make it better by adding this glass to the equation. This 16oz pint glass by BenShot is the perfect way for your friend to enjoy a drink with a good afternoon meal. Undeniably, it's bound to keep your friends excited to grill in the outdoors.
This is a hand-crafted glass that comes with a bullet built into one of its sides, making it a standout piece at any barbecue party. BenShot has embedded the bullet into a 'bulletproof' glass that appears to pierce into the beer stopping midway. This piece will get guests talking and fascinate your friends with your gift-giving ability each time. Doesn't it help to know that your friends are enjoying the gift you got them, even when you can't make it to the party?


It would be a real tragedy if a meal that took over 12 hours to prepare came out bland. Not here though, because we know your friends season their meats! Spice blends can get pretty expensive as there is always a new blend taking pitmasters by storm.
This 8-piece spice set includes rubs, salts, and seasonings that are bound to keep your friends at the grill. These spice blends are handmade from natural, non-GMO products and packaged in small magnetic containers. This set includes; Montreal Steak seasoning, Taste of Cajun seasoning, Hickory Smoked Pork Seasoning, BBQ Sea Salt, Chipotle Sea Salt, Ultimate Gourmet BBQ, Smoked Prime Cut Seasoning, and a Garlic Pepper Rub. Grab this for a pitmaster and increase their flavor profile.
Final Thoughts
The gifting season doesn't have to be stressful or contribute to the mounds of waste laying in landfills. We believe these gift ideas will make an impact on any meat smoker!  Our suggestions will keep your friend smiling long after the gifting season is gone. We hope this helps take the load off your shoulders!
RELATED PRODUCTS YOU MIGHT LIKE
View our entire collection of dark wood walnut reversible boards - there are many shapes and sizes to choose from. Find the perfect board to show your appreciation for the best grill chef you know!
We are on Amazon, see our storefront here. Use coupon code VBKBLOG10 for 10% off your entire purchase of any Virginia Boys Kitchens on Amazon. Apply the code at checkout.