Affordable Ideas for Your Wooden Cheese Board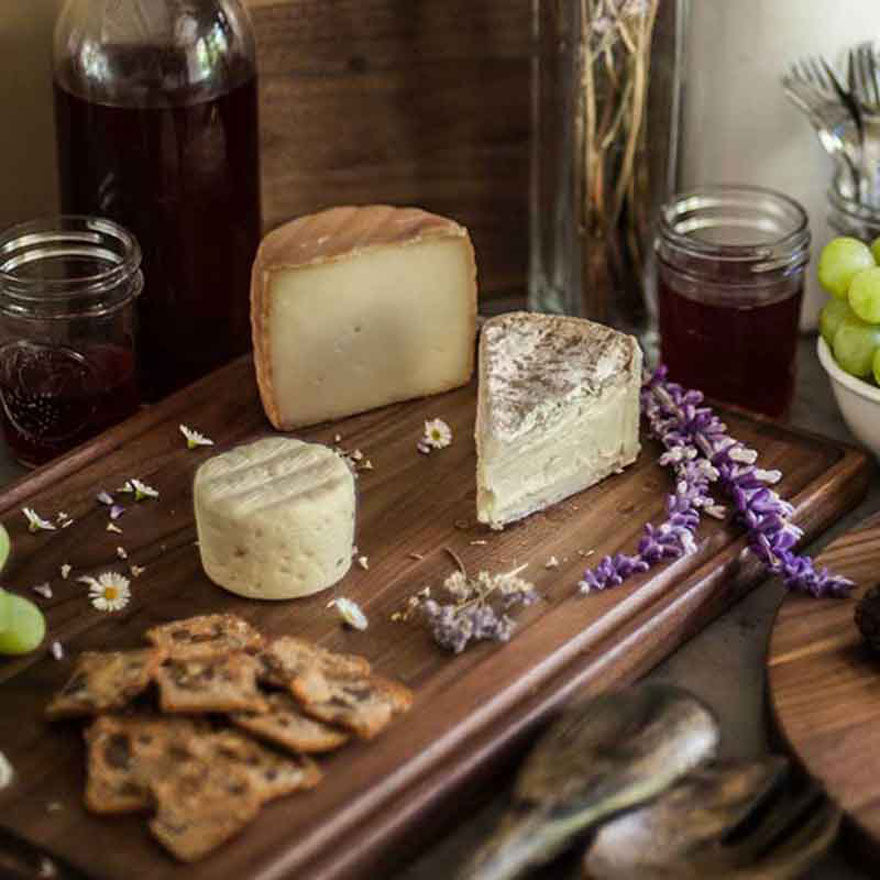 Affordable Ideas for Your Wooden Cheese Board
You have company coming over, and you're scratching your head trying to figure out what to serve them.
The idea of a luxurious, mouth-watering cheese board and a few glasses of wine sounds just about right.
An extravagant, beautifully displayed cheese board would bring a touch of sophistication to your party. Plus, it's a scientific fact that cheese and wine pair perfectly well together.
But to make a great cheese board, you'd need
An assortment of cheeses
Some crunchy flavors
A few salty items
Some sweet treats
Condiments 
That sounds like quite a lot, especially on a tight budget right? Well, not really.
You'll be happy to know that a great charcuterie cheese board doesn't have to break the bank to look impressive and give mouth feels of delectable taste.
Let's have a look at some tips for an affordable wooden cheese board. 
See Also: A Simple Guide to Choosing the Best Wooden Cutting Boards
Tips for a Delicious Cheese Board Display on a Budget 
Don't Splurge on the Cheese 
As much as splurging on many varieties of the creme de la creme of the cheese brands would make your board out of this world, it won't be kind on your pocket.
Instead of going all out on expensive cheeses, pick out at least four different types of affordable cheese from the grocery store or deli.
Get a few alternatives of soft cheeses like Havarti, Monterey Jack, Blue, or Brie.
Tip: Buy a little more of the cheaper kind and smaller bits of the more expensive cheeses.
Along with the soft varieties, include some types of hard cheeses like Cheddar, Swiss, Manchego, or Parmesan.
You don't have to buy the whole block. Some shops will sell small pieces of cheese ends.
If your grocery store doesn't have those on display, ask at the cheese counter if they can sell you the smaller off-cuts leftover from their bigger pieces.
Remember to buy only the edible parts of the cheese; avoid the ones with unedible rind.
Get Creative
The way you slice up and display the cheese makes it look more sophisticated.
Cut up the more expensive cheese varieties in long thin strips. You can alternate between rectangular strips and wedges that take up a bigger chunk of space on your board.
Arrange the strips in pinwheels, circles, or rectangular arrays to make your display more spectacular. That will cover for the fact that there's not much of it. 
Fill up the board with more of the cheaper cheese varieties. You can cut them up into cubes and stack them up a little higher to make it look like there are lots of cheeses.
Don't Hold Back on the Accompaniments and Garnishes
The secret to creating an expensive-looking visual feast with your charcuterie board and still stick to a budget is in adding lots of accompaniments and garnishes.
Have as wide a variety of accompanying foods as you can get. Think about apples, olives, and any other fruits, nuts, and seeds you can lay your hands on. Be sure to buy lots of seasonal veggies and fresh fruits from the farmers' market to add volume to your board.
Chop and dice your fruits and veggies into many different shapes. You can use small serving bowls to put your nuts and round fruits to make your board even more Instagram-worthy.
Besides the accompanying foods, cheap and simple condiments like jam and honey can take your cheese board to a whole new level. Check your refrigerator for any pickles, jams, and sauces you might have stashed in there, and add a little bit of each to your board.
When it comes to your carbohydrate, stretch your dollar a little more by buying cheaper crackers. Keep your cracker selection to cheaper brands of saltine crackers that won't cost you more than $5 per pack.
You can reduce the cost even more if you substitute specialty crackers for some good old bread. Get a few varieties of bread that blend well with wine and cheese, like baguettes. A baguette will cost you $2 or less compared to the $10 plus you would have paid for fancy crackers. 
In fact, most breads work great with cheese as long as their flavors don't override the flavor of the cheese. 
Look For Cheaper Meat
Don't spend a fortune buying meat. Instead, choose a few cheaper varieties.
A variety or sample pack from your grocery store or deli will give you all the meat you need at a way lower price. You can get variety packs for as little as $5.
Also, walk into the deli and ask if you can buy the offcuts from their cold meats. Get little bits of expensive meats like mortadella and more of the cheaper kind like salami, prosciutto, and chorizo.
All you have to do is be cleverly cut and dice your meat and be artistic with your display.

13.5 Inch Round Walnut Cheese Board with Groove
How to Assemble a Cheese Board
Now that you have all you need, it's time to wow your guests with a fantastic cheeseboard display.
You can either go with the flow and do what feels good for you. Put your cheeses, condiments, meat, and accompaniments neatly on the board in any way you like. 

17 x 11 Walnut Cutting Board with Juice Groove
It will still look sophisticated but with an air of adventure that's sure to get some oohs and ahhs.
Alternatively, you can arrange your food in specific patterns. To do this:
Place your cheeses on the board with equal spaces in between them. 
Then put your small bowls of condiments on the board.
Now add the crackers and bread in specific patterns. 
Next, chop, roll and cut the meat and arrange it in patterns to fill up the spaces. 
Finally, fill in any gaps with your fruits, nuts, and other accompaniments.
Here's a simple video to help you out. 
Whichever way you decide to go, there's no right or wrong way to arrange a cheese board. 
Serving Up Your Breathtaking Cheese Platter
Your cheese platter is as good as the surface you serve it on. Nothing will ruin your hard work more than using an unappealing surface.
You need a strong and beautiful wooden surface that will make your board come together perfectly.
Plus, it will be great to keep using the same wooden serving surface for all your cheese and wine servings for many years to come.
Invest in a good quality walnut wood serving surface from Virginia Boys Kitchen. You can choose from a wide range of cutting boards that can double up as cheese serving boards or take your pick from the beautiful selection of serving trays.
See Also: Why Walnut Makes for the Best Cheese Boards, Handle Boards & More
Virginia Boys Kitchen only sells the best quality that will last for years (with a lifetime guarantee to prove it).
Remember to clean up your board after each serving, so it doesn't soak up the smells or get stains. Plus, you need to oil your board monthly to keep it looking great for your next cheese presentation.
For easy board maintenance, get your all-natural maintenance kit complete with seasoning oil, wax, and sanitizing spray from Virginia Boys Kitchen.
Don't wait any longer. Head on over to Virginia Boys Kitchen today to buy your wooden serving surface and start preparing for your pocket-friendly and appealing cheese presentation.
Related Article Links:
Why Walnut Makes for the Best Cheese Boards, Handle Boards & More
A Simple Guide to Choosing the Best Wooden Cutting Boards
We are on Amazon, see our storefront here. Use coupon code VBKBLOG10 for 10% off your entire purchase of any Virginia Boys Kitchens on Amazon. Apply the code at checkout.