A Simple Guide to Choosing the Best Wooden Cutting Boards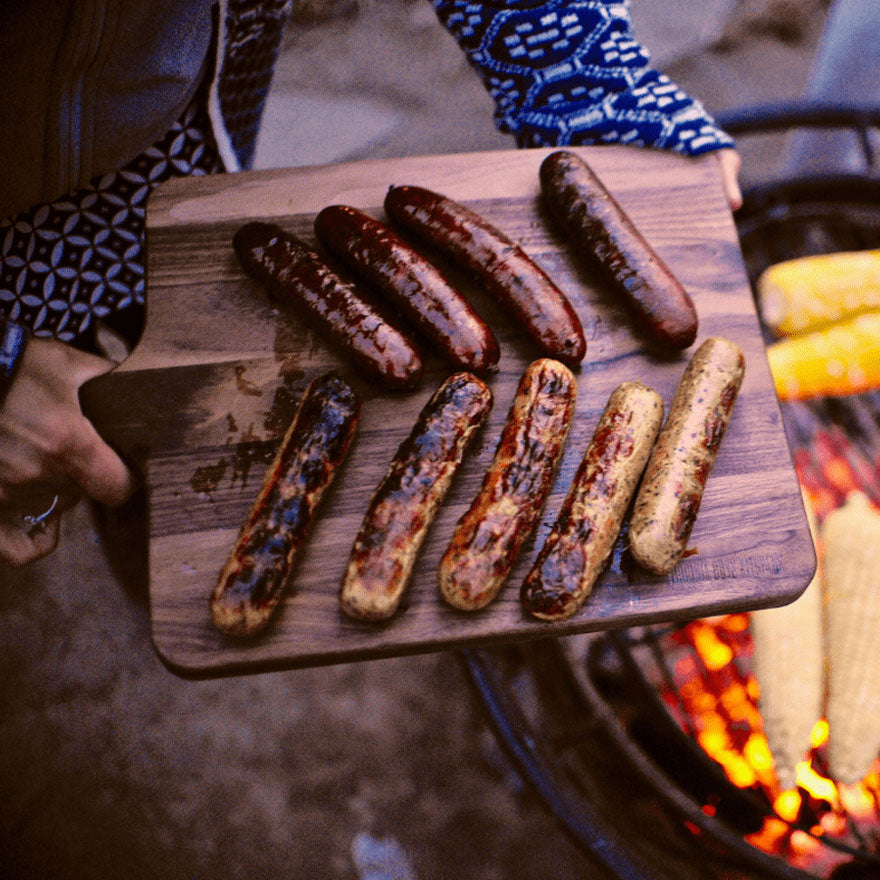 A Simple Guide to Choosing the Best Wooden Cutting Boards
Love them or hate them; here's one thing you and I cannot dispute; Gordon Ramsey and Alain Ducasse know how to cook.
But besides their stellar performances on reality TV cooking shows, both chefs treasure their cookware—key among them being their cutting boards.
Since the dawn of man—wood is, and remains, the best material used to make cooking cutlery.
Today, cutting boards are essential (after knives) tools in the kitchen for meal preparation. But with a plethora of wood-cutting boards out there, do you know which cutting board suits your needs?
Choosing a cutting board is easy once you learn the original materials available. You'll realize then that the choice is easier than you thought.
If you're having trouble choosing the right chopping board, we've broken down everything you need to know about wood cutting boards.
What to Consider When Choosing Wood Cutting Boards
Your knife needs a good cutting board. And with wooden cutting boards, your knives deserve excellent quality.
Using your knives on low-quality cutting boards is akin to taking one stride forward, and two strides back; the knife chops the food, but the chopping board dulls the knife.
That said, wooden material needs to meet specific standards to make good wood cutting boards. Also, celebrity chefs such as Ramsay prize these features above everything else when choosing their cutting boards. Whether you're a professional or an amateur chef, ensure your cutting board meets these features.
These are:
Porosity
Porosity refers to the size of the pores in the wood. These pores are present in all hardwood trees and serve the function of transporting water throughout the tree.
Hardwood makes the vast majority of wood cutting boards. So it helps to know what pores are and how they affect your board. Woodgrain (the appearance and size of wood fibers) dictates the porosity level in a cutting board.
Woodgrain is either open grain or close grain.
The latter is the best wood for a cutting board since it has a soft surface with tiny pores. These pores curb liquids from getting into the wood. Also, they ensure you have a bacteria-free chopping board.
Open grain wood has large pores and feels coarse. Such sizable pores allow food materials or liquids into the wood. It's also prone to warping as it absorbs and keeps more water.
Toxicity
Cutting boards come into direct contact with our foods. So, it's easy to conclude they're made using non-toxic wood.
However, some tree species can produce toxins and can affect your health. These include:
| | | |
| --- | --- | --- |
| Wood | Reaction | Area(s) Affected |
| Ash | Irritant | Hands, lungs |
| Pine | Runny nose, asthma, irritant | Lungs, hands |
| Oak | Asthma, sensitizer, irritant | Eyes, hands, lungs |
Avoid these cutting boards as the toxins can get into your foods during meal preparation.
Research by UC Davis-based researcher Dean Cliver shows that wood cutting boards from oak, maple, and walnut are less likely to contain toxic materials. Again, woods such as purpleheart—although exotic—are best left out of the kitchen.
If you're not sure what wood material to choose, consider wood from trees that produce sap, edible nuts, and fruits. Also, ensure any finishes on the cutting board, such as glue, are non-toxic.
Shape and Size
Let's discuss the shape and size of wood cutting boards.
It's simple: The shape and size you choose for your cutting board boils down to preference.
However, you need to consider whether your kitchen countertops can accommodate a particular size. After all, you don't want a cutting board that keeps veering off the edge of your kitchen countertops.
That said, standard chopping boards are rectangular with dimensions of 17-by-11-by-0.75 inches. Even better, you can choose a larger cutting board if your kitchen countertops are spacious. Larger cutting boards have measurements such as 20-by-15-by-1.75 inches or 24-by-18-by-1 inches.
Finally, it would help if you also examined the thickness. For an end-grain wood cutting board, ¼ to 2-inch thickness is ideal.
Knife-Friendly
A sharp knife is a critical tool in your kitchen arsenal. It brings to life the foods you prepare every day. In short, it acts as an extension of your arm.
But did you know some wood cutting boards can dull your knives?
Many people choose cutting boards based on emotional response. Others look at the board's appearance and how well it blends with their decor — and with good reasons.
But why would you want to sacrifice your set of sharp knives by cutting into a low-quality butcher block? Over time, this dulls your knives and reduces their longevity.
That said, a well-designed board should reduce wear and tear on the edges of your knife.
Avoid cutting boards made from bamboo wood. They have a compact material and will cause the edges of your knives to "fold over" and become blunt.
Related: Three Major Differences Between High-Quality and Low-Quality Cutting Boards
4 Best Kitchen Wooden Cutting Boards Based On Specifications and Dimensions
Specifications:
Dimensions: 24 x 18 x 1 inches
Weight: 10 pounds
Size: extra large
Pros:
It's made in the USA with certified sustainably grown walnut wood.
Suitable for carving large beef briskets — or anything else huge.
Knife-friendly
Customer Ratings:
Specifications:
Dimensions: 20 x 15 x 1.75 inches
Weight: 12 pounds
Size: extra large
Pros:
It has a BrickMason pattern
Ideal for larger meats, Thanksgiving Turkeys, and carving brisket
Made with high-grade wood
Specifications:
Dimensions: 13.5 inch diameter x 0.75 inches
Weight: 3 pounds
Size: large
Pros:
Ideal for appetizer spreads
Designed to last a lifetime
It has a groove around the edges to catch liquids from foods or vegetables.
Specifications:
Dimensions: 8 x 17 x 0.75 inches - Handle Length: 4 inches
Weight: 4 pounds
Size: Medium to large
Pros:
Designed with 100% clean and food-safe materials.
It comes with a handle for easy carry.
The board is pre-seasoned with pure coconut oil so that you can use it immediately.
See Also: Why Walnut Makes for the Best Cheese Boards, Handle Boards & More
End Grain vs. Edge Grain: Which Wood Pattern Should You Consider?
You'll hear chefs discuss end grain vs. edge grain in terms of their cutting boards. Each style has its unique features, and it's up to the consumer to determine which style they prefer. It also explains why carpenters design cutting boards from different perspectives.
So what's the difference?
End Grain
End grain cutting boards are designed from end pieces of wood. They identify with a checkered pattern that differentiates them from their edge grain counterparts.
Even though these cutting boards are expensive, consumers prefer them as they're knife-friendly.
With end grain, the pattern of the wood fibers allows them to open up to the knife's edge — a feature wood experts describe as "self healing." In short, it means the wood fibers close up after being cut by the knife.
See Also: Best Wood to Use for End Grain Cutting Boards
Edge Grain
We use parallel pieces of wood (fused) to make edge grain cutting boards. These cutting boards soak less moisture and are less likely to warp.
They require less upkeep than end grain wooden blocks — making them more durable. Besides longevity, these cutting boards are thick and weigh heavier.
Because of their compactness, edge grain cutting boards can dull your knives faster. Also, prolonged use of these cutting boards results in cutting marks which isn't aesthetically pleasing.
Best Wood For Cutting Boards
We've compiled a list of the best woods to help you choose an ideal cutting board. See how they stack up below.
Type of Wood
Reason to Choose
Maple

Excellent cutting surface
Scratch and impact-resistant

Walnut

Less likely to dull your knives
Offer more resistance to bacteria and moisture
Shrinks less than oak or maple

Teak

Highly resistant to scratches
Shrinks less than any of the three wood options
Buy Your Wood Cutting Boards Today
Your cutting board is essential during your meal preps. And at Virginia Boys Kitchens, we take that in all seriousness. We take pride in creating the best wood cutting boards to meet your needs.
Even better, we want you to have these priceless cutting boards in your home.
Even though we work with different high-quality woods, walnut is and remains our first love. However, you're free to choose a custom-made cutting board to grace your kitchen countertops.
Sounds like a good deal?
Visit our product catalog soon to make your order and start preparing your meals like a pro.
Related Article Links:
Three Major Differences Between High-Quality and Low-Quality Cutting Boards
Why Walnut Makes for the Best Cheese Boards, Handle Boards & More
Best Wood to Use for End Grain Cutting Boards
We are on Amazon, see our storefront here. Use coupon code VBKBLOG10 for 10% off your entire purchase of any Virginia Boys Kitchens on Amazon. Apply the code at checkout.