4 Gifts for the Cook Who Has Everything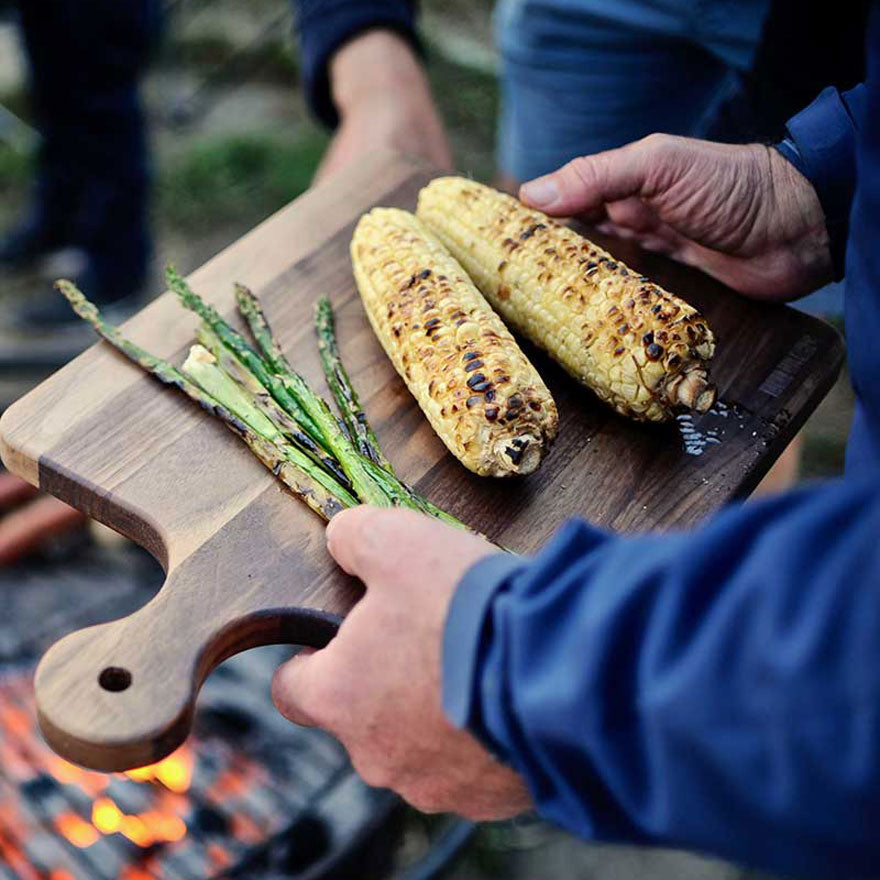 4 Gifts for the Cook Who Has Everything
You shut the door, close your eyes and force yourself to ponder.
Today, you must come up with the perfect gift for your friend.
5 minutes go by, then… yes! You've got it.
You will buy an apron and inscribe "World's Best She-f" on it. She's a chef, they always need aprons. Besides, the inscription would be a great pun.
But wait. Didn't you see "World's Best…" something on one of her aprons the last time she hosted you for dinner?
Oh, no. Doesn't she just have every gift you think of?
Well, don't get frustrated. The sky's still blue.
Since we are talking about the cook who has everything, we understand that there is probably not an item they haven't seen in their culinary years.
So what do you do? Opt for items that speak depth, outstanding quality, and insight.
This way, whether or not they have something similar, they will still appreciate the quality and uniqueness of your gift, as well as the thought put into it.
Admit, an apron, knife or cookbook is the first thing anyone would want to get for a cook.
So why not stand out? Use your gift to say, "Hey I don't just eat your food, but I also understand and appreciate the process."
At Virginia Boys Kitchens we are excited to come along on this journey, and even present suggestions.
Are you ready? Let's go shopping.
Single Gifts for The Chef in Your Life
A. The 10×16 Walnut Cutting Board with Knob

Medium 10x16 Inch Walnut Handle Board
Price: $99 + free shipping 
Shop here
What Makes it Thick?  
If your celebrant likes to host garden parties, then getting them this board will be a great way to spice up their parties. Wanna know why?
It's not just a cutting board, but also a serving tray. The perfect type for such small gatherings. 
It'll hold the right portion of food per time, and its knob will help guests grasp and pass it easily.
Like all our boards and trays, this masterpiece is made of walnut, which has lots of advantages to it.
According to a report by NC State University, hardwood like walnut is best as cutting board material because it doesn't hoard bacteria. Once properly treated after use, one can be assured that a walnut board is clean. Unlike plastic and softwood which may harbor bacteria even after intense cleaning.
See Also: Three Major Differences Between High-Quality and Low-Quality Cutting Board
Items made of walnut are also aesthetically pleasing, prevent dulling of knives, and are durable. There is no risk of finding bits of it in food because it does not chip off.
You're probably thinking, oh my celebrant already has a board. But they would appreciate the fact that you took time to get one with quality specifications and suitable to their needs.
Besides, it's hygienic to have separate boards for different food items. So adding one to your chef's collection is never a waste.
And you know the best part? We have a personalized version for mothers. 
See Also: Alternate Uses for Your Beautiful Serving Tray
B. The Round Walnut Cheese Board with Groove

13.5 Inch Round Walnut Cheese Board
Price: $75 + free shipping 
Shop the 10.5 here and the 13.5 here
What Makes it Thick?
Does your loved one shy away from the status quo? Then they would appreciate you stepping out of the usual square cutting board to this round beauty.
Do they handle a lot of wet food, particularly meat? Then this board will give them a doubled advantage.
A study by Fur-Chi Chen et al. revealed that 61% of meat juice transmits from the meat package to the kitchen counter. Can you picture how much more would transmit during the cutting process? The result is not only a mess but a risk of contamination, as raw meat juice may carry bacteria.
But with our Round Walnut Board, it's a cut-and-clean-the-grooves-process. No need to bother about where else food juice could have spilled to, as the grooves suck it all in.
The 10.5 is a good size, except your recipient cuts in large quantities per time, in which case we'd recommend the 13.5.
Want to know what else we'd recommend? Tie a ribbon on this item and present it with a smile that says, "I know you'll enjoy using this!"
See Also: Why Walnut Makes for the Best Cheese Boards, Handle Boards & More
Perfect Combos for the Chef in Your Life 
A. The 2 Piece Stainless Steel Carving Set with Walnut Wood Handles

2 Piece Stainless Steel Carving Set with Walnut Wood Handles
Content: 10" Stainless Steel Carving Fork and 9," Stainless Steel Slicer
Price: $170 (discounted price) + free shipping 
Shop here
What Makes it Thick? 
Chefs know the drill with utensils. They know that table knives and forks are not the best for cutting whole cooked chicken. Guests will only struggle with it till the food gets cold.
The solution is this slicer and carving fork, specially designed for fish, chicken and all things grill. And maybe pizza too if you love to dice yours.
Even the cook who has everything will agree that this is a great gift.
Its walnut-made handle gives it a good grip and ticks these requirements for a good slicer or knife handle:

What Makes A Quality Chef Knife?

Piece Stainless Steel Carving Set with Walnut Wood Handles
B. The Maintenance and Care Kit
Content: 8oz All-natural coconut oil, 4oz beeswax, and 8oz spray
Price: $56 (discounted price) + free shipping 
Shop here
What Makes it Thick? 
Remember the beef juice we spoke about earlier and how it may carry bacteria? One work of this trio is to eliminate such germs from surfaces.
The all-natural oil serves to hydrate cutting boards thereby prolonging their lifespan. Its major source—coconut—produces the best oil for a wooden cutting board.
The beeswax locks in the coconut oil for a longer effect. It also protects the board from bacteria and gives it an added shine.
Lastly, the spray which is also made from essential oils is handy to clean all germ-communicable surfaces and eliminate food smell.
We trust essential oils so much because they do not harm surfaces. Nor do they leave a smell/taste that transfers to food from places of contact like a bowl or cutting board. And yet they get the job done thoroughly.
Add quality to your loved one's maintenance process by getting them this care kit. 

Seasoning Your Wood Cutting Board: 4 Steps to Have it Last You Years
You Could Create Unique Combos
We understand that our shoppers have their preferences. Thus we have a system where you get a 10–25% discount if you pair two or more items of your choice.
Here are some items our shoppers love to pair:
| | | | | |
| --- | --- | --- | --- | --- |
| S/N | Item 1 | Item 2 | Total if Bought separately | Total if Bought as a Combo |
| 1. | 10×16 Walnut Cutting Board with Knob Handle | Basic Care Kit—Oil and Wax Combo | $155.00 | $115.00 |
| 2. | 13.5 Inch Round Walnut Cutting Board with Groove | 4×20 Walnut Cutting Board with Groove | $145.00 | $120.00 |
You Could Also Customize Your Gifts 
Buying products in bulk and branding them with your chef's business logo would be a deeply generous gift for a restaurant opening. It's a way of saying "I believe in your vision"
They could sell the items in their restaurant or gift them to clients. Either way, the brand is promoted and money comes back in.
Yes, logo engraving and custom sizes are part of the services we offer. You pay, we deliver.

Brand marketing the right way
The Decision is Yours to Make 
Still want to buy a knife or apron?
Or would you rather prompt a bigger smile than good Japanese food and quick Pizza delivery does?
If it's the latter, then come to us.
Here's a fun fact—for every product you buy, we give back to the environment by planting one tree. You could also pay in 4 installments with no interest.
So. Should we be expecting you? 
Related Article Links:
Alternate Uses for Your Beautiful Serving Tray
Why Walnut Makes for the Best Cheese Boards, Handle Boards & More
Three Major Differences Between High-Quality and Low-Quality Cutting Boards
We are on Amazon, see our storefront here. Use coupon code VBKBLOG10 for 10% off your entire purchase of any Virginia Boys Kitchens on Amazon. Apply the code at checkout.