Eco-Friendly Walnut Cutting Board: Possible or Unicorn?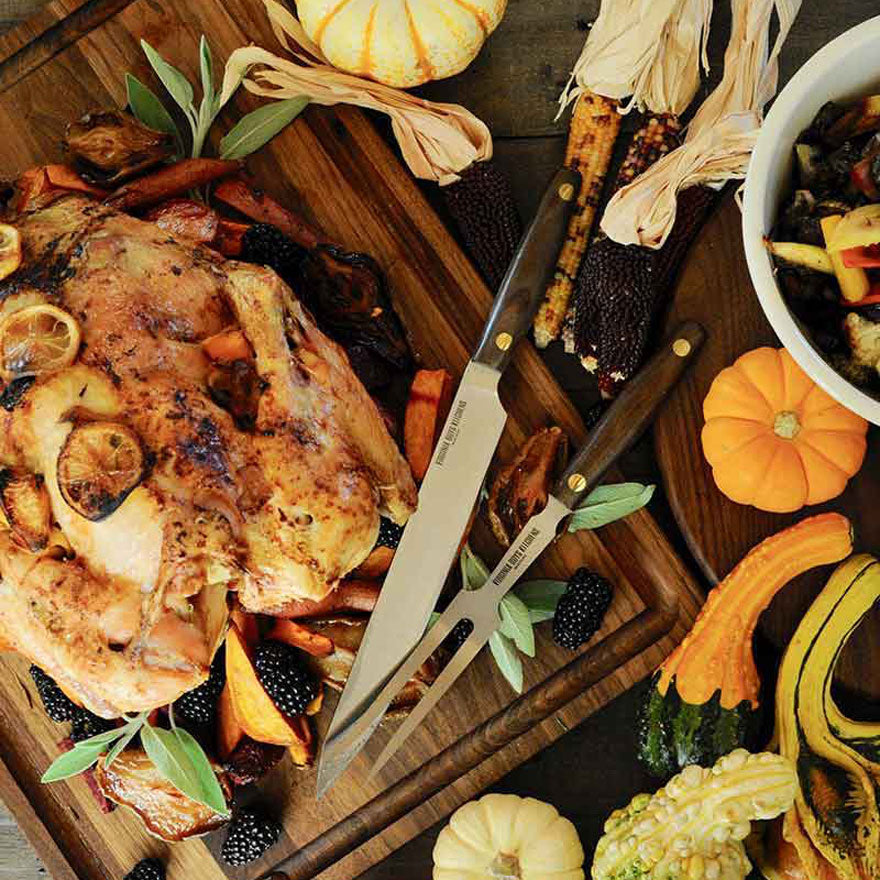 Eco-Friendly Walnut Cutting Board: Possible or Unicorn?
A cutting board is an essential tool for any chef. In a personal setting, your home kitchen is incomplete without it.
While there are other cutting board options —glass and plastic— wooden cutting boards are a better choice in terms of practicality and hygiene.
Beyond the kitchen, though, there are environmental implications of using wooden cutting boards.
What is the collective effect of people opting for wooden cutting boards, and specifically, walnut cutting boards? Is it a sustainable choice?
Yes, there are eco-friendly walnut cutting boards that are sourced from sustainable wood.
As such, having a walnut cutting board isn't only great for your health and kitchen, it's also environmentally conscious.
We've put walnut cutting boards on the chopping block to uncover why you should trade in your regular cutting board for one made using eco-friendly walnut wood. 
Why Should You Pick Walnut Wood?
Before settling on your cutting board choice, you've likely explored alternatives. You might have gathered that hardwood makes prime cutting boards. However, when it comes down to taste and preference, walnut wood looks increasingly more like the best option.
Walnut wood ticks almost all the boxes you'd check when buying hardwood cutting boards.
Related: Three Major Differences Between High-Quality and Low-Quality Cutting Boards
It shines in the following areas: 
Porosity 
Porosity is the measure of how many pores are in the wood. Ideally, you want a cutting board with the least porosity. Minimal pores ensure that the board doesn't harbor any remnant bacteria.
American walnut, the wood mainly used to make walnut cutting boards, is a close-grained wood. That means its pores are nearly invisible to the naked eye. Not only does this make it a great cutting board, but it also means it's less likely to let in and retain moisture.  
Superior Janka Hardness Score 
The Janka hardness score, measured in pounds-force, is the measure of resistance to force. A high Janka hardness score on cutting boards means the wood is less susceptible to dents and warping.
American walnut and black walnut have a Janka hardness score of 1010 lbf. For scale, mahogany has a hardness scale of 850. Red maple and silver maple, the other common woods used in cutting boards, have hardness scores of 950 and 710 lbf, respectively. 
| | |
| --- | --- |
| Wood type | Janka Hardness Score |
| Peruvian Walnut | 1080 lbf |
| American Walnut | 1010 lbf |
| Sugar Maple | 1450 lbf |
| American Beech | 1300 lbf |
| Teak | 1070 lbf |
| Black Cherry | 950 lbf |
With such solidity, you can use your board for a long time without it getting scratched, dented, or soaking up water when you wash. Also, your knives stay sharp however frequently you cut on the board. 
Walnut Is Food-Safe 
It would be easy to think of all hardwoods as excellent for cutting boards. Not true. Exotic hardwoods sometimes release toxins, especially after they come in contact with water.
Walnut is a fruiting tree. In most instances, trees that produce edible fruit make excellent kitchen products since the wood derived from them is food-safe. 
When you get a walnut cutting board, you shelf all your worries about toxins seeping from the wood into food and causing you health upsets. 
Aesthetics for the Win
If for nothing else, pick walnut for its exceptional beauty. Black walnut, for instance, has a dark color that makes it a beautiful kitchen accessory.
Even when it's a different ebony shade, such as Virginia-sourced walnut, it still has superior visual appeal.
Also, walnut cutting boards are either edge grain or end grain. Edge grain cutting boards are more susceptible to knife cuts and might dull your knife faster. However, they have a healing factor where the knife nicks close up over time. 

Extra Large End Grain Walnut Wood Cutting Board - ChessMaster Pattern
The more premium-priced end grain cutting boards also get knife cuts on the walnut wood fiber. However, they close up faster than edge grain boards. 
Trust Us for Your Cutting Boards 
When you look at your cutting board, what do you see? Just a board? Well, we don't just put together edges to give you a wooden board. We score our products on different metrics to make sure you appreciate the beauty sitting on your countertop. 

Devin D. Customer Review
We Use Sustainable Mineral Oil
Conditioning is an important care task that makes our boards durable and visually appealing. Cutting boards are treated once a month using wax or oil. At Virginia Boys kitchen, we use mineral oil to give your boards a final sheen and elegance.
Oil treating the board when it's new makes it last longer, further strengthening our commitment to sustainable ownership of eco-friendly cutting boards. 
See Also: Mineral Oil Vs. Coconut Oil To Season Wood Cutting Boards
Eco-Conscious Sourcing
We believe we owe it to Mother Nature to give back to the environment. We play our role by sustainably sourcing wood from forests that grow 2.4 times faster than the harvest and mortality rate.
Black walnut (juglans nigra) has a faster maturity rate. That's why we opt to get our wood from Virginia rather than the rarer California walnut. We also replant the trees, so there's always going to be a tree where we source your beautiful cutting board. 
Attention to Detail
Look at a Virginia Boys Kitchens walnut cutting board. It's a masterpiece with the right edges, thickness, and a juice collecting groove that makes it photo-worthy material.
It's the kind of cutting board with multiple uses. Since it has the same rustic look on both sides, it makes a versatile reversible board. Use one side for chopping your salad vegetables and the other to cut perfect chunks of meat or bread.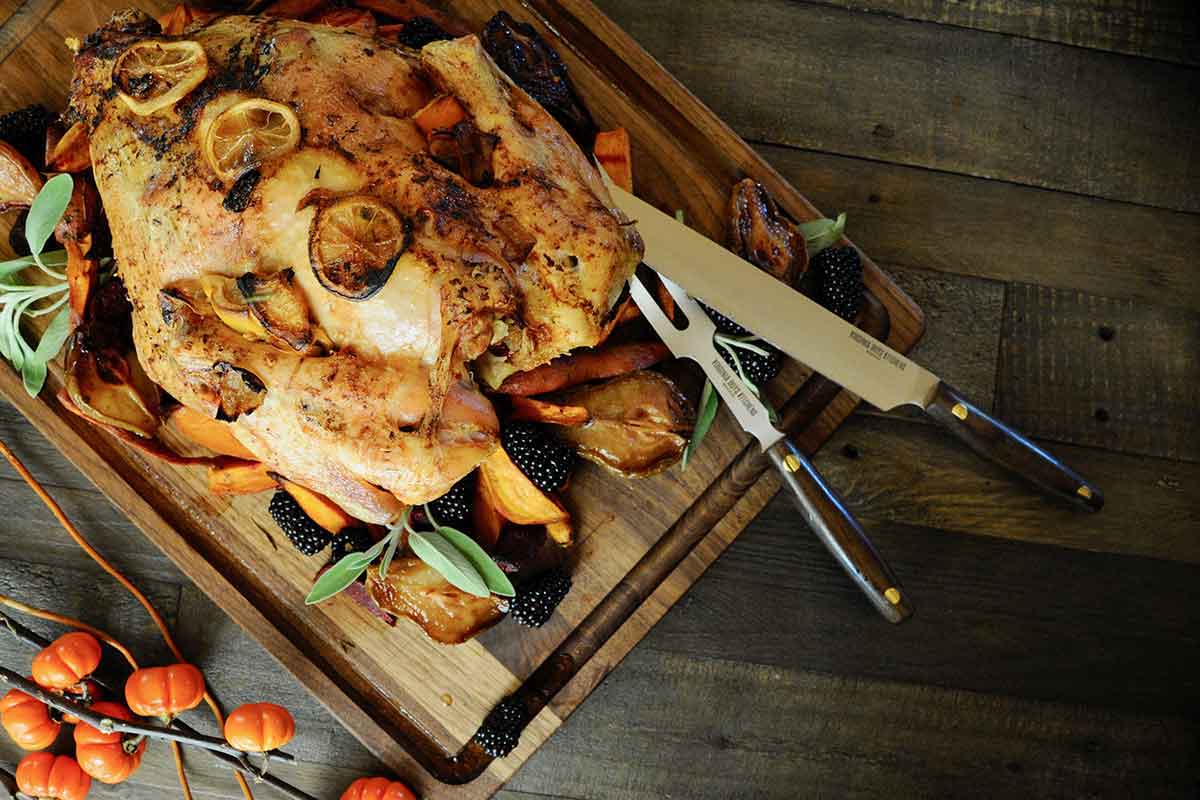 2 Piece Stainless Steel Carving Set with Walnut Wood Handles
The groove on the edges of the board is etched deep enough to collect all the juices that might stream from a juicy steak or fruit, saving you the hassle of cleaning up.
You can also use it as a charcuterie board for your picnics. 
Customization Options
Typically, a wooden cutting board isn't the first thing that springs to mind when you think of gifts. Yet, we make walnut cutting boards so visually appealing that they'd make the perfect thoughtful gift. 
We use engraving to personalize the board either for you, a friend, or even as a corporate gift. You can also order the board in specific shapes and sizes. A 10 inches by 20 inches cutting board with a quirky quote certainly makes an unforgettable gift. 
Made in the USA
Everything in the production pipeline is done locally. We maintain our mission goal to use eco-conscious means to make and package all our cutting boards.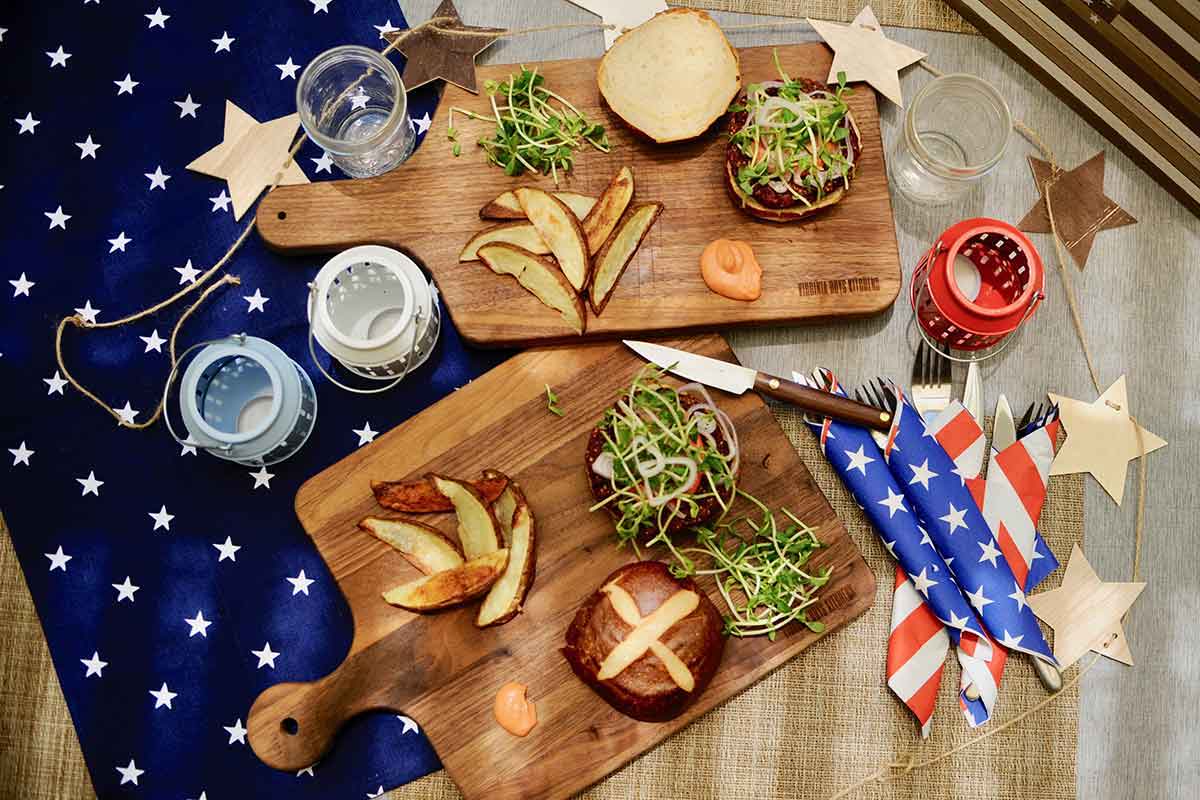 10 x 16 Walnut Cutting Board with Knob Handle
We use recycled material and vegetable inks to make impressive yet top-shelf packaging your loved ones will be happy to unwrap. Having one of our boards on your countertop will feel like having a piece of the North American woodlands in your kitchen.

Customer Review
Frequently Asked Questions
Is Walnut good for cutting boards?
Absolutely. Walnut is one of the best woods for cutting boards. It has microbial properties that make it a healthy, safe wooden board to have in the kitchen.
Is Walnut toxic for cutting boards?
No, walnut is a non-toxic wood for cutting boards. Hardwood trees that produce edible fruit are considered food-safe.
What's the best wood for a cutting board?
The best wood for a cutting board is dense close-grain hardwood. You're looking for a medium hard wood that's friendly on knife edges and lets in as little moisture as possible. Maple and walnut are some of the best woods for cutting boards.
Are wooden cutting boards safe for meat?
Yes, wooden cutting boards are safe for meat. It's advisable to use one side of the board for meats and use the other for other foods such as vegetables and fruit. The USDA advises keeping two boards to reduce the likelihood of cross-contamination.
So why do you want a walnut cutting board? Is it to upgrade your kitchen and give it a rustic feel with the accessories? Serve up some juicy steaks during a summer barbeque? Or do you want to gift a friend a quirky drawing board (we promise it works)?
Head on to our website and make your mark on the planet. Each purchase leads to a new walnut tree. Go nutty. 
Related Article Links: 
Three Major Differences Between High-Quality and Low-Quality Cutting Boards
Why Walnut Makes for the Best Cheese Boards, Handle Boards & More
Mineral Oil Vs. Coconut Oil To Season Wood Cutting Boards
We are on Amazon, see our storefront here. Use coupon code VBKBLOG10 for 10% off your entire purchase of any Virginia Boys Kitchens on Amazon. Apply the code at checkout.