End Grain Cutting Board: A Practical Buyers Guide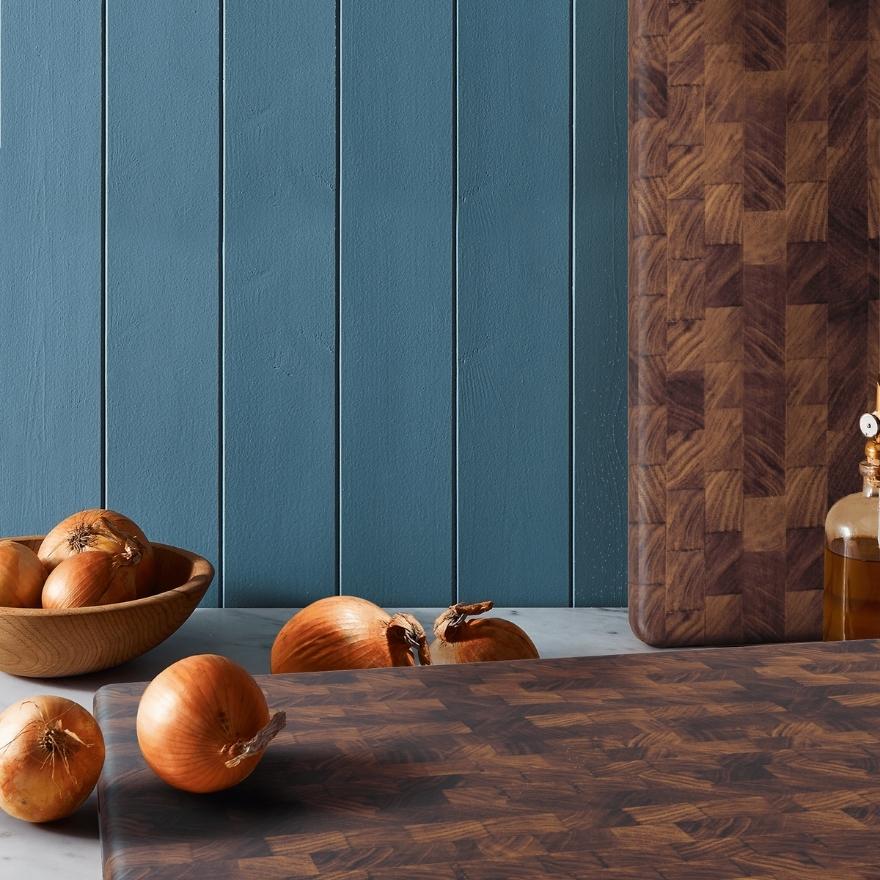 End Grain Cutting Board: A Practical Buyers Guide
If you've been thinking about buying an end grain walnut cutting board, you're not alone. They are becoming increasingly popular, and for good reason. You're going to want to read this article before buying one though, so that you know what to look for in an end grain board and how to create the perfect one. Plus, if you're just now entering the world of chopping boards, you'll learn a lot of interesting facts!
Nifty Features of an End Grain Cutting Board
"Eye-catching." "Knife-friendly." "Flagship."
When the words that describe walnut end grain boards are this sensational, you're probably considering getting one.
The only problem is that there are so many end grain boards to choose from.
So, to help you decide, we're going to break down two unique cutting boards by Virginia Boys Kitchens.
As we delve into their nifty features, you'll also learn:
Why walnut boards last longer than cherry and maple boards
Why size matters when choosing cutting boards
How you can prevent cross-contamination
Why it's important to oil and wax your cutting boards
Before we get into this, though, let's take a look at the two types of cutting boards we'll be discussing.
Types of End Grain Cutting Boards
There are two types of cutting boards, distinguishable by their capabilities and the meals they prep. Some are specialized while others are more versatile, for instance:
Butcher blocks are used primarily for chopping meat. As a result, they have a sturdy base to prevent slipping and a tough working surface to brace against the impact of heavy tools (such as cleavers and mallets).
Reversible boards are more versatile and can be used to prep meat, dice ready-to-eat vegetables and fruits, and also serve as display trays.

Their large work surface provides plenty of room for a sizzling beef steak serving. Meanwhile, these boards are double-sided to allow you to prep chicken and dice veggies on different sides (each side is well-isolated to prevent cross-contamination).
Let's look at a few end grain boards and their features in more detail.
1 - The Walnut End Grain Butcher Block
The Walnut Butcher Block bears the hard hits of tenderizing meat and the deep scratches of carving Thanksgiving turkey.
That's because this brawny block is made using end grain walnut, a hardwood that self-heals.
Walnut has a tight grain structure that separates under sharp knives and then closes back up soon after. In this way, it's less dulling to your carving set and sturdy for durability.
Here's a feature breakdown of the impressive Walnut Butcher Block by Virginia Boys Kitchens.
Important Features
Size - The Walnut Butcher Block features 14 by 18 inches of working space so your ingredients don't roll off the board. It's also large enough to accommodate multiple ingredients simultaneously, which speeds up prep time.
Durability - This long-lasting butcher block has a Jenka hardness rating of 1010, which is greater than the 950-rated cherry and maple blocks. As such, this board is more resistant to splitting, cracking, and warping.
Eco-Friendly - When making this Walnut Butcher Block, wood is sourced from forests verified to grow at a rate of at least 2.4 times faster than the harvest and mortality rate. Also, all our packaging comes from recycled post-consumer materials.
100% Natural - Throughout its entire production, the Walnut Butcher Block is food-safe. From wood sourcing, where it's made exclusively from fruity walnut trees, to branding, where the labels are only printed using vegetable-based ink.
"A work of art. It is gentle on my blades and doesn't leave any marks. Very satisfied with this product."
— Nicholas O, USA
2 - The Reversible Cutting Board
The Reversible Extra Large 20x15 Inch End Grain Cutting Board features 1.75 inches of thick, closed grain walnut wood.
This completely isolates both sides and prevents the accumulation of bacteria-breeding moisture, eliminating any possibility of cross-contamination.
Did you know? Cross-contamination occurs when prepping ingredients such as beef or chicken and ready-to-eat vegetables or fruits on the same surface.
When cross-contamination happens, bacteria such as salmonella and E. coli unwittingly pass from your raw chicken cutlets to your freshly chopped green salads.
This is especially concerning since detection is only possible after exposure. You cannot see, taste, or smell bacteria.
Here's a feature breakdown of Virginia Boys Kitchens' excellent Reversible Cutting Board.
Important Features
Antimicrobial - The Reversible Board is made from closed grain walnut wood which has limited porosity in its cell structure. As such, this board absorbs and accumulates less moisture when washing and dries faster, thereby preventing the growth of harmful microorganisms.
Stability - The Reversible Board weighs 12 pounds to provide you with the stability you need to effectively and safely tenderize tough bottom sirloin steak. The stability also enhances longevity since rocking boards wear out faster.
US-Made - Behind this board are locally-sourced raw materials, US manufacturing, and domestic partners including local restaurants and wineries. In its entirety, the Reversible Board is proudly American and representative of the Virginia Boys Kitchens' story.
How the Reversible Board Compares to Others
Size - The Reversible Cutting Board is significantly larger than the 14 by 18-inch Walnut Butcher Block with a 20 by 15-inch work surface. This is enough space for the Reversible Board to double up as the perfect display tray for your butter roast chicken, adding to its versatility.
Lightweight - The board is slightly lighter than the Walnut Butcher Block since it also serves as a display tray. It weighs 12 pounds, which is bearable under the weight of an average-sized Thanksgiving turkey.
What You Need to Know About Maintaining A Cutting Board
End grain cutting boards need proper care to keep them functioning at their best and looking lively. This entails four key practices:
Oiling - to seal the bacteria-trapping dents and scratches and to create an extra barrier between the cutting board and your set of well-sharpened carving knives. This also adds to your board's resistance to water damage by preventing absorption.
Waxing - to enhance the depth and natural beauty of walnut wood grain which fades over the wash-dry cycles. The wax adds to the oil content within your board's cell structure, eliminating the dry patches that form as a result.
Using appropriate soaps - that don't strip the natural oils within the cell structure of your cutting board. Such soaps are made from organic oils such as olive oil, flaxseed, and shea butter, which are easier on your board than heavy-duty bleach.
Colloidal spraying - to remove rancid smells from your cutting board that impact flavor and contaminate food. These disinfecting sprays are made by blending distilled water with toxin-free essential oils, such as red thyme, to ensure food safety.
With that, let's go through a few wood care products you need to use and their features in more detail.
Butcher Block Oil
Virginia Boys Kitchens' Butcher Block Oil is perfect for your walnut end grains and more, from end grain cutting boards and butcher blocks to knife handles.
Once applied, the oil is absorbed deep into the wood grain through capillary action. This allows the oil to seal any cracks, dents, or scratches and form a protective layer across the surface of your board. The layer guards against moisture accumulation.
Important Features
Food-safe - The Butcher Block Oil is made with three simple, natural ingredients: fractionated coconut oil, organic orange essential oil, and organic rosemary extract.

This makes it not only healthy but eco-friendly as well, which is part of our wider mission to be sustainable and natural.
US-Made - To make the Butcher Block Oil, we only use local ingredients and suppliers to ensure prompt, disruption-free delivery. This also shortens our value chain and minimizes our carbon footprint.
Orange and Rosemary
A three-minute dab of Virginia Boys Kitchens' impressive wood finishing wax yields months of hydration for your walnut cutting boards.
But what's more impressive is that its benefits aren't limited to just cutting boards. Our VBK cutting board oil is excellent on your knife handles, utensils, and anything wooden—aged or untreated.
It works in tandem with the Butcher Block Oil to hydrate wood and eliminate those pesky dry patches that pop up over time.
Ordering Your Cutting Boards
So there you have it, two excellent walnut end grain designs and the must-have features for high-quality cutting boards.
| | |
| --- | --- |
| Design | Features |
| The Butcher Block | US-Made, natural, and eco-friendly |
| The Reversible Board | Versatile, antimicrobial, US-made, natural, and eco-friendly |
Order your walnut boards today from Virginia Boys Kitchens and join our mission to make treating yourself good for the environment.
Your purchase of premium quality, responsibly-sourced walnut boards will help us plant trees that turn America into a self-sustaining paradise.
Frequently Asked Questions
When should I oil my cutting board?
Oil your board as soon as it develops dry-looking patches or dark stains and right when it starts absorbing water faster than usual when washing.
Is walnut toxic?
No, walnut is a fruit tree and therefore produces no toxins.
How long do walnut boards last?
Walnut boards can last between 5–10 years with proper maintenance, which includes regular oiling and waxing plus hand-washing.
Share on Instagram:
We are on Amazon, see our storefront here. Use coupon code VBKBLOG10 for 10% off your entire purchase of any Virginia Boys Kitchens on Amazon. Apply the code at checkout.