4 Best Eco-Friendly Cleaning Products for Your Wooden Board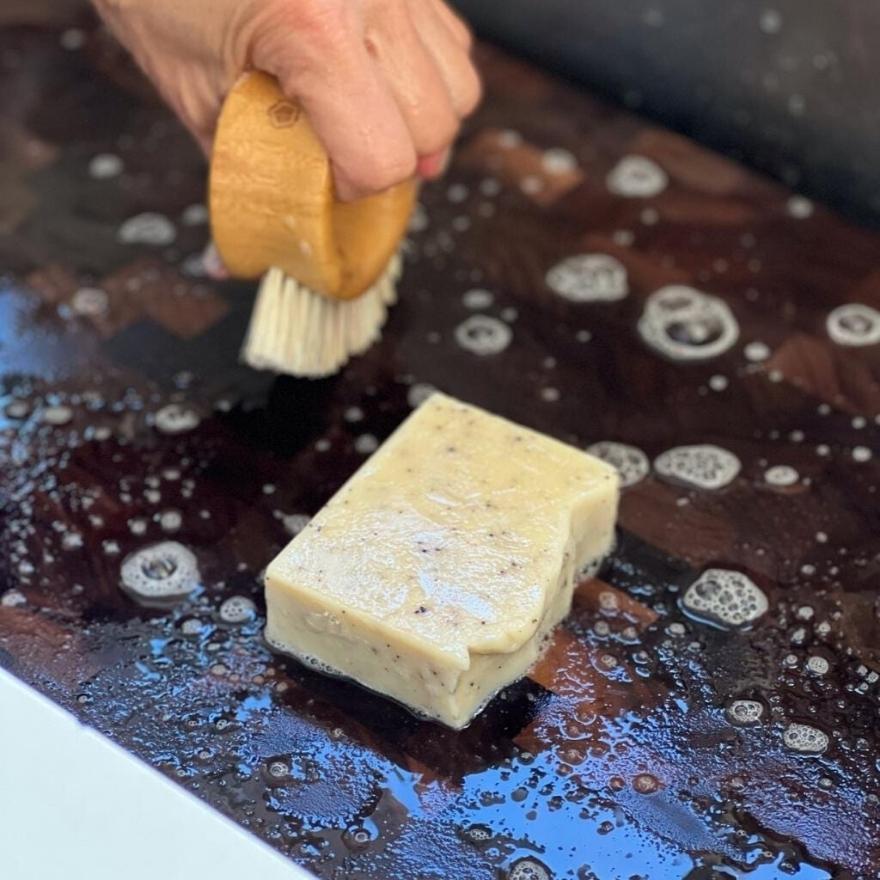 4 Best Eco-Friendly Cleaning Products for Your Wooden Board
Once you've invested in an elegant wooden cutting board, you'll need to keep it clean to maintain its beauty. We're going to discuss four eco friendly cleaning products for your wood cutting board. You can use them to clean your cutting boards or even utensils and bowls. Also, we love using these on boards since they are safe for the environment and are much healthier than some of the other chemicals. 
To do this, you'll need wood cleaning and conditioning products that'll help it last a lifetime and maintain its artistic beauty and aesthetic.
However, as an environmentally conscious individual, you also want to ensure that you pick products that are manufactured with all-natural ingredients and in an eco-conscious way.
The cleaning products must also be:
Food-safe
Gentle so they don't leave any residue when drying
Effective at protecting the wood from wear and tear
As experts in wooden kitchenware, we at Virginia Boys Kitchens have compiled a list of four eco-friendly cleaning products to help maintain the hygiene and beauty of your cutting board and other wooden kitchenware.
The products in this list are all locally made here in the USA and contain no GMOs, no paraffin, and no toxins.
4 Eco Friendly Cleaning Products to choose from:
Product 1 - All Natural Wood Finishing Wax

All Natural Wood Finishing Wax
All Natural Wood Finishing Wax is made from beeswax and coconut oil. It comes in two scents: orange essential oil and Grandpa's Garden.
We particularly like the scent of orange essential oil because it has a number of health benefits such as being able to lift your mood and reduce stress. 
Grandpa's Garden, on the other hand, includes ingredients such as rosemary, which smells great and can even improve your concentration while restoring your cutting boards.
See the table below to learn about some more ingredients in our wax products and how they impact the beauty and finish of your cutting board.
| | | |
| --- | --- | --- |
| Ingredient | Power | Effect |
| Coconut oil | Filters through the wood pores | Creates a layer that nourishes and brightens the wood |
| Beeswax | Cleans and enhances the shine | Keeps the wooden board looking new |
| Orange essential oil/Grandpa's Garden scent | Seeps through the board | Gives it a pleasant scent, ready for the next use |
Just a few dabs of our amazing wood care products leave your cutting board looking shiny and new. 
The All Natural Wood Finishing Wax also comes with a soft microfiber applicator pad to clean and treat your board.
Finally, the All Natural Wood Finishing Wax helps keep the natural beauty and rustic look of your board. It can also be used on your serving trays and wooden knife handles.
"GREAT TO SEE GOOD PRODUCTS MADE IN USA
Great service and products are exactly as advertised."
— William P
Product 2 - Cutting Board Spray
The Cutting Board Spray is an all-natural and non-toxic disinfectant spray for the butcher's block and wooden cutting board. However, you can use it to disinfect countertops, appliances, and other surfaces that harbor germs.
We make the Cutting Board Spray with distilled water and a blend of chef's essential oils such as:
Red thyme
Lemongrass
Cinnamon
Peppermint
Coriander
Lavender
The blend also contains 10–30 nanosilver particles that adhere to the surface of the cutting board and act as an antifungal and antibacterial agent.
Once you shake and spray this product on your cutting board, it's extremely effective. Additionally, this product will help kill all the germs left by food and juices, preventing food contamination and keeping your kitchen healthy.
Product 3 - Cutting Board Soap

Cutting Board Soap
Cutting Board Soap is a special soap made for cleaning wooden cutting boards.
Even though walnut is long-lasting, if you use a corrosive cleaning soap that contains ingredients like chlorine, you will reduce your cutting board's lifespan.
Proper maintenance with eco-friendly soap is important for keeping the board in good condition and ensuring food safety.
Did you know? Our Cutting Board Soap is made from organic oils such as olive, coconut, flaxseed, and shea butter.
We also incorporate a gentle amount of coffee grounds to improve the scrubbing. The coffee grounds help get rid of stubborn food particles left after chopping.
We also add a few drops of orange and rosemary scents, so you won't have to worry about your board smelling like coffee afterward.
The soap will not scratch your board, and will not strip the natural walnut oils off your board since the board's made of an oil base.
Expert Tip: When cleaning your wooden cutting boards, scrub gently—it'll help preserve them longer.
Product 4 - Butcher Block Oil

Cutting Board Oiled With Butcher Block Oil
Butcher Block Oil is made from fractionated coconut oil, organic orange essential oil, and organic rosemary. There are no toxic chemicals - just eco friendly ingredients you probably already have in your kitchen.
The blend is not only perfect for our butcher's board but it also helps maintain knife handles, bowls, utensils, and countertops.
The oil filters into the wood, helping to restore the natural moisture that's lost after many continued washes. This ensures the board remains soft and doesn't dry up and look old.
Additionally, you only need a few wipes to help bring any wooden kitchenware back to life.
The Butcher Block Oil is also 100% food-safe and does not contain any toxic ingredients.
"JUST WHAT MY CUTTING BOARD NEEDED
After a few daily treatments, my cutting board is good to go. Exceeded my expectations."
— Verified buyer, US
Restore Your Wooden Kitchenware Today
If you love to make a mark in the world by being environmentally conscious, you'd surely love to try some of these sustainably sourced wood care cleaning products.
They're not only safe to use in your kitchen, but they're effective in enhancing the natural beauty of your wooden kitchenware.
At Virginia Boys Kitchens, we maintain eco-friendly standards in everything we make. We only use renewable products from manufacturing up to packaging. For every purchase, we also plant a tree to ensure we're growing more wood than we're using.
Apart from wood cleaning products, we also deal in the production of sustainably sourced walnut kitchenware such as:
Check out Virginia Boys Kitchens for customized wooden kitchenware and more.
Frequently Asked Questions
Can I wash my wooden cutting board in the dishwasher?
Washing your wooden cutting board in the dishwasher is a big no-no.
Instead, wash it with a gentle soap and rinse it with warm water, then place it on the dish rack to dry.
How do I protect my wooden cutting board?
To protect your wooden cutting board from wear and tear, ensure that you rub it with mineral oils at least once a month. This will help it retain its natural shine even after prolonged use.
How can I deep clean my wooden cutting board?
To deep clean your wooden cutting board, spray it with the Butcher Block Oil. It helps kill all germs and fungi that might be stuck on the cutting board.
Share on Instagram:
We are on Amazon, see our storefront here. Use coupon code VBKBLOG10 for 10% off your entire purchase of any Virginia Boys Kitchens on Amazon. Apply the code at checkout.