How to Prevent Your Walnut Boards From Warping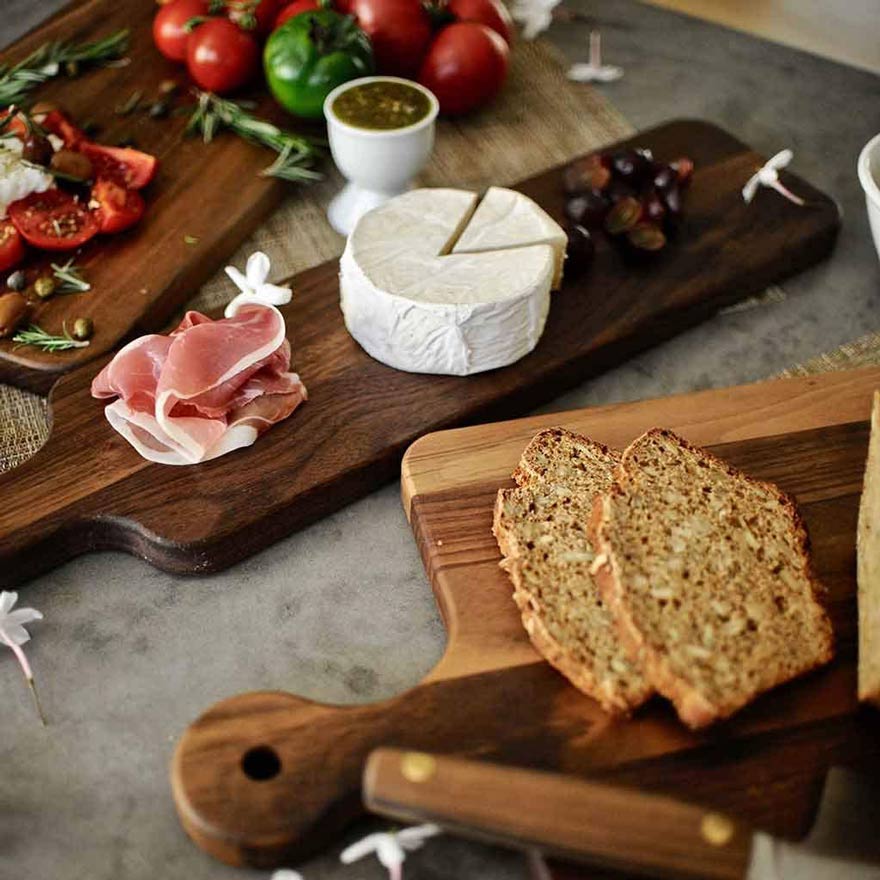 How to Prevent Your Walnut Boards From Warping
If you're the proud owner of a gorgeous wood cutting board, you want to keep it in like-new condition. To preserve the board's aesthetic and functional values, both the finish and the structure of the wood must avoid damage. 
For any wood product, there's the possibility of warping. Let's discuss how this problem can affect a wood cutting board, and how it can be prevented.
We'll step through these topics:
How to prevent walnut cutting boards from warping
Why does wood warp?
Comparison of warping in walnut vs other woods
Preventing a Walnut Cutting Board From Warping

Medium 10x16 Inch Walnut Handle Board
When you buy a high-quality wood product, most of the warp-prevention work has been done for you.
Everyone who has handled the piece of wood played a critical role in creating a resilient product; including the folks who grew and harvested the tree, processed the lumber, and cut, sanded, and treated your fine wooden craft.
That said, once you've purchased a wood product, it's up to you to keep it in good condition—especially for a functional product, such as a cutting board.
A warped cutting board may become bent and concave, compromising your cutting surface. You can avoid this problem by practicing proper care.
To avoid warping and other defects, follow these wooden cutting board care tips. 
Keep Your Cutting Board Dry

Small 8'x12' Walnut Board reversible with juice Groove
Obviously, your cutting board is going to get wet when you use it and wash it, but it's best to avoid prolonged periods of saturation. Here are some key washing and drying tips to avoid moisture damage. 
Wash the board after every use
Wash the board by hand, not in a dishwasher
Always wash both sides
Dry the board on an end (so it's sticking up in the air), not flat on a side
These simple actions prevent your board from holding on to moisture. Keep your board clean and dry to preserve the wood's structure and quality. 
Treat Your Cutting Board With Oil and Wax

Basic Care Kit - Oil And Finishing Wax Combo
Before using a new cutting board, season it with oil. Apply the oil and let it soak and dry for at least eight hours before using the board. 
A seasoned board is moisture-resistant—this keeps the wood from going through the soaking and drying cycles that lead to warping. 
Seasoning a cutting board with oil has several benefits: 
Creates a smooth surface that reduces knife penetration
Prevents the wood from becoming dry and brittle
Blocks liquids from soaking into the wood
Wood shouldn't maintain water saturation, but it also shouldn't be completely dry. Total dryness makes wood brittle and flaky. So, oil is a perfect protector—oil prevents dryness while also blocking water penetration.
Use an oil that's made specifically for treating wood, not a cooking oil. To maximize your board's protection, you can finish the job by adding a layer of finishing wax. 
To learn more, check out our cutting board seasoning guide.
Why Does Wood Warp?
Warping is a deformity in wood. A warped piece of wood has lost its flat, even surfaces and become curved, bent, or kinked.
Wood warps due to changes in moisture content.
When moisture leaves a piece of wood unevenly, that puts different amounts of pressure on different parts of the wood, causing it to become distorted.
Here are the common warping events that occur in wood:
Bowing: warp occurs lengthwise along the face of the wood
Cupping: warp occurs widthwise, making the wood's edges higher than the center
Crooking: warp occurs lengthwise along an edge
Kinking: a crook occurs in a single location, creating a turn in the wood
Twisting: the wood is contorted so that its two ends don't run along the same plane
Warping can be mostly prevented through processing techniques and proper care.
All wood can warp, but some types are more prone to warping than others.
Does Walnut Warp More or Less Than Other Woods? 

Small 10.5 Inch Round Walnut Cheese Board
Wood is sponge-like. A piece of wood can be soaked and penetrated with water, including moisture from the air. However, unlike a sponge, wood doesn't evenly change in size when gaining or losing water. 
Because wood has a grain, water moves in and out of a board along planes, rather than in an even distribution. 
Every wood species has its own unique grain, which means that every wood shrinks and warps differently.
Shrinking that leads to warping occurs in multiple directions:
Longitudinal shrinkage along the length of the grain
Radial shrinkage, perpendicular to the wood's growth rings
Tangential shrinkage, parallel to the wood's growth rings
Longitudinal shrinkage is typically below 0.2% and not of concern.
Radial shrinkage ranges from under 2% for stable woods, to over 8% for less stable species.

Tangential shrinkage ranges from around 3% to 12%.
The tangential to radial (T/R) ratio is a good indicator of a wood's overall tendency to shrink and expand. A low T/R ratio indicates a sturdy wood that's less likely to warp.
Here are the shrink ratios for a few common North American wood species.
| | | | |
| --- | --- | --- | --- |
| Wood Type | Radial Shrinkage % | Tangential Shrinkage % | Tangential/Radial Ratio |
| Black walnut | 5.5 | 7.8 | 1.4 |
| Old-growth redwood | 2.6 | 4.4 | 1.7 |
| Pecan Hickory | 4.9 | 8.9 | 1.8 |
Source: WoodBin Woodworking
Black walnut has a T/R ratio of 1.4, lower than many popular wood varieties. It's even lower than the T/R ratio of old-growth redwood, which is often described as the most warp-proof wood available. 
T/R ratio can't be thought of as a warp resistance score—it's not quite that simple. However, for products like cutting boards that need to withstand lots of moisture, it's good to know that your wood is less prone to drastic shrinking and expansion. 
Most commercial wood species are used because the woods are stable and resilient. Just about every popular wood is described as "warp-resistant." 
Even among the most common species for woodworking, black walnut is known as a particularly sturdy wood that resists warping through a long lifetime of use. 
Kitchenware That's Beautiful and Sustainable

15" Wall Mounted Magnetic Walnut Knife Rack
For gorgeous wood cutting boards and other high-quality kitchenware items, shop with Virginia Boys Kitchen. 
"This is an absolutely gorgeous cutting board, and the craftsmanship appears stellar. We expect to happily use it for many years to come."
— Carrie., ★★★★★ Verified Virginia Boys Kitchen Reviewer 
We're committed to the highest possible standards for craftsmanship, wood quality, and environmental responsibility.
Virginia Boys Kitchen cutting boards are made from American black walnut, a wood that's as durable as it is beautiful. Our wood is sourced from forests with growth rates of 2.4x their harvest plus mortality rates. 
Frequently Asked Questions
Do Virginia Boys Kitchen cutting boards warp? 
All wood can warp. However, some wood—such as the high-quality black walnut used in Virginia Boys Kitchen cutting boards—is less prone to this issue.
Cutting boards endure frequent soaking and drying, which can lead to warping. However, with proper care, warping can usually be avoided or minimized. 
Can a warped board be straightened out? 
There are a few techniques for fixing a warped cutting board. These include flipping the board (switching which side you use), soaking and pressing the board, and steam-treating the board. Learn more here. 
What's the best type of oil for seasoning a wood cutting board? 
The most popular oils for seasoning a cutting board are mineral oil and fractionated coconut oil. We recommend coconut oil. Learn why here. 
Share on Instagram:
We are on Amazon, see our storefront here. Use coupon code VBKBLOG10 for 10% off your entire purchase of any Virginia Boys Kitchens on Amazon. Apply the code at checkout.