15 Shaved Beef Recipes - Beyond the Philly Cheesesteak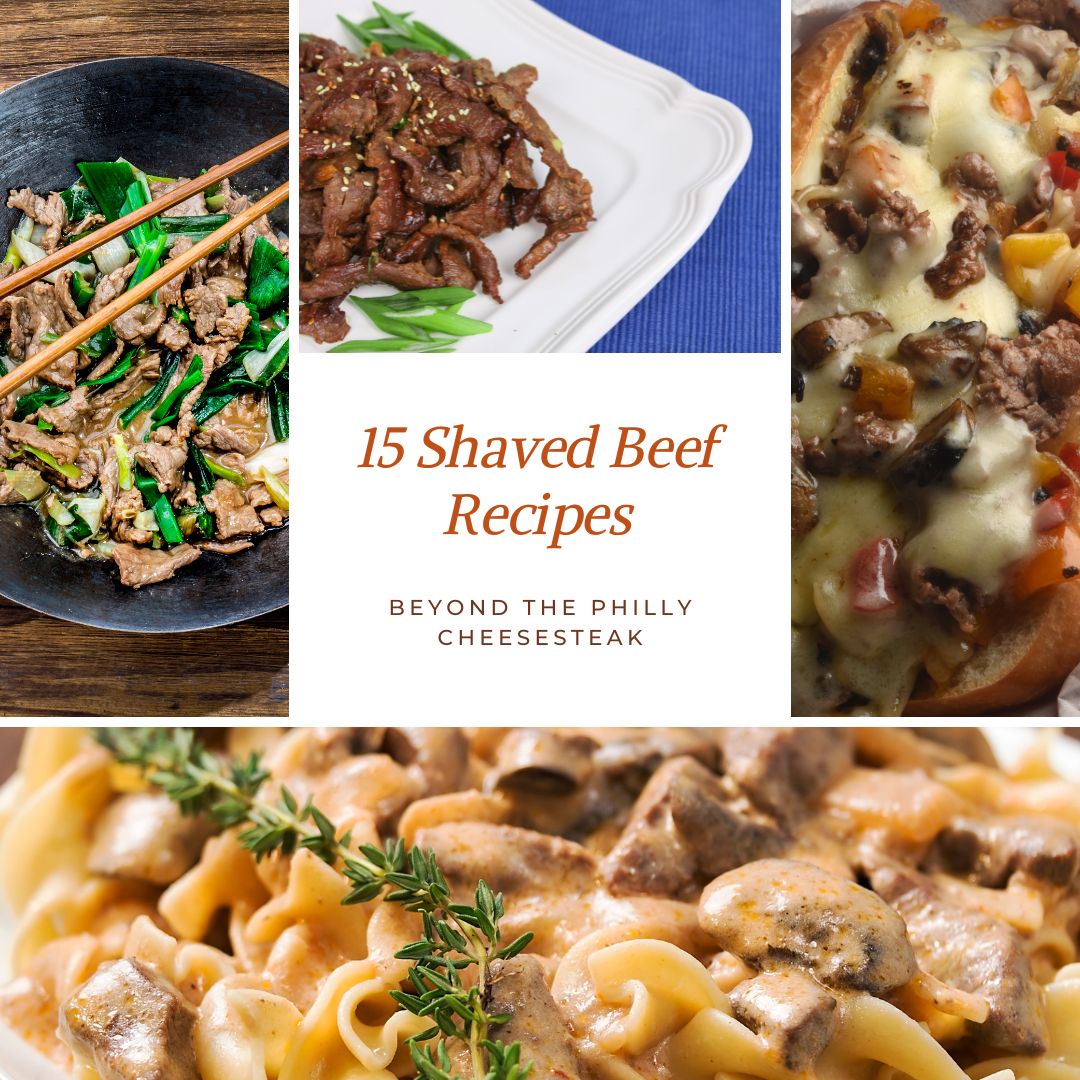 Have you ever had a pound of shaved beef in your refrigerator and had no idea what to make with it? Yes, you could make the whole tried and true Philly cheesesteak. But what else is possible with this delicious type of meat?
Perhaps you're slicing your steak on your own to create shaved beef. With the proper technique and a sharp knife, it's not too difficult. You'll want to make sure you're prepared with the right cutting board as well.
We know there are tons of yummy recipes out there to try. Many of them cook up quickly too. So, we decided to start searching for the best shaved beef recipes. This is what we have decided are the best of the best when it comes to shaved beef.
Photo: Not Entirely Average
The shaved steak in this recipe will cook up faster than the caramelized onions and colorful sweet peppers. This one skillet meal will have you dancing around the kitchen afterwards. With only one pan to wash, you will have ample time to show off your moves! You can even make these fajitas out on the grill for even less cleanup.
Photo: Must Love Home
This easy to make recipe cooks up in only 15 minutes. The diced tomatoes and green chilies add lots of flavor. Although so does the taco seasoning. Serve this over a bed of rice or place inside warm tortillas. Adjust the seasonings according to your own family's tastes. If you're slicing the limes on your wooden cutting board, be sure to correctly season your board first!
Photo: My Korean Kitchen
Bulgogi is also called Korean BBQ Beef. The intense flavors within this dish include sweet, savory, and smoky. When paired with lettuce and rice, it makes a filling meal. Yet, you will still want seconds. We recommend making enough so you even have leftovers ready the following day.
Photo: Gimme Some Oven
This shaved beef stroganoff recipe is made with a creamy mushroom sauce and a hint of garlic. Everything cooks up in 30 minutes, which makes this perfect for busy weeknight meals. Cook up some egg noodles to serve this stroganoff over. Or use leftover rice on those really busy nights. Make sure if you're slicing mushrooms, you've avoided bad bacteria by preparing your cutting board with fractionated coconut oil.
Photo: The Fresh Cooky
We love how quickly most recipes with shaved beef cook up. This Mongolian beef recipe can be ready in only 20 minutes! You will have most of the ingredients in your pantry. So, no extra trip to the store will be required. Serve it with rice and a vegetable for a complete meal.
Photo: Izzy Cooking
The sauce for this stir fry recipe is made from soy sauce, brown sugar, beef broth, and ginger. It cooks up quickly and before you know it, your beef stir fry will be ready to serve over rice. We recommend adding broccoli, or your other favorite vegetables, to make this dish even healthier.
Photo: Tip Buzz
Okay, so we said we weren't focusing on Philly cheesesteaks for these recipes. But we couldn't leave out a shaved beef recipe that makes Philly cheesesteak pizza! All your favorite ingredients from a traditional cheesesteak piled high onto a pizza crust. One bite and we guarantee you will be hooked!
Photo: The Life Jolie
You really can't go wrong with one pot meals, especially now that we are heading into fall and winter. This pasta dish is creamy and cheesy. Two combinations we know everyone loves! The leftovers taste fabulous, so make a little extra to ensure you have some for lunch.
Photo: The Kitchen Whisperer
Baked potato lovers will be quite happy with this newer stuffed version. It is full of yumminess, thanks to the shaved beef, cheese, and caramelized onions. If you are short on time, skip the onions. Or add roasted broccoli and cauliflower to make this dish even healthier. Heck, you could even use a sweet potato instead of a regular potato!
Photo: The Cozy Apron
This is a hearty stew that is both cheesy and meaty. The recipe takes a few chili ingredients and adds them to cheesesteak toppings to create a mouthwatering stew no one can resist. Add a little extra heat if you wish. Although it is a little spicy to begin with.
Photo: HWC Magazine
This recipe will be at the top of your list to make whenever you are craving soup. It cooks quickly in only 30 minutes. The rice noodles make it filling, while the Chinese five spices create lots of flavor. Make this recipe in the beginning of the week and enjoy it for lunch all week long.
Photo: HWC Magazine
Sukiyaki beef udon is commonly known as a Japanese hot pot recipe. Authentic Japanese hot pots are cooked at the table family style. However, you can make this recipe on top of the stove and have the same results. Simply throw everything into the pot, cook, and devour!
Photo: Curious Cuisiniere
Korean beef bibimbap is also called a mixed rice bowl. The rice is packed with different vegetables, as well as shaved beef. The result is a dish that is packed with flavor and texture. Oh, and did we mention it is healthy??! One bite and you will be hooked for life.
Photo: Wicked Stuffed
There isn't any rice in these stuffed peppers. That may make you go hmmm at first, because isn't rice a staple in them?? Well, not in this keto friendly version! Simply follow the recipe and before too long, you will be biting into a healthy pepper stuffed with shaved beef.
Photo: Culinary Butterfly
This shaved beef recipe takes a little longer to make, but it is totally worth it. After your first bite, you will be hogging the serving dish and not letting anyone else near the delicious meat. Keep that in mind and make extra, so your family doesn't decide to disown you during the meal.
 Final Words
These are the 15 best shaved beef recipes that aren't Philly cheesesteaks. Yes, we did include a couple cheesesteak variations, but none of them were in the form of a sandwich. Make one of these shaved beef recipes today and then try the rest before deciding which one is making it to your regular meal rotation.
We are on Amazon, see our storefront here. Use coupon code VBKBLOG10 for 10% off your entire purchase of any Virginia Boys Kitchens on Amazon. Apply the code at checkout.