21 Unique and Tasty Recipes Using Nespresso Coffee Pods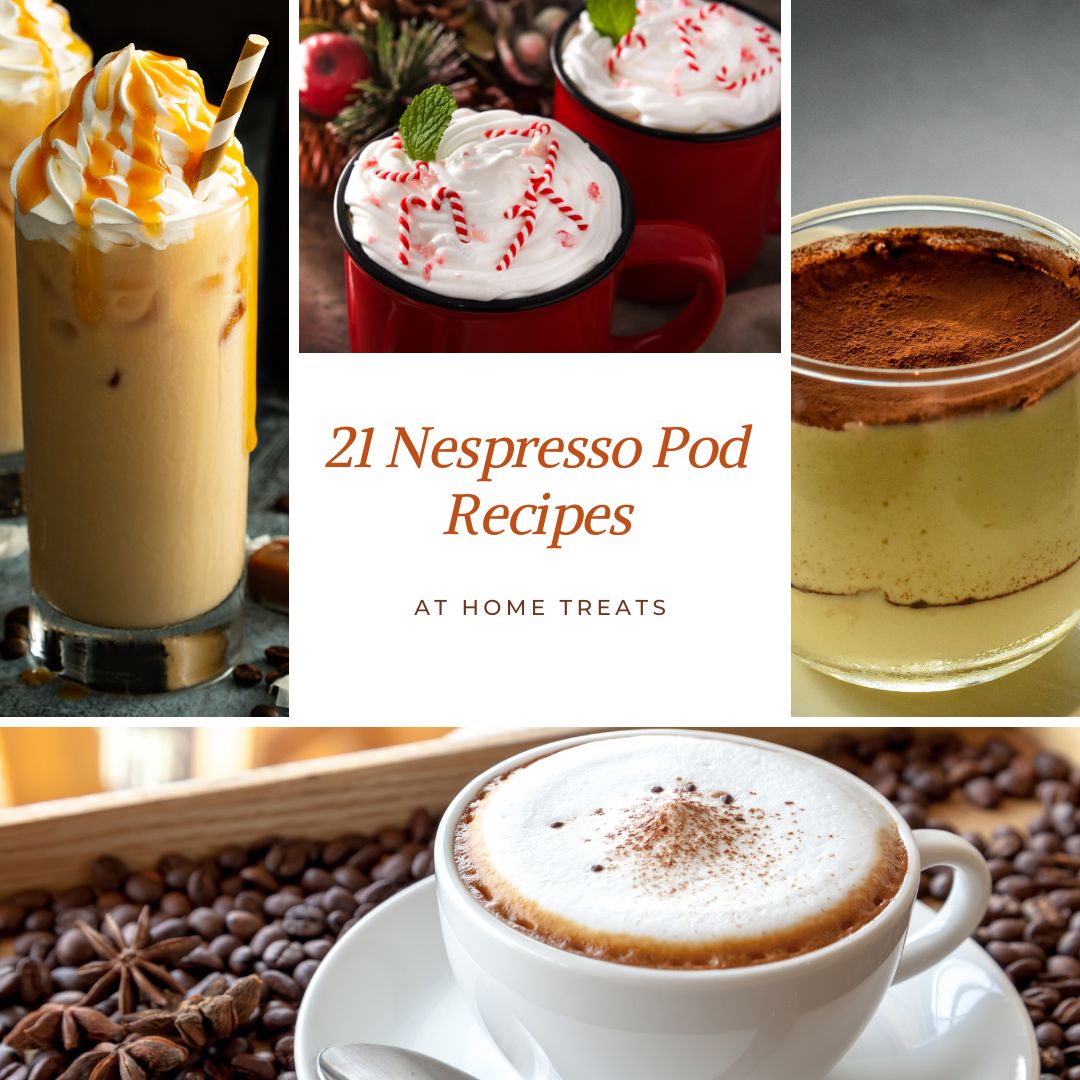 Do you love coffee as much as we do?? If you just answered yes, you are going to love this post! We have spent hours searching for some of the best Nespresso recipes. It was so difficult to narrow it down to only twenty-one. But we wanted to give you a reasonable number of recipes to sift through. And we didn't want you overly caffeinated, in case you decided to make them all in a single day. So, are you ready to dive into the deliciousness of Nespresso recipes? Let's go!
Photo: Wild Wild Whisk
When the weather gets cooler, you are going to be searching for the perfect drink to warm you up. Cold weather will arrive eventually, and when it does, we recommend this chocolate hazelnut latte. Prepare this drink according to your likes and then curl up in front of the fireplace with a good book. If you don't have a fireplace, improvise by pulling one up on your television or smartphone. You know there's probably an app for that!
Pro Coffee Lover Tip: Don't skimp on the whipped cream for this latte. Just the right amount, or even a little extra, will add lots of creaminess you don't want to miss out on.
Photo: Imagelicious
The holidays will be here before you know it, and nothing screams the winter season more than peppermint. Get creative with the candy canes if you want to try different flavors. Just make sure you are stocked up with the peppermint ones for all those holiday guests. They won't forgive you if you happen to run out!
Photo: Food52
Ice cold lattes are normally perfect during the hot days of summer. But we guarantee you will want to sip on this iced salted caramel latte all year long. The caramel candy ensures this latte isn't too sweet. And the Hawaiian coconut syrup mixes with the milk to make it look even lighter in color.
Photo: The Kentucky Gent
Another fabulous, iced latte is this honey lavender version. It is sweet, but not too sweet. The addition of honey lavender syrup and coconut milk creates a creamy texture you won't be able to resist.
Photo: Cooktoria
You will never again stand in line weeks in advance in order to be the first person to order a pumpkin spice latte at Starbucks once you start making this recipe at home. Simply follow the recipe and enjoy pumpkin spice at any time of the year.
Photo: Cookinglsl
Nespresso recipes don't need to be all fancy. Nor do they need to produce exotic flavorful coffees. Sometimes simple is best, like this iced vanilla coffee latte. Don't focus on the no-frills. Instead, focus on the delicious coffee latte that looks just as good as it tastes.
Photo: Fox and Briar
It takes less than five minutes to make this tasty brown sugar cinnamon cortado. So, skip the coffee shop next week and try your own version. We guarantee it will taste better since you can adjust the ingredients to your liking. Oh, and definitely add extra chocolate shavings to the top of the whipped cream before drinking.
Photo: Alyssa Ponticello
You can get a quick start on your day every time you make this Nespresso double espresso chocotini. This may sound like it's complicated to make, but we promise it is simple. The simple syrup is made with sugar, orange, and water. Don't skip using that or your chocotini just won't taste like it should.
Photo: The Travel Bite
Nutella lovers will be so happy to know there is a Nespresso recipe just for them. This is similar to a hazelnut coffee drink. But it is so much better since Nutella contains a hint of chocolate. Add a little extra to ensure you get the full Nutella benefits with each sip.
Photo: Hello Glow
On cold, blustery days, do you have difficulty deciding between coffee and hot chocolate?? Well, how about having both? You can when you choose to make this Nespresso recipe. The chocolate takes the coffee to the next level. However, it is the cinnamon and star anise that will make you sit there and contemplate whether this is the best drink out there.
Photo: What The Froth
Above, we listed a salted caramel latte. Now it is time to show some love to the iced caramel macchiato! The layers in the glass create a pretty presentation. Almost too pretty to drink. Follow the directions closely, use the proper Nespresso coffee, and you will be happy to know you can drink these more often in the future.
Photo: What The Froth
Using chocolate milk in this iced mocha will have you realizing all your dreams have finally come true. You will have finally discovered the perfect iced mocha, especially since it is also topped with whipped cream. Adjust the chocolate syrup to your liking and make sure to add some chocolate shavings before drinking.
Photo: What The Froth
Do you love coffee? Do you love ice cream? How about mixing the two together to create an amazing Nespresso dessert? You know you want to! And you can when you make this Nespresso Affogato. This is a simple dessert to make. Plus, you can try different toppings with it every time you make it.
Photo: What The Froth
Nowadays, you can make your coffee with all types of milk. You don't need to stick with the old 2% milk from your childhood. However, sometimes different types of milk have a distinct flavor. Therefore, you need to know exactly how much to add and still have a delicious cup of coffee. Or in this case, a latte. Make sure you top this drink with extra honey on top of the foam.
Photo: Coffee At Three
Use your favorite Nespresso espresso to make this sweet and spicy gingerbread latte. It goes perfectly with holiday cookies or get togethers with friends. Add whipped cream with a dash of cinnamon on top to make it taste even better.
Photo: Nespresso
If you love diving into a dish of tiramisu, you are going to love drinking this cappuccino. It is simple to make. Simply layer all the ingredients in order and drink. You can serve this with actual tiramisu. Or you can choose to enjoy this drink on its own.
Photo: Nespresso
Do you love sweet drinks? How about cinnamon rolls? Well, you get the best of both worlds with this easy to make cappuccino. It has intense flavors, but isn't too overpowering. Don't skimp on the cinnamon sugar topping. Its what makes it the best drink when you're craving cinnamon rolls.
Photo: Nespresso
You don't always need to have your Nespresso in a coffee cup or in a latte. You can choose to enjoy your Nespresso in a martini glass when you make this espresso martini. This recipe calls for decaf, but feel free to use caffeinated Nespresso if you need to stay awake for a few more hours.
Photo: Nespresso
The flat white has tons of microfoam on top, making it a drink with incredible texture. This drink is simple to make, despite the work it takes to create that foamy top. It is bold, intense, and delicious from the very first sip.
Photo: Nespresso
Turmeric is good for you, and it adds a complex flavor you won't find in many other drinks. Choosing the right Nespresso coffee is key to creating the perfect turmeric latte. So, follow the recipe exactly. That way you won't be disappointed.
Photo: Nespresso
And we finally get to the last Nespresso recipe. We saved the best for last since it contains both pumpkin and white chocolate. The best of both worlds, at least if they are flavors you love. You may be tempted to save this drink for a special occasion. We don't recommend that, because it is a drink that should be enjoyed a lot more often.
These are the best 21 Nespresso recipes we discovered during our research. Each one will taste fantastic when you make it. And you will be thrilled that you will never need to make a special trip to a coffee shop to enjoy a wonderful Nespresso recipe in the future.
We are on Amazon, see our storefront here. Use coupon code VBKBLOG10 for 10% off your entire purchase of any Virginia Boys Kitchens on Amazon. Apply the code at checkout.