Tasty Twists on Ground Bison: 25 Mouth-Watering Recipes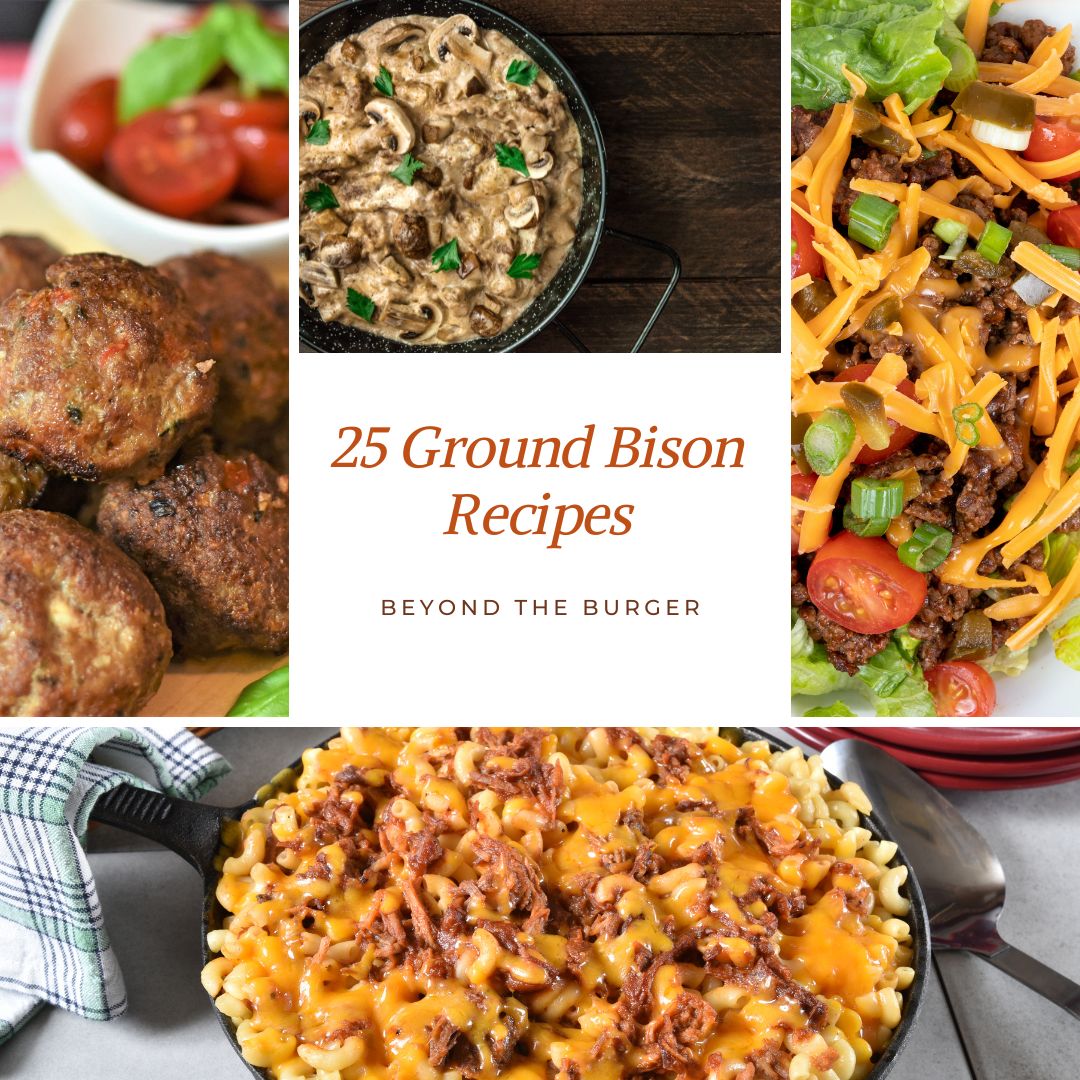 Ground bison is similar to hamburger. In fact, you can usually swap between these two meats when preparing a recipe. However, if you have been searching for amazing ground bison recipes, we have you covered. We have searched and searched for the best ground bison recipes. And we have discovered the 25 best recipes. We know you will love these recipes and won't be able to wait to try them all out.
Photo: The Top Meal
Stroganoff is a hearty, filling dish. It is creamy too. This classic comfort food is perfect at any time of the year. But most people prefer to eat it on colder nights. The best part about this recipe is you can have it on the table in about 30 minutes. That is excellent news when you are starving and don't want to cave and get takeout.
Photo: Stetted
Ground bison meatballs are easy to make and pair well with any type of pasta. You can even place the meatballs on a roll, top with sauce and cheese, and eat them as a meatball sub. No matter how you enjoy these meatballs, you will always want to have seconds.
Photo: Whole30
Chili is another fall favorite. This recipe calls for lots of bold flavors that will have your taste buds dancing. You won't be able to get enough of this chili, so make sure you make extra for leftovers.
Photo: Healing Gourmet
If you have one too many spaghetti squash hanging out at your house, you definitely need to make this bison stuffed version. You can customize this recipe to use what you have on hand or what you are currently craving. The result will always be a tasty dish you will want to make again.
Photo: The Sophisticated Caveman
Most people think they can only eat ground bison for dinner. However, this spicy bison sweet potato skillet is the perfect option for a hearty breakfast. Simple ingredients are combined to make this flavorful skillet dish. Substitute other items for ingredients you don't have and create your own version of this delicious recipe.
Photo: Clean And Delicious
Taco bowls are quite yummy, no matter what type of meat you use. This recipe has all your favorite taco bowl ingredients combined with ground bison. Of course, this taco bowl recipe goes a step further with caramelized onions, which add a little extra creaminess to the bowl.
Photo: Muy Bueno Cook Book
Smoky cheese adds a unique flavor to this macaroni and cheese dish. Once you add the ground bison, as well as the onions, garlic, and peppers, you may have a new go-to mac and cheese recipe. We know we did once we tried this one!
Photo: Clean Eating Kitchen
All ground bison recipes are nutritious, but this is one of the best, thanks to all the cauliflower. Only a few ingredients are needed to make this dish. That means it comes together quickly without any trips to the store. Plus, it all cooks up in one pan, making clean up a breeze.
Photo: Running To The Kitchen
These stuffed peppers are quite healthy since they are packed with zucchini and carrots. They are simple to make. You can even freeze them for future meals. Whip up a few extras to ensure you have a few ready to eat in the future.
Photo: High Plains Bison
This Mexican bison bake is full of flavors that are sweet, salty, spicy, and just plain delicious. Marinating the meat first will ensure you have the most flavor in this dish. The cilantro lime cream is the icing on the cake for this recipe. So, don't skip making it if you are in a rush.
Photo: Or Whatever You Do
Bolognese sauce is one of those sauces everyone loves. It doesn't need to take you hours to prepare it and it works for all types of pasta. This recipe makes quite a bit of Bolognese. This is perfect, because you can freeze the leftovers for future meals.
Photo: The Lemon Bowl
This is a hearty soup packed with vegetables. You can have this nutritious meal ready in less than an hour. It makes a big batch, so you can eat it for lunches all week long. Add whatever vegetables you have in the fridge to make this a wonderful soup that uses all your leftovers.
Photo: Great Range Bison
This is a cheesy buffalo flavored dip that utilizes ground bison instead of the chicken you normally find in this dip. You can adjust the amount of hot sauce according to how hot, or mild, you want it. Depending on how many people you are feeding, you may want to make a double batch.
Photo: Great Range Bison
One of the best meats for keto meals is bison. Ground bison, well, all bison, has more protein and less fat than many other red meats. There are plenty of veggies packed into this meatloaf, so you will feel fuller long after you are finished eating.
Photo: Benjamin Lee Bison
These bison raviolis will take you back to a time where the traditions of the Kiowa Tribe were well known. While some of that history has been forgotten, this recipe has seemed to live on. Instead of putting red sauce on top of your bison ravioli, follow the recipe and make the blackberry and sumac sauce. You won't be disappointed.
Photo: Benjamin Lee Bison
Poblano peppers can be quite spicy, and they add just the right amount of heat to this dish. These poblano peppers are easy to make and can be whipped up in no time at all. They are the perfect meal, or you can use them as an appetizer for a party.
Photo: Benjamin Lee Bison
These bison empanadas are simple to make with the help of prepared pastry dough. Of course, you can make your own if you have the time. Simply prepare the filling, shape the empanadas, and bake. Make sure you prepare the Chilean pebre sauce as well, because it really adds flavor when you are eating these.
Photo: Benjamin Lee Bison
One of the best ways to eat ground bison is in a nice juicy burger. This burger checks off all the boxes with bacon, blue cheese, and a spiced honey. Top it with the caramelized onions for the right amount of creamy texture in every bite.
Photo: Nebraska Bison
Enchiladas are quick and easy to make, which is perfect when you need dinner ready in no time at all. This recipe calls for them to be topped with lettuce, salsa, and fresh guacamole. But use your own favorite toppings if you want. The result will still be tasty enchiladas you won't want to stop eating.
Photo: Nebraska Bison
Three layers of meaty, cheesy gooeyness is what will be waiting for you when you bite into this bison lasagna. It only takes approximately 1 hour to make this lasagna from start to finish. Serve with freshly baked bread and a salad for a complete meal.
Photo: Nebraska Bison
Not every Italian dish you eat will have you yearning to travel to Italy. This dish will though, and you may be ready to pack your bags before you are even finished eating. The seasonings will have you enjoying every bite, even the ones that include the vegetables.
Photo: Nebraska Bison
Bison potstickers are perfect for appetizers for any get together. You can have these ready in no time at all, which is perfect when you realize guests will be showing up without a lot of notice. Make a double batch to ensure you get some when you finally get to escape the kitchen.
Photo: Stetted
On those nights where one pot is all you can handle for dinner; you must make this bison one pot dinner. It has everything you need for a healthy meal. We're talking protein, harvest grains, and lots of green vegetables. The best part is you can have this dish on the table in about 45 minutes. 
Photo: The Weekly Menu Book
Dirty rice dishes are normally packed full of flavor and this one doesn't disappoint. It is savory and spicy, with just the right amount of spices for both. Adjust according to your taste for the best results. You can serve this with other side dishes, but honestly, it is a full meal on its own.
Photo: The Weekly Menu Book
When it comes to comfort food, shepherd's pie is normally towards the top of the list. It has meat, vegetables, and creamy mashed potatoes. It is best to make a huge dish, so you have the leftovers you know everyone will want.
These are 25 of the best ground bison recipes we have discovered. Each one will have your mouth watering, as you try all these new ways to use up the ground bison you have on hand. Of course, that will result in running out to the store to restock, so you can make even more of these recipes in the future.
We are on Amazon, see our storefront here. Use coupon code VBKBLOG10 for 10% off your entire purchase of any Virginia Boys Kitchens on Amazon. Apply the code at checkout.