30 Flavorful and Unique Pheasant Recipes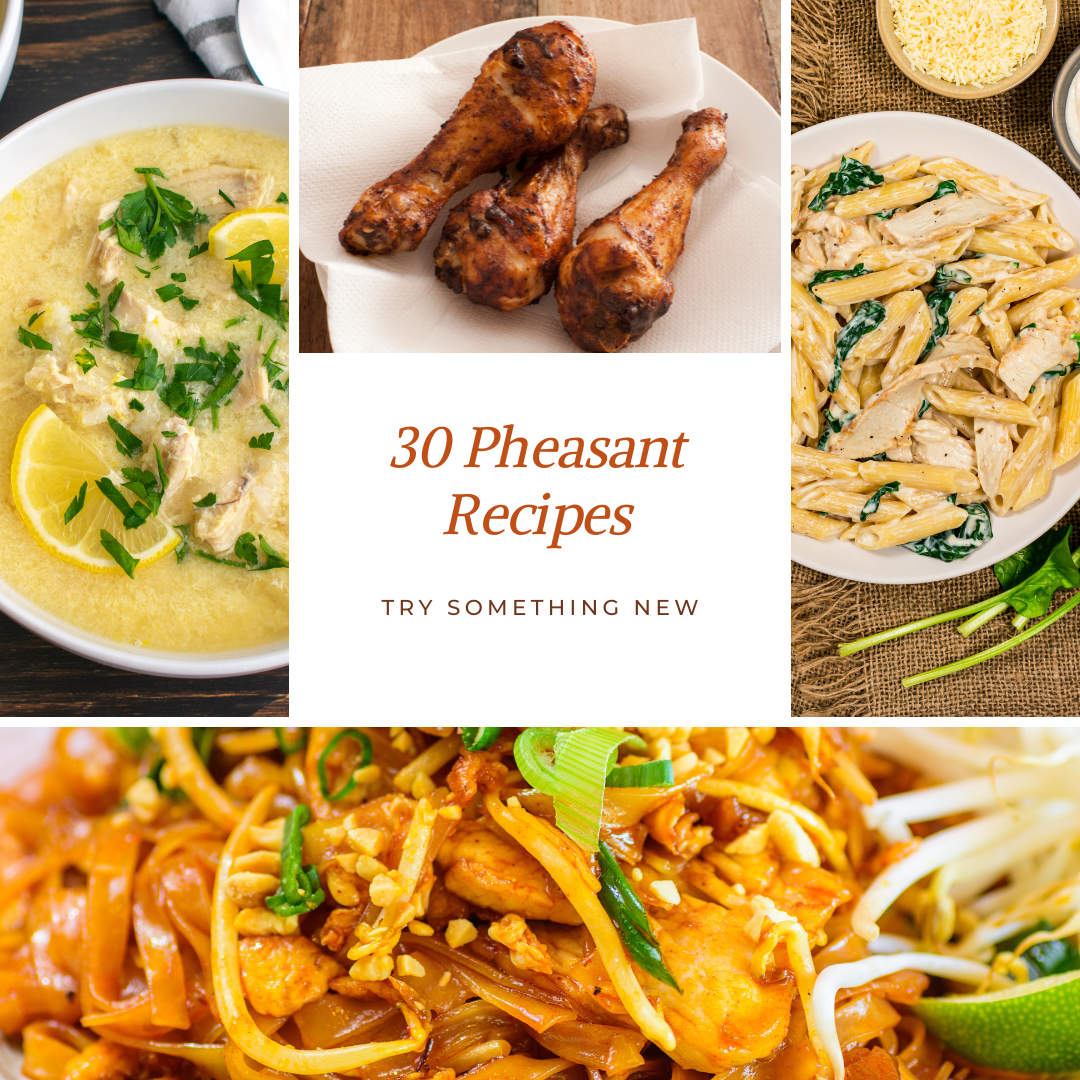 Pheasant is a type of poultry. It tastes quite similar to chicken and turkey. Pheasant also has white and dark meat like those other two. If you have never tried pheasant before, we have found a few amazing recipes you simply must make. And yes, you can substitute chicken or turkey in many of them if you can't find pheasant right away.
Photo: The Meat Eater
A simple way to prepare pheasant is in one pot in the oven. Yes, this dish can take 4 ½ hours to make. However, a lot of that time is cooking in the oven and sitting to rest before serving. This dish is best served with warm bread to soak up the delicious juices.
Photo: The Meat Eater
A hot bowl of soup is just what you need when you are feeling under the weather. It only takes 15 minutes to throw all the ingredients into the pot. When the soup is finished cooking, you can serve it immediately or place it in the fridge for quick lunches all week long.
Photo: The Meat Eater
There is something comforting when it comes to eating pot pies. Yes, this one is made from pheasant. But it contains the same ingredients you will find in many other pot pies. The flaky crust will melt in your mouth. And the rest of the pie will have your taste buds dancing.
Photo: The Meat Eater
Hot and spicy is how many people love their meals. If you are a fan of spice, you must try these flaming hot pheasant sticks. The Cheetos add a little crunch, while the pheasant stays nice and moist on the inside. Serve them with blue cheese dip and a cold drink.
Photo: The Meat Eater
A one pot meal that can be prepared in 30 minutes is any person's dream meal on busy nights. This creamy dish will melt in your mouth in the first bite. And you will quickly dive in for seconds, even when your first plateful isn't gone yet.
Photo: The Meat Eater
Fried chicken and waffles are the perfect brunch dish, so why not mix things up a little with a little fried pheasant and waffles?! Bring your appetite when you make this dish. As well as the stretchy pants.
Photo: The Meat Eater
If you never thought of adding pheasant to a Thai dish, here is your chance to consider it and do it! The balance of textures and flavors will have you forgetting you are eating pheasant instead of another type of poultry. As soon as this dish is ready, you will be inclined to dive right in to taste the sour, sweet, bitter, savory, and salty flavors.
Photo: The Meat Eater
Another spicy pheasant recipe is these buffalo bombs. They are easy to make fairly quickly, which is perfect when you need an appetizer for guests. These are also perfect for game day. Just make sure you make a double or triple batch, or you may not get any.
Photo: The Meat Eater
Curry is a coconut-based dish that is popular in Thai households. While curry is often made with meat, this pheasant version is just as good. If not better! The long simmer is perfect for making the pheasant tender, so it falls apart. This is a flavorful dish that you will want to make again
Photo: The Meat Eater
Mushrooms are the highlight of this dish with lots of them being cooked down into the creamy sauce. This dish is best served over rice, but you can also place it on top of noodles. This is the perfect option on those nights when you are starving and need something filling.
Photo: The Meat Eater
The marsala in this recipe helps create the flavoring that will have you going back for seconds. This pheasant marsala is best served over pasta. However, you can serve it over spinach if you are trying to save yourself a few calories and carbs.
Photo: The Meat Eater
A piece of pheasant pounded thin, as well as the proper frying method are the two things needed to make this recipe successfully. If you can do those two things, you will quickly be biting into the best piece of fried pheasant you have ever tasted.
Photo: Pheasant For Dinner
Sometimes all you want to do is throw a few pheasant breasts in the oven and call it a day when preparing dinner. When that feeling occurs, grab this honey baked pheasant breasts recipe. The result will be delicious pheasant breasts that are moist and full of flavor.
Photo: Pheasant For Dinner
No one says you cannot enjoy a salad with a little pheasant thrown on top. This salad with raspberries and sherry is the best option when it comes to enjoying your greens with a little protein. This salad is best prepared right before eating. If you want some for lunch the next day, leave the vinaigrette on the side.
Photo: Pheasant For Dinner
Smothered pheasant is basically browning the pheasant in a skillet and then simmering it until it is cooked all the way through. There is tons of flavor in this dish. Make sure you let the pheasant sit for a few minutes before serving to make sure it is nice and tender.
Photo: Pheasant For Dinner
Soups and stews are perfect for cold winter days and nights. This Hungarian pheasant stew will warm you up, while filling you up at the same time. You can add other vegetables if you have them, but then it won't be a traditional Hungarian stew.
Photo: Pheasant For Dinner
This is another hearty and filling bean soup that will make your stomach happy on cold days. You can use a couple different types of beans in this soup. Each type will create a slightly different flavoring. Simmer the soup slowly for the best results. And store those leftovers for lunches or place in the freezer for future meals.
Photo: Pheasant For Dinner
Another simple pheasant salad to make is this French pheasant salad. Simply take cooked pheasant and top it with the remaining ingredients. One bite and you will be hooked on this salad without the greens.
Photo: Pheasant For Dinner
Everyone seems to love sweet potato pie, so why not try this version with added pheasant. This dish will smell wonderful while baking. So much so that you may not want to wait for it to cool before spooning a little up to taste.
Photo: Honest. Food Net
The pheasant is the main flavor in this pasta dish that cooks up quickly using red wine instead of red pasta sauce from a jar. The topping of raisins, pine nuts, and dates will add a nice crunch, as well as a sweetness you don't expect when eating pasta.
Photo: Honest. Food Net
Mac and cheese lovers will love this new twist on an old favorite comfort food. The pheasant and green chiles add a little extra flavor to the three different types of cheeses. Of course, the bread crumb topping adds a crunch. The best part is this dish is easy to prepare and quick to bake.
Photo: Eat Move Make
You can make pizza using almost any ingredient as a topping and pheasant is no exception. This may sound like a really fancy pizza, but it takes almost no time at all to make. Throw everything on top of the dough, bake, and bite into one of the best slices you have had in a while.
Photo: Food.com
This pheasant and apple casserole simply screams fall. If you love all things apples and pumpkins, you are going to love making, and eating, this casserole dish. Add in that prep work is quick and most of your time will be spent waiting for it to come out of the oven, and we call that a win!
Photo: Project Upland
Taco Tuesdays are still going strong. Make yours a little different by adding this recipe to the rotation. The mango salsa adds a new twist on the usual toppings. Make it today and see how your tacos can taste better than ever.
Photo: Farm To Jar
The pheasant Normandy is similar to the pheasant and apple casserole we just shared. But this version is definitely more of a stew, which is also perfect for fall. Don't leave out the apple brandy or the apple cider, because they both add the apple flavor you will come to love. Without them, it is simply a basic stew dish. Still yummy, but not as spectacular.
Photo: BBC Good Food
This pastry puff slice is just like calzones or strombolis. You are just using pastry puff instead of bread, or pizza, dough to make it. Pile everything on top of the pastry puff, fold over, and pinch the sides closed. Bake, slice, and eat. Simple, easy, and filling. Plus, perfect for lunch the next day!
Photo: Gun Dog Mag
Soup is the one thing most people eat during the fall, winter, and early spring. Yet some people will eat soup all year long. Well, this pheasant tortilla soup is one that you will make all the time. It is flavorful, packed with yummy ingredients, and filling.
Photo: Gun Dog Mag
A burger doesn't need to be boring, and it won't be when you add bold flavors to your pheasant burger. The crunchy toppings and sweet dressing from this recipe pair wonderfully with the pheasant burger.  Place the burger and toppings on a French baguette for just the right bun texture if you want to eat this the right way.
Photo: Primal Pioneer
Fancy recipes do not need to take forever to make in order to look good and taste even better. The buttery lemon caper sauce really makes this dish stand out from many of the others. One bite and you may be hooked on this one. Good thing you can have it on the table in less than an hour.
Photo: Everything With Love Blog
Our last pheasant soup recipe includes lots of wild rice. This recipe is quite filling, but simple to make. And it will smell delicious while simmering. Make a huge pot if you want lots of leftovers to fill the freezer for the winter.
These are 30 pheasant recipes you are going to want to try. Each one will have you enjoying eating pheasant. And since you can substitute any type of poultry in these recipes, you can make them even more often with the poultry you have on hand.
We are on Amazon, see our storefront here. Use coupon code VBKBLOG10 for 10% off your entire purchase of any Virginia Boys Kitchens on Amazon. Apply the code at checkout.