London Broil Tacos Recipe - Spice Up Taco Tuesday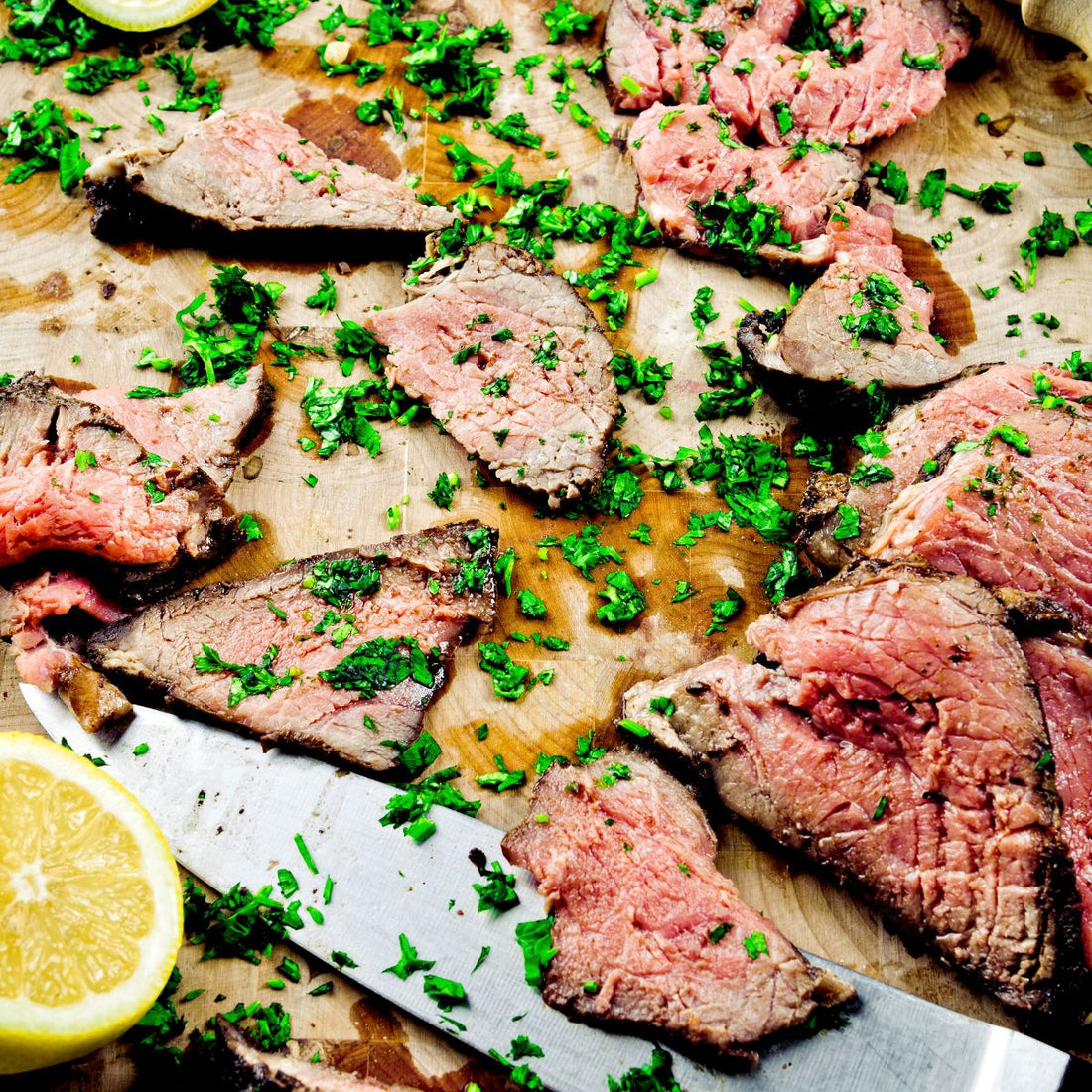 Looking for a new way to enjoy the London Broil? Have you tried turning them into tacos? This london broil tacos recipe introduces a delicious Mexican twist on a classic American dish. Adding some spices, fresh veggies, and the "Everything But the Tacos" seasoning from Virginia Boys Kitchens gives you a delicious meal that's perfect for almost any occasion.
What is London Broil?
London broil refers to a lean beef slice such as bottom round, top round, or flank steak. This cut is usually marinated and then cooked through broiling or grilling.
Despite its name, the London Broil is a popular cut in North America. Vegetables, potatoes, or rice often accompany it and are commonly served at family dinners or informal gatherings. It was only a matter of time before people started looking for a southwestern twist.
London Broil Tacos Recipe
Here is our recipe for delectable London Broil Tacos.
Ingredients
1 lb London Broil steak
2 tbsp of olive oil
1 diced onion
1 red pepper (diced)
1 jalapeno pepper (diced) (optional)
2 garlic cloves (minced)
1 lime
Salt and pepper to taste
Flour or corn tortillas
Optional toppings: shredded cheese, diced tomatoes, avocado, cilantro
Instructions
Preheat grill to medium-high heat.
Rub the London Broil steak with olive oil and "Everything But the Tacos" seasoning by Gustus Vitae.
Grill the meat for about 5 minutes each side.
Let rest for approximately 5 minutes before slicing.
While the steak is cooking, saute the onion, red pepper, jalapeno pepper (if using), and garlic in a pan over medium heat until tender.
Add the sliced steak to the pan. Squeeze the lime over everything—season with pepper and salt to taste.
Heat tortillas on a griddle or in a microwave.
Fill each tortilla with the steak and veggie mixture. Add any optional toppings you wish.
Serve and enjoy your delicious London Broil tacos!
Tips for Making Perfect London Broil Tacos
Use a meat thermometer to make sure the steak is cooked perfectly. For a medium-rare steak, the temperature of the inside of the steak should be at least 135°F. For a medium steak, cook to at least 145°F.
Ensure that you slice the steak thinly against the grain. This helps tenderize it and makes it easy to handle.
Feel free to try out different toppings and seasonings. Customize this recipe with your toppings and seasonings to suit your preferences.
Frequently Asked Questions
1. What steak cut is best for tacos?
The best steak for making tacos depends on your preferences and what you can access. Ideally, you need a tender and flavorful steak. Some popular options include skirt steak, flank steak, and sirloin steak. Here is a complete guide to the common cuts of beef to help you out.
2. What is the "Everything But the Tacos" seasoning?
The "Everything But the Tacos'' seasoning is a blend of spices created by Gustus Vitae. It was created to be the perfect seasoning for tacos, bringing in all the fresh flavors of Mexico.
3. Can I use a different seasoning for this recipe?
You can use a different seasoning. Here at Virginia Boys Kitchens, we recommend the "Everything But the Tacos" seasoning for tacos of any kind. However, you are free to use whichever seasoning you see fit. If you're looking to browse, you can see our huge selection of salts, seasonings, and rubs.
4. What toppings can I add to the London Broil tacos?
When it comes to London Broil Tacos, topics depend on your preferences. Some topping options include diced tomatoes, shredded cheese, avocado, cilantro, and salsa.
Conclusion
This recipe introduces a Mexican twist into a classic American dish using London Broil. This London broil tacos recipe is a simple way to spice up your taco night. Additionally, you can change the recipe suit your style by adding your favorite seasoning and topping.
RELATED PRODUCTS YOU MIGHT LIKE
View our entire collection of Salts, Seasonings, and Rubs by Gustus Vitae - there are so many ways to elevate the flavor of your best beef cut. Find the perfect seasoning for your next steak, bbq, stew, or smoked meat!
We are on Amazon, see our storefront here. Use coupon code VBKBLOG10 for 10% off your entire purchase of any Virginia Boys Kitchens on Amazon. Apply the code at checkout.