35 Spam Recipes - From Savoury to Sweet - Quick and Easy Meals and Treats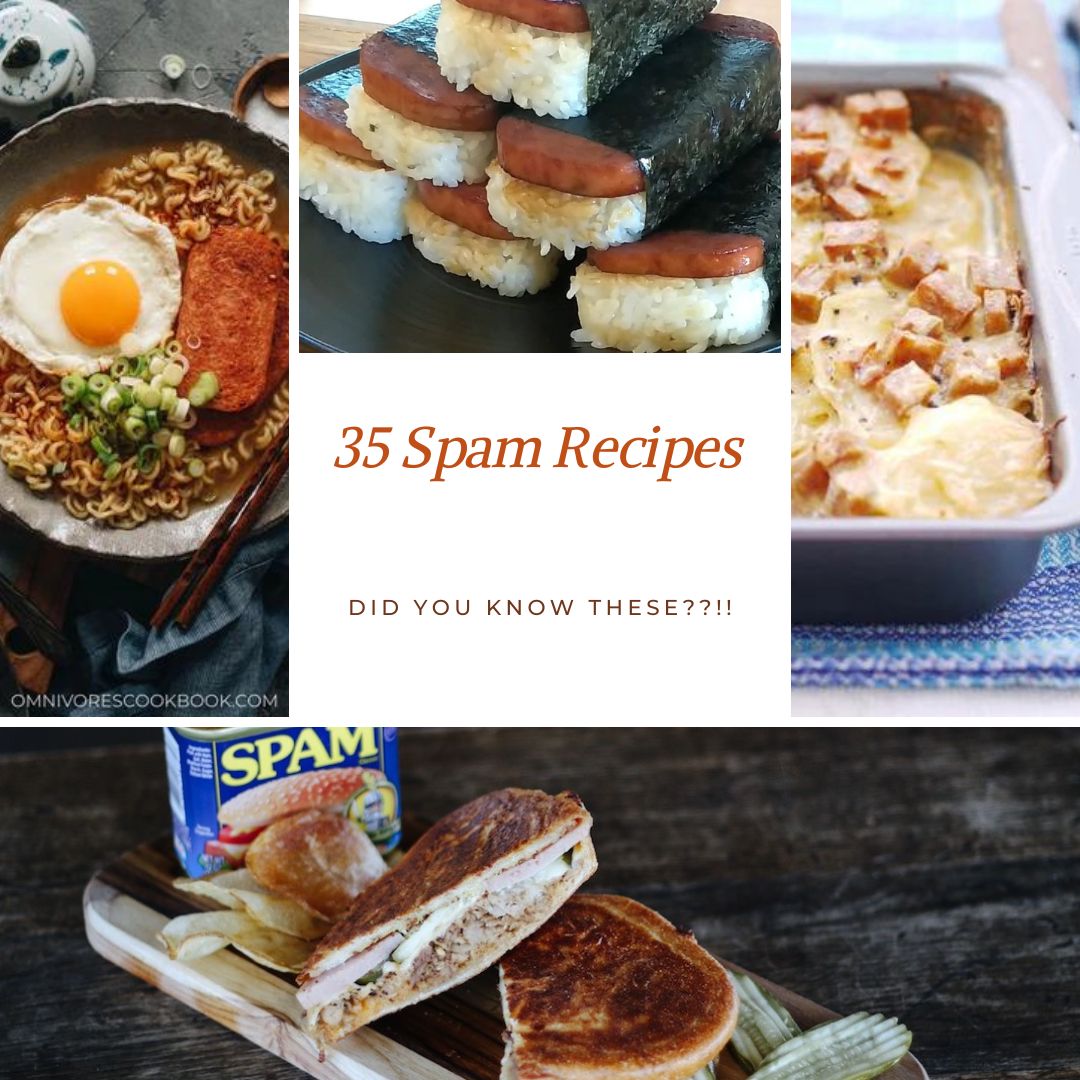 Have you been trying to up your cooking game? Maybe plan ahead for emergency situations. Or you simply want new foods to put on the table a few nights throughout the year. Well, you can never go wrong when you have a couple Spam recipes ready to make. We are sharing our favorite Spam recipes today. You know, the ones that are going to make you run right out to purchase a can of Spam. Yes, they are that tasty!
Photo: Omnivores Cook Book
We all know that college kids love ramen. Why not spice things up a little by adding a little Spam to the ramen using this 10-minute Spam ramen recipe? This is a hearty and filling recipe that actual tastes like a gourmet meal. This recipe calls for an egg on top. Feel free to change things up with different toppings too.
Photo: The Southern Lady Cooks
These Spam fried potatoes are perfect for breakfast or even a main meal at dinner. There are not a lot of spices in these fried potatoes. However, you can change that by adding the spices you love the most. You can even add a little bacon for additional flavor.
Photo: Damn Delicious
Fried rice goes well with so many dishes. You can make this Spam recipe when you have rice and lots of veggies to use up. Or you can make it to serve as a side dish for so many meals. Leftover fried rice is always delicious, so make sure you have extra for lunch the next day.
Photo: Uncle Jerrys Kitchen
Spam and white rice are wrapped in yummy Musubi Nori for this recipe. This is one of those recipes you will want to make immediately. It is sweet, savory, salty, and sour. All in the same bite. If you love sushi, this is the Spam dish you really need to try.
Photo: Intelligent Domestications
Glazed ham normally takes at least an hour to make. This glazed Spam recipe can be ready in 20 minutes. And it only uses 3 ingredients! We recommend doubling the amount of mustard and brown sugar, so you have even more glaze to enjoy during your meal.
Photo: Phoenix Mag
You may be wondering what's so special about a Spam sandwich. Well, this Spam Cubano takes the sandwich part to the next level. The pulled pork butt and chipotle mayo add flavors you won't be able to resist when paired with the Spam. We recommend piling on the pork for a huge sandwich you will devour at lunchtime.
Photo: Panlasang Pinoy
If you're having a difficult time finding a good piece of steak, you must try this crispy Spam steak recipe. Coat the Spam with the eggs, cornstarch, and flour before frying to perfection. Serve with your favorite side dishes. Or add a couple eggs to your plate for a filling breakfast.
Photo: Filipino Chow
This recipe is basically Spam, fried eggs, and fried rice wrapped in a tortilla shell. Yes, you can serve everything on a plate separately. Why would you want to do that though when you can have it all in one with a dash of hot sauce?
Photo: Crustabakes
Cheesy scalloped potatoes are the perfect side dish when serving ham. However, imagine sinking your teeth into those same cheesy potatoes with Spam mixed in. No extra dishes to wash. Just one dish with tons of yumminess included.
Photo: Cd Kitchen
Casseroles can sometimes get a bad rap. This cheesy noodle casserole filled with Spam will be one that your family will constantly ask you to make again. If your family is not a fan of mushrooms, substitute another creamy soup. It will still taste delicious.
Photo: Cd Kitchen
You haven't lived until you have had Spam on a pizza. This Hawaiian Spam pizza has all the flavors of the Hawaiian Islands. If you can't fathom eating pineapple on a pizza, leave it off. Just make sure to throw a few extra peppers and onions on there for a little extra flavor.
Photo: Cd Kitchen
There are plenty of breakfast recipes using Spam. This quiche is one that often tops the list though. You can throw in whatever vegetables you want, so this is a good time to clean out the fridge. Just make sure you leave room for the Spam, as it is the highlight of the dish.
Photo: Cd Kitchen
If you are looking for lots of protein in a meal without breaking the budget, this frijoles with Spam recipe is an excellent option. The pinto beans will fill you up, while the Spam and spices add lots of flavor.
Photo: Little Sunny Kitchen
This taco dinner can be on the table in 15 minutes, making it a wonderful option for those busy nights. The cilantro lemon sauce adds a little zing, while the guac makes you feel like you are eating a regular taco. Add your favorite toppings to this taco to make it taste even more authentic.
Photo: Cook Morphosis
Baked sweet potatoes are mashed and then mixed with tasty Spam and apples to make this dish. The result is a melt in your mouth side dish that will pair perfectly with any main dish you are preparing. Make a little extra, so you can go back for seconds.
Photo: Keeping It Relle
If you have never bit into a Spam fry, you don't know what you are missing! The outside layer is crunchy. The inside layer has that Spam flavor you have come to love. Make sure you have your favorite dipping sauce, or condiment, ready, because you won't be able to eat just one.
Photo: Tbsp
Donuts and Spam might not seem like they go together. Yet, the combination of sugary dough, and Spam creates a sweet and salty treat you won't be able to resist. Don't forget to add the glaze. Oh, and these are the best warm, so eat them right out of the oven!
Photo: Korean Bapsang
Budae Jjigae is also known as Army stew. While this recipe calls for specific ingredients, you can use anything you want. The only thing you must make sure is in the dish is Spam and kimchi. Other than that, have fun and create your own version of Army stew.
Photo:  Takes Two Eggs
Eggs benedict is a popular brunch menu option. This version calls for glazed Spam, which is then topped with a poached egg and spicy sriracha hollandaise. Add a toasted Hawaiian bun and you have your own little plate of happiness to devour.
Photo: Fab Food 4all
There is no need to skip your daily salads when you are in the mood to eat a little Spam. Simply add your Spam to the salad, toss, and top with garlic croutons and gruyere. You will have the crunchiness of the salad and croutons, as well as the saltiness from the Spam. Add your desired dressing and feel satisfied until your next meal.
Photo: The Peach Kitchen
A quick pasta meal is possible on those busy nights when you decide to make this Spam carbonara. This budget friendly recipe is creamy and packed with flavor. Make a little extra to pack in your lunchbox the next day.
Photo: Fuss Free Flavours
You don't need a waffle mix to serve your family delicious waffles on the weekend. Simply take leftover mashed potatoes from dinner, mix in a couple ingredients, as well as Spam, and make your waffles. Top with maple syrup. Or add a piece of fried chicken to really make it a filling meal.
Photo: Cupcake Project
Are you looking to make a sweet treat? Well, this candied Spam should do the trick! You can eat this on its own or add it to salads or ice cream. So many possibilities! The only thing is you may not make enough for all those possibilities.
Photo: Rasa Malaysia
This is another pasta recipe that can be on the table in no time at all on busy nights. Simply boil the pasta, sauté the Spam, and toss with the pasta sauce before serving. Quick, delicious, and perfect for leftovers the next day.
Photo: I Am A Food Blog
You can never have too many mac and cheese recipes, so here is another one to add to your list of favorites. The most difficult part of this recipe is dicing up the Spam and frying it. Everything else is simple and before you know it, you will be eating your favorite comfort food.
Photo: Cook Pad
The creaminess of macaroni salad mixes well with the saltiness of the Spam. Add your favorite veggies to this salad, even if they are not called for in the recipe. You definitely won't be disappointed when you take your first bite!
Photo: Serious Eats
One bite will have you tasting Spam, burger, cheese, sriracha, and the sweetness of pineapple. Imagine your mouth exploding from happiness after that one bite! This is one burger that will make it onto your regular menu rotation at any time of the year.
Photo: I Breathe Im Hungry
You can still stick to your keto diet and eat Spam. This recipe calls for pantry staples, which means no extra trips to the store for hard-to-find ingredients. Simply mix everything up, form into meatballs, and bake. Eat the meatballs on their own or if you are eating pasta, throw them on top.
Photo: Dont Go Bacon My Heart
Fritters are a British classic, but this recipe adds a Spam flair! This is an easy-to-follow recipe that will have you biting into the Spam and cheese filled fritters in no time at all. You just might want to wait a minute or two after cooking. They can be really hot, and you won't want to burn your mouth.
Photo: Spam
If you love cupcakes, you may be a little shocked that we are mentioning cupcakes made with Spam. But hey, don't knock 'em until you've tried them! The Spam adds a unique flavor. And the mashed potato frosting will have you wondering why you didn't make these sooner.
Photo: Cd Kitchen
When it comes to comfort foods, nothing tastes better than Spam and gravy on biscuits. You can have this dish on the table in under 30 minutes. Serve with eggs or any of your other favorite brunch items. Or sit there and devour this dish on its own.
Photo: Cd Kitchen
You can make burritos, fajitas, and quesadillas with Spam. This recipe will have you making your favorite fajitas, but substituting your usual meat with Spam. The result will be the sizzling dish you have come to love over the years. Except it will be ready to eat much faster than in the past.
Photo: Cd Kitchen
You can have this Chinese dish on the table in less than 30 minutes. The salt in the Spam will pair well with the sweet and sour of the rest of this dish. Serve over rice to make a complete meal.
Photo: Cd Kitchen
Sauerkraut balls are deep fried yumminess. You probably wouldn't know they contained Spam if you hadn't read the recipe and made them yourself! These sauerkraut balls mix up quickly and taste best right out of the fryer.
Photo: Cd Kitchen
There is nothing better on a cold winter's day than a hot bowl of soup. You will get just that when you make this hearty New Mexican Spam soup. Make a huge pot and eat it for lunch all week long.
These are the 35 best Spam recipes. You will have a few new favorite recipes to add to your menu rotation after you try them all out. And if you have never eaten Spam before, you may have a new favorite food to add to your list of things you will now eat. 
We are on Amazon, see our storefront here. Use coupon code VBKBLOG10 for 10% off your entire purchase of any Virginia Boys Kitchens on Amazon. Apply the code at checkout.