Butter Board Recipes - The New Charcuterie Board That is Taking Over Tiktok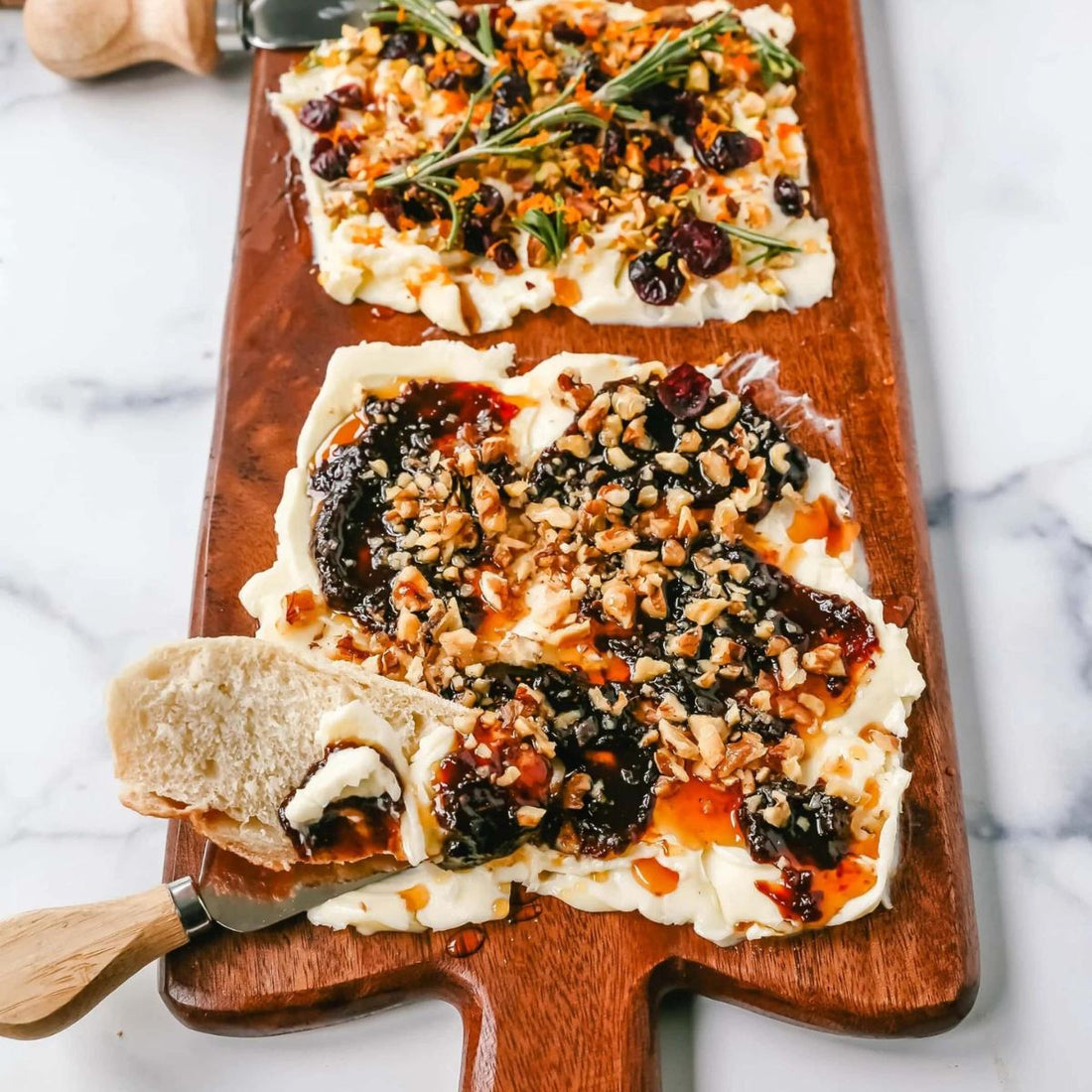 What is a butter board?
A butter board is a small wooden board with a groove around the edge, used for holding a block of butter.
The bread is placed on the board, and the butter is spread over the top. The softened butter helps to flavor the bread and can also be used to make a savory or sweet combination with other toppings like jam, salt, honey, or lemon zest.
How do you make a Butter Board?
To make a butter board, you'll need softened butter, a board or platter, and a spreader. Spread the butter on the board or platter, using as much or as little as you like. You can make a savory butter by adding a combination of herbs, spices, and bread crumbs.
The presentation is best on a wooden cutting board - but marble also works here! An extra bonus is that wooden boards loves oil and butter!
What type of butter is best for a butter board?
Salted butter is highly recommended since you wouldn't be using unsalted butter on your toast, right? It brings out the flavor well. One exception would be if you're making a dessert butter board (think cinnamon, butter, honey, and bread). Unsalted butter, would be better for dessert boards.
You want the butter to be soft at room temperature - but not mushy. Spreadable butter is best.
For color, grass-fed butter such as Kerrygold will have a richer yellow color whereas less expensive options will be more of a lighter yellow.
Butter board is best done on a dark wood - it shows so much better! If you try a butter board on a blonde wood such as maple, it wouldn't show as well. We want a board that is as yummy as it is aesthetic! 
See our collection of dark wood butter boards here.
Tips for making a butter board
If you're looking to make a butter board that will impress your guests, here are a few tips to follow. First, choose a good quality butter that will soften easily on the board.
Next, add some lemon zest for a bit of flavor and color. Finally, would put the butter on the board in a small mound or rectangle so that your guests can easily spread it on their bread or crackers.
Love making butter charcuterie? You might want to check out our wooden charcuterie boards.
What platter should I use for butter boards?
Photo credit: ModernHoney.com
Small is better here - we suggest 8x17 or 8x12. If you're feeling fancy and you're going to make a few different combos on the same board, definitely go for the 4x20. 
If you use a board that's too large, 2 sticks of butter wouldn't get you very far (and how much butter were you planning on eating??)
Ingredients I always suggest using when making a butter board
When it comes to making a butter board, I always suggest using the best quality butter you can find. In addition, a good flake salt is essential in order to really bring out the flavor of the butter.
If you have any fancy salts, now is the time to bring them out!
Base ingredients:
Salted butter, softened to room temperature
toppings of choice
french bread
Then pick your topping of choice - here's our favorites:
1. From SpoonForkBacon.com - crushed nuts of choice, chives, dill sprigs, orange zest, lemon zest.
best board for this would be the 8x12 rectangular board.
photo credit: Spoonforkbacon.com 
2. Modernhoney.com - 5 different combos to try, all laid out beautifully on a long handle wooden board.
Best board for this would be our long-handle 4x20 baguette board.
photo credit: ModernHoney.com
3. From JulieBlanner.com - some holiday ideas here - make a Christmas tree shaped butter board, or a pumpkin shaped butter board!
Use our 10x16 knob-handle cutting board for this display.
photo credit: julieblanner.com
You may also like:
We are on Amazon, see our storefront here. Use coupon code VBKBLOG10 for 10% off your entire purchase of any Virginia Boys Kitchens on Amazon. Apply the code at checkout.