The Top 20 Asian Charcuterie Boards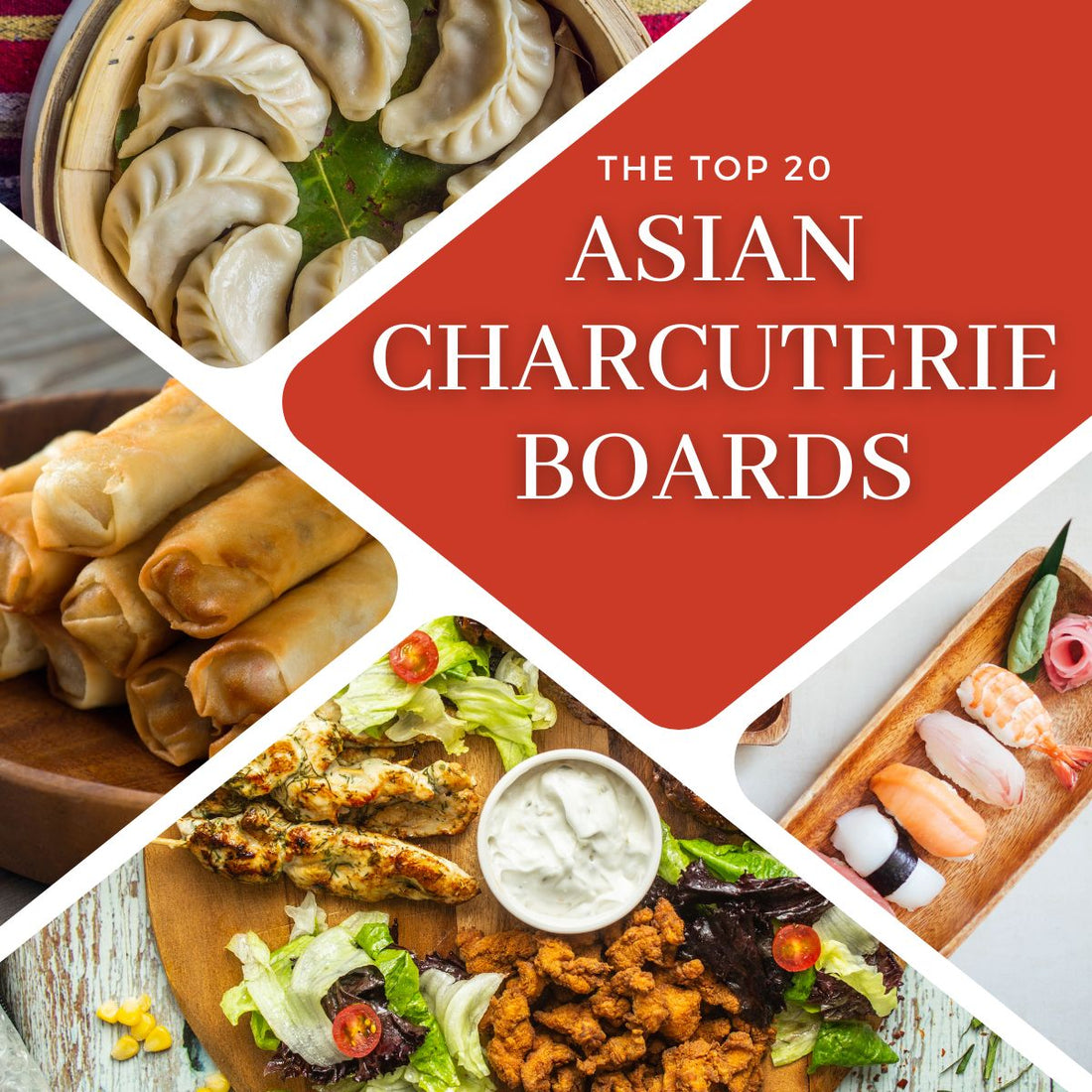 Do you love Asian cuisine? If you do, why not gather it all onto an Asian charcuterie board? There are many different boards to choose from, so we compiled many of our favorites in this post. Try them all and see which Asian charcuterie board turns your next get together into a delicious one. 
Our Lineup: The Best Asian Charcuterie Board List
This Asian charcuterie board is full of bold flavors. Start by adding crispy rice crackers to your board. Then pile on spicy cured pork sausage, fermented pork nam, and beef meatballs. Finish it off with a little nam jim jaew (Thai chili sauce) and you will have the perfect board for any day of the year. 
This Asian charcuterie board seems to have a little of everything. Start with all your favorite fruits. Don't forget to add dragon fruit and cactus pears. Meats and cheeses, like camembert, go on next. Then a few veggies, some sushi, wasabi peas, and sesame crackers. Switch things up a little with what you have in the house to make this your own. 
Cured salmon and marinated ikura (red caviar) are the highlights of this charcuterie board. It is simple to make both of these before adding them to the board. Finish it off with a few black olives and cheese for a complete snack. 
Sweet and savory snacks make up this tasty Asian charcuterie board. A few must-have items include pastries with sweet fillings, rice crackers, shrimp chips, crispy noodle snacks, and green tea wafers. Don't forget the sweet melon jello cups! 
Celebrating Chinese New Year is a lot more fun when you make this Lunar New Year board. This board has a little of everything. A few of the favorites include haw flakes, roasted wasabi peas, white rabbit candy, kasugai roasted nuts, and egg rolls. 
This cheese board begins with a soft double cream, swiss, and pepper jack cheeses. Fruits and veggies are next. It has a few uncommon ones like lychee, mangosteen, and passionfruit. You'll need a bigger board for this one, because then you will add steamed BBQ pork buns, fried egg rolls, won tons, and spring rolls. 
This Chinese New Year board will have everyone well fed before it gets too late. It is filled with bak kwa, apple compote, mixed nuts, keropol, mandarin oranges, and salted egg aioli. 
This Lunar New Year board is piled high with dried shredded chicken, crunchy peanut candy, Asian spicy beef jerky, dried watermelon seeds, and dried fruits and veggies. Add a little cheese and you will be ready to celebrate in style. 
Your family or guests can all make their own banh mi sandwiches when you make a banh mi charcuterie board with all the ingredients. Start by adding pork loaf, cured pork roll, pork liver pate, and cured pork sausage to your board. Cucumbers, cilantro, jalapenos, kimchi, and sweet bell peppers are next. Don't forget a couple of French baguettes sliced into rounds. We love to toast them first. 
The shark coochie board is full of cha lua, cha chien, cilantro, xa xiu, cucumbers, pickled carrots, Vietnamese mayo, and sliced French baguettes. Consider using a rectangle cutting board for the best aesthetic.
Six different pakora (fritter) recipes are used to make this vibrant charcuterie board. This board contains chopped palak pakora, onion pakora, whole palak pakora, aloo bhajiya, gobi pakora, and mirchi bhajiya. 
This may turn out to be your favorite Asian charcuterie board. It is filled with grapes, crackers, crostini, cheese, samosa, hakka noodles, and roasted cauliflower. Add in a few curry cashews and you almost have an entire meal on a board! 
When you make this Indian-inspired board, you will be using the most delicious Indian snacks. Savory items include paneer skewers, cereal chevda, tika ganthiya, and papdi ganthiya. On the sweeter side, there is jalebi, kaju katli, and peda. 
Sometimes you just want something sweet to eat. When that happens, make this Indian dessert board. You will need mithai flavored chocolates, sweet boondi, shankarpare, peanuts chikki, and a few varieties of ladoos. For dessert boards, we recommend using a tray. The deep setting will prevent smaller treats or, in this case, ramekins of Badam Doodh (flavored almond milk) from sliding off and creating a mess. 
This snack board contains a little bit of everything. Add samosa, dhokla, puri, makhana, masala nute, and crispy chakli. Don't forget some fruit to round it all out. 
The desi charcuterie board contains hot samosas, khandvi, jalebis, and Indian crisps. Fried chilies are added for heat and the people brave enough to eat them. For those daring few, the chutneys will be the perfect pairing to cool down their palate!
This is another Indian dessert board. The highlight of this board is the mithai dip. This dip pairs perfectly with mithais, fruit, cakes, cookies, and brownies.
Move aside, sushi boats! This sushi board contains different types of sushi. In between all that delicious sushi, you will find fresh veggies. We love that this creator used a round tray to arrange their fresh sushi.
A trip to Hawaii isn't necessary when you want to feel like you are in a tropical paradise. Simply make this sweet Hawaiian snack board instead. This board is filled with all the important Hawaiian candies. Think rainbow belts, berry beans, gummy bears, gummy pineapples, and hurricane popcorn. 
A tropical themed board is simple to make. Cut up all sorts of tropical fruits like pineapple, kiwi, mango, dragon fruit, and mandarins. Add in dried fruits like coconut chunks and sweet banana chips. Then fill in the blank spaces with Hawaiian macadamia nuts, yogurt pretzels, and Hawaiian bread rolls. 
If you love charcuterie, you might want to check out our collection of charcuterie wood boards. 
Your Favorite Asian Charcuterie Board: Solved!
These are our favorite charcuterie boards inspired by delectable Asian cuisine. Hopefully, out of all these charcuterie boards, you can find one that will be the Asian charcuterie board you go to every time you want to make one. 
RELATED PRODUCTS YOU MIGHT LIKE
View our entire collection of dark wood walnut cheese boards - there are many shapes and sizes to choose from. Find your perfect board for your next charcuterie tray!
We are on Amazon, see our storefront here. Use coupon code VBKBLOG10 for 10% off your entire purchase of any Virginia Boys Kitchens on Amazon. Apply the code at checkout.