Loaded Nachos Recipe From Scratch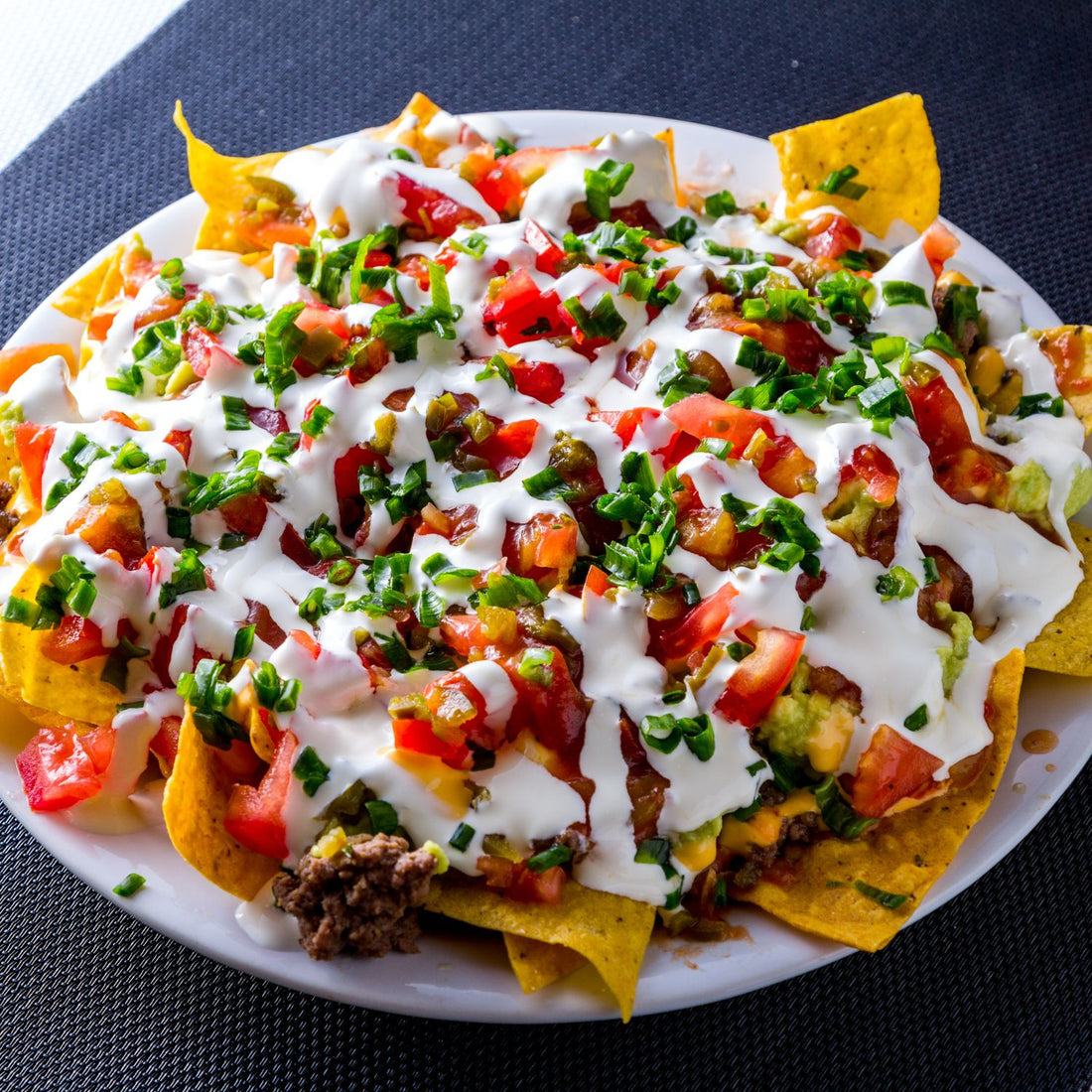 Are you tired of the same old boring nachos? Look no further, because these nachos are about to knock your socks off (and possibly your pants too, we won't judge).
With a heaping helping of ground beef, a mountain of melted cheese, and a secret ingredient that will make you say "how have I lived without this before?", these nachos are the perfect game day snack, movie night indulgence, or just because you deserve it treat.
So grab a cold drink, some napkins (trust us, you'll need them), and let's get ready to make some nachos that will have you questioning your life choices before.
Ingredients:
1 lb ground beef
2 avocados
Vegetable oil
1 white onion, minced
1/2 red onion, minced
1/4 cup pickled jalapeños, minced
1 large tomato, diced
Handful of fresh cilantro, chopped
1/4 cup heavy cream
6 cloves of garlic, minced
1/2 cup sour cream
2 1/2 cups shredded Monterrey jack cheese
1 10oz bag of tortilla chips
2 spring onions, sliced
Directions:
Preheat oven to 400F. Heat a large cast iron pan over medium-high heat and add vegetable oil.
Add minced white onion and cook for 5 minutes or until browned. Then add garlic and cook for an additional minute.
Add ground beef and sprinkle with a full tin of Everything But The Taco Seasoning. Cook for 5-8 minutes until browned.
Remove beef from pan with a slotted spoon and transfer to a bowl.
Spread tortilla chips in an ungreased ceramic dish and top with cooked beef. Sprinkle shredded cheese over the top.
Bake in the oven for 10-15 minutes or until cheese is bubbly and slightly browned.
While nachos are baking, mash avocado flesh in a bowl with heavy cream and 1/2 of the tin of Everything But The Guacamole seasoning.
Once nachos are done, top with dollops of sour cream and guacamole. Sprinkle with red onion, green onion, jalapeños, tomato and cilantro.
Squeeze one lime over the top and place remaining lime slices in the corners. Dust with remaining Everything But The Guacamole seasoning.
Serve with cold beverages and enjoy!
Products You May Like
We are on Amazon, see our storefront here. Use coupon code VBKBLOG10 for 10% off your entire purchase of any Virginia Boys Kitchens on Amazon. Apply the code at checkout.