A Simple Guide to Choosing the Best Cutting Boards for Your Kitchen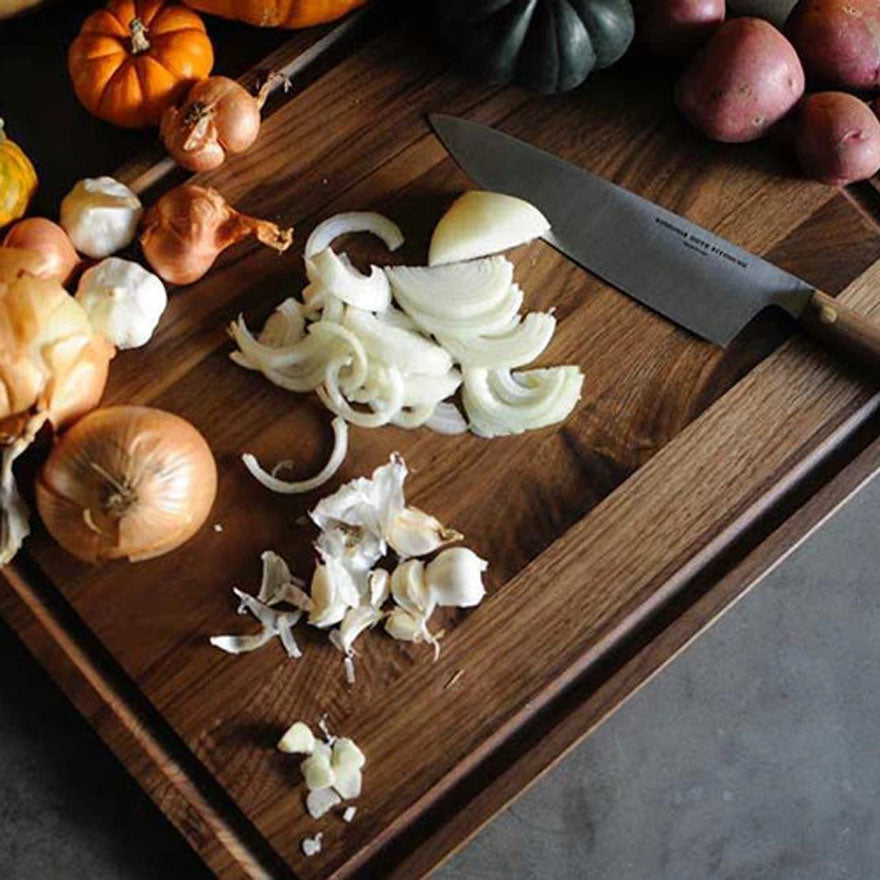 The cutting board: the unsung hero of the kitchen.
Not as flashy as its partner, the knife, but just as vital.
It's easy to overlook the cutting board's importance and just go for the lowest price tag, but you'll find that investing in a higher quality cutting board can make a tremendous difference.
There are a few simple decisions to make when choosing the right cutting board for your kitchen.
The first, and most important, is what it's made of.
Plastic, Bamboo, or Wood?
Whether your cutting board is a knife destroyer, a bacteria-ridden monster, or a reliable chopping surface comes down to one thing: the material.
We can break the pros and cons of each material down into a few categories:
Knife friendliness
Hygiene
Durability
Cost
| | | | | |
| --- | --- | --- | --- | --- |
| Material | Knife friendliness | Hygiene | Durability | Cost |
| Plastic | Good for retaining knife sharpness. | Dishwasher safe. Grooves caused by cutting can accumulate bacteria. | Surface becomes rough and scarred relatively quickly. | Cheapest. |
| Bamboo | Harder than most woods; dulls knives faster. | Lack of scarring and water penetration means less bacteria. | Long lasting. | Cheaper. |
| Wood | Best for maintaining a sharp knife blade | Lower bacteria load than plastic boards, not dishwasher safe. | Long lasting. | More expensive. |
Plastic Cutting Boards
A plastic cutting board is a fine tool to have in any kitchen.
There are some quality options for relatively cheap prices, like Good Grips OXO Cutting Boards.
Plastic boards are easier to clean than other types, and they're easy on your knives.
The problem lies in their longevity.
After a while of use you'll have plenty of scars on the cutting surface, which will be prone to harder-to-clean bacteria build-up.
Plastic boards may be cheaper than other types, but if you're doing a lot of cutting, you'll have to replace them fairly often.
A plastic board simply won't last as long as other types of cutting boards.
Bamboo Cutting Boards
The famed grass is a popular option for cheaper cutting boards that will last longer than their plastic counterparts in a similar price range.
These boards are harder than most wood boards, which means they won't scratch easily and are therefore resistant to water and bacteria penetration.
However, chopping on these regularly will have you sharpening blades far too often.
Wood Cutting Boards
Once you sink your knife down onto a wooden cutting board, you realize just what you've been missing all these years.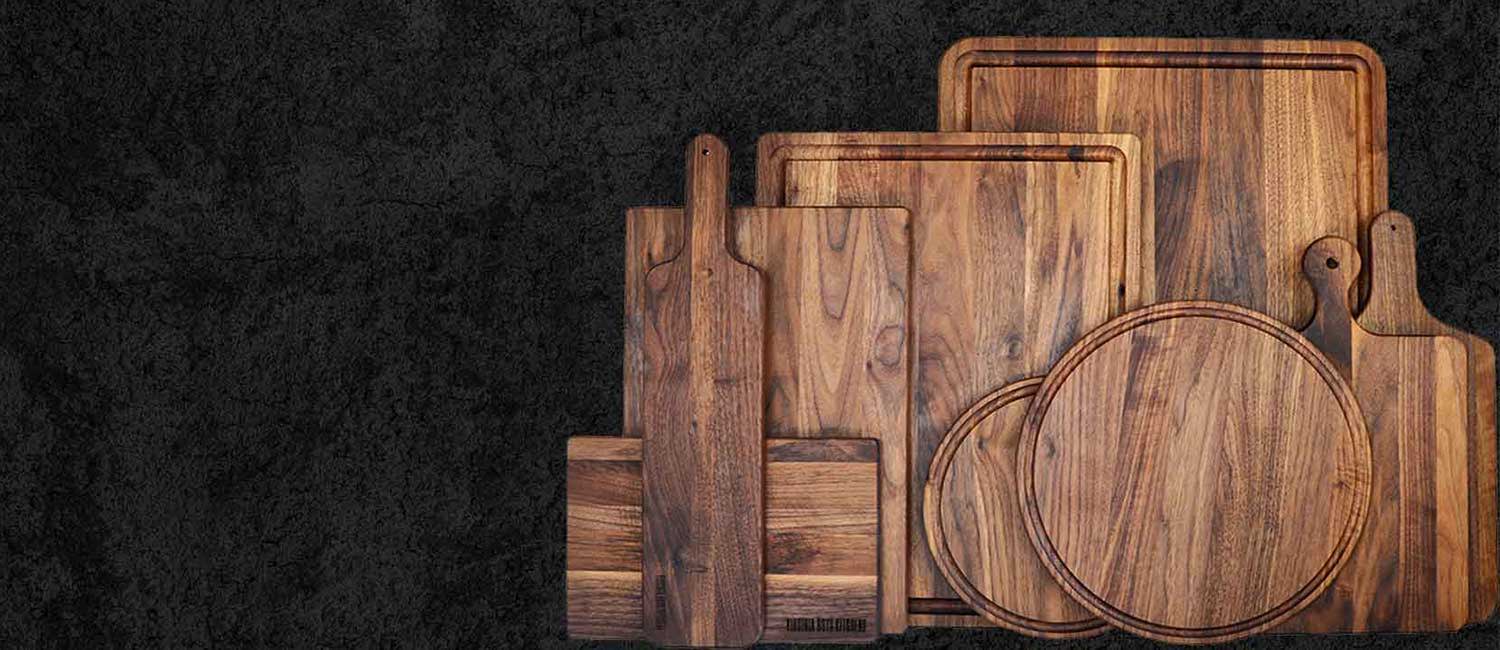 Sustainable Walnut KitchenWare
Besides the obvious positives that come with using a wood cutting board, how they maintain the sharpness of your knife's edge, the cleanliness of a well-maintained board, and the enhanced durability; they also feel great.
They're more expensive than the other materials, but you definitely get your money's worth.
Wood cutting boards last!
You've never heard of someone inheriting their grandparents' plastic cutting board, have you?
Your best bet for a quality cutting board is one made of wood.
So we've found the best material, now we face another question: which type of wood?
Read More: Cutting Boards: Wood Versus Plastic
Which Wood is Best?
There are two important criteria for which wood is best for making cutting boards:
The Wood Should Be Closed Grain Hardwood (But Not Too Hard)
A closed grain hardwood is the best wood for cutting boards for a few reasons.
Closed grain wood has smaller pores, therefore it's less likely to warp from contact with moisture.
According to a study by Dean O. Cliver of UC Davis, these pores also contribute to the cleanliness of a wood cutting board. The porousness of wood actually causes bacteria to sink deep into wooden boards away from the cutting surface.
Of course, regular care is still necessary to keep your wooden cutting boards clean. A nice rinse with soapy water will do the trick. But you can take it a step further by trying one of these cleaning methods.
Boards made with closed grain hardwood are also friendly to your knives.
However, it's important that the wood isn't too hard if you're going to be using it often and don't want to be sharpening your knives all the time.
For example, teak is a strong closed grain hardwood. But you'll find that such a hard wood will dull your knives much quicker than a walnut or maple cutting board.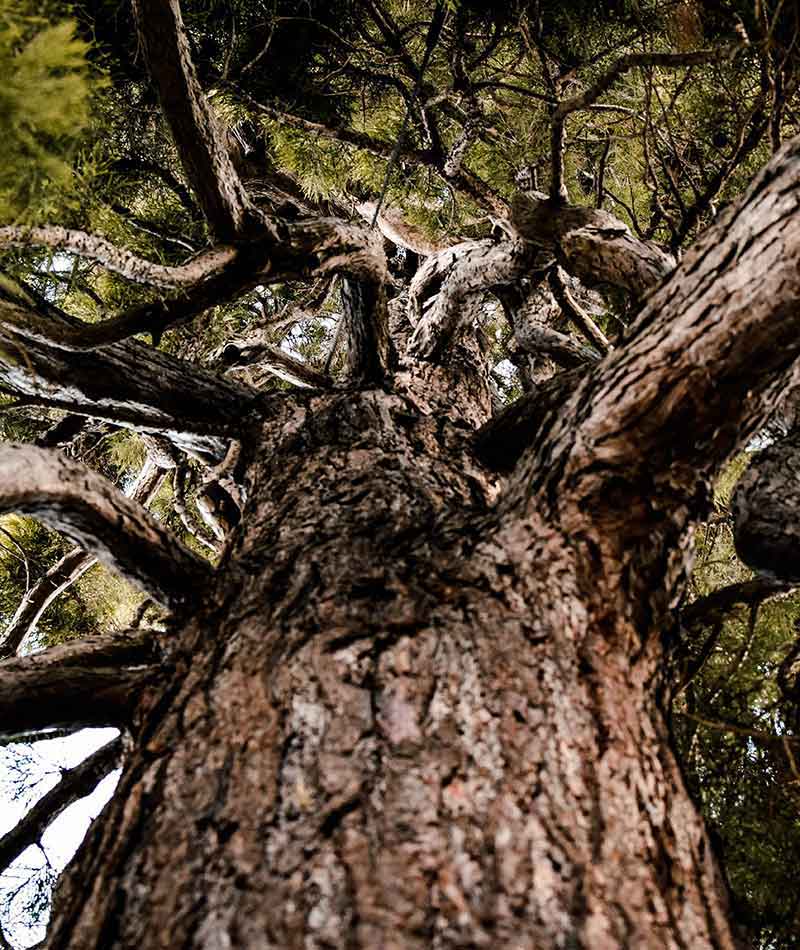 Beautiful, Natural Kitchenware You Can Trust
The Tree Should Produce Edible Fruits, Nuts, or Syrup
Fruits, nuts, and syrups are nature's delicious way of telling us that the wood of a tree is safe to come in contact with food.
You'd think most types of wood would be food safe, but many species actually produce allergens and toxins you wouldn't want sneaking their way into your dinner.
This is especially true of tropical trees that use these toxins to prevent bugs and other life forms from eating their flesh.
The most common wood for cutting boards is maple, but cherry and walnut are also popular materials. John Boos butcher blocks and cutting boards come in each of these woods.
It really comes down to preference, but for home cooks who will use their wood board regularly, we recommend a walnut cutting board like the ones made by Virginia Boys Kitchens.
Walnut is hard enough to resist scratching and warping, but soft enough that it will maintain the sharpness of your knife blades.
See Also: Three Major Differences Between High-Quality and Low-Quality Cutting Boards
Cutting Board Construction
Flat Panel
Flat panel boards are basically a few pieces of wood glued together, edge to edge. Think of them as tiny tabletops.
However, these boards are more prone to warping and splitting than tabletops or other similarly constructed wooden items because of their more frequent contact with liquids.
This is the simplest construction method and makes the cheapest boards. But the quality isn't nearly at the same level of edge grain or end grain cutting boards.
Edge Grain
Edge grain boards are made by gluing panels face to face, with the long, thin edge bands running across the surface.
These boards are thicker than flat panel boards, so they don't warp or split as easily.
They're also usually thinner than end grain boards, making them lighter and easier to handle. You won't have to warm up before carrying your edge grain cutting board from your kitchen counter to the sink.
Edge grain boards are an excellent middle ground for price and quality.
However, scratches are more visible on edge grain board wood. So if you're going for a more aesthetically pleasing kitchen, you may want to spend the extra money for an end grain board.
End Grain
The wood pieces of these boards are joined together so the end grain makes up the cutting surface.
The end grain is the short end of a typical piece of wood.
When a blade slices onto this part of the wood grain, the wood fibers behave like a broom's bristles and move apart, letting the object pass between them. Lift the blade and the fibers return to their original position.
Therefore, end grain boards can self heal.

20 x 15 Extra Large End Grain Walnut Wood Cutting Board - ChessMaster Pattern
Simply put, end grain boards are the best wooden cutting boards money can buy.
However, these boards are usually much more expensive than other wooden cutting boards.
But—you'll find they are a sound investment that will last years if properly cared for.
Read More: Best Wood to Use for End Grain Cutting Boards
Best Wood Cutting Boards
An excellent way to begin your wooden cutting board journey is to buy a cutting board set.
Here at Virginia Boys Kitchens we have a set of two different sized boards with food grade mineral oil included.
You'll have two boards, one for raw meat and one for everything else. That way you won't have to worry about cross contamination.
Need a board with a juice groove? You'll find a variety of shapes and sizes.
Or if you'd like a beautiful end grain board, we've got two unique designs available.
Best of all, our boards range from one to two inches thick so they're never too bulky for any space.
Check out our selection of end grain and edge grain walnut cutting boards at Virginia Boys Kitchens and find the perfect board for your kitchen.
Related Articles: 
Cutting Boards: Wood Versus Plastic
Three Major Differences Between High-Quality and Low-Quality Cutting Boards
Best Wood to Use for End Grain Cutting Boards
We are on Amazon, see our storefront here. Use coupon code VBKBLOG10 for 10% off your entire purchase of any Virginia Boys Kitchens on Amazon. Apply the code at checkout.