6 Sustainable Products That Make the Perfect Thanksgiving Gift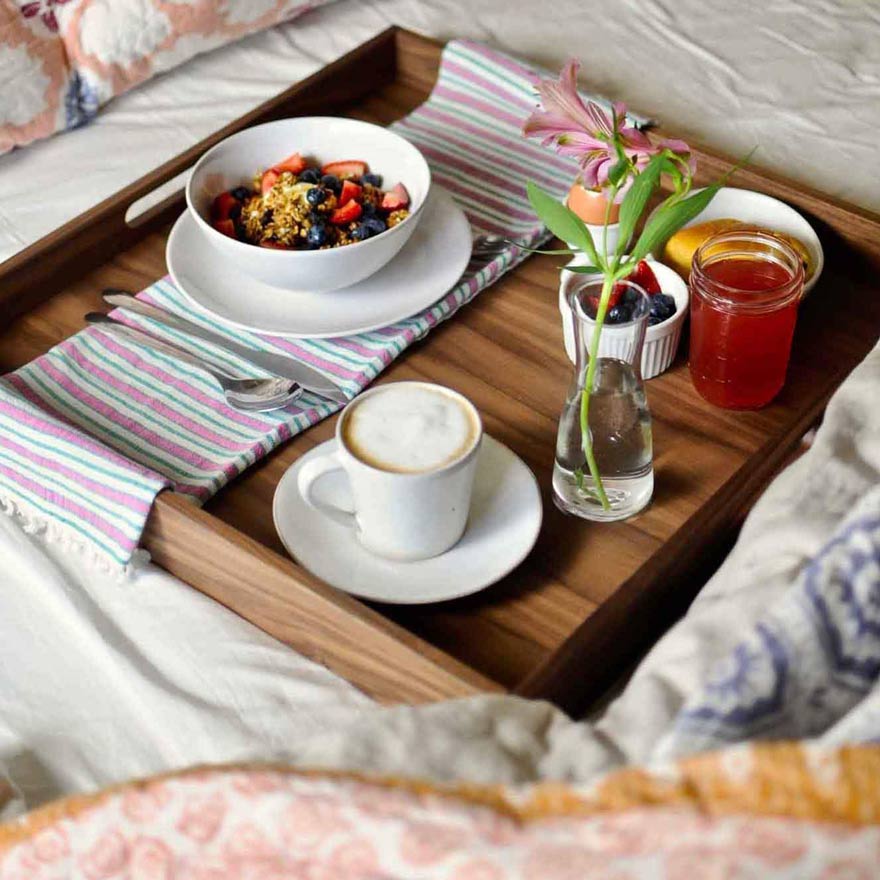 6 Sustainable Products That Make the Perfect Thanksgiving Gift
If you're attending a Thanksgiving party, be it a formal family gathering or a casual Friendsgiving, you don't want to turn up at your host's house empty-handed.
An intentional, eco-friendly Thanksgiving gift is an excellent way to express gratitude to a loved one or host for their invitation to the party.
And even if you can't be with your loved ones on Thanksgiving, sending a thoughtful, sustainable gift is an excellent reminder that you're thinking of—and are thankful—for them.
But why give a sustainable Thanksgiving gift?
Americans create more waste during Thanksgiving and Christmas than at any other time of year. By giving a sustainable gift, you promote a healthy, eco-friendly environment.
Sustainable products:
Help reduce waste dumped in landfills
Improve the quality of life
Release fewer carbon emissions
Save natural resources like trees
Create new green jobs
As you select the perfect Thanksgiving gift for your family and friends, think outside the box. Opt for cool, useful, and sustainable products like the following six, rather than bland and common reusable bags and water bottles.
1 - Eco Friendly Serving Tray
First on our list of sustainable Thanksgiving gifts is the Walnut Wood Serving and Coffee Table Tray from Virginia Boys Kitchens.
A serving tray is a versatile accessory that provides both practical and aesthetic functions to a space.
Related: Why Every Homeowner Needs One Serving Tray
Traditionally used to serve food and drinks, these days wooden serving trays have gone beyond the kitchen space and evolved into a common interior design trend.
Our wooden serving tray is an excellent Thanksgiving gift since it will serve your host several purposes:
Transport food and drinks to friends and family
Create an interesting centerpiece on the coffee table
Keep perfumes and lotions well organized on the dressing table
Store placemats and coasters on the dining area
Hold drinks at a party or get-together
Whether your host is a cooking enthusiast, a DIY guru, or an avid lover of interior design, a wooden serving tray is that one-fits-all kind of a gift.
Why is it sustainable? It's made from the highest quality walnut trees, a sustainable alternative to hardwood trees like oaks.
Besides, as tree lovers, Virginia Boys Kitchens only source wood forests growing 2.4x faster than their harvest and mortality rate. This is verified as sustainable.
2 - 100% Natural Soy or Beeswax Scented Candle
Giving the gift of luxury with delicious smelling candles never goes out of style. It doesn't matter how many candles your host owns; they won't mind receiving another one.
But these are not just ordinary candles. Contrary to traditional candles, sustainable candles are created using 100% natural soy (or beeswax) and essential oils from natural plants.
Soy candles are cheaper than paraffin-based candles, are made from soybean oil, and are a renewable and biodegradable product.
As eco-friendly products, these candles:
Are free from any chemicals
Burn longer than conventional candles
Release less soot than regular candles
Have cotton wicks that are lead-free
The sustainable scented candles will not just add an extra holiday atmosphere but will also promote relaxation after all the cooking on Thanksgiving.
So gift a loved one soy or beeswax candles today. Whether it's a deliciously scented candle from a splurge-worthy luxury brand, a year's supply through a candle subscription box, or a romantic scented candle to set the mood, you won't go wrong with this thoughtful gift.
3 - Complete Care Kit for Wood Cutting Boards
The Virginia Boys Kitchens premium complete cutting board care kit is the ideal Thanksgiving gift set for the professional chefs and cooking enthusiasts in your life.
This set comes with all the receiver needs to make their cutting boards last longer, deter bacterial growth, resist water and stains, and prevent cracks.
Better yet, this care kit isn't limited to cutting boards. Our entire sustainable Wood Care range can be used on knife handles, serving trays, butcher block counters, and other wooden products to keep them looking glossy and well-maintained.
All four products in this care set are made using all-natural ingredients—No GMOs, additives, paraffin, or mystery ingredients—with a unique blend of virgin coconut oil, virgin olive oil, organic beeswax, and essential oils to promote a healthy and sustainable environment.
The complete cutting board care set includes:
4oz cutting board soap bar: Cleans and sanitizes cutting boards and other food-safe wood surfaces (and it's hand-friendly!).
8oz seasoning oil: Penetrates deep into the wood pores, conditions, and seals the wood to hinder splitting and cracking.
4oz organic wood wax: Protects and restores the wood surface by creating a barrier that repels water and stains.
8oz cleaning spray: Deep cleans cutting boards to remove stubborn stains while not scratching the wood surface.
Expert Tip: Pair the complete wood care kit with a high-quality walnut cutting board as a complimentary Thanksgiving gift for your receiver. This way, even if they lack a cutting board, they'll now have one to use the cutting board care kit on.
4 - Reusable Thanksgiving Wine Gift Bag
Wine is considered one of the best gifts you can give for Thanksgiving. But why not add icing to the cake by putting the wine in a reusable wine gift bag?
Say "Happy Thanksgiving" or "Thank You" to your hostess for the Turkey Day celebration with a reusable wine cover. It will surely add dazzle to the bottle you'll bring them while still making a statement on its own.
Since the fabric is reusable and eco-friendly, it's an excellent replacement for heavily-inked wrapped papers or plastics that harm the environment.
The cotton fabric is all-natural, durable, and machine-wash friendly, making it an ideal gift even for wine lovers who'd wish to use the gift bag repeatedly.
5 - Sustainable Skincare Gift Set
Gifting your loved one a skincare or beauty gift set is often perceived as a symbol of love and care for their well-being.
Most skincare and beauty products use chemicals that generate waste harmful to the environment and user.
But skincare products made with all-natural ingredients are gentle on sensitive skin, prevent irritations, and release little to no toxins to the environment.
Therefore, present the perfect Thanksgiving gift without compromising on Mother Nature today by giving skincare products made purely from natural ingredients—organic fruits, herbs, spices, or grains.
They'll not only leave your recipient's skin looking supple, but they're also healthy for humans, animals, and the environment alike.
6 - Kitchen Knife Set

3 Piece Stainless Steel Checf Knife Set With Walnut Wood Handles
When in doubt, give the gift of a high-quality kitchen knife set. It doesn't matter the number of blades your loved one has—they can always have more.
If your recipient is a professional chef or an avid lover of cooking, a kitchen knife set suits them. Gift them 3 or 4 quality kitchen knives.
We absolutely love and recommend the Virginia Boys Kitchens 3-Piece Stainless Steel Chef Knife Set with walnut wood handles capable of handling any cutting task.
They're beautiful and proudly handcrafted in the USA, and have comfortable wood handles made from treated, dishwasher-safe black walnut wood.
At Virginia Boys Kitchens, we believe in taking proper care of our dear Mother Earth by putting in more than we take out. That's why for every purchase of this beautiful kitchen knife set, we plant a tree.
So surprise your loved one with this kitchen knife set for Thanksgiving. They'll love it just like our previous buyers:
"I wanted an American-made cutlery product for my father. This knife arrived promptly and he was thrilled with it!"
— Shelley S
"My knife arrived on time and in perfect condition… I love it. Fits perfectly in my hand…blade is super-sharp."
— Ellen V
"Excellent product and a good razor-sharp edge at 23° per side. Well done, thank you."
— David R
Other Sustainable Products to Look Out For
Check out the table below for more eco-friendly products to give your loved ones this Thanksgiving.
Sustainable Gift Set
Short Description
Product Link

Perfect Thanksgiving gift for chefs and cooking enthusiasts

Has a helpful handle to carry food easily
Looks beautiful when displayed in the kitchen

Comes in a set of 4, with a holder and cock bottom
Blends perfectly with our walnut trays
We also provide custom branding services for orders of 20 units or more. So if you'd love your Thanksgiving gift engraved with your recipient's name or logo, send us a text with further details and we'll handle the rest.
We'll ship the gifts to you in bulk or drop ship them directly to your receivers, both for free.
See also, 
Best Wood For Cutting Boards (and what not to use)
Best Wood For End Grain Boards
Share on Instagram:
We are on Amazon, see our storefront here. Use coupon code VBKBLOG10 for 10% off your entire purchase of any Virginia Boys Kitchens on Amazon. Apply the code at checkout.