What is a Charcuterie Board?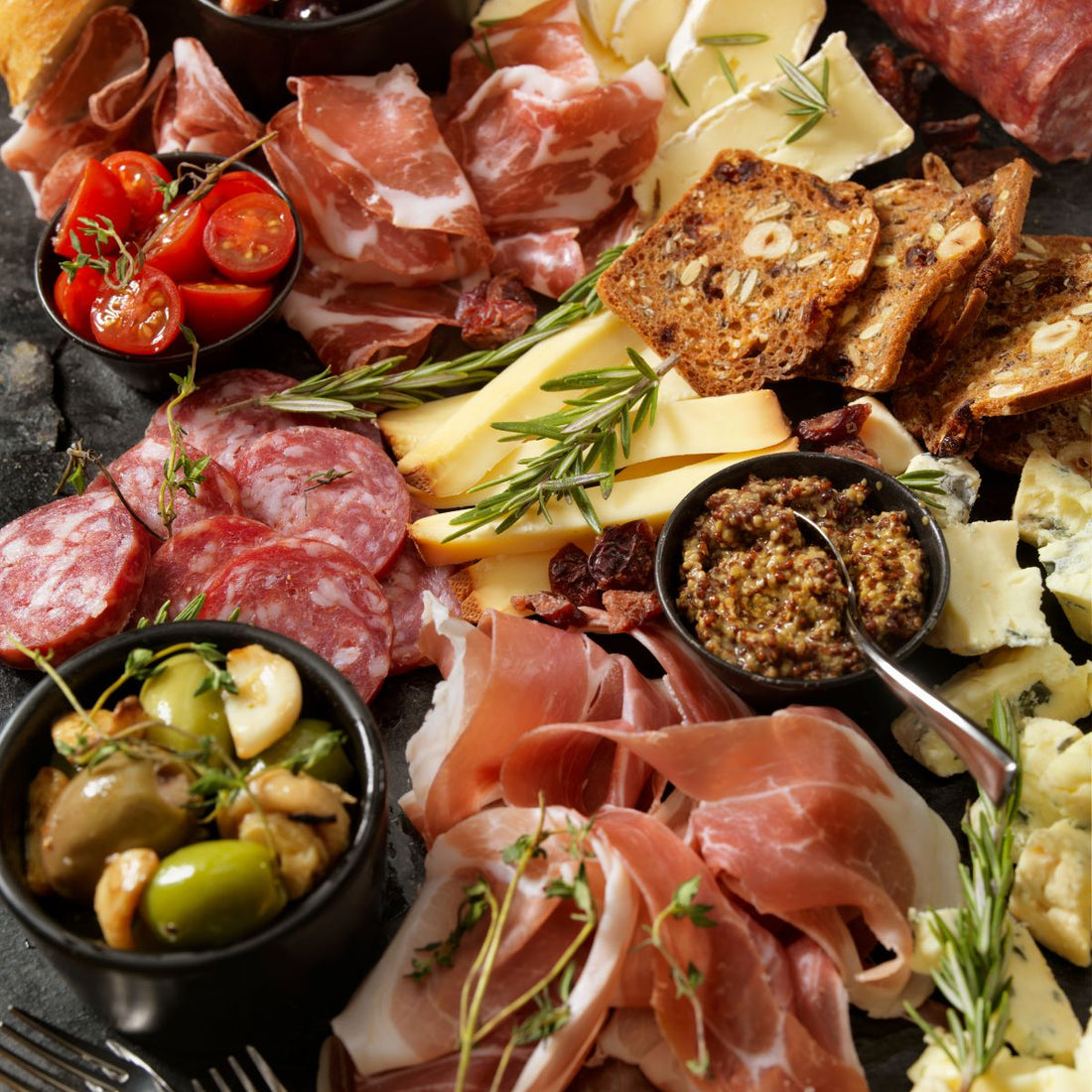 A charcuterie board is a delicious way to enjoy a variety of meats and cheeses. The name comes from the French word for "butcher," and it refers to a style of food presentation, not just the types of foods included. A charcuterie board typically includes meat products like cured ham, salami, or pate; artisanal cheeses; and accompaniments such as nuts, olives, pickles, and spreads.
Why We Love Them
Charcuterie boards are particularly popular in America because they allow people to try different types of food without feeling overwhelmed by too many options at once. They're also great for parties because they let everyone enjoy their own personalized combination of flavors—whether it's Blue Stilton with cranberry chutney or gouda with honey mustard pretzels!
How do you pronounce charcuterie?
To pronounce charcuterie, say "shar-koo-tuh-ree." Charcuterie is a type of cured meat that dates back to the 15th century. The word comes from the French word for "pork butcher." To make a charcuterie board, cured meats are typically combined with cheeses, breads, and other accompaniments.
See normal people pronounce it in real life (start at 10 seconds)
What typically goes on a charcuterie board?
Charcuterie boards typically contain a selection of cheeses, meats, crackers, olives, dips, and jams. Around the board, you'll usually find a variety of cheeses like brie, cheddar, goat cheese, and others. Meats like salami, ham, and other cured meats are also common. Crackers, breads, or other savory items are used to fill in the gaps. To finish it off, you might see some pecans or other small nuts in bowls around the board.
What Meats Go On A Charcuterie Board
Charcuterie boards are a great way to serve a variety of meats and cheeses. Popular meats for charcuterie boards include salami, pepperoni, and prosciutto.
There are many fun ways to display these deli meats for charcuterie board - you can fold a "rose" using two pieces of salami folded in half, overlap them, and roll it.
You can also make a salami meat flower by using a small glass, layer on some salami pieces, and invert the glass to reveal the flower (see step-by-step with pictures -  tutorial here)
The Best Cheeses to Use
A charcuterie cheese board is a great way to bring a taste of Europe into your home. You can serve it as an appetizer or as part of your meal—it's really up to you! There are different types of cheese that can be used in different ways. Brie, gouda, and goat cheese are all great cheeses to use. 
Typically you want to include one soft cheese, one semi-hard, one hard, and maybe a crumbly one. Variety in texture is important here! 
For a very nice POP! you can center the board with a burrata cheese ball - its mozzarella on the outside, ricotta on the inside. You can even dress it up with pesto, and some nuts (optional).
The most important thing about serving this dish is having a variety of different types of cheeses for your charcuterie. You might want a combination of:
Camembert (soft, creamy cheese which pairs well with cured meats like salami or prosciutto)
Brie (soft and creamy cheese which pairs well with pate)
Roquefort (strong, salty cheese which pairs well with cured meats like salami or prosciutto)
Gouda (smooth, creamy and sweet cheese which pairs well with pate and smoked salmon)
Cheddar (having something everyone is familiar might be important here)
If you think your guests is up for it, include a crumbly and strong cheese such as goat cheese or blue cheese
Your guests might have dietary preferences - include a vegan cheese if you think it's needed.
Related: See our article on selecting the best cheese for charcuterie
What Crackers Should I Use?
If you're looking for the perfect cracker to pair with your cheese and charcuterie board, you'll want to consider a few things. First, think about the different shapes and sizes of crackers that are available.
Then, arrange them on your board in a way that looks pleasing to the eye. Finally, choose crackers that will complement the cheese you've selected. Read more about cracker pairings and best practices in our other article best crackers for charcuterie.
Variety is also key here - add some buttery crackers, some crunchy crackers, and some herbed ones for taste. 
Don't forget that you can also substitute or add other things such as pita bread, crostini, or French bread as well. They are actually more preferred than crackers for most people, but is typically more appropriate for smaller boards for 2 or 4 people.
Fill In Spaces With Dried Fruit, Nuts and Jams
Dried fruit, nuts and jams are great for filling in spaces on a cheese board. I like to use blueberries, apricots, granola clusters, candied nuts, or pomegranate arils. They look wonderful, add a nice touch of color, and makes your board pop with a deep red or purple splash of color.
Which Wines Pair with Charcuterie Boards?
Charcuterie boards are a great way to entertain guests. They can be customized to include a variety of meats, cheeses and other items. When selecting wines to pair with a charcuterie board, it is important to consider the textures of the items on the board.
Cured meats tend to be salty, so a wine with a higher acidity level can help balance the flavors. Soft cheeses pair well with lighter-bodied wines, while hard cheeses go well with fuller-bodied wines.
Tools for Making a Charcuterie Board
To make a charcuterie board, you'll need a few tools:
a cutting board
a cheese knife
small bowls - white ceramic looks best
A wood cutting board or wood display board (see how to choose the best board for charcuterie here)
However, for larger gatherings you might want to opt for a wooden tray with handles - it keeps everything from falling out, and it makes a spectacular display! You can also opt for a large wood board instead. For a smaller party of 2 or 4 we definitely recommend a display board with handle. 
4 Steps to the Perfect Charcuterie:
Basically you pick the right size board, start with the large items then work your way toward the smaller items in succession.
Step 1 - start with the right size board for your party. Once you figured this out, add a centerpiece if you have it (large round gouda, large wedges of cheese, or a large dip or sauce of some kind in a bowl). Start with largest items first.
Step 2: Add smaller items such as crackers (or crostini, or pita, or whatever you're using), and smaller cheese such as cubed cheddar, and the deli meat.
Step 3: Fill in the space with smaller items such as fruits and candied or toasted nuts. 
Step 4: Finally fill in the spaces with pomegranate seeds, sunflower seeds, or granola.
Step 5: (optional) drizzle the board with balsamic or honey if desired. Garnish with 1 to 2 sprigs of rosemary.
Ideas to dress up your charcuterie board:
1. Line it with a fun table runner, such as this item (you can buy it directly here)
2. Make a salami meat flower and garnish the board with 1 or two of these. See step-by-step tutorial on how to make a salami meat flower here.
Finally, enjoy your charcuterie board with friends and family!
Related Products You Might Like
View our entire collection of dark wood walnut cheese boards - there are many shapes and sizes to choose from. Find your perfect board for your next charcuterie tray!
You can also buy a selection of delectable charcuterie meats shipped to your door! Check out D'artagnan here and see for yourself. Have the convenience of interesting meats and cheeses delivered right to your door!
We are on Amazon, see our storefront here. Use coupon code VBKBLOG10 for 10% off your entire purchase of any Virginia Boys Kitchens on Amazon. Apply the code at checkout.