Wood Cutting Boards: An Essential Buyers Guide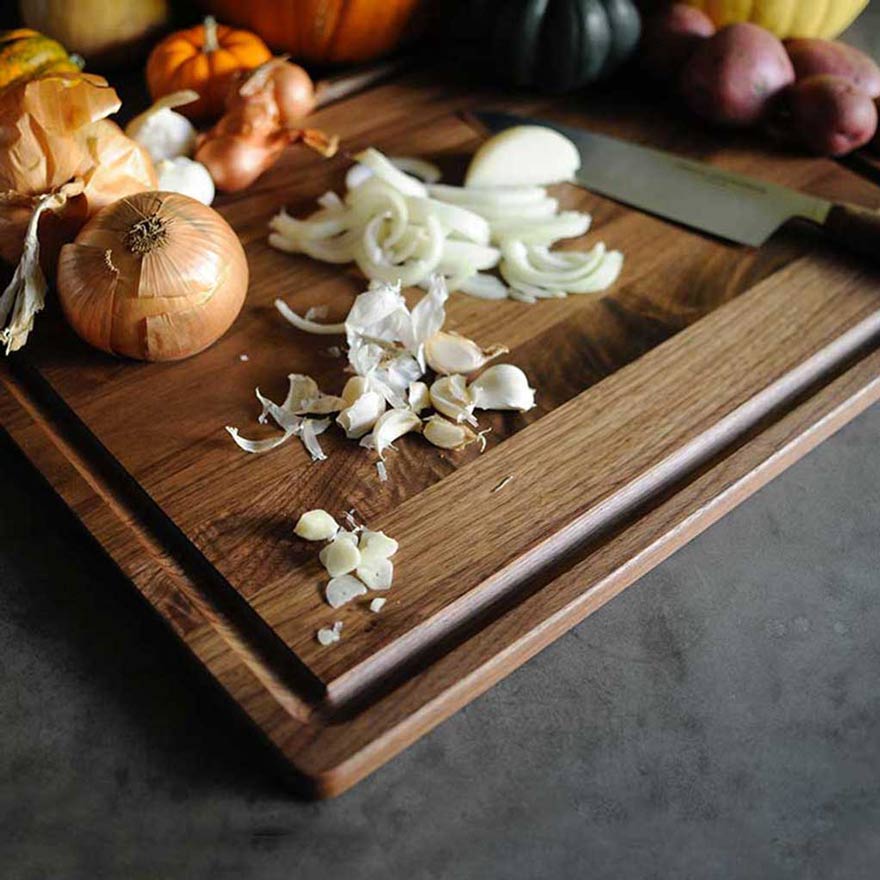 Wood Cutting Boards: An Essential Buyers Guide
Few pieces of kitchen equipment are as essential as a quality cutting board.
Without it, well, nothing can get cut—there's hardly a substitute for chopping, dicing, mincing, and cutting meat, fruits, and veggies (except for countertops or kitchen surfaces which are highly unhygienic and unsafe).
However, not all cutting boards are made alike; the material used makes a huge difference. Wooden boards are far superior to plastic, marble, bamboo, or glass cutting boards, which is why they've stood the test of time.
But why are they superior?
Because wooden cutting boards:
Create a softer cutting surface, keeping knives sharper for longer
Are aesthetically pleasing and decorate your kitchen space
Have natural antibacterial properties, making them more hygienic
Are long-lasting and ideal for long-term investment
Have a solid structure that offers better stability during use
See the complete guide here - Best Wood For Cutting Boards (and what not to use)
There are, of course, many types of wooden chopping boards on the market today—some make for an excellent choice to cut on, while others are highly disregarded.
Yet, purchasing the highest quality wood cutting board is critical for many reasons, including maintaining food hygiene and keeping your knives sharp.
Let's see how to select the best wooden cutting boards to fit your lifestyle, needs, and budget.
1 - Hardwood vs Softwood
Softwoods mature faster and are majorly evergreen cone-bearing trees. They're softer and have more room between wood fibers. Think cedar, cypress, and pine.
Hardwoods, on the other hand, are naturally harder and have a denser grain than softwoods. Think trees like teak, walnut, and maple.
While the difference between the two types of woods may seem trivial on the surface level, the distinction becomes crucial when applied to a cutting board.
Softwoods are too porous, and any cut you make on the board leaves room for bacteria to survive and multiply.
Over time, hardwoods, which are denser in thickness, will maintain their hygienic nature, but softwoods won't.
Therefore, when purchasing a wood cutting board, go for hardwood. Besides its impermeable properties, a hardwood cutting board:
Is more durable and won't dent or scratch easily
Makes it easier to cut food because of its solid structure
Won't dull your knives as much as softwood
One of the best woods for cutting boards is our first love, walnut— a heavy and soft dense hardwood that comes in rich, dark colors, ideal for hiding stains and marks that may be eyesores to you and other kitchen users.
As a hardwood, walnut is durable enough to sustain knife blades, but still soft enough not to dull your knives. This makes it fall into the "just right" category of hardness which is crucial for both board and knife maintenance.
Virginia Boys Kitchens produces eco-friendly walnut cutting boards made using locally sourced sustainable wood of the highest quality.
Related: Eco-Friendly Walnut Cutting Board: Possible or Unicorn?
Purchasing these walnut cutting boards will benefit not only your health and kitchen, but the whole environment. For every purchase, we plant a tree to ensure we're giving Mother Nature more than we take from her.
One of our bigger cutting boards, the Extra Large 18x24 inch Walnut Board, is wide enough to hold large food platters for family gatherings and celebrations.
"…Board is beautiful and arrived in time for Thanksgiving. I used it for all kinds of prep…and to serve snacks"
— Laurie S
Its large size also makes it a perfect gift idea for cooking enthusiasts or professional chefs who spend a great deal of time preparing large meals.
2 - Cutting Board Size
The size of your wood cutting board will depend on the number and size of the food items you need to prep.
For instance, if you're a professional cook, you'll need an extra-large cutting board to accommodate a 16-pound turkey that could measure up to 17 inches in length.
Related: Large Cutting Board: 7 Unconventional Uses
A bartender, on the other hand, will need just a small cutting board to wedge garnishes.
Let's take a look at the different cutting board sizes in the following table.
Cutting Board Size
Description
Dimensions Available
Virginia Boys Kitchens Cutting Board
Small

Ideal for a work station with limited space
Suitable for cutting fruits and chopping veggies

4" x 20"
10.5" round
8" x 12"
8" x 17"

Small 8" X 12" Walnut Board Reversible With Juice Groove

Medium

Are the most versatile since they can be used to prep any kind of meal
Their versatility makes them ideal for everyday use

Small 10.5 Inch Round Walnut Cheese Board

Large

Most suitable for cutting large food items like cabbages and watermelons

13.5 Inch Round Walnut Cheese Board With Groove

Extra large

Excellent for storing chopped veggies and other ingredients
Can also be used as serving trays
Their extra-large size can make a statement when used as a centerpiece

Extra Large 20x15 Inch End Grain Board
3 - Wood Grain Patterns

Medium 11x17 Inch Walnut Board
Within the category of wood cutting boards you'll find three primary design styles: face grain, edge grain, and end grain.
Each pattern boasts a different level of durability and hygiene.
Face Grain Pattern
A face grain wood cutting board is the simplest and easiest to make, and therefore most economical.
However, because of the grain's orientation and width, this kind of wood cutting board experiences the most stability issues, such as cracking and warping.
The board's orientation and pattern also make knife cuts deep and most visible, a problem that's mitigated in the other two board grain patterns.
In summary, the face grain pattern cutting board:
Is cost-effective
Has little effect on knife edges
Is resistant to water and stains
Requires regular maintenance
Has the most visible scratches
Edge Grain Board
(Like our 8x17 Inch Walnut Cutting Board)
An edge grain board is an upgrade in durability and quality from a face grain board. It's made out of parallel thin strips of wood that are glued together, as seen in the video below:
Due to their simpler design and greater sturdiness than face grain, edge grain boards are the most common in households. They're also cheaper than end grain wood boards.
When well maintained, an edge grain board can be an excellent kitchen workhorse.
Its other features include:
Its surface is ideal for food presentation.
It's cheaper to manufacture if locally sourced materials are used.
It provides a stable surface for cutting food items.
End Grain Board
(Like our 14x18 Inch Walnut Cutting Board)
The end grain board is the king of all cutting boards. It's constructed using blocks turned on end, exposing the sturdiest and most durable surface.
Usually, the end grain board's construction process creates aesthetic patterns because it grants us the freedom to arrange the wood blocks in a pattern.
Because of its nature, the end grain cutting board is the easiest on knives and conceals knife cuts better than any other board pattern.
A major drawback of this grain board is that it's more absorbent than the other board patterns and requires more maintenance to ensure it looks its best.
In summary, the end grain cutting board:
Holds the knife in place—it won't slip away as it cuts into the wood
Has a unique and attractive pattern that resembles a checkerboard
Gentle on knives due to its self-healing property
Is more difficult to construct, and will therefore always cost more
Requires regular care and cleaning (see Clean and Care Kit for Wood Cutting Boards)
Buy the Best Wood Cutting Boards Today
Whether you're an expert or a novice in the kitchen business, a cutting board is a must-have accessory if you want your kitchen to run smoothly.
A high-quality cutting board will care for your knives and provide the best working surface for prepping your meals. That's why you need the best wood cutting board money can buy.
At Virginia Boys Kitchens, we take pride in creating the best, eco-friendly, and sustainable wood cutting boards to meet your needs and preferences.
All our boards are locally sourced and made here in the USA using the highest quality walnut trees. If you prefer a different wood type, we'll be happy to customize a cutting board for you.
Ready to get started?
Place your order today and start prepping your meals like the pro you know you are.
What Others Are Saying About Our Wood Cutting Boards
"Excellent! Great Purchase Experience … I like the beautiful color of the walnut wood. It's heavy but sturdy."
— Agnes C
"My new board looks so good I want to display it instead of using it."
— Michael A
"I LOVE my large cutting board. And am happy to purchase it from VBK … Let's support independent businesses."
— Maureen B

"This cutting board is amazing, it looks great and stands up to all the cutting equally."
— James H
"This cutting board is a work of art. I gave it to my wife as a Christmas present..."
— Nicholas O
Share on Instagram:
We are on Amazon, see our storefront here. Use coupon code VBKBLOG10 for 10% off your entire purchase of any Virginia Boys Kitchens on Amazon. Apply the code at checkout.