Epicurean Cutting Board vs Walnut Cutting Boards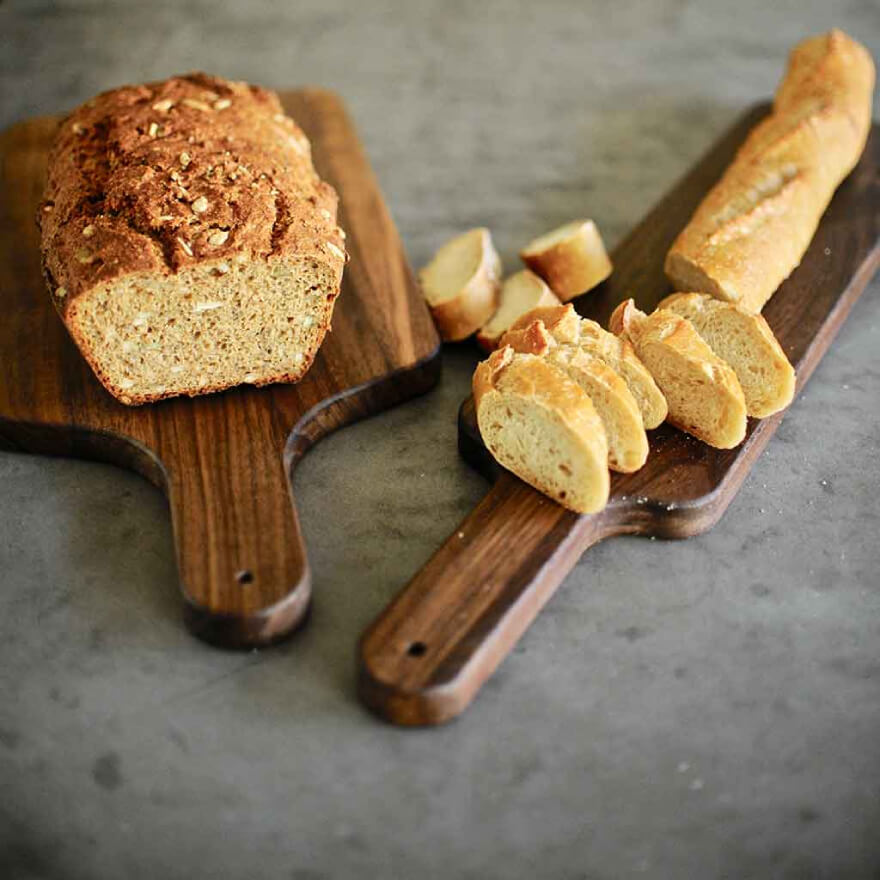 Epicurean Cutting Board vs Walnut Cutting Boards
Epicurean is a popular choice for cutting boards. Wood is widely considered the best material for cutting boards. Beautiful woods like walnut make boards that are durable, beautiful, and gentle on kitchen knives.
However, there are plenty of alternatives to wood cutting boards. These include:
Plastic
Bamboo
Metal
Steel
Glass
Most alternative cutting board materials have one or two desirable features, but come up short in other categories. For example, plastic boards are low-priced, but offer zero aesthetic value. Glass boards are durable and hygienic, but they'll destroy your knives.
Along with familiar materials like wood and plastic, today's cutting board market includes some less traditional options, such as paper composite. The Epicurean brand uses this interesting material to make kitchen products that boast an eco-friendly production footprint.
Curious about how a new-age material like paper composite measures up against a classic wood cutting board? Let's compare and contrast the pros and cons of walnut cutting boards and Epicurean cutting boards.
Walnut Cutting Boards - Pros and Cons
Wood cutting boards are favored by chefs and homemakers around the world.
Various woods can be used to create cutting boards and serving trays, such as cherry, maple, and beech. Here at Virginia Boys Kitchens, we favor walnut.
Let's take an honest look at the pros and cons of walnut cutting boards.
Walnut Cutting Board - The Pros 
Here are the attributes you'll love when you own a walnut cutting board.
They Are Durable
A well-made wood cutting board lasts for decades. It won't shatter or break, like a glass cutting board, and it won't get torn up and frayed, like a plastic one.
Walnut in particular is a wood that's extra hard and resistant to warping. Walnut cutting boards can withstand daily use and cleaning without changing shape or wearing down.
They Are Gentle On Knives
The worst thing a cutting board can do is damage your knives. What good is a low price on a cutting board if it results in the need to buy new knives?
Cutting board surfaces that are too hard cause the rapid dulling of knife blades. The worst offenders are glass boards and metal boards.
Wood boards are best for maintaining knife quality because they're just soft enough to gently receive a knife stroke, while strong enough not to break down during heavy use.
While some woods are hard enough to damage knives and others are too soft to be durable, walnut hits the sweet spot—not too hard, not too soft.
They Are Beautiful
Even if wood cutting boards weren't the best in terms of performance, they would still be popular. Why? Because a well-made wood cutting board is as much a piece of art as it is a kitchen tool.
Goods made from wood are one-of-a-kind. Every board from every tree is unique, with its own special grain and coloring.
Walnut wood contains rich, dark shades of brown. As the only dark-colored wood that's native to North America, walnut is one of the most popular woods for furniture, tools, and handicrafts.
The Cons of Walnut Cutting Boards
There's a lot to like about a gorgeous walnut cutting board. Are there any downsides?
As with most high-quality products, a wood cutting board requires a bit of care.
If you want to keep your board in top condition, it's best to hand wash it rather than run it through your dishwasher. You should also season the board with oil to protect its surfaces, and do your best to keep it dry between uses.
Finally, wood boards are a bit more expensive than other types of cutting boards. However, the difference isn't drastic. Plus, a high-quality wood cutting board will last longer than other types of boards, while doing a better job of protecting your knives.
VBK customers agree that it's worth paying a bit more for quality.
"This is an absolutely gorgeous cutting board, and the craftsmanship appears stellar. We expect to happily use it for many years to come."
— Carrie, ★★★★★ Verified Virginia Boys Kitchens Reviewer
Epicurean Cutting Boards - Pros and Cons
Compared to wood cutting boards, a paper composite Epicurean board is a less traditional option. However, these boards are popular among budget-focused consumers. Let's review the pros and cons of Epicurean cutting boards. 
The Pros 
The Epicurean brand has only been around for a few decades. So, compared to wood cutting boards, there's less consensus regarding the pros and cons of Epicurean products.
Epicurean boards aren't a top choice for professional chefs, so there's an absence of expert opinions on their performance and quality. That said, here are the generally agreed-upon pros and cons for Epicurean cutting boards.
They Are Eco-Friendly
Epicurean cutting boards are made from Richlite. It's a composite product made by pressing together hundreds of sheets of paper. Using pressure and heat, the individual sheets fuse together to form a solid board.
Like wood products, paper products can be environmentally friendly if they're sourced with a focus on sustainability.
The Epicurean brand, like Virginia Boys Kitchens, is focused on eco-friendly production. They use recycled paper and paper from sources that are certified by the Forest Stewardship Council.
They Are Dishwasher-Safe
A key selling point for Epicurean cutting boards is that they can be cleaned in the dishwasher.
Like wood, the paper composite material used for Epicurean boards can warp after sustained exposure to moisture. It's likely that Epicurean cutting boards and wood boards are equally dishwasher-safe, but wood board owners are a bit more sensitive about risking water damage.
The Cons 
Epicurean cutting boards are more gentle on knives than super-hard surfaces like glass or metal. However, they're more damaging than wood or plastic.
Paper composite can be made to imitate the softness of wood, but it won't have the natural grain fibers that make wood the perfect surface for receiving knife strokes.
Finally, Epicurean boards don't offer aesthetic value. Paper composite is a manufactured product that presents a simple and uniform surface. Each board is the same, lacking the unique grains and colors of wood.
Walnut vs Epicurean Cutting Board Comparison

Walnut Wood Cutting Board and a Knife
The most common reason for choosing a non-wood cutting board is price. Budget-focused shoppers may prefer to sacrifice some of the benefits of a wood board in order to save a few bucks.
The table below compares the current prices of Virginia Boys Kitchens walnut boards to Epicurean boards.
| | | | |
| --- | --- | --- | --- |
| Virginia Boys Kitchens Cutting Board | Price | Epicurean Cutting Board | Price |
| VBK 8" x 12" walnut cutting board | $50.00 | Epicurean 9" x 11.5" cutting board | $24.99 |
| VBK 10" x 16" walnut handle board | $70.00 | Epicurean 11.25" x 14.5" cutting board | $31.99 |
| VBK 13.5" round walnut cheese board | $70.00 | Epicurean 13" x 17.5" cutting board | $42.99 |
High-quality walnut cutting boards are a bit pricier than mass-produced alternatives. What do you get for paying a little more? A beautiful, high-performing product that will last for years and years. 
"Great craftsmanship. Amazed by how well-made this tray is... We use it for just about everything. Looks just as beautiful as when we got it."
— Sarno R., ★★★★★ Verified Virginia Boys Kitchens Reviewer
Walnut Cutting Boards From Virginia Boys Kitchens

Assorted Walnut Wood Cutting Boards and Serving Trays
Using sustainably sourced American black walnut wood, Virginia Boys Kitchens makes:
So that future generations can keep enjoying beautiful products made from American wood, we only source wood from forests that grow at a rate 2.4 times faster than the harvest plus mortality rate, as verified by the AHMI.
To learn more, visit our blog.
Share on Instagram:
We are on Amazon, see our storefront here. Use coupon code VBKBLOG10 for 10% off your entire purchase of any Virginia Boys Kitchens on Amazon. Apply the code at checkout.