How To Make A Charcuterie Board For 50 Guests- Step-by-Step Process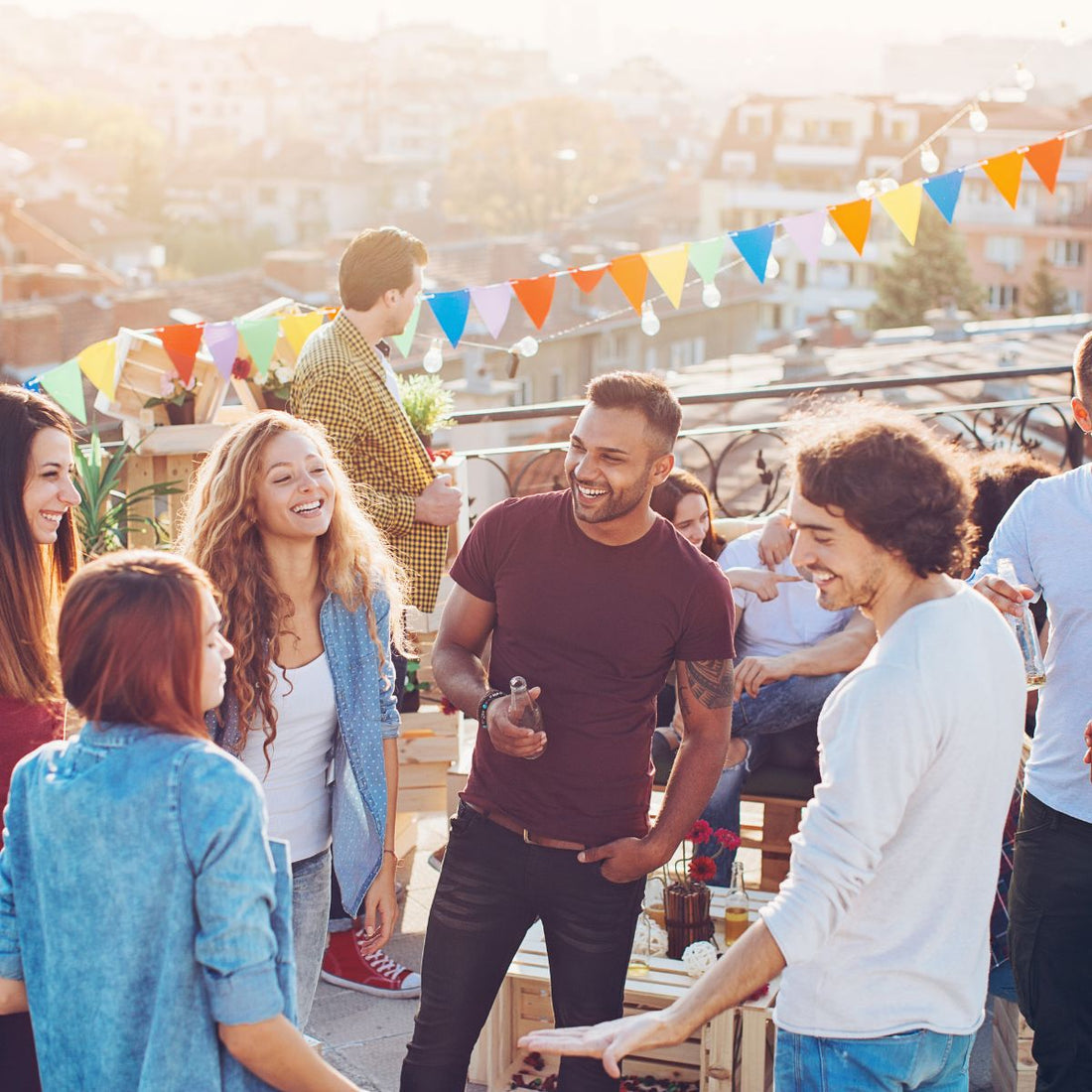 Are you planning a party for 50 guests and will like to prepare a charcuterie board for them? Then this is for you.
The idea of preparing a Charcuterie board for 50 guests can be overwhelming and discouraging, but you do not have to worry about that. We've got you covered! Before we talk about that, let's talk about some equipment you'll definitely need:
1. Cheese and Meats
2. Large Wood Board (on Amazon) big enough for the job
3. Optional - set the table with this something cute, or rustic such as crumpled brown paper. Or, try our cute charcuterie paper table runner
In this article, we will be walking you through the step-by-step process for preparing an impressive charcuterie board for such a large number of people.
It's not the same as preparing a charcuterie for 2-6 guests, there are pitfalls you definitely need to avoid!
Let's get straight to business.
How to prepare a charcuterie board for a large group?
The major difference in the making of a charcuterie board for a large group and a small group is in the number of items used.
Also, you should remember that your guest list is made up of people with preferences. So try to create something that everyone will enjoy.
Now, let's talk about the steps.
You need something big enough. This is where the butcher paper/ brown parchment paper comes in. Get your butcher paper and cut it to fit your dining table or the preferred location.
Start with the meat: It is best to have at least 3 different options of meat. On average, 2 ounces of meat per person will be needed, so put this in mind when shopping. Always get extra meat so that you can refill as time goes on.
If you think this is sub-par and would prefer a better presentation, get three extra large cutting boards (Amazon link), all same shape and look and place them side by side. It's paramount importance here, that they all match!
Round wood boards (on Amazon) tend to be most popular for charcuterie as the presentation is a little easier to work with. You just place something in the center and add things around the board in 5-6 sections, like this Greek themed board here:
An extra piece of advice - buy sliced meat, this makes things easier for you.
Cheese: The usual practice is to allow your guests to slice their cheese but when you are having a large group of people that isn't advisable. It's easier to grab and go, so get pre sliced cheese and spread them out. 
Don't fret if you do end up slicing your own meat or cheese. Just be sure to protect your cutting board with proper seasoning before slicing meat and cheese on it.
There are a lot of cheese options to choose from but the simple trick is to get two types of cheese- one soft cheese and one hard cheese. You can also get an extra one - something just in between (see full article on Best Cheese for Charcuterie)
Crackers: This shouldn't be much of an issue, any kind of crackers will do. There are a plethora of crackers at grocery stores to choose from. If you are not sure of what to do, get two types of crackers- a plain and a funky type.
 Related article: 5 Best Crackers for Charcuterie
Spread: The right condiment pairing will add to the flavor of your cheese, by giving a contrast to its saltiness. For your charcuterie spread, you can go with jam, mustard, fig spreads, or anything that suits you. 

Choose thicker spreads and jams instead of the runny, thinner ones - those make more of a mess. Pick marmalades and preserves over jams, for instance.
 Related article: Dips, Spreads, and Sauces for Charcuterie
Spice it Up: If you want something extra, you can add apples, bunches of grapes, chocolates, and anything nice you have in your fridge. A sprig of rosemary would also work. You don't want anything too soft and ripe, here. Crunchy works best - sliced apples, thinly sliced pears, firm grapes, etc...
What should be on a charcuterie board?
The number of items on your Charcuterie board depends on how stylish you want to be. The grazing table should allow people to explore different kinds of foods.
However, some things are typically expected to be found on every grazing board. Before heading to the grocery store, here are some food products you should add to your shopping list. Don't feel like going to the grocery store?
Cured Meats (2oz person)

Cheeses (2-3 oz per person)

Veggies

Fruits

Nuts and Olives

Crackers and Slices of bread (lots of them!)*

Fresh Herbs

Sweet spreads ( marmalades, preserves, Fig spread, etc.)

Extras - Edible flowers, Cornichon Pickles, Summer Sausages, etc. (Not compulsory)
*From past experiences with charcuterie boards, you'll find that crackers, breads, croutons, garlic breads, etc... will be the first to go on a charcuterie party platter.
It is most familiar, and everyone loves bread and crackers! When in doubt, buy more - if you don't end up using it for this charcuterie party, just put it in the pantry! Other alternatives to crackers: pretzels, 
To keep things neat, and the most familiar for most of your guests, when choosing a cracker, go for the buttery types, not the crumbly ones (skip the saltines).
How Much Cheese is Need For 50 People
The quantity of cheese you need depends on if the charcuterie will be an entire meal or not. About 2-3 ounces per person will be enough if the charcuterie isn't an entire meal. So you will need about 100-150 ounces in total.
On the other hand, if the charcuterie will be an entire meal, then you will need about 5 ounces per person, which brings it to 250 ounces in total.
Best Meat to Use for Charcuterie
Although the word "best" can be relative and subject to personal preference. However, after putting texture and flavor into consideration, here are our top five picks:
Prosciutto

Soppressata

Mortadella

Bresaola

Dry Salami
Related article: Best Meats for Charcuterie
How do you lay out a charcuterie board party?
The fastest answer to this is to start with large items and then work your way toward smaller items. For a round board, start in the center and work your way outwards. You're still choosing from largest to smallest as you work your way out. For rectangle and square boards, group them in uniform sections.
Food presentation is as important as the preparation of the food itself. Food brands and restaurants spend a whole lot of money on food photography workshops and food styling. And the reason is pretty simple- The more appealing the food is, the more likely people will patronize them.
Although you are not trying to do food styling, it will be great if your charcuterie display is aesthetically appealing. Here are some tips that you will find helpful.
Beautiful Color Combinations: Ensure you have the right combination. As much as you can, do not place food with similar colors beside themselves- except if you are creating a striped color scheme.
Let your fillers have contrasting colors for ingredients that look similar. As said earlier, this is no food styling but having a beautiful color combination will be a plus, like this one:
Accessibility: Ensure it is easy for your guest to figure out what goes with what. For example, the pairing of brie and cherry tomatoes next to each other will make it easy for your guests to figure out. Another good example is pairing your crackers and cheese together
Start with the Big Items: place the larger food items first, then work your way to smaller ones. Your food products should be arranged according to their sizes, this will make it easier for you to fit all food items in and create a balanced board.

 


Use the right type of wooden cutting board. Nothing is worse than having charcuterie on a board that is heavily dented, warped, or full of bacteria. A properly seasoned walnut cutting board will be beautiful and also food-safe for you and your guests. Find the best wooden charcuterie boards on Amazon.
Bite-size Pieces: Let everything you will be serving be in small sizes. Most people will not like to cut anything on a shared plate. This can help you avoid having too many leftovers, and with the present cost of food, no one will like to waste food. I guess you are not an exception.


Here are simple tricks that work for this - cut your cheese and large veggies into chunks, let the meat be in individual servings, and go for smaller fruits grapes, berries, etc.
Nuts, Dried fruit, and Fresh Fruit
For the nuts, you can go with pecans, marcona, regular almonds, Walnuts, and hazelnuts (skip the pistachios). When it comes to adding fruit, go for a mix of fresh and dried fruits( this also adds a pop of color to your board).
Some popular fresh fruit options include Apples, Strawberries, Pears, etc. While for dried fruit you can go with Apricots, Golden berries, Deglet, etc.
Crackers, Jams, and add-ons
Examples include Rosemary crackers, fan out crackers, sesame crackers, almond flour crackers, water crackers, baguette seeded crackers, etc.
What utensils do you need for a charcuterie board party?
You can get as creative as you can but here are some basic things that you will need for your charcuterie board:
Specialty Knives and Utensils

Serving Boards: The usual go to serve boards are wood boards. Wood boards are beautiful and makes a great presentation, especially dark wood such as walnut. However, you have to ensure it is food safe, such as our Virginia Boys Kitchens Charcuterie Boards (on Amazon). If you do not want wood boards, there are also budget-friendly charcuterie board alternatives you can get.

Forks, Spoons, and Spreaders.
 Decorate it:
Choose something fun, such as this paper runner for your grazing table:
FAQ
What cheeses go on a charcuterie board?
You have a variety of cheese options to select from. You can decide to go with Spreadable Cheese such as Goat Cheese, Blue Cheese such as Gorgonzola, Semi-hard Cheese (crumbly cheese) such as Flagship Cheese, Hard Cheese such as Gouda or Firm cheese such as Cheddar. See best cheese for charcuterie, and read about why burrata is king.
Do you use a Toothpick for a charcuterie board?
The answer is Yes. With this, you avoid too many fingers flying around the board.
Conclusion
Be it a holiday party, mini party, or whatever type of party you are having, a charcuterie board is something everyone will appreciate. We hope following the tips in this article will help you achieve that impressive charcuterie board you have always wanted.
 YOU MAY ALSO LIKE
Choosing the Best Board / Serving Platter for Charcuterie
5 Best Crackers for Charcuterie
You can also buy a selection of delectable charcuterie meats shipped to your door! Check out D'artagnan here and see for yourself. Have the convenience of interesting meats and cheeses delivered right to your door!
We are on Amazon, see our storefront here. Use coupon code VBKBLOG10 for 10% off your entire purchase of any Virginia Boys Kitchens on Amazon. Apply the code at checkout.