Is Zebra Wood A Good Wood For Cutting Boards or Butcher Blocks?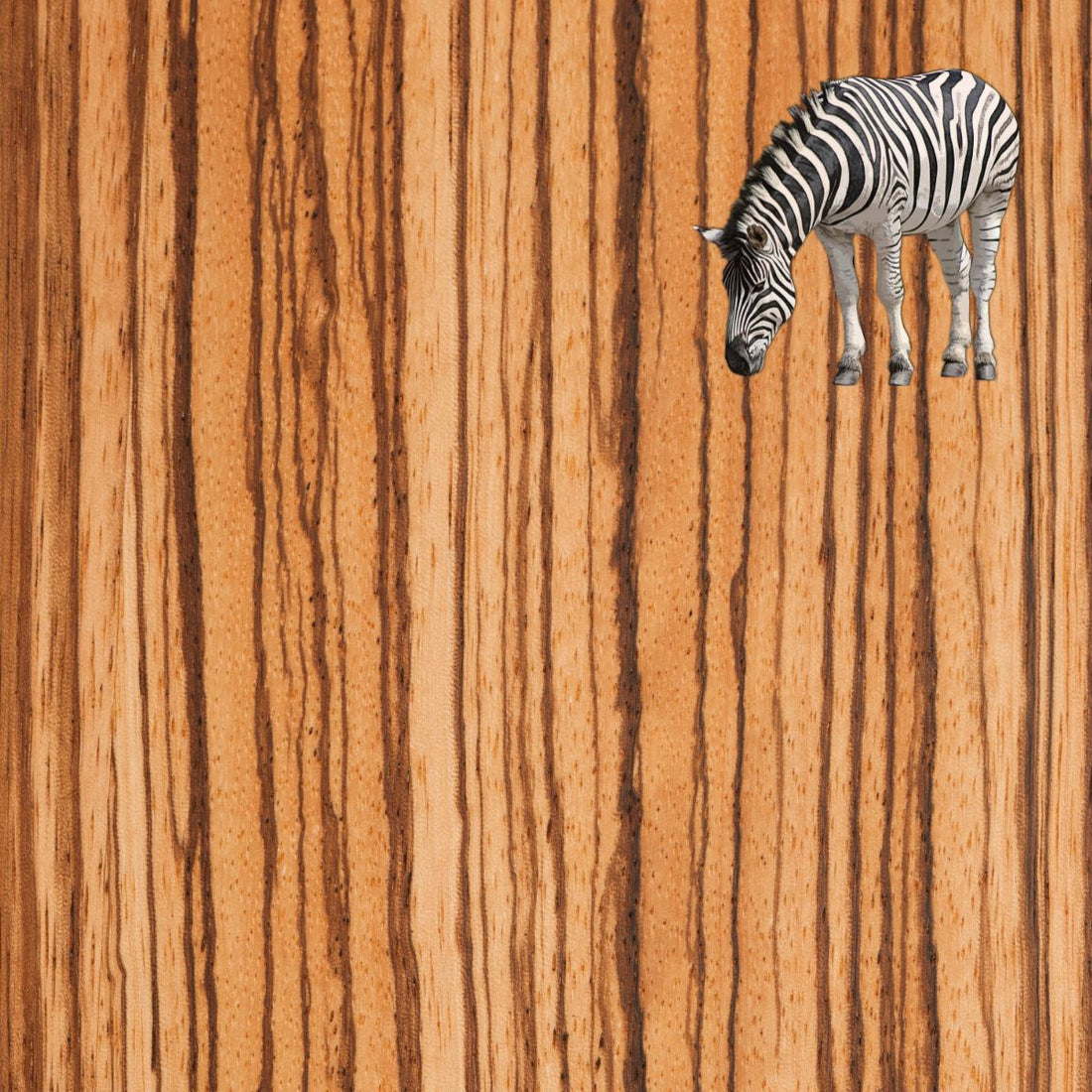 When it comes to cutting boards, you must choose a wood that is food safe, non-toxic, and sturdy. After all, you don't want to get sick after slicing and dicing food. Plus, you don't want to purchase a cutting board that is ruined after a few uses.
We personally have our all-time favorite types of wood for cutting boards. Then there are those woods that work well and provide excellent results.
Zebra wood is not one of those woods. Today, we are going to share what this wood is and why zebra wood is not a good option. Read more about what woods not to use for cutting boards.
What is Zebra Wood?
The origin
Zebra wood is a heavy hardwood that comes from trees in Western Africa. There are a few different species of African zebra wood.
Hardiness
As for the properties of this hardwood, it is considered harder than red oak and even northern maple wood. Not that you need to worry about termites with a cutting board, but it is resistant to those insects as well.
Aesthetics
This exotic wood has a unique pattern that constantly catches peoples' eye. It is that pattern that makes zebra wood a popular choice for decks and other items.
To give you an idea of the appearance of this hardwood, think of a striped pattern. The heartwood is a pale yellow with narrow black stripes. Then you have the sapwood area that has white stripes. It's a dramatic-looking wood with beautiful stripes that stands out wherever it is placed.
Zebra wood is also considered an endangered wood species right now. Therefore, it is illegal to harvest this type of beautiful wood in many areas. However, it is still possible to find it on occasion.
When it is available, the cost of the zebra wood can be quite high.
Can Zebra Wood Be Used for a Cutting Board?
The short answer to whether zebra wood can be used for a cutting board is yes, but the long answer is - probably not a good idea. Let's talk about why:
Inappropriate Janka Hardiness Rating
But let's begin with the Janka hardness rating of zebra wood. The Janka rating of this piece of wood is 1830 lbf.
In case you do not know, the optimal Janka ratings for cutting boards falls between 900 lbf and 1500 lbf. Read more about Janka Hardness in our other blog article about hardwood for cutting boards.
Due to the Janka rating of this hardwood, you shouldn't have a cutting board made entirely from zebra wood. If you do, you will damage many of your kitchen knives.
The smell
Another reason many people do not use zebra wood exclusively is the smell of the wood. This wood has a distinct odor. Think petting zoo odor. (Eeeeww!) The smell of zebra wood does disappear with use, but it can soak into foods at first.
Reasons to Use Zebra Wood for (part of) Cuttings Boards
While you cannot use this type of hardwood for an entire cutting board, there are many reasons why you could use it for part of one.
Those reasons include:
This beautiful wood will add a stylish look.

 
The density of this wood makes it the perfect secondary cutting wood.
This durable wood offers the qualities you desire.
This decorative wood is easy to maintain, no matter how often it is used.
 Drawbacks of Using Zebra Wood for a Cutting Board
There are always going to be drawbacks to anything you are considering. When it comes to using this wood for a cutting board, these are the most common drawbacks:
This wood can be expensive
The wood can be dense, so you will not always be able to cut foods exactly how you want to.
Your kitchen tools can become damaged - it has no "give" when you cut steaks and fruits on it, so your knives get dull pretty quickly.
The odor might be unpleasant at first.
The Toxicity of Zebra Wood
Toxicity is always a concern when choosing wood for a cutting board. Thankfully, this wood is considered non-toxic. Food safety is probably not an issue with this wood. Therefore, you can place wet food, tropical food, or anything else on this food-safe surface.
There should never be any potential toxicity issues, or health issues, unless you have a known allergy to zebrawood.
Is Zebra Wood Waterproof? 
Zebra wood is basically waterproof. However, water can soak into the wood over time. It is best not to place it in a sink full of water when cleaning.
You should never place it in the dishwasher to clean either (this is true of ALL wood boards)
We recommend drying your cutting board thoroughly after washing it. Routinely applying seasoning oil or another type of coating can ensure your cutting board is waterproof.
Is Zebra Wood Stain and Odor Resistant?  
Zebra wood has a distinct odor, as discussed before. In terms of being stain-resistant, that has more to do with you taking care of the board. See our complete guide on cutting board care . 
A wood cutting board or butcher block needs regular maintenance otherwise it would dry out and gets stained easily. Getting a water stain is actually one of the easy signs that your cutting board needs seasoning oil.
To become stain resistant, just make sure you re-apply a fresh coat of wax whenever the board starts to lighten in color or show signs of water stains.
Try our all natural beeswax wood cutting board wax to create a good stain resistant wood board.
How to Care and Store a Zebra Wood Cutting Board
It is best to keep your board in a dry and dark place. This will ensure moisture doesn't seep into the board when it is not being used.
Cleaning your board is simple. All you need to use is a little warm soapy water with a soft cloth. Rinse well and then dry before storing.
The caring and storing information is the same for any board. So, do not think this wood has any special needs that are different from other woods.  
Our Recommendation
Zebra wood isn't our number one choice for a full cutting board. However, it works well as an accent piece to really make a board stylish if you must use it.
We only recommend domestic woods like walnut, maple, and cherry. They last much longer and do not ruin kitchen knives like zebrawood can - see all the reasons why these wood choices are better, and why you can't use woods like pine or cedar for cutting boards.
Plus, woods from West Africa, and other foreign countries, are often treated before being shipped. Therefore, you never know exactly what may be on your cutting board when it is made from this wood.
Those countries do not have excellent sustainability practices like we do either. This is why zebrawood is not supposed to be harvested at the moment.
Related Articles You Might Like
Best Wood For Cutting Boards (and what not to use)
Best Wood For End Grain Boards
Knives and Cutting Boards - How to Pick the Perfect Pair
Related Products You Might Like
View our collection of walnut wood cutting boards (sustainably harvested) - there are many shapes and sizes to choose from. Find your perfect board for your next charcuterie tray!
We are on Amazon, see our storefront here. Use coupon code VBKBLOG10 for 10% off your entire purchase of any Virginia Boys Kitchens on Amazon. Apply the code at checkout.